Solar Opposites - What We Know So Far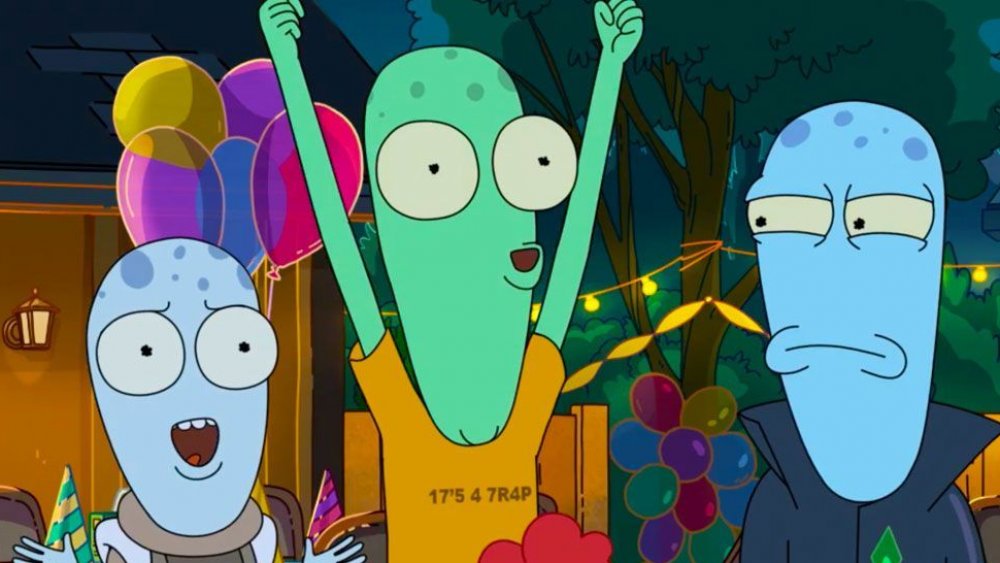 Hulu
If you've got that old "they only dropped five freakin' episodes of Rick and Morty" blues, we've got something that might make you feel a little better.
Hulu recently announced the impending premiere of a new, original animated series, Solar Opposites, which was created by Rick and Morty co-creator Justin Roiland and Mike McMahan, a former writer and executive producer on the Adult Swim hit. The series — which sports a very familiar animation style — centers on a group of four extraterrestrials who crash-land smack in the heart of America. While trying to make the best of their time there, the quartet disagree on whether their new home is awesome or awful.
The series is already assured of two eight-episode seasons, and — much like Rick and Morty — it'll be fielding an insane roster of guest stars and leaning hard into smart, deadpan, often extremely silly humor. Here's everything we know so far about Solar Opposites.
What is the release date of Solar Opposites?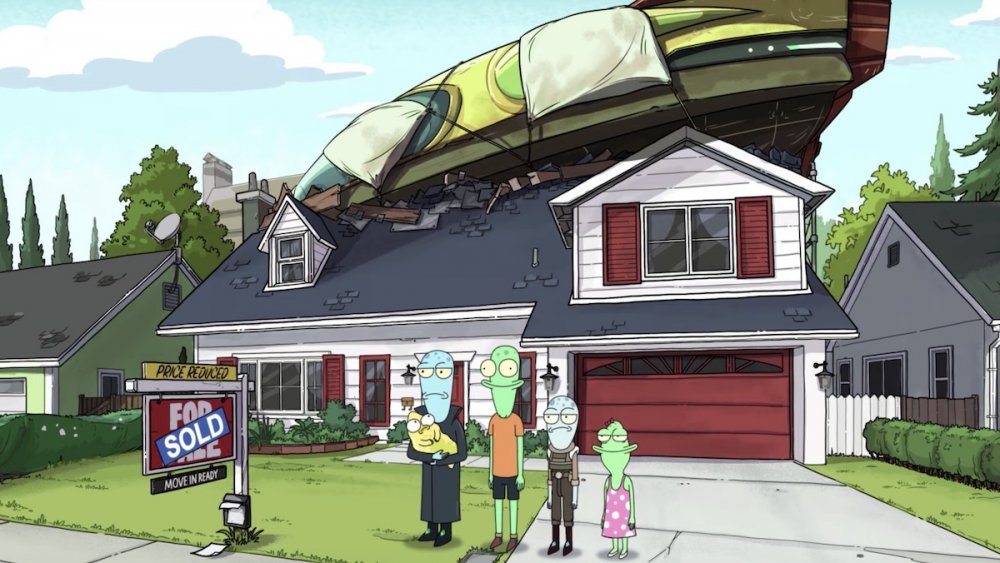 Hulu
The series has been in the works for quite some time, with Roiland having first teased it all the way back in 2015, when it was in development at Fox (via Variety). Of course, that studio was absorbed by Disney in 2019, so it happened to work out nicely that the 2018 bidding war for the series was won by Hulu (which the Mouse House also owns).
It's a little unusual for a brand-new series to receive a two-season order, but the stellar success of Rick and Morty was obviously a factor. While we don't yet know when the second batch of episodes will be dropping, we won't have to wait long for the first: all eight episodes will be available to stream on Hulu on May 8, 2020. Forgoing the weekly episode drop seems like a pretty wise and calculated decision on the part of the streamer, as Rick and Morty fans could really use something to binge right about now.
Who is in the cast of Solar Opposites?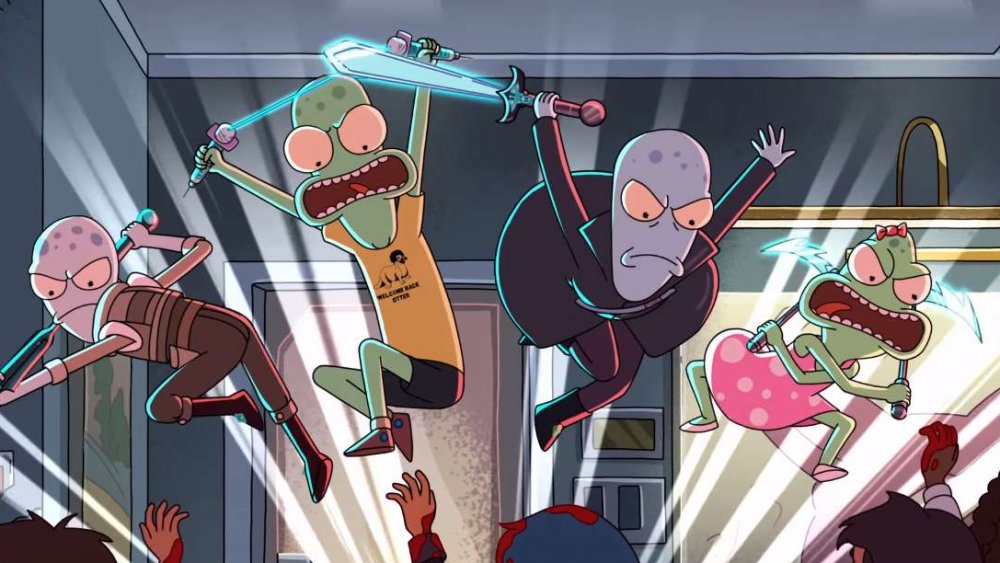 Hulu
Solar Opposites features the voice talents of Roiland (employing a rather Rick Sanchez-esque delivery) as Korvo, Thomas Middleditch (Zombieland: Double Tap) as Terry, Sean Giambrone (The Goldbergs) as Yumyulack, and comedian Mary Mack as Jesse. Did we mention guest stars? Holy crap, the first season will feature just so many guest stars.
According to ScreenRant, the roster includes: Alan Tudyk (Doom Patrol), Alfred Molina (Frozen II), Amanda Leighton (Trolls: The Beat Goes On), Andrew Matarazzo (Teen Wolf), Andy Daly (Veep), Calum Worthy (Corporate Animals), Chris Cox (Batman: Hush), Christina Hendricks (Good Girls), Echo Kellum (Legends of Tomorrow), Eric Bauza (Star Wars Resistance), Gary Anthony Williams (Truth or Dare), Gideon Adlon (Blockers), Jacob Vargas (Beyond Skyline), Jason Mantzoukas (Big Mouth), Jeannie Elias (Marvel Future Avengers), Jesse Mendel (Rick and Morty), Jon Barinholtz (The Hunt), Karan Brar (Pacific Rim: Uprising), Kari Wahlgren (Rick and Morty), Ken Marino (The Babysitter), Liam Cunningham (Game of Thrones), Maurice LaMarche (Futurama), Miguel Sandoval (Sharp Objects), Nat Faxon (Ready or Not), Natalie Morales (Stuber), Neil Flynn (Indiana Jones and the Kingdom of the Crystal Skull), Phil LaMarr (Harley Quinn), Rainn Wilson (The Office), Rob Schrab (Uncle Grandpa), Ryan Ridley (Community), newcomer Sagan McMahan, Thomas Barbusca (Schooled), Tiffany Haddish (Self Made), Tom Kenny (the voice of SpongeBob Squarepants), comedian Vargus Mason, and Wendi McLendon-Covey (The Goldbergs).
Whew! And all in the first eight episodes.
What is the plot of Solar Opposites?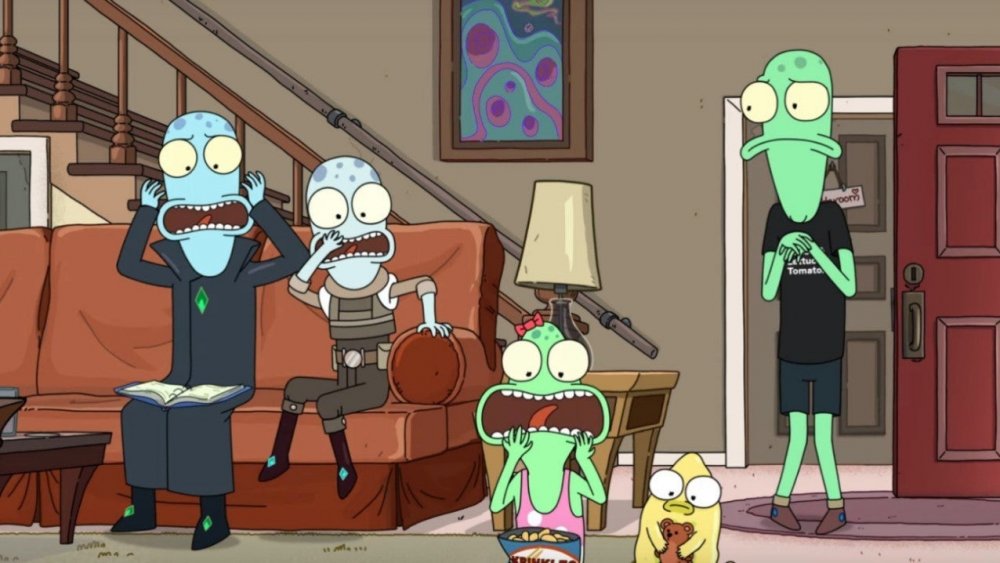 Hulu
As we've previously mentioned, the four main characters of Solar Opposites are split on the merits of their new home. Korvo and Yumyulack are disgusted by the pollution, rampant consumerism, and... well, human stupidity (Krovo refers to Earth as a "human-infested crap-hole without a single redeeming value"), while Terry and Mary are enamored of pop culture, junk food, and all of the other stuff that makes Earth great.
One narrative thread, though, is bound to bear bizarre fruit before too long — and in doing so, cause the split to come to a head. The four are the guardians of the Pupa, a small, yellow "living supercomputer" which will at some point evolve into its "true form" (whatever the heck that may be) and terraform the planet. Of course, this would likely mean that all existing life on said planet would be wiped out — so, presumably, Terry and Mary will have to make the case to Korvo and Yumyulack as to whether the Earth is worth saving.

Is there a trailer for Solar Opposites?
Hulu posted the first official teaser trailer for Solar Opposites to its YouTube channel on March 25, and we think it's pretty safe to say that Rick and Morty's legions of fans should be firmly on board. The trailer opens with an extended sequence in which Terry, in an apparent panic, carjacks some poor guy; he plows over a couple of hapless pigeons while racing through a park, jumps an open draw bridge, and takes out an ostrich (what the hell is that doing there?) before spinning to a stop in his front yard. He then rushes inside to breathlessly inform the other three that they don't have noses, causing them all to freak out.
Amid a flurry of sight gags and punch lines, the spot's voiceover promises an exploration of "Man caves, recreational drugs, bullying, animal rights, zombie teenagers, magicians, black holes, gooblers, and the Pupa." (No, we don't have any idea what a goobler is.)
It should come as no surprise that Solar Opposites is the most promising-looking new animated series of 2020 so far, and we don't even have too long to wait before we can binge all eight episodes. Stay tuned; we'll update this post with any new information that becomes available between now and the premiere.