Free Guy Release Date, Characters, Plot And Trailer - What We Know So Far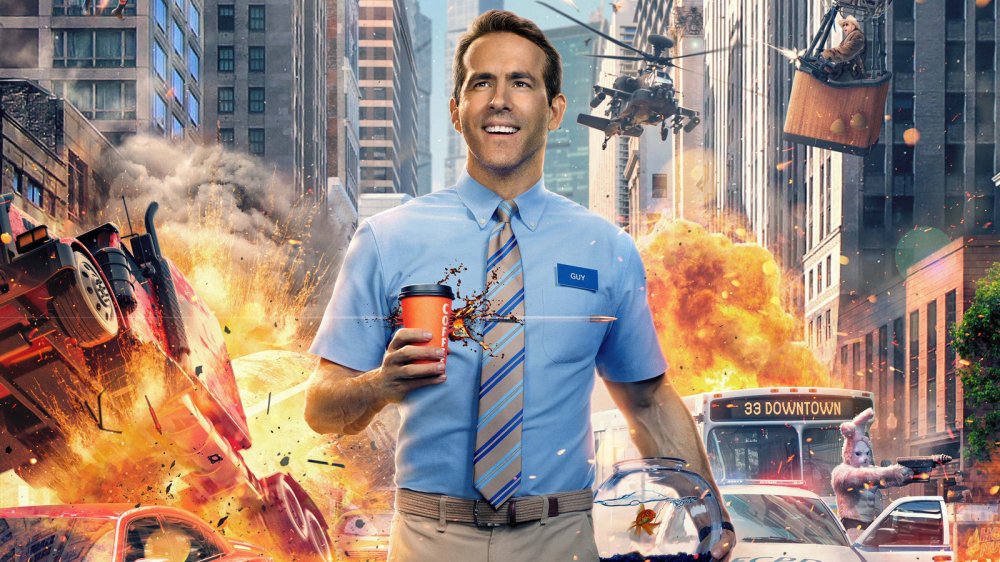 Disney/20th Century Studios
If you're a fan of lovable goofball Ryan Reynolds — and if you're not, you're going to want to get your funny bone checked — then you've got to be psyched for Free Guy, one of the most ridiculously awesome-looking movies of recent years. The movie's logline is as simple as it ingenious: Guy (Reynolds), an NPC in the GTA-esque video game Free City, becomes aware that he is in a video game. He must become an unlikely hero in order to prevent his world's destruction — that is, the game being shut down by its developers — when the errant code that made him self-aware is discovered.
Being the star of the Deadpool franchise, Reynolds is certainly used to cracking wise and kicking ass as all hell breaks loose around him. The character of Guy, though, looks like quite a radical departure from the Merc with a Mouth — while still being a role absolutely fine-tuned to the actor's comedic sensibilities.
Free Guy appears to be a flick that has it all: a director and writers uniquely suited to its bonkers premise, Reynolds' singularly endearing presence, a crack supporting cast, and just so many explosions and firefights. It's also (get this) an original story swimming in a sea of reboots, remakes, and sequels — not that those things can't be great. 
All signs point to this flick being the most hilariously insane thing to hit the big screen in recent memory, and we simply can't wait for it to get in front of our faces. In anticipation of what is sure to be some kind of twisted modern classic, here's everything we know so far about Free Guy.

What is the release date of Free Guy?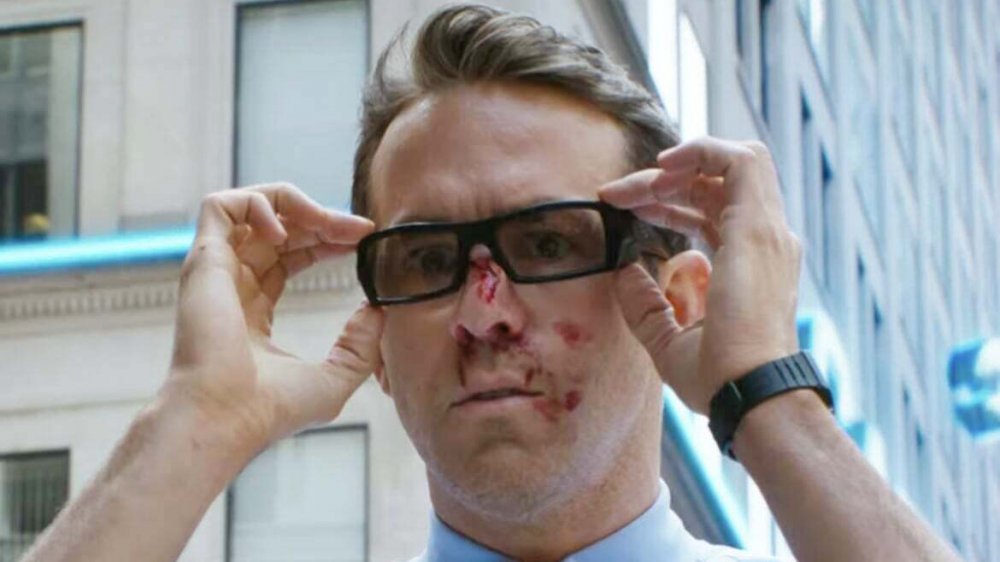 Disney/20th Century Studios
Before we dig into the juicy details, let's get this out of the way: Free Guy is set to hit theaters on December 11, 2020. It was originally meant to open wide on July 3, 2020 — and unless you've literally been living under a rock or have been on a lengthy silent meditation retreat for some time (in which case, hello, Mr. Leto), you understand why Free Guy was delayed. 
Free Guy is one of the first major films to be released under the 20th Century Studios banner, the moniker bestowed upon the former 20th Century Fox after its acquisition by Disney. The House of Mouse has taken a judicious approach with its 2020 releases; while the studio has pushed back the premiere dates of tentpoles like the live-action Mulan remake and Marvel's Black Widow, it didn't do so until it became clear that the move was was necessary. In the case of Free Guy, a summer-to-winter-2020 delay was the best course of action.
Got it? Great. Now for the fun stuff.

Who are the characters in Free Guy?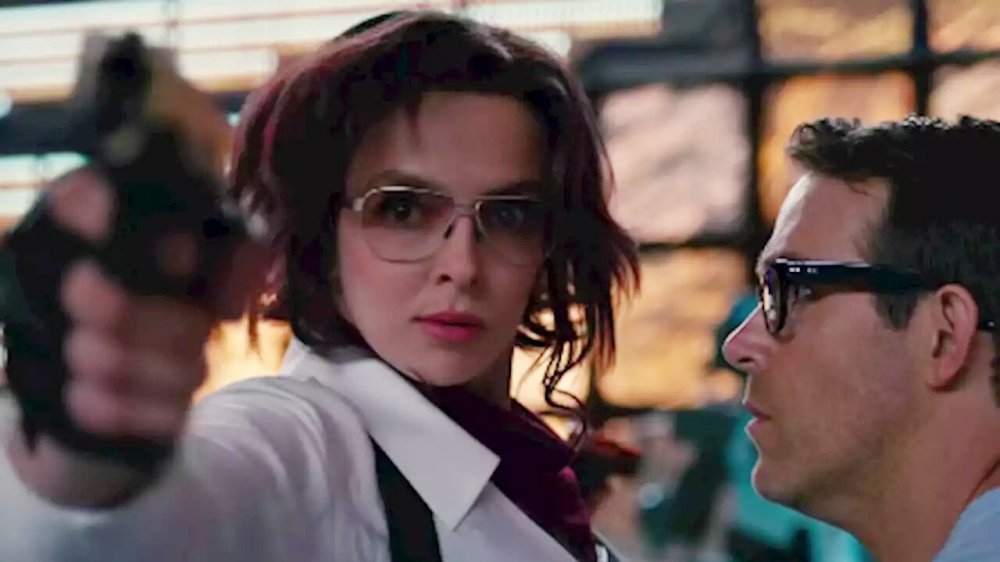 Disney/20th Century Studios
Free Guy is directed by Shawn Levy (who helmed the Night at the Museum movies) from a screenplay by Matt Lieberman (Playing with Fire) and Zak Penn, a veteran scribe who has worked on everything from Men in Black to The Avengers. Their cast is literally riddled with ringers, several of whom were cast largely due to their connections to the video game world. Popping up in supporting roles and/or cameos will be YouTuber Tyler "Ninja" Blevins, Twitch star Imane "Pokemane" Anys, Let's Play machine Lannan "LazarBeam" Eacott, and Sean "Jacksepticeye" McLaughlin, whom we know will be voicing the iconic video game character Q*Bert. Since that character speaks nearly exclusively in bleeped curses, this should be interesting.
Appearing in the main cast are none other than everyone's favorite Kiwi Taika Waititi (The Mandalorian) as video game developer Antoine, Jodie Comer (Killing Eve) as programmer Milly and her in-game alter ego Molotov Girl, Joe Keery (Stranger Things) as programmer Keys, and Lil Rel Howery (Get Out) as Guy's fellow NPC and buddy, er, Buddy.
One thing we're extremely curious about: who or what will serve as the in-game Big Bad. While Guy will be working against external forces to keep his world from collapsing, it stands to reason that he'll have some kind of virtual nemesis to contend with, as well; if so, this plot point hasn't been made public.
What is the plot of Free Guy?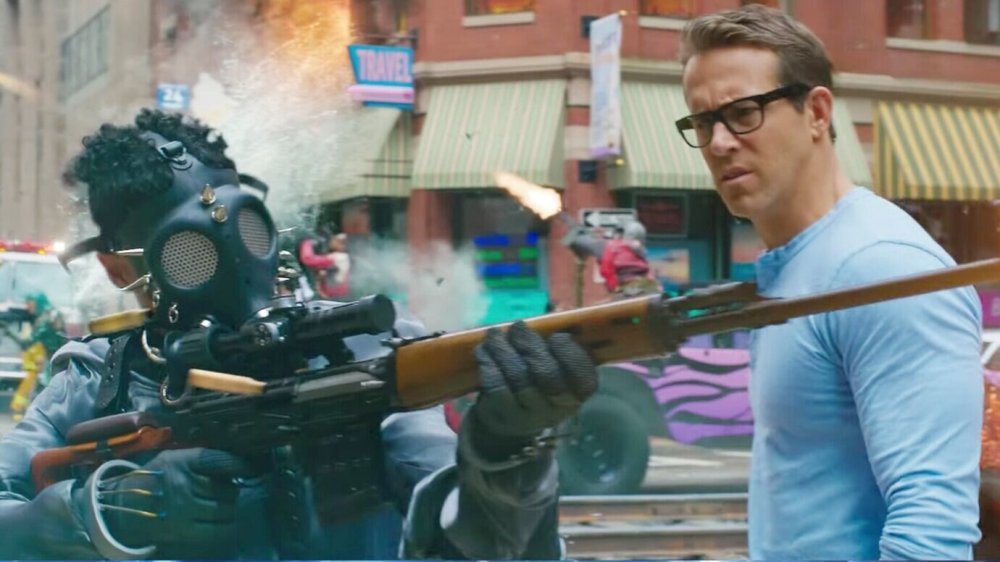 Disney/20th Century Studios
Of course, we do know that there will be all kinds of shootin' and explodin' going on as Guy attempts to save his world — we just don't know whether the game's many dangerous characters will be overseen by a boss. Also unknown: just how Comer's dual character will figure in. She's been presented as an in-game ally to Guy in the marketing materials so far, and as one of the game's programmers in the real world, so it sure seems like she must have a key role to play in convincing Waititi's developer to keep from screwing around the code, or simply pulling the plug.
Beyond Guy's gradual evolution into a hero after one day deciding out of the blue to disrupt his routine due to the errant code, we simply don't have a heck of a lot of plot points — which is probably a good thing, as we feel like this is going to be a flick that's full of hilarious and inspired surprises. We sure have a solid idea of its overall vibe, though, thanks to the one promo spot that we've gotten so far.
Is there a trailer for Free Guy?
There are actually two trailers for Free Guy: one that was released in December 2019, and another that came around in October 2020. 
The first trailer is, simply put, gloriously bonkers. Set to the bouncy strains of Mariah Carey's "Fantasy," the first trailer for the film shows a side-splitting look at a typical day in Guy's life, his snap decision to suddenly involve himself in the mayhem that results in his world turning upside-down, and his spot-on reaction to his realization that this world isn't exactly, you know, real. We also get an idea of the excellent comedic chemistry between Reynolds and Comer, and — did we mention this? — more explosions, gunfights, and insane stunts than you can shake a dozen sticks at.
The second trailer for Free Guy is just as jam-packed with awesomeness as its predecessor — and features "Fantasy," too — but has an advantage in that it offers a more concrete idea of the movie's narrative. Guy's a background character of a video game who learns he isn't real, then ventures to become the hero of his world and save it from impending doom. 
With Reynolds and Comer in the lead roles, a bevy of dazzling co-stars supporting them, and more action-adventure mayhem than we know what to do with, Free Guy looks to be the one movie you may want to head to theaters in 2020 to see. Free Guy will arrive in cinemas on December 11.