Free Guy Release Date, Characters, Plot And Trailer - What We Know So Far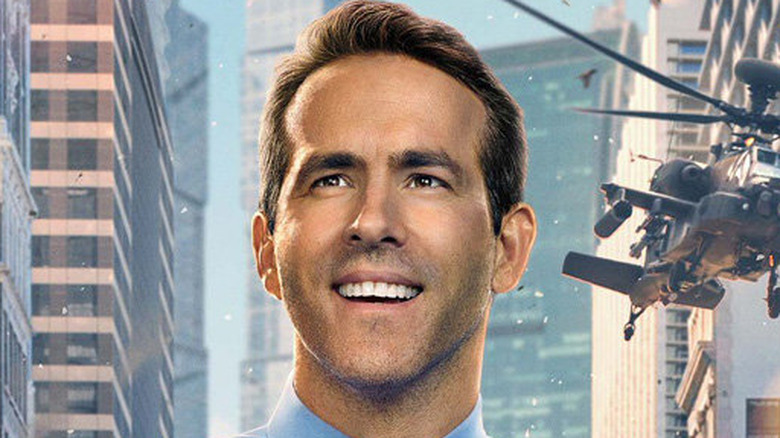 Disney/20th Century Studios
If you're a fan of lovable goofball Ryan Reynolds — and if you're not, you're going to want to get your funny bone checked out, ASAP— then you've got to be psyched for "Free Guy," one of the most ridiculously awesome-looking movies of recent years. The movie's logline is as simple as it is ingenious: Guy (Reynolds), an NPC in a fictional "Grand Theft Auto"-esque video game "Free City," becomes aware of the fact that he is in a video game. Soon, he finds that he must become an unlikely hero in order to prevent his world's destruction — that is, the game being shut down by its developers — when the errant code that made him self-aware is discovered.
Being the star of the lucrative "Deadpool" franchise, Reynolds is certainly used to cracking wise and kicking ass as all hell breaks loose around him. The character of Guy, though, looks like he will be quite a radical departure from the Merc with a Mouth — while still being a role absolutely fine-tuned to the actor's comedic sensibilities.
Free Guy appears to be a flick that has it all: a director and writers uniquely suited to its bonkers premise, Reynolds' singularly endearing presence, a dynamic and intriguing supporting cast, and an array of many, many explosions and firefights. It's also — get this — an original story swimming in a sea of reboots, remakes, and sequels (not that those things can't be great). Talk about a rare breed. 
All signs point to this flick being the most hilariously insane thing to hit the big screen in recent memory, and we simply can't wait for it to get in front of our faces. In anticipation of what is sure to be some kind of twisted modern classic, here's everything we know so far about "Free Guy."

What is the release date of Free Guy?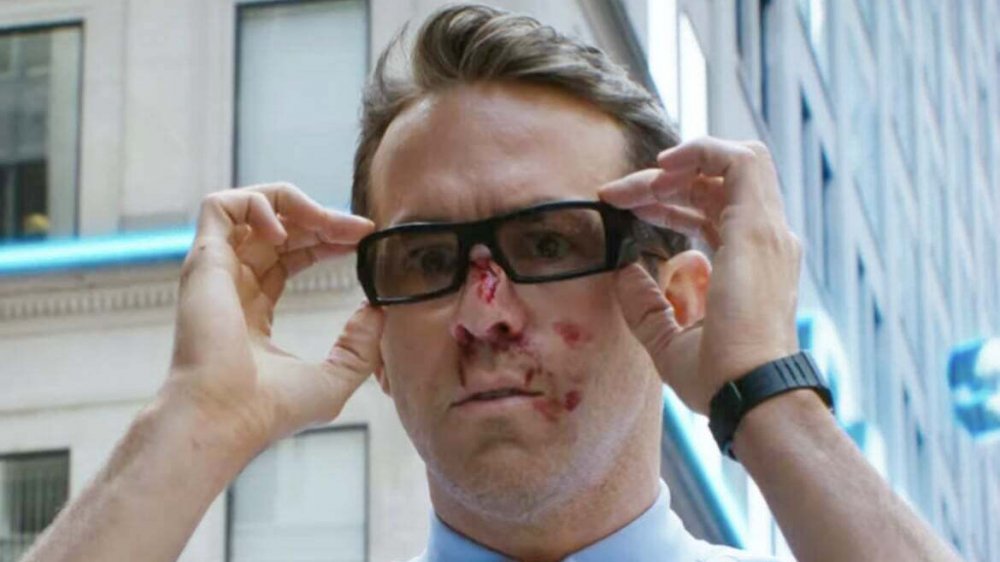 Disney/20th Century Studios
Before we dig into the juicy details, let's get this out of the way: "Free Guy" was originally meant to open wide on July 3, 2020 — and unless you've literally been living under a rock or have been on a lengthy silent meditation retreat for some time (in which case, hello, Mr. Jared Leto), you probably have a pretty strong inkling on why "Free Guy" was delayed. After all, it certainly wasn't the first — or last — film to have its release date pushed off.
For a while, it seemed like "Free Guy" was set for a December 11, 2020 release date, but it was pushed off yet again. The movie's presumably final release date, in a world of vaccinations and easing restrictions, is August 13, 2021.
"Free Guy" is one of the first major films to be released under the new banner of 20th Century Studios, the moniker bestowed upon the former 20th Century Fox after its acquisition by Disney. The House of Mouse took a judicious approach with its releases that were originally slated for 2020: while the studio has pushed back the premiere dates of tentpole films like the live-action "Mulan" remake and Marvel's "Black Widow," it didn't do so until it became clear that such a move was necessary. In the case of Free Guy, a delay was certainly the best course of action, and the fact that the studio went so far as to push it into summer 2021 is a strong signal that they believe it will do well in theaters.
Got it? Great. Now, we can move on to the fun stuff.

Who are the characters in Free Guy?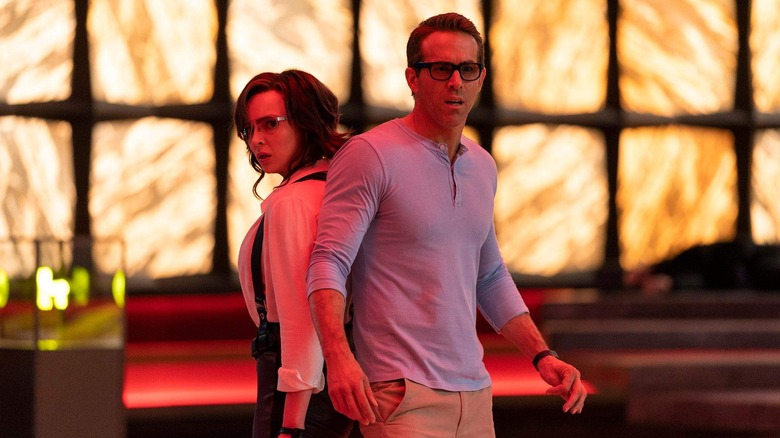 Disney/20th Century Studios
"Free Guy" is directed by Shawn Levy (who previously helmed the "Night at the Museum" movies, as well as being involved with the Netflix hit "Stranger Things") from a screenplay by Matt Lieberman ("Playing with Fire") and Zak Penn, a veteran scribe who has worked on everything from "Men in Black" to the "X-Men" movies to "The Avengers." Their cast is literally riddled with ringers, several of whom were cast largely due to their connections to the video game world. Popping up in supporting roles and/or cameos will be YouTuber Tyler "Ninja" Blevins, Twitch star Imane "Pokemane" Anys, Let's Play machine Lannan "LazarBeam" Eacott, and Sean "Jacksepticeye" McLaughlin, whom we know will be voicing the iconic video game character Q*Bert. Since that character speaks nearly exclusively in bleeped curses, this should be interesting.
The familiar faces don't end there. Appearing in the main cast are none other than everyone's favorite Kiwi director, Taika Waititi (of "Jojo Rabbit" and "Thor: Ragnarok" fame) as video game developer Antoine, Jodie Comer (Villanelle in "Killing Eve") as programmer Milly and her in-game alter ego Molotov Girl, Joe Keery (Steve "the Hair" Harrington in "Stranger Things") as programmer Keys, and Lil Rel Howery ("Get Out") as Guy's fellow NPC and buddy, er, Buddy.
One thing we're extremely curious about: who or what will serve as the in-game Big Bad. While Guy will be working against external forces to keep his world from collapsing, it stands to reason that he'll have some kind of virtual nemesis to contend with, as well. If so, this plot point (and whoever might be playing that nemesis) hasn't been made public.
What is the plot of Free Guy?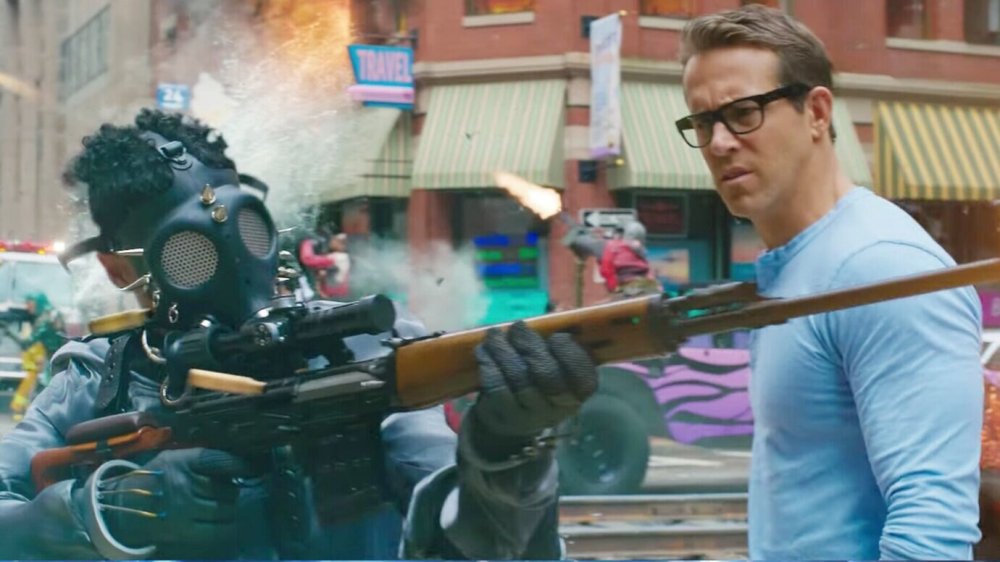 Disney/20th Century Studios
Of course, we do know that there will be all kinds of shootin' and explodin' going on as Ryan Reynolds' Guy attempts to save his world — we just don't know whether the game's many dangerous characters will be overseen by a boss of some sort. However, given that this is a video game, one would expect there to be a big bad of some sort. Another factor that is unknown: just how Jodie Comer's dual character will figure in. She's been presented as an in-game ally to Guy in the marketing materials so far, but she also appears to be one of the game's programmers in the real world. With this in mind, it sure seems like she must have a key role to play in convincing Taika Waititi's developer to keep from screwing around the code, or simply pulling the plug.
Beyond Guy's gradual evolution into a hero after one day deciding out of the blue to disrupt his routine due to the errant code, we simply don't have a heck of a lot of plot points to delve into, at this point — which is probably a good thing, as we feel like this is going to be a flick that's full of hilarious and inspired surprises. Most likely, the less you know, the more exciting — and funnier — it will all be, in the end. 
Based on the trailers so far, though, we sure have a solid idea of its overall vibe. And that vibe is every bit as hilarious as you would hope for it to be.
Will Free Guy appeal to non-gamers?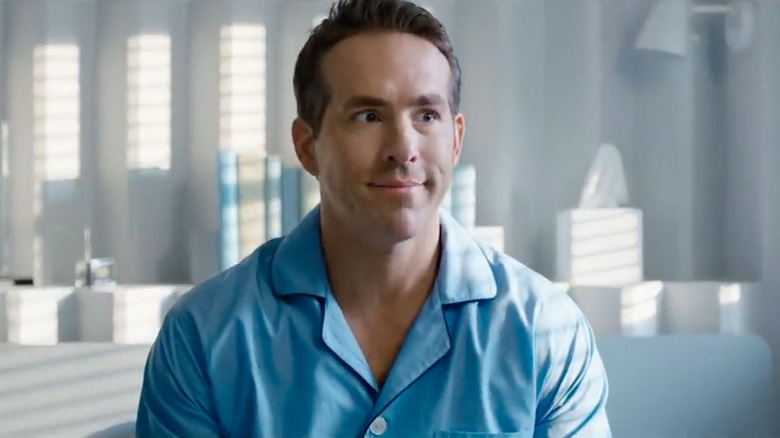 Disney/20th Century Studios
Considering the video game-themed plot — to say nothing of the spree of game references, cameos, and more — it goes without saying that if there's a prime audience for "Free Guy," it's the gaming community. However, Ryan Reynolds has fans all over the place, some of whom might've not touched a game controller since the Sega Dreamcast was still a thing. Will these people get lost? 
Not according to Reynolds. During a 2019 press conference, Reynolds drew a comparison to sports movies, and how even people who might have no interest in, say, an actual baseball game can still be thrilled by a baseball movie. In his words (via Collider), "I always look at it like, sports movies are good metaphors. The greatest sports movies ever made are not actually about sports. 'Field of Dreams,' I wouldn't characterize that as a baseball story. They used baseball as a vehicle to tell a really beautiful story about a son and a father trying to connect. I think that we're doing the same thing."
Director Shawn Levy added that the movie's central conceit — Guy is an NPC who is just finding out that he's an NPC — means that the audience surrogate is, in fact, a non-gamer, and so a non-gaming audience will easily be able to place themselves in Guy's shoes as he learns all about what video games are, and how they work.
The key thing, overall, is that while gamers will be thrilled with all the inside jokes and fun twists on things they love, the whole high-concept premise is really just there to tell a more universal story. And honestly, if audiences could figure out "The Matrix" back in 1999, they should be more than ready for "Free Guy."
How long has Free Guy been in development?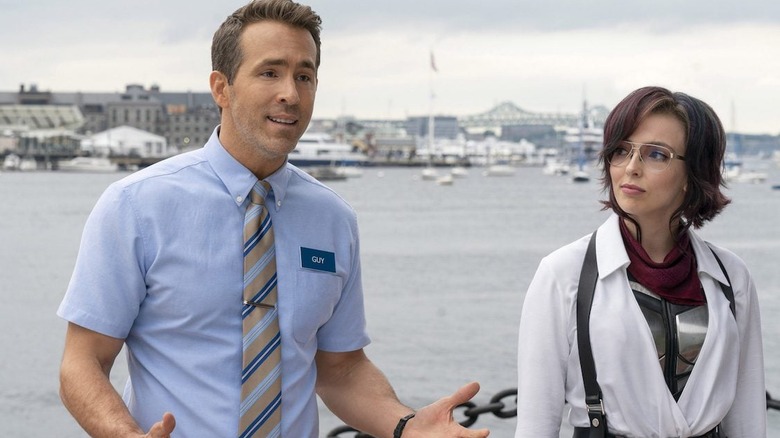 Disney/20th Century Studios
Thanks to a certain pandemic that you've probably heard about, "Free Guy" has dealt with a longer road to release than anyone saw coming. However, if you rewind the clock even further back, it turns out that the movie has been in development for quite some time. 
Deadline reported back in 2016 that "Free Guy" — back then, described as a Matt Lieberman spec script "in the vein of 'The Truman Show'" — had acquired the highly sought-after "Deadpool" star Ryan Reynolds. The overall plot seems to have remained the same since then, but given Reynolds' star power, and his love of getting creatively involved in his projects, it's likely that the movie's tone evolved from there to so perfectly match his personality and talents. And while Reynolds wasn't one of the initial creators of the project, it's clear that he fell deeply in love with it: in 2019, according to Entertainment Weekly, he said, "I haven't been this fully immersed and engaged in something since 'Deadpool' [...] I think we live in really weird times right now, you're watching the news and the top story today is 'it's the end of the world.' I felt a kinship to the character in that you can sometimes feel like a background character. The world is on loop and you have no control over what's happening."
When put that way, it's easy to see what attracted Reynolds to the project, and exciting to think how relatable the movie will be (in its own quirky way, of course).
Will "Free Guy" exclusively play in theaters — and if so, how long?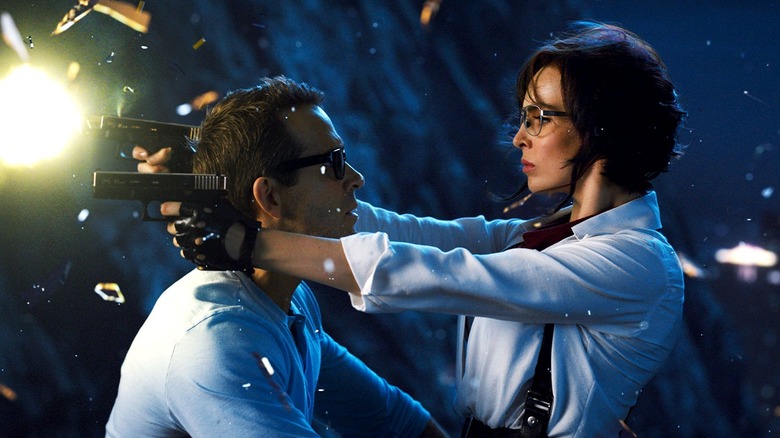 Disney/20th Century Studios
Not that long ago, there wouldn't even be a question about whether a major studio release would play in theaters or not. Things have changed a lot since 2020, though, and these days, there's always some question about whether a movie will release in theaters, or if it'll go right to streaming — or, in some cases, if it'll go up on both simultaneously. So, given that "Free Guy" is confirmed to be a theatrical release, where does it fall in this picture? 
In fact, it looks like "Free Guy" is taking full advantage of the reopening of theaters nationwide, as vaccinations ramp up, and — just like in the pre-COVID era — it will only release in theaters for the time being. Its theatrical window will run 45 days, according to The Hollywood Reporter. 
This is in contrast to some of Disney's May and June releases — "Cruella" and "Black Widow" being prime examples of films debuting in theaters and on Disney+ simultaneously — but "Free Guy" comes out in August, and this does put it in line with later Disney theatrical releases like "Shang-Chi." Clearly, Disney is banking on earning big bucks with this movie, and on theaters coming back in a big way. Given the enthusiasm that "Free Guy" has earned all over the internet so far — and the increased earnings that movies have begun making in theaters again — this seems like a good bet on their part.
Is there a trailer for Free Guy?
There are actually three trailers for "Free Guy" – one that was released in December 2019, another that came around in October 2020, and a third that arrived in June 2021. Why so many? Because of all those COVID-19 delays, of course. 
The first trailer is, simply put, gloriously bonkers. Set to the bouncy strains of Mariah Carey's "Fantasy," the first trailer for the film shows a side-splitting look at a typical day in Guy's life, his snap decision to suddenly involve himself in the mayhem that results in his world turning upside-down, and his spot-on reaction to his realization that this world isn't exactly, you know, real. We also get an idea of the excellent comedic chemistry between Reynolds and Comer, and — did we mention this? — more explosions, gunfights, and insane stunts than you can shake a dozen sticks at.
The second trailer for Free Guy is just as jam-packed with awesomeness as its predecessor — and features "Fantasy," too — but has an advantage in that it offers a more concrete idea of the movie's narrative. Guy's a background character of a video game who learns he isn't real, then ventures to become the hero of his world and save it from impending doom. 
The third trailer places further emphasis on the character of Molotov Girl, and the role she plays in the plot — which, it seems, will be instrumental in Guy's own development from NPC to action hero — as well as focusing more on the movie's more explosive elements.
With Reynolds and Comer in the lead roles, a bevy of dazzling co-stars supporting them, and more action-adventure mayhem than we know what to do with, "Free Guy" will hit theaters on August 13.