What To Watch On Netflix If You Love Stranger Things
This content was paid for by Netflix and created by Looper.
The small town of Hawkins is hiding a dark secret — and a group of kids who get tangled up in the mystery end up having their lives turned upside down. Set in the 1980s, Stranger Things blends paranormal plotlines with coming-of-age drama, and this nostalgic, supernatural Netflix series has captivated young audiences and their parents. The third season ended with some serious dangling questions, and a teaser trailer has already set the stage for season 4's much-needed answers.
But fans who can't wait to see what happens next will be waiting a while, as the showrunners say that the release date will be scheduled for late 2020 or early 2021. Need a new series to hold you over until season 4 of Stranger Things is released? Here are a few suspenseful Netflix shows that just might scratch that dark itch. Get ready to spend some more time binge-watching.
Locke and Key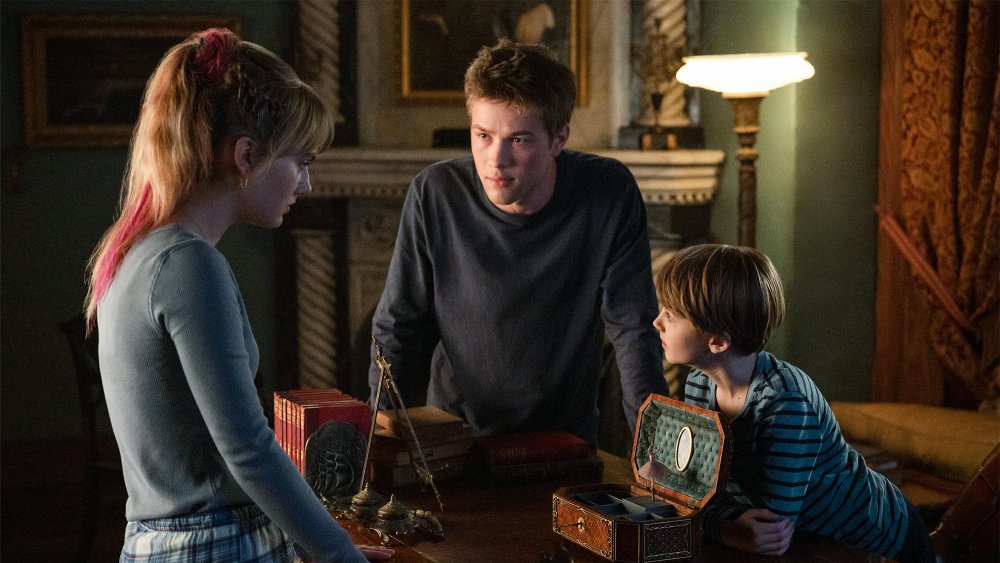 Locke and Key follows the story of the three Locke siblings, who move into their old family home, known as the "Keyhouse," after the murder of their father. But as the youngest son, Bode, quickly discovers, this is no ordinary house. One day, he begins hearing strange whispers, and the voices lead him to a key. As it turns out, he's gotten his hands on the "Anywhere Key," and he can use it in any door to travel somewhere that he has seen before. There are more keys awaiting discovery, and in this reality-bending house, who knows where the Locke siblings could end up?
Based on the IDW comic book series from writer Joe Hill and artist Gabriel Rodriguez, Locke and Key is a supernatural drama that's also a story of trauma and loss. And just like Stranger Things, there is no shortage of teenage angst and romance. The creepy sets and chilling score will have you completely immersed in the story of the Keyhouse.
Daybreak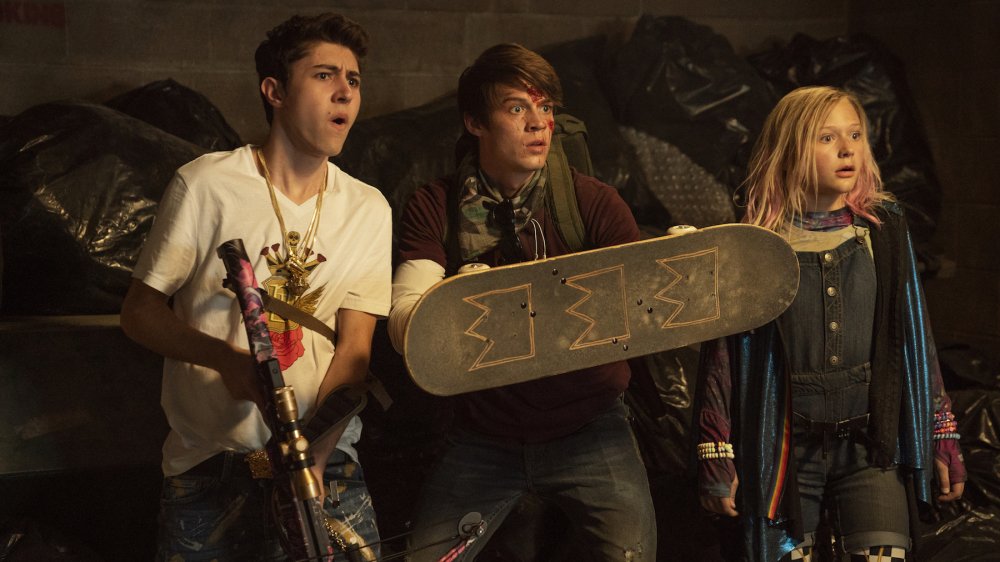 Although Daybreak only got one season, it's a series that is perfect for a weekend of staying in — especially if you're into zombies. This comedic drama serves up plenty of laughs, even in the midst of a zombie outbreak.
In the wake of biological warfare, adults have turned into "ghoulies" (a.k.a. zombies), which terrorize the surviving humans. Josh, the protagonist who frequently breaks the fourth wall as he takes you along for the ride, is actually doing pretty well for himself in this post-apocalyptic society — while the surviving teens have broken off into cliques based on their high school social groups, he's just loving the fact that there are no real rules anymore. There's only one problem: Josh is desperately searching for the girl he fell in love with before the breakdown of society, and he'll have to fight back against some bloodthirsty survivors if he wants any shot at finding her. Not unlike the characters in Stranger Things, Josh and his allies have to handle things on their own when the adults can't, and it's hard not to root for this ragtag bunch of misfits.
Black Spot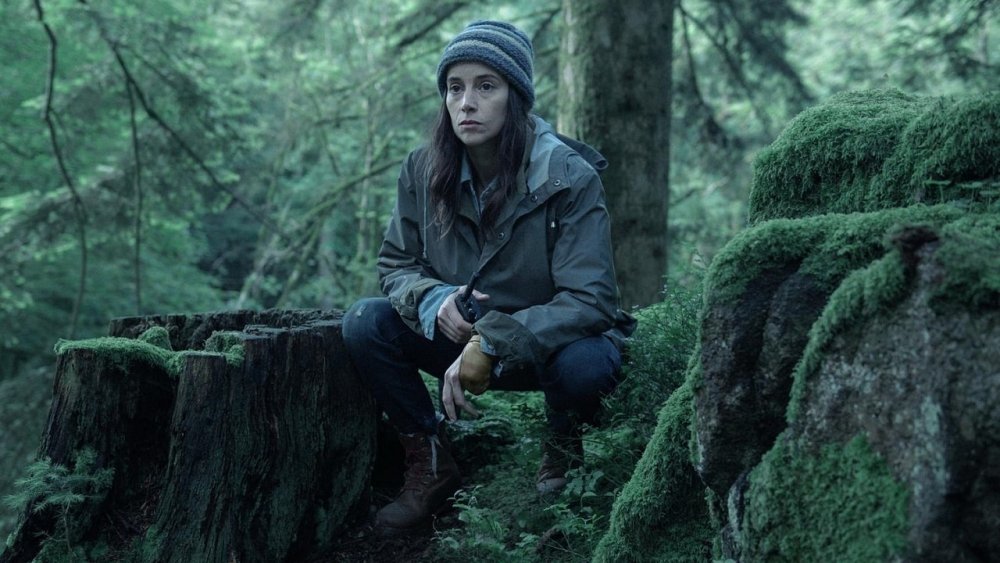 The French series Black Spot has been picked up by Netflix, and the very first glimpse of the show's grim setting is the perfect introduction to a creepy detective thriller. In the town of Villefranche, every day seems more depressing than the last. The citizens turn to alcohol to drown their sorrows, the homicide rate would discourage anyone from visiting, cell phones can't get service, and many modern conveniences just don't seem to work. It's a "black spot" — a place where there is no light or happiness to be found.
In a town that feels like a black hole of despair, three detectives are attempting to solve numerous murder cases. The group is led by Major Weiss, who has a dark past of her own. Watching the events play out in Villefranche, you just might be reminded of the Upside Down in Stranger Things — the kind of place that dooms those who end up there.
The Society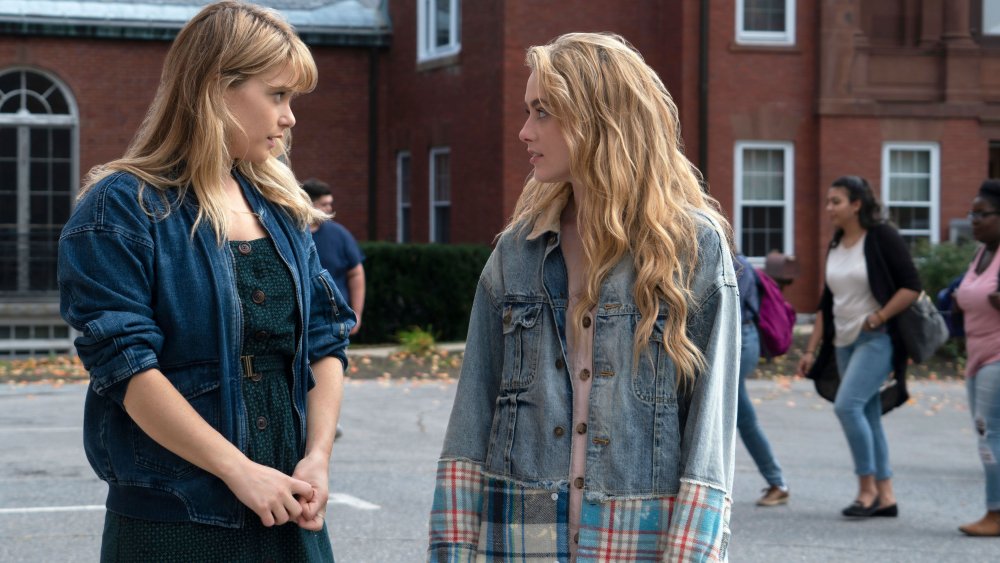 What if Lord of the Flies took place in the 21st century? Welcome to The Society, a town where all of the adults have disappeared and the teens are running the show. But unlike Lord of the Flies, The Society is not set on a desert island. Instead, this drama takes place in a wealthy New England town where the local high school students return from a field trip to find that the adults have mysteriously gone missing.
To make matters worse, the town is suddenly surrounded by a forest that wasn't there before, and they have no way of contacting the outside world. Can they really be trusted to manage running their society on their own, or will their attempts at maintaining order fall apart? While the characters in The Society are a few years older than the crew in Stranger Things, the combination of teenage drama and paranormal dangers is no less addicting.
The Innocents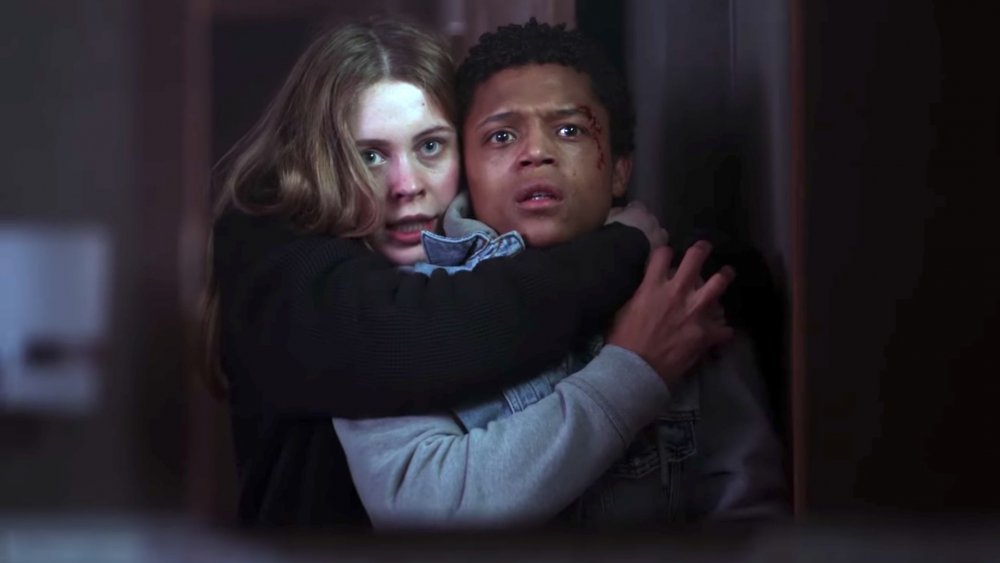 The Innocents is the story of two teen runaways... but there's a strange twist. June and Harry turn their backs on their tumultuous home lives and decide to leave town together, hoping to carve out a better life for themselves somewhere else. But just as their journey begins, things take an unexpected turn. After setting out on the road, they meet a man who claims that June's mother sent him — even though she went missing three years ago. And to make things even more complicated and terrifying, June develops a new ability that she cannot understand.
It turns out that June is a shapeshifter, and she's not the only one with this power. Can their young love survive in the face of this uncertainty? June and Harry's relationship might even remind you of Mike and Eleven — they're thrown into terrifying circumstances, but they're still willing to risk it all to be together.
Chambers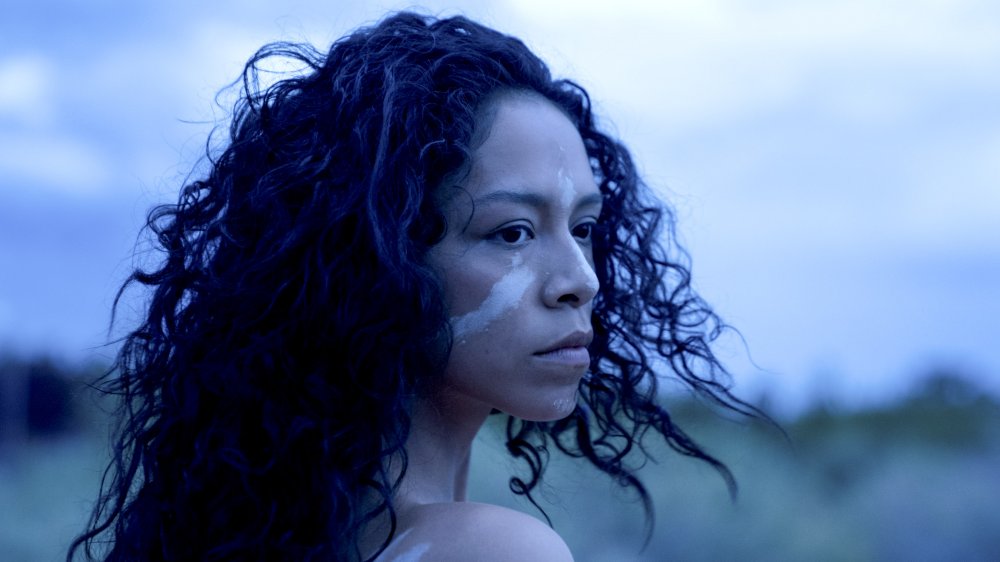 Chambers is the kind of body horror that will make you feel a little uncomfortable in your own skin. As long as you're not too squeamish, it's definitely worth watching.
Sasha needs a heart transplant, and she receives one from a donor named Becky. It's only natural that she gets curious about the life — and death — of her donor. But Sasha is baffled when she starts having visions of the last things Becky saw. She realizes that she has even taken on Becky's memories. Most disturbing of all, she sees Becky's face when she looks in the mirror. Slowly, Sasha begins to lose her sense of self, especially as Becky's family tries to become closer with her. Sasha's convinced that Becky was murdered, and as she becomes more and more like her donor, she tries to unravel the mystery of Becky's death. In Stranger Things, Eleven feels that her own body and mind can betray her — and Sasha experiences a similar fear in Chambers.
I Am Not Okay With This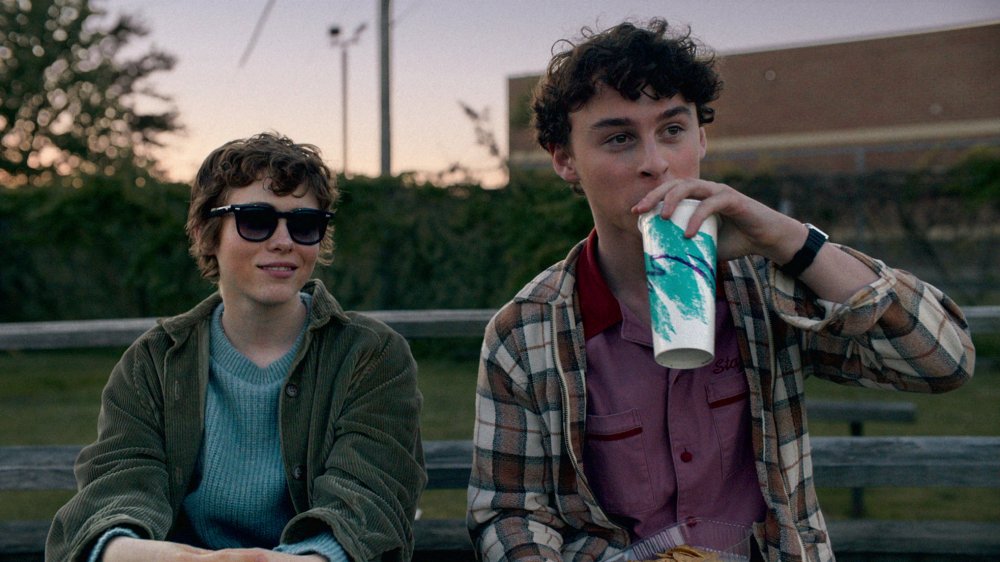 I Am Not Okay With This, a new Netflix teen drama based on a graphic novel, shares plenty in common with Stranger Things. It's a coming-of-age story at heart, but the protagonist, Sydney, is also dealing with the fact that she's developed telekinetic powers. And in a moment that just might be an explicit nod to Stranger Things, she realizes that she has special abilities when she accidentally makes her friend's nose bleed. It's safe to say that she wasn't exactly prepared for this aspect of her high school experience.
Throughout the first season of the series, Sydney struggles to process the loss of her father and her romantic feelings towards her friends Stan and Dina. She must learn how to control her newfound powers, but her telekinetic outbursts are strongly tied to her emotions, With so much going on in her life, she finds it hard to keep herself in check. You may not be able to move things with your mind, but there's a good chance you'll find Sydney to be a relatable and sympathetic protagonist.
Dark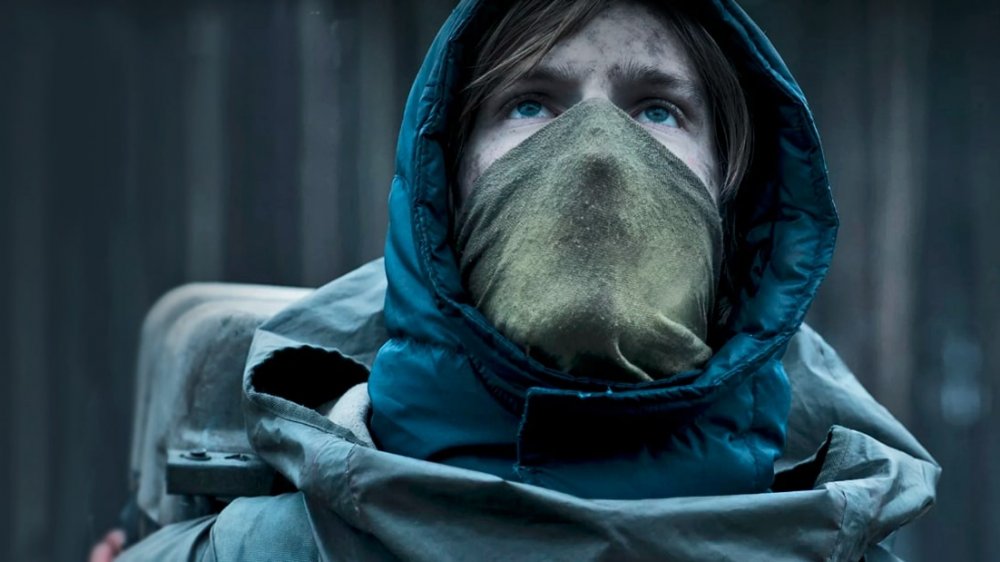 Dark is basically Germany's answer to Stranger Things — and it's so captivating that you won't even notice you're reading subtitles. If you're wishing that you could return to Hawkins, Dark will fill that niche.
In the fictional town of Winden, Germany, the residents are dealing with the tragic disappearance of several children. Some suspect that there is a murderer in their midst, but what if the mystery goes deeper than that? What if there are supernatural forces at play — and if so, how can the people of Winden possibly fight back?
When local police officer Ulrich reflects on the disappearance of his own brother, Mads, who went missing in Winden decades ago, he starts to wonder if these events are actually linked. Suddenly, the pieces begin to come together — but the possibility that the past, present, and future are somehow overlapping brings up more questions than answers. Family secrets are exposed, lives are at stake, and evil is lurking around every corner.
The Chilling Adventures of Sabrina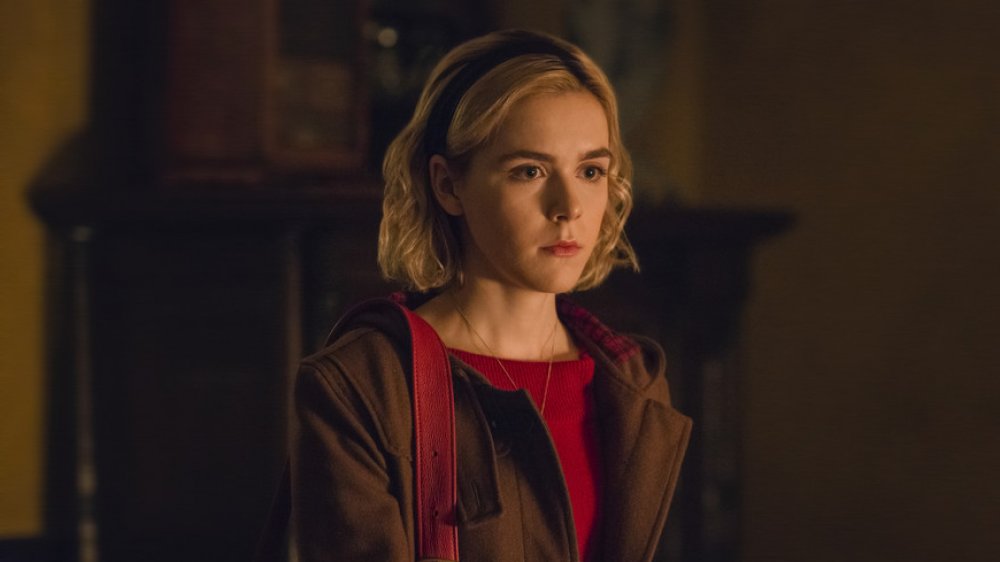 Fans of both Riverdale and Stranger Things will enjoy The Chilling Adventures of Sabrina. You've probably seen Sabrina, the famous teenage witch, in action before — but never quite like this. Based on the popular Archie comic book series of the same name, The Chilling Adventures of Sabrina follows Sabrina Spellman as she tries to balance her high school responsibilities and social life with her "dark education" — as a half-mortal, half-witch, she's got a lot to learn.
The series kicks off just before Sabrina's 16th birthday (naturally, it falls on Halloween), when she is supposed to go through with her "dark baptism" and pledge her loyalty to the Dark Lord. But it's not an easy decision for Sabrina. She struggles to choose between her mortal life, with her family and friends, and her magical life — but when she makes a reckless decision at the last moment, she ends up facing supernatural threats that she never anticipated.