Doctor Strange 2 Rumored To Introduce This New MCU Character
Marvel's upcoming Phase 4 film Doctor Strange in the Multiverse of Madness might be down a director for the moment, but casting on the hotly anticipated sequel is still  underway. And if the latest rumor surrounding the Doctor Strange sequel is to be believed, a powerful new ally might join the good doctor (played by Benedict Cumberbatch) in his travels through the titular multiverse and even play a key role in opening the door to new dimensions. 
As first reported by The Illuminerdi, rumor has it that the hard-nosed, extraordinarily powerful heroine America Chavez — a.k.a. Miss America — will make her Marvel Cinematic Universe debut in the upcoming Doctor Strange sequel. The outlet got its hands on an allegedly "official" casting sheet for Doctor Strange in the Multiverse of Madness, which is said to have called for "a teenage Hispanic female who will be a supporting lead in the film."
Within the Marvel Comics world, there aren't many teenage Hispanic females in the mix, so if this casting notice is legitimate, it almost certainly means America Chavez will be kicking ass in the MCU. No one involved with Doctor Strange in the Multiverse of Madness has said anything about Miss America playing a role in the film, so it's best to take this rumor with a dash of skepticism. On the flip side, however, if the rumor does prove to be true, it'll fuel a few more rumors thereafter.
Who is America Chavez?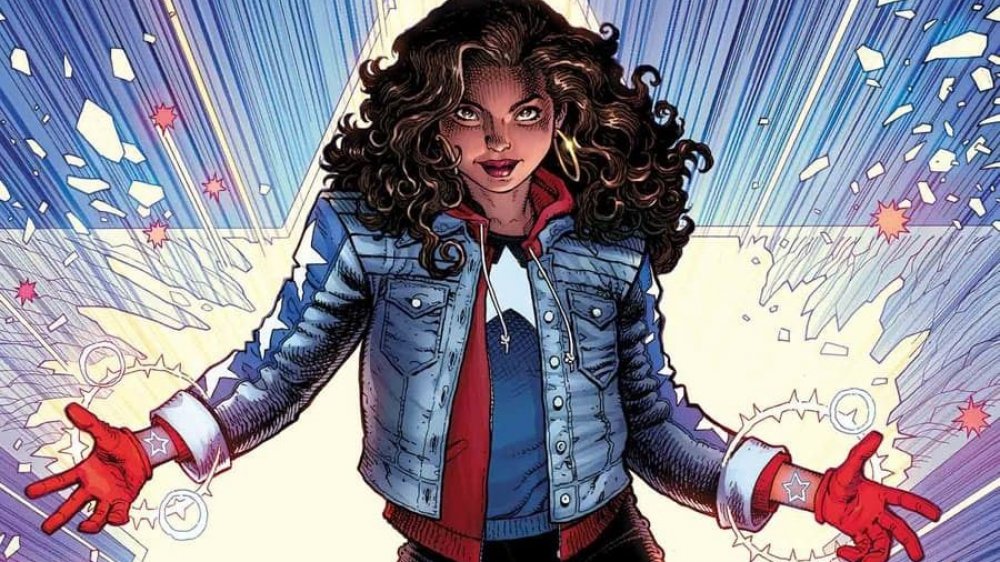 Arthur Adams/Marvel Comics
Before we go down the multiverse-sized rabbit hole that is MCU rumor-ville, we should take a moment to talk about who America Chavez is, and how she might factor into the madness of the Doctor Strange sequel — if The Illuminerdi's report is even accurate.
Since 2017, America Chavez has been the star of her own series in the pages of Marvel's America comic series. She's one of Marvel's most powerful Latinx characters, and the first to be openly gay. Hailing from an alternate dimension known as the Utopian Parallel, Chavez can fly, has super strength, and possesses the ability to open portals between dimensions — all of which make her a formidable hero in the Marvel Comics stable. America's portal-opening power should also make it pretty clear how she could run into Doctor Strange in the new film, and also how she might factor into all the multiverse madness that awaits. 
Still, we can't yet say for certain how or even if Miss America and Doctor Strange will find each other across dimensions in the sequel flick. For now, we'll just have to wait and see if the rumor mill ground out some legit news, or if it's continuing to pulp our minds with misguided and/or misinterpreted information.
Bringing America Chavez into the MCU might confirm a couple of other big Marvel rumors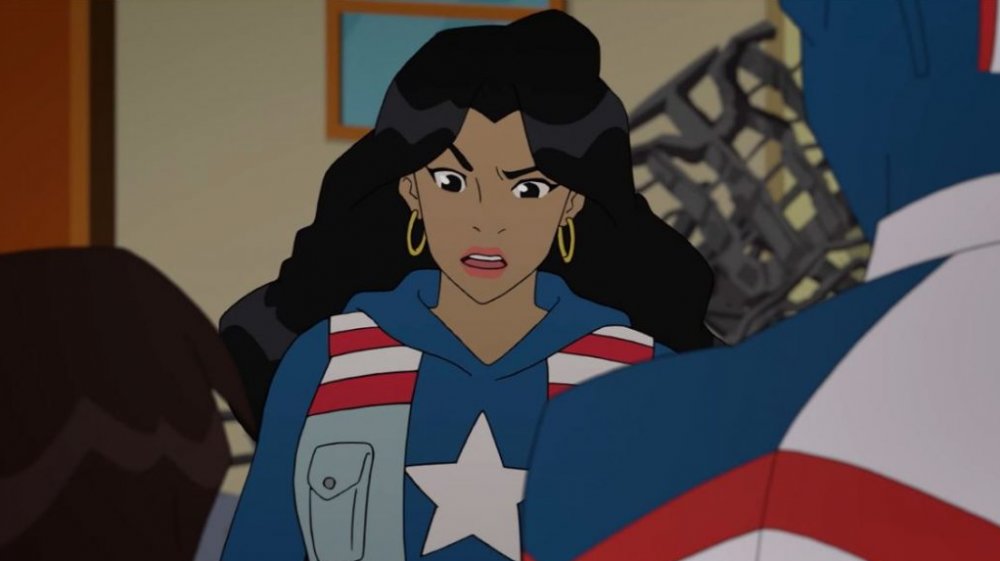 Marvel Animation
Based on the film's title alone, it makes sense to bring America Chavez into the MCU via Doctor Strange in the Multiverse of Madness. Her powers are uniquely suited to the presumed multiverse-jumping narrative in the film, and she also happens to be an extremely popular character among current Marvel fans. Narrative ingenuity aside, it also makes sense for Marvel boss Kevin Feige to bring Chavez on board now, as Marvel seems focused on using Phases 4 and 5 of the MCU to broaden the diversity of its heroes in terms of gender, ethnicity, and sexual orientation. Obviously, a hispanic, LGBTQ+ woman would help address some of the "Marvel-so-white"-styled arguments out there — though Team MCU still has a ways to go in terms of fully flipping the script on this delicate subject. 
As it happens, America Chavez's LGBTQ+ status would also seem to confirm Feige's assertions that both queer and transgender characters would be joining the MCU in Phase 4 and beyond. Feige has confirmed that one of those LGBTQ+ characters will be in the upcoming Eternals film – could Doctor Strange 2 debut another?
As far as rumors go, the presence of a teenaged America Chavez in the MCU would also seem to confirm yet another major bit of Phase 4 gossip: Marvel could be forging a path to its next big team-up event via the Young Avengers.
Which Young Avengers might be joining America Chavez in the MCU?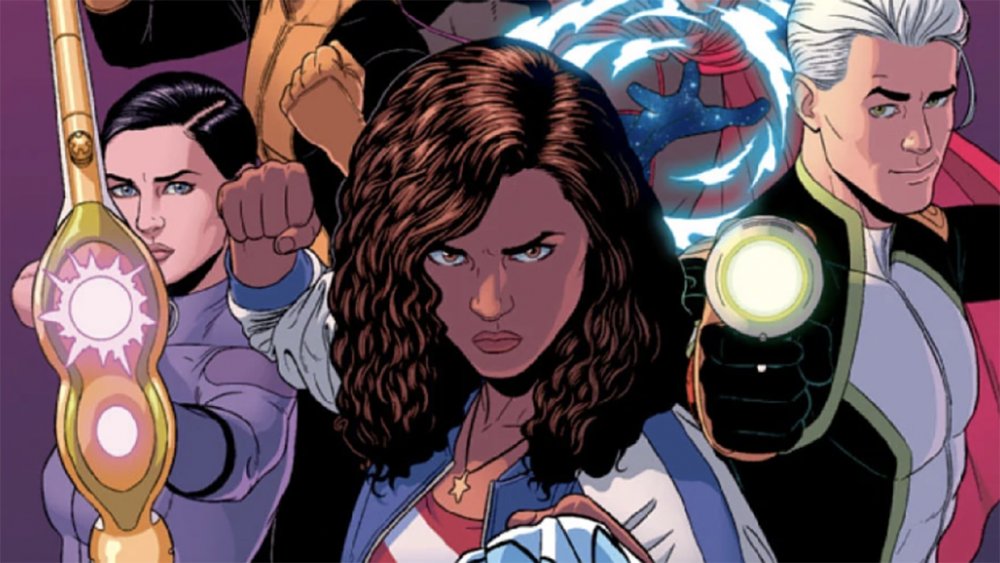 Jamie Mckelvie/Marvel Comics
In January 2019, rumors swirled that Marvel was developing a Young Avengers movie. If the studio is indeed looking to cast the dimension-jumping America Chavez for Doctor Strange in the Multiverse of Madness, those Young Avengers rumors could be true.
We may have even seen a couple of those future heroes in the MCU already, and one of them is expected to step up her role as a hero in a Phase 5 flick: the recently announced Ant-Man 3. The character in question is Ant-Man's daughter Cassie Lang who, thanks to some crackerjack scripting in Avengers: Endgame, is now a teen herself, and clearly enamored enough with her dad's super-skills to put herself on the path to becoming the hero known as Stature. 
Endgame might have also teased the future Iron Lad when Ty Simpkins' Iron Man 3 character Harley Keener made a surprise appearance at Tony Stark's memorial service — though Harley becoming Iron Lad would be a major departure from the Young Avenger's origin story.
The creator of another Young Avenger, Hulking, also popped up on the big screen in 2019 – it was Annette Benning's Dr. Lawson in Captain Marvel.
Even as we've likely seen the groundwork for the Young Avengers laid in the MCU, we know some of the young heroes will debut via Marvel's Disney+ shows. The most prominent of them is Kate Bishop, who's reportedly due to take over the role of Hawkeye from Jeremy Renner in the forthcoming Hawkeye series. If the casting calls for WandaVision are to be believed, MCU producers are on the hunt for infant twins who should become Scarlett Witch's super-powered spawns Speed and Wiccan, rounding out the Young Avengers roster.
So Doctor Strange 2 might be way more important than we think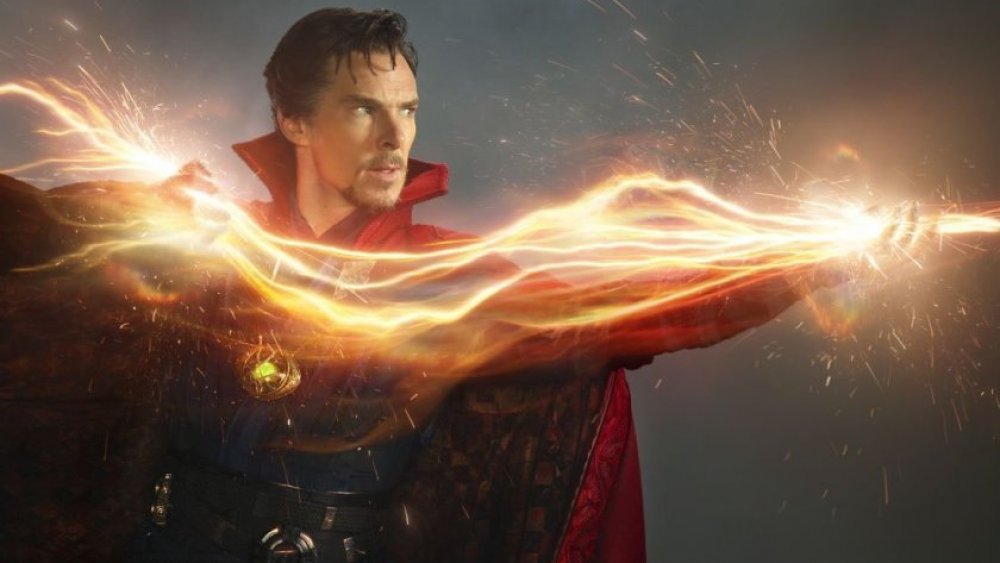 Marvel/Disney
There were already quite a few reasons to be excited about Doctor Strange and the Multiverse of Madness – the most prominent of which was the fact that the film was initially conceived as the first Marvel movie to play like a full-blooded horror flick. While director Scott Derrickson's recent departure from the film over "creative differences" with Marvel seems to suggest there might be a change of tone ahead, Doctor Strange 2 should hopefully up the creep factor with trips to some demented multiverse locations.
If the prospect of Doctor Strange losing his mind while facing multiverse nastiness wasn't enough to get you pumped to see Doctor Strange 2, the rumored arrival of America Chavez in the MCU should be. Not only is she an intriguing character in the ever-expanding Marvel-verse, but she's also one of the most powerful Young Avengers Marvel has ever introduced — so much so that it's almost surprising she hasn't been included yet. But given that Feige and co. seem to be assembling the next iteration of Earth's most powerful heroes, there's no time like the present to start putting that team together.
Should that be the case, Doctor Strange and the Multiverse of Madness could play a major role in Marvel's next big team-up. Here's hoping Marvel fills the director's chair on the film sooner rather than later, so we can finally found out whether America Chavez will get to play a part in the forthcoming film.
Doctor Strange in the Multiverse of Madness opens in theaters on May 7, 2021.