Ant-Man And The Wasp: Quantumania - Everything You Need To Know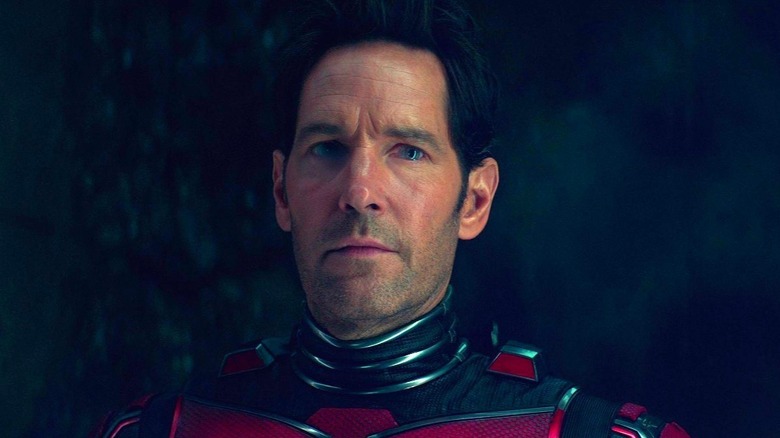 Marvel Studios
We may receive a commission on purchases made from links.
"Ant-Man and the Wasp: Quantumania" hit theaters on February 17, 2023, thrusting the tiniest Avenger into a story with huge stakes. Alongside his Ant-Family — Cassie Lang, Hope van Dyne, Janet van Dyne, and Hank Pym — Scott Lang finds himself trapped in the strangest corner of the MCU: the Quantum Realm. In this microscopic world, our heroes discover entire civilizations and an all-powerful villain who threatens to give Thanos a run for his money.
Of course, while the first film in Marvel's Phase 5 offered plenty of familiar faces and awesome action scenes, the movie wasn't without controversy. What did critics think about the superhero flick? How did it perform at the box office? And what did it set up for the rest of the Marvel Cinematic Universe? Well, put on your helmet, grab a couple of Pym Discs, and get ready for some nanosized adventures as we look at everything you need to know about "Ant-Man and the Wasp: Quantumania."
What is the plot of Ant-Man and the Wasp: Quantumania?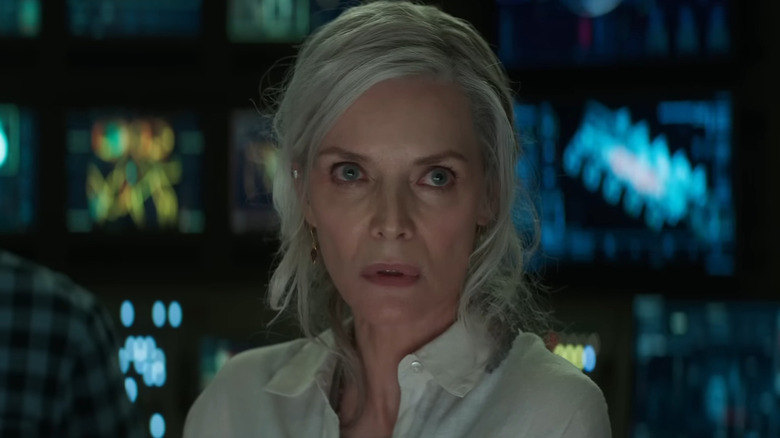 Marvel Studios
Everything's going pretty great for Scott Lang. In the aftermath of "Avengers: Endgame" and his five years stuck in the Quantum Realm, Scott is a celebrity, showing up to red carpet events, getting recognized on the streets, and promoting his new autobiography. On the surface, everything seems golden, but his teenage daughter, Cassie Lang, isn't especially impressed with her dad's newfound fame and thinks he could be doing more with his superpowered abilities.
There's also some drama going down between Hope van Dyne and her recently recovered mom, Janet. The elder Wasp is glad to be back home, but she's keeping her cards incredibly close to her chest — refusing to talk about what happened all those years in the Quantum Realm. And as it turns out, she's guarding some pretty big secrets, something the Ant-Family finds out when Cassie invents a device that results in our heroes getting sucked into the Quantum Realm.
Now, our heroes are trapped in this bizarre, microscopic world — one populated by entire civilizations and scruffy-looking riffraff. We also meet a terrifying figure from Janet's past, the time-traveling, dimension-hopping Kang the Conqueror. Exiled to the Quantum Realm by his fellow Kangs, the Conqueror has managed to build an empire, but he's still got more worlds to dominate. And now that Ant-Man is here, Kang has a little job for him. Once upon a time, in a desperate bid to stop his deadly plot, Janet stole the power core to Kang's ship, and now, the Conqueror wants Ant-Man to steal it back ... or else.
Amidst all this drama, we also watch as the residents of the Quantum Realm decide it's time to fight back against Kang, with Cassie helping to lead the charge. However, the real conflict comes between Kang and Janet — friends turned enemies who find themselves at war, with the entire multiverse hanging in the balance.
Who stars in Quantumania?
Marvel Studios
As you might expect, Paul Rudd and Evangeline Lilly are back, playing their respective super-roles of Ant-Man and the Wasp. They're joined by Hollywood legends Michael Douglas as Hank Pym and Michelle Pfeiffer as Janet van Dyne. And while Cassie Lang plays an integral part in the film, she's portrayed by a new actress. Emma Fuhrmann played an older Cassie in "Avengers: Endgame," but here, she's portrayed by Kathryn Newton of "Freaky" and "Big Little Lies."
Several other "Ant-Man" stalwarts have also returned to the saga. Randall Park makes a brief yet magical appearance as Agent Jimmy Woo, and Gregg Turkington comes back as Dale, the guy who fired Scott Lang from Baskin Robbins. Interestingly, while David Dastmalchian is in the film, he isn't playing Russian hacker Kurt. Instead, he's playing Veb, a gelatinous resident of the Quantum Realm who's absolutely obsessed with holes. And in perhaps the greatest twist of the film, Corey Stoll returns as original "Ant-Man" villain Darren Cross ... excuse us — MODOK, the mechanized organism designed for only killing.
Of course, Kang the Conqueror is played by Jonathan Majors, a generational talent who's also starred in projects like "Creed III" and "Lovecraft Country." Plus, the legendary Bill Murray makes a hilarious appearance as Lord Krylar, a sleazy yet charming figure from Janet's past who may secretly have his own agenda. Rounding out the cast, Katy O'Brian returns to the Marvel fold after playing in "Agents of S.H.I.E.L.D" (in addition to projects like "Black Lightning" and "The Mandalorian"). But here, she's starring as Jentorra, the fierce freedom fighter who rises up against Kang. She's joined in her quest by William Jackson Harper of "The Good Place," playing the telepathic Quaz.
And hey, if you're a fan of Tim Robinson's "I Think You Should Leave," we've got some good news. Ruben Rabasa, the scene-stealing character actor from Season 1's focus group sketch, also appears in "Quantumania" as an enthusiastic (if not always well-informed) barista.
Who directed Ant-Man and the Wasp: Quantumania?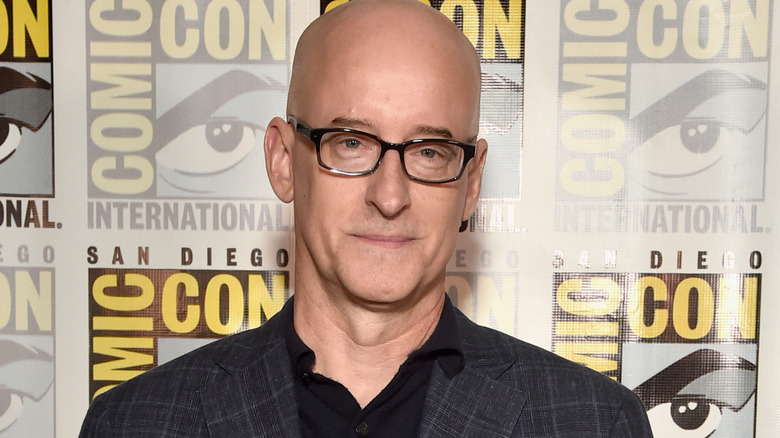 Alberto E. Rodriguez/Getty Images
While some Marvel series see different creators come and go (i.e. Scott Derrickson and Sam Raimi with "Doctor Strange" and Kenneth Branagh, Alan Taylor, and Taika Waititi with "Thor"), there are also quite a few heroes who've teamed up with a particular filmmaker and never looked back. For example, there's James Gunn and the Guardians of the Galaxy, Jon Watts and Spider-Man, Ryan Coogler and the Wakandans, and of course, Peyton Reed and Ant-Man.
Reed has directed both previous installments of the "Ant-Man" franchise (not to mention "Bring It On," "Yes Man," and two episodes of "The Mandalorian"), and he also ventured into the Quantum Realm for Ant-Man's biggest solo adventure yet. Speaking about the Scott Lang franchise, Reed told Entertainment Weekly, "People felt like, 'Oh, these are fun little palate cleansers after a gigantic 'Avengers' movie. For this third one, I said, 'I don't want to be the palate cleanser anymore. I want to be the big 'Avengers' movie."
Who wrote Ant-Man and the Wasp 3?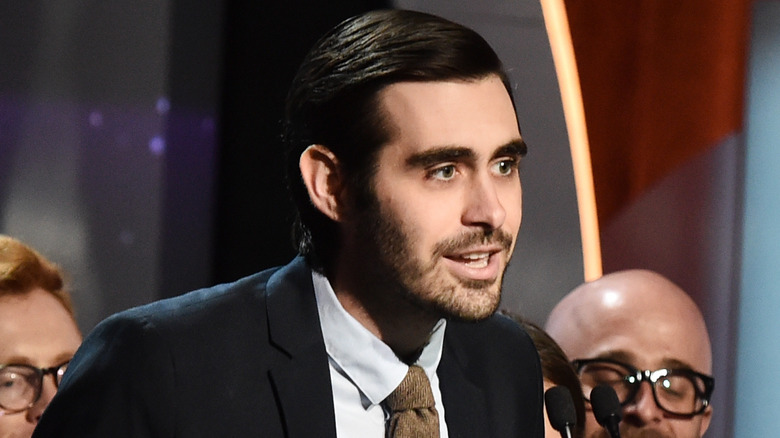 Alberto E. Rodriguez/Getty Images
Every so often, Kevin Feige and the folks at Marvel Studios will find a creative talent and latch on hard. That's what they did with Jac Schaeffer (who helped develop "Black Widow," created "WandaVision," and is working on both "Agatha: Coven of Chaos" and "Vision Quest") and Michael Waldron (who created "Loki," wrote "Doctor Strange in the Multiverse of Madness," and is currently working on "Avengers: Secret Wars"). The same seems to be true for Jeff Loveness, who's been handed not one but two massive jobs for Marvel.
Previously, Loveness was a scribe for "Rick and Morty," a show known for its dark humor, multiverses, and time travel. With that background in sci-fi silliness, it's no wonder he was brought on to pen "Ant-Man and the Wasp: Quantumania." However, he's also been tapped to write "Avengers: Kangy Dynasty," which is directed by Destin Daniel Cretton and will hit theaters on May 2, 2025. Interestingly, there's a pretty obvious connection between the two projects — the villainous Kang, who's the big bad of "Quantumania" and who will somehow factor into the upcoming "Avengers" flick. In other words, "Quantumania" is setting up some pretty big stakes for the rest of the MCU.
Where does Quantumania fit into the MCU?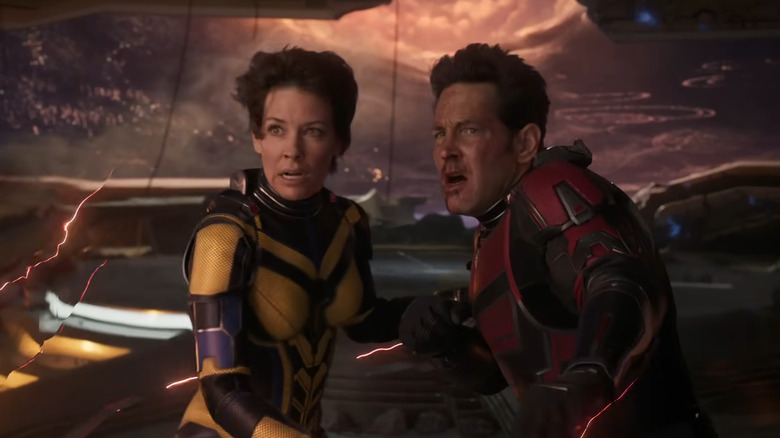 Marvel Studios
From She-Hulk smashing her way through court to Namor declaring war on Wakanda to a werewolf running around causing chaos, there's a lot happening in the Marvel Cinematic Universe. So where exactly does "Quantumania" fit in?
Well, the third installment of the "Ant-Man" series picks up after the end of the Infinity Saga, but it's still grappling with everything that went down in Phase 3. In the previous Ant-installment, "Ant-Man and the Wasp," Scott, Hope, and Hank learned that Janet van Dyne was actually alive and trapped in the Quantum Realm, prompting the Ant-Family to visit the world between worlds to pull her out. After a successful mission, it was Scott Lang's turn to get trapped inside, thanks to Thanos getting his hands on the Infinity Stones in "Infinity War" and snapping the rest of Scott's crew out of existence, leaving him stuck in limbo.
After years trapped inside, Scott used his knowledge of the Quantum Realm in "Avengers: Endgame" to help Earth's Mightiest Heroes harness the power of time travel, allowing them to visit the past, retrieve the Infinity Stones, and undo Thanos' murderous snap. Of course, during his time away, Cassie Lang grew up quite a bit, meaning Scott found himself with a teenage daughter upon returning to the world.
However, the events of the "Ant-Man" series aren't the only ones critical to understanding "Quantumania." As it turns out, the events of "Loki" are pretty important as well. In Season 1 of the Disney+ series, the titular god of mischief and Loki variant Sylvie plan on bringing down the Time Variance Authority, the organization in charge of maintaining the Sacred Timeline. Their quest eventually brings them to He Who Remains, a god-like figure who ended a multiversal war waged by his own variants by coalescing all the disparate timelines and worlds into one.
Unfortunately for the MCU, when an enraged Sylvie — looking for vengeance — kills He Who Remains, she disrupts the Sacred Timeline and allows for the arrival of his most dangerous variant: Kang the Conqueror. With the various Kang variants playing huge roles in "Quantumania," "Loki" Season 2, and "Avengers: Kang Dynasty," the events of "Quantumania" are pretty crucial to the next saga of the MCU.
How are critics and audiences responding to Ant-Man and the Wasp: Quantumania?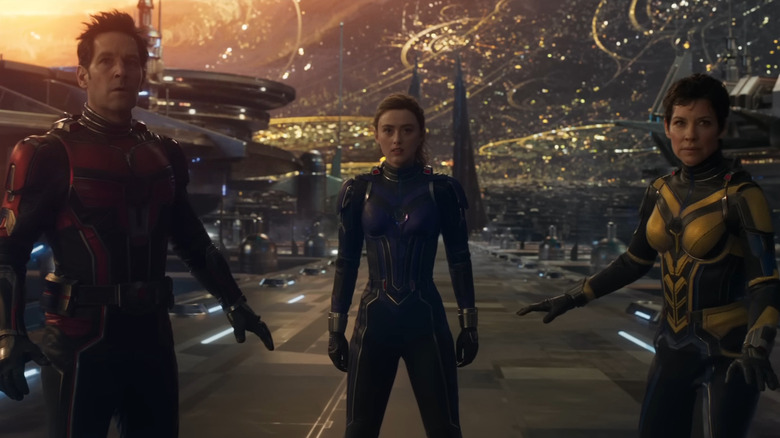 Marvel Studios
Despite the never-ending discussion about "superhero fatigue," MCU movies generally do pretty well with critics. Even the studio's lesser offerings, a la "Thor: Love and Thunder," earn decent Rotten Tomatoes scores. However, there are two glaring exceptions to the rule. The first Marvel movie to ever earn a rotten score was "Eternals," Chloe Zhao's epic sci-fi tale of immortal heroes. And then, sadly, "Quantumania" earned the unfortunate distinction of being the second MCU movie to earn a rotten score on Rotten Tomatoes.
As it currently stands, "Ant-Man and the Wasp 3" has a terrible 48% score based on 356 reviews. In fairness, even "Quantumania" detractors had good things to say about Jonathan Majors as Kang and Michelle Pfeiffer as Janet van Dyne, with Majors receiving praise for his electric villain turn and Pfeiffer getting plaudits for her layered, emotional performance as the elder Wasp. But past that? Yeah, critics weren't crazy about the first film of Phase 5.
For example, our very own Dominic Griffin wrote that the film "scans as a bloated episode of television," adding, "Anything meaningful we need to know about the main characters has happened off screen in between films. Scenes bounce from one to the next in the kind of hurry usually reserved for network procedurals, not even classy cable or streamer dramas. The genuinely compelling arc between the two sets of parent-child relationships that comprise the central family is truncated down to Cliff's Notes and only works half as well as they do because of this cast."
Emily Zemler of the Observer concurred, saying the movie is "ultimately one of Marvel's dullest and most unnecessary movies to date." David Sims of The Atlantic had a similar take, writing, "The story is in service of the larger Marvel engine, an increasingly creaky machine that nevertheless keeps grinding away, dropping superstar performers into CGI glop because the show simply must go on." However, audience members (those who saw the movie anyway) seem to have a different takeaway, with the film receiving an 84% approval rating from moviegoers. That's a pretty sizable divide between critics and audiences, showing that many people seem to enjoy the Quantum Realm worldbuilding, Paul Rudd adorableness, and Jonathan Majors menace.
How did Ant-Man and the Wasp: Quantumania perform at the box office?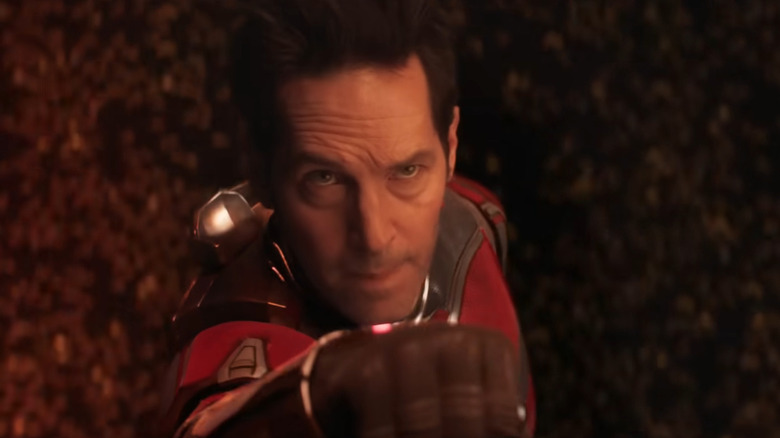 Marvel Studios
While critics hated "Quantumania," the Average Joe moviegoers who saw it seemed to have enjoyed it. After all, on Rotten Tomatoes, the film has an audience score of 84%. However, we really need to stress the "moviegoers who saw it" part ... because a whole lot of people decided to sit this one out.
Like most Marvel movies, "Quantumania" had a great opening weekend, earning $106 million at the domestic box office — which is way higher than the previous two "Ant-Man" movies. But after that? Well, Scott Lang's third adventure fell pretty hard. The movie had a 69% drop on the second weekend, which is the biggest second-weekend drop in MCU history (bigger than even "Black Widow," a pandemic movie that also received a day-and-date release). To date the movie has earned $363 million worldwide.
So what's the deal here? Did the negative critical reviews hurt the box office? Did competition from the likes of "Cocaine Bear" steal some of "Ant-Man's" audience away? Do "Ant-Man" movies just generally underperform compared to other MCU movies? Are people a bit tired of Marvel oversaturation? Honestly, we're going to say "yes" to all these factors. While we do think the MCU has plenty of successes in their future, "Quantumania" was definitely a Giant Man-sized failure.
Does Quantumania have any post-credit scenes?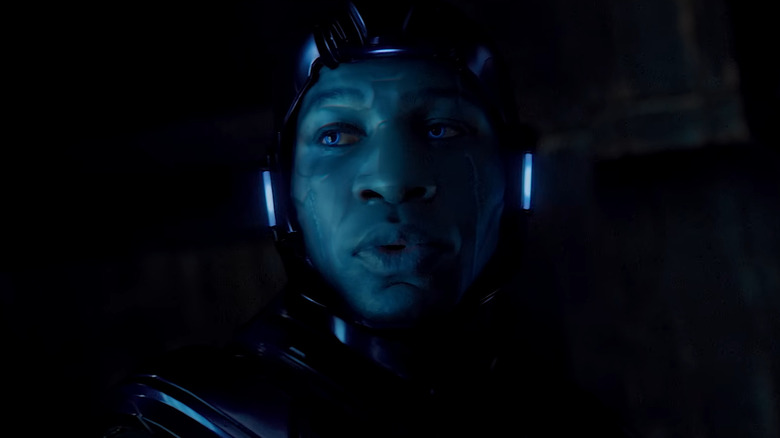 Marvel Studios
Huge spoilers for "Ant-Man and the Wasp: Quantumania"
While "Quantumania" might not be having a huge impact on the box office, it's going to have an enormous impact on the MCU. For proof, look no further than the film's two post-credit scenes.
The first comes during the middle of the credits, when we're introduced to three of Kang's most dangerous variants, characters who seem to be based on Egyptian pharaoh Rama-Tut, the wizened Immortus, and (possibly) the Scarlet Centurion. Together, the three discuss the death of Kang the Conqueror and realize Earth's Mightiest Heroes are starting to reach out and touch the multiverse. Worried the Avengers might interrupt their world-conquering plans, these three summon every Kang from every dimension, assembling the massive and formidable Council of Kangs — promising our MCU heroes are in some serious trouble when "Kang Dynasty" rolls around.
Then, in the final post-credit scene, we jump back to the early 1900s, where we see Tom Hiddleston's Loki and Owen Wilson's Mobius M. Mobius in period-appropriate attire. They're sitting in an audience of eager spectators, watching a Thomas Edison-like figure on stage, displaying time-travel technology. This figure is a man named Victor Timely, who Loki — terror plainly written on his face — knows full well is a Kang variant. In the comics, Victor establishes his own little town that serves as a waypoint for every era of human history. In other words, there are Kangs all across the MCU, and it looks like every Marvel hero is going to eventually face a version of this time-traveling conqueror.
What is Ant-Man and the Wasp: Quantumania rated?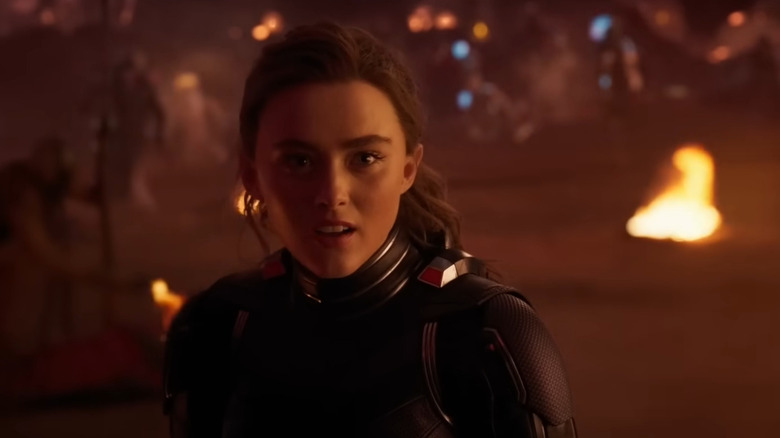 Marvel Studios
Whether or not you enjoyed the third "Ant-Man" installment, we can all agree that Marvel Studios has a pretty good track record at the box office. If we take a step back and look at all their offerings, it's safe to say they've mastered the art of making blockbusters that appeal to everyone. And in order to make those impressive stacks of cash and draw in viewers of all ages, you've got to have a rating that appeals to everyone — and that just so happens to be PG-13. 
PG-13 is the rating all movie studios strive for when making a mainstream blockbuster. It's just intense enough to draw in older crowds while still being appropriate enough for younger audiences. On that note, "Quantumania" boasts a PG-13. There's a bit of strong language (nothing you haven't heard in any other Marvel movie), some fight scenes on par with other MCU fare, a bit of comical MODOK nudity, and a few sequences some younger ones might find upsetting, like Bill Murray scarfing down a clearly terrified creature (only to get his just desserts moments later). In other words, if you're a fan of most Marvel movies — a la "Guardians of the Galaxy" or "Captain America: Civil War" — you won't have a problem with anything happening here.
Where to watch the previous Ant-Man movies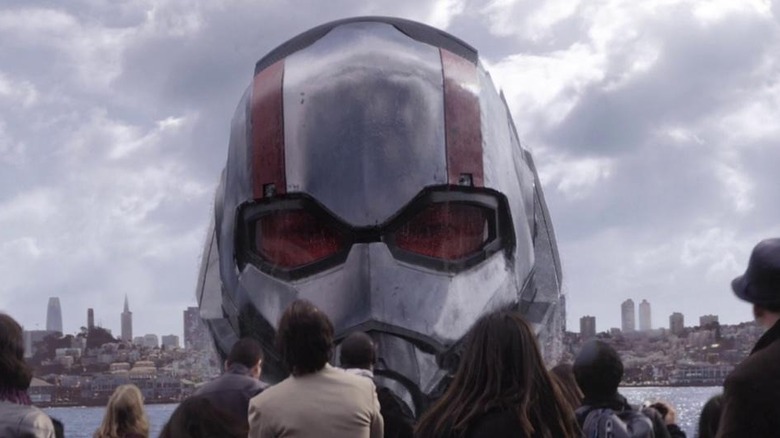 Marvel Studios
If you're wanting to brush up on your "Ant-Man" mythos, where can you find Earth's smallest Avenger? Don't worry — we've got you covered.
The original "Ant-Man" film found ex-con Scott Lang teaming up with inventor Hank Pym for the ultimate heist: Use shrinking powers and friendly ants to steal dangerous technology from weapons manufacturer Darren Cross. If you want to see the insect action or hear Michael Peña's glorious storytelling abilities, you can stream "Ant-Man" on Disney+ and Sling TV, or you can rent it for $3.99 on Apple iTunes, Amazon Video, Google Play, Vudu, and YouTube.
The second installment of the series, "Ant-Man and the Wasp," finds Hope van Dyne finally getting her super suit and Scott Lang under house arrest after the events of "Captain America: Civil War." But after learning that Hope's mom, Janet, is still alive, our heroes will have to defeat the greedy Sonny Burch and the intangible Ghost if they want to pull her out of the Quantum Realm. You can watch the sequel on Disney+, or you can rent it for $3.99 on Amazon Video, Apple iTunes, Google Play, Vudu, and YouTube.
And if you want to dive even deeper, you should check out Season 1 of "Loki," which establishes the lore behind "Quantumania's" big baddie — Kang the Conqueror. The time-traveling adventure series can be streamed on Disney+.