The Real Reason Why Amazon Just Gave Up On The Dark Tower TV Adaptation
Roland Deschain's journey to the Dark Tower is over.
Amazon Studios has opted to pass on its planned adaptation of Stephen King's eight-novel opus after reportedly being dissatisfied with the pilot. The streamer will shop its two completed scripts to other studios, according to Deadline.
The news comes as a bit of a shock; King fans were psyched for The Dark Tower to receive the serial treatment, which would have been a great fit for the extremely dense and profoundly weird material. The novel series deals with Roland, the last of a long line of near-mythical Gunslingers, and his quest to ascend the titular Tower, which is the nexus of all possible realities. He's opposed by the mysterious Man in Black, as well as the Crimson King, an evil extradimensional entity who has featured directly or indirectly in several of King's works, and who is attempting to bring the Tower down with the help of powerful psychics called "Breakers." (Like we said... weird, and that little synopsis only scratches the surface.)
While Amazon had made no official announcements regarding the series' cast and crew, it had been widely reported that the series was to be showrun by Glen Mazzara, who had worked on The Walking Dead and The Shield; Sam Strike (Nightflyers) and Jasper Pääkkönen (BlacKkKlansman) had been cast as Roland and the Man in Black, respectively, and Michael Rooker (Guardians of the Galaxy) had also joined the series in an undisclosed role.

Unfortunately, unless the series is picked up by another network or streamer, Mazzara's Dark Tower will never see the light of day. Fans who were disappointed by the 2017 feature film The Dark Tower, which attempted to cram several novels' worth of story into one film and... well, failed, now have something else to be disappointed about.
What went wrong with Amazon's Dark Tower pilot?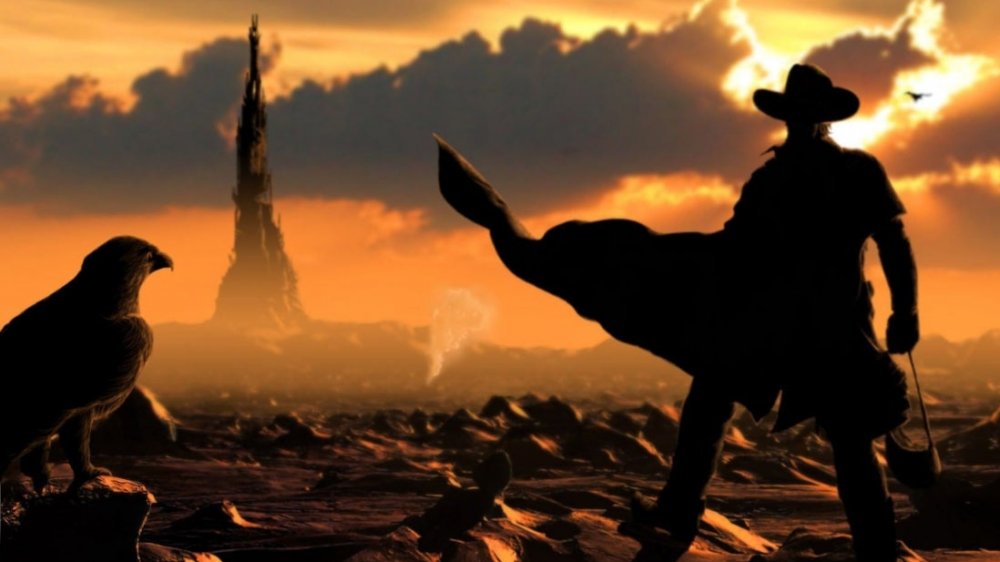 Amazon has made no public statement about why the plug was pulled on the series, but Deadline's sources indicate that it wasn't just one thing. Of course, as one might have predicted, it was reported that Mazzara and company were having a tough time wrangling the material; it really can't be overstated just how tough King's novels would be to adapt. What works on the page doesn't always work on the screen, and the Dark Tower novels serve as an absolutely splendid illustration of this truth. Some of their imagery would be near-impossible to depict, and some of it — if we're being honest — would look incredibly silly, no matter how it was depicted. 
Aside from these troubles, however, it was also reported that Amazon's brass simply didn't feel that the pilot was up to snuff, and that it would have suffered by comparison with other fantasy properties the streamer has cooking, such as Wheel of Time (itself based on a fourteen-novel series by Robert Jordan) and Lord of the Rings (which we have a feeling you're perfectly familiar with).

While that's certainly a bummer for fans (especially considering that we know the pilot exists, but we'll never get to see it), there is a silver lining here. As the 2017 film proved, The Dark Tower is an extremely easy property to botch, and we submit that perhaps the powers that be at Amazon have saved us from another half-baked adaptation.
Will The Dark Tower ever be adapted again?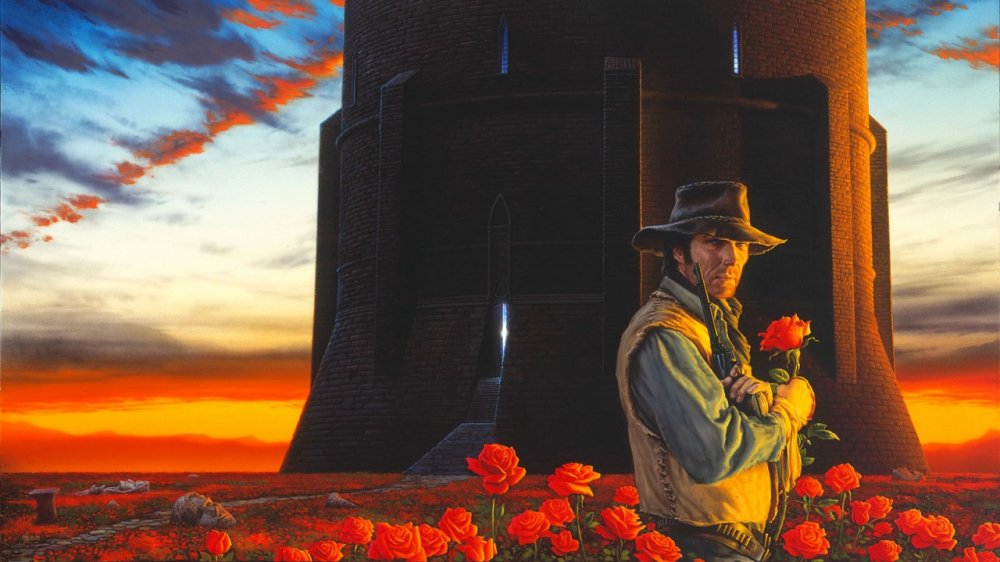 As to whether any other brave souls will pick up the Dark Tower torch, it's tough to say. It's always possible that Mazzara's series will be rescued by Netflix or HBO, but it seems more likely that whatever problems Amazon had with the pilot won't be overlooked by other potentially interested parties.
If indeed some intrepid creator decides to start from scratch on a fresh adaptation, they would do well to heed the advice of Ron Howard, who produced the feature film and also oversaw a planned tie-in TV series (which never materialized). Speaking with Collider last year, Howard indicated that if he had it to do over again, he would have leaned into the weirdness of the source material rather than trying to shoehorn it into a mainstream-friendly package.
"We always felt like we were kind of holding back something," Howard said. "Sometimes this happens on these projects where everybody's best intentions — you're all pulling in a direction, and then you sort of say, 'Was that the right direction?' And I wouldn't say [the movie] was all compromise. I do think it was just a sense of maybe too much listening to what you think that the marketplace is calling for instead of the essence of what Stephen King was giving us."

Hopefully, one day, we'll get the mind-blowing serial adaptation that The Dark Tower deserves — but it won't come from Amazon, and it almost certainly won't come from Mazzara, who has apparently forgotten the face of his father.