The Secret Second Role Carrie Fisher's Daughter Billie Lourd Had In Rise Of Skywalker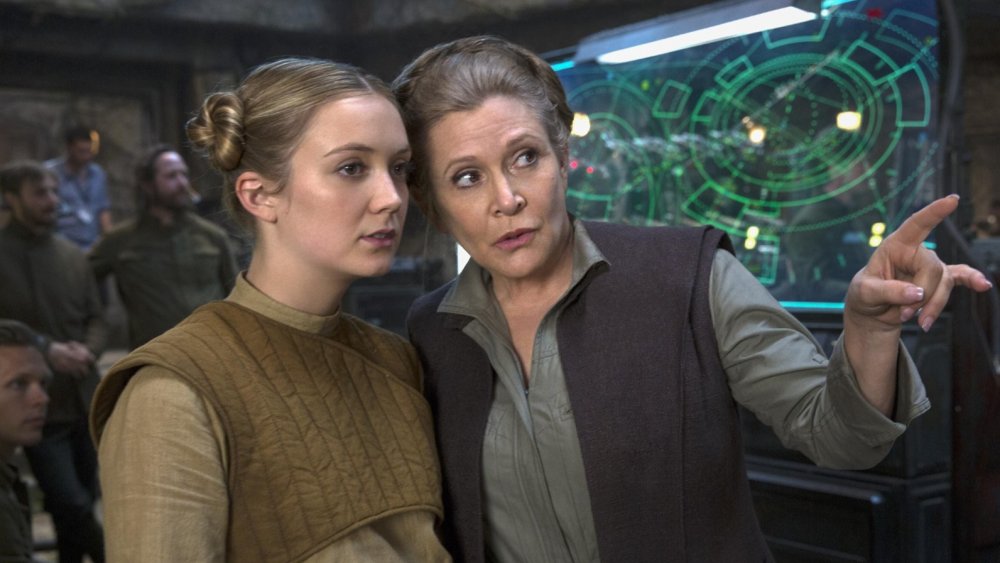 Disney/Lucasfilm
Carrie Fisher's daughter played a much bigger role in The Rise of Skywalker than you might think.
After Fisher suddenly passed away from a heart attack in December 2016, director J.J. Abrams and the team behind The Rise of Skywalker were left with a unique challenge: how could they incorporate Fisher's iconic character General Leia Organa without the actress? Through some clever CGI tricks and a performer capable of following in Fisher's footsteps, the impossible became possible.
Unbeknownst to most, Billie Lourd, who appeared in The Force Awakens and The Rise of Skywalker as junior communications coordinator Lieutenant Kaydel Ko Connix, also made an appearance in the final film of the Skywalker Saga as a young Leia during a crucial scene where the princess-turned-general trained in the ways of the Force. In an interview with Yahoo, visual effects supervisor Patrick Tubach confirmed that while Mark Hamill went through a de-aging process to look like a younger Luke Skywalker, Lourd stepped in to play Leia.
How Lourd became Leia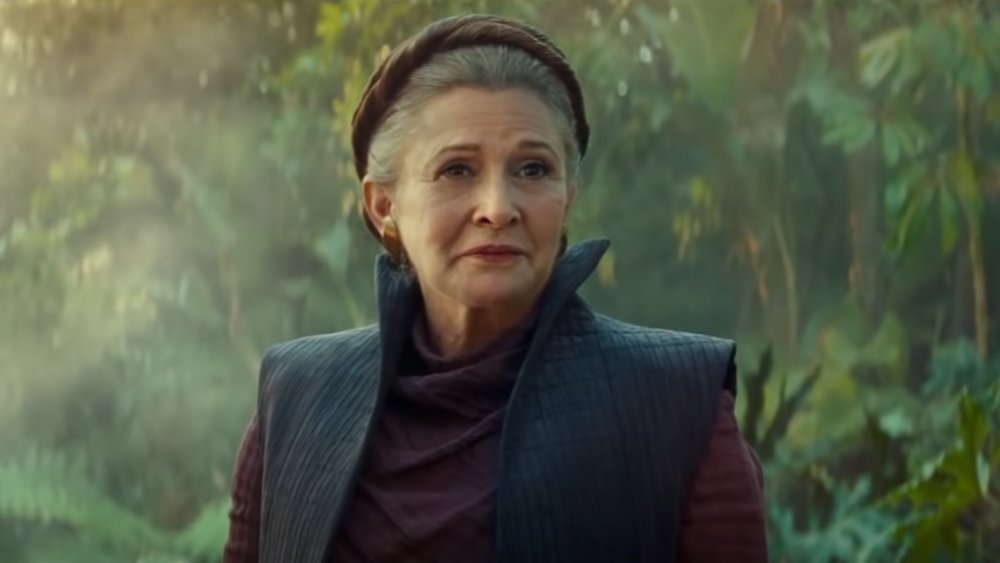 Disney/Lucasfilm
Rumors swirled for months that Lourd, whose Lieutenant Connix sports Leia's signature buns during her appearances on screen, would be playing a young Leia at some point during The Rise of Skywalker. Now, Tubach has confirmed those theories. Though Lourd's face isn't actually used in the final product — it's a CGI rendering of what Fisher looked like in her youth — everything else of her physical form is.
"Billie was playing her mother. It was a poignant thing, and something that nobody took lightly — that she was willing to stand in for her mom," he said. "It was an emotional thing for everybody to see her in that position. It felt great for us, too. If you're going to have someone play [Fisher's] part, it's great that it's [Billie] because there are a lot of similarities between them that we were able to draw from. The real challenge was just making the Leia footage we had to work with fit in that scene."
As for how the VFX team created the entire sequence — and in case you were wondering whether there was any more footage hidden somewhere — VFX supervisor Roger Guyett also told Yahoo, "What you see is what we developed. The idea was to provide this great surprise where they take the helmets off, and you see Luke and Leia's younger faces. We scoured outtakes from the original movies, and we took some pieces and then had to try and figure out the technical aspect of putting that shot together."
Going forward, whether or not Leia appears in any future Star Wars projects will be entirely up to the young actress. As Guyett noted, "The truth is that Carrie was a friend of J.J. and Billie is a friend of J.J. They talked a lot about that, and I think the heart of it is the utmost respect for Carrie and her memory and her performance."
Billie Lourd is carrying on Carrie Fisher's legacy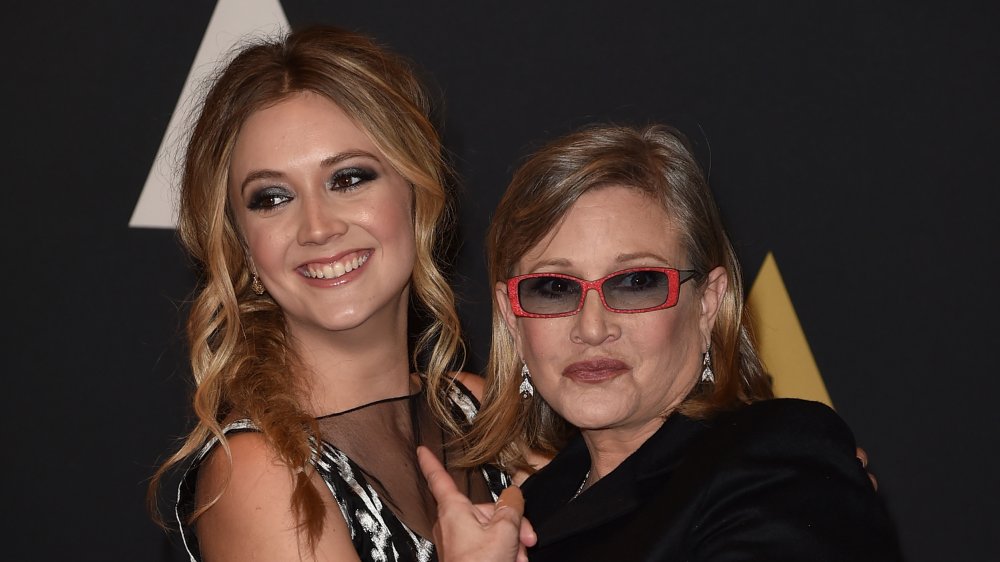 Kevin Winter/Getty Images
It couldn't have been easy for Lourd – who lost both her beloved mother and her grandmother, Debbie Reynolds, before 2016 came to an end — to step in and play her mother. In the build-up to The Rise of Skywalker, Lourd even addressed the legacy of both her mother and Leia by penning a deeply emotional essay for TIME Magazine where she discussed the good and bad impact that Princess Leia had on her life.
Initially, Lourd was confused and often irritated by her mother's fame, but eventually, she came around. "I realized then that Leia is more than just a character. She's a feeling. She is strength. She is grace. She is wit. She is femininity at its finest. She knows what she wants, and she gets it. She doesn't need anyone to defend her, because she defends herself," wrote Lourd. "And no one could have played her like my mother. Princess Leia is Carrie Fisher. Carrie Fisher is Princess Leia. The two go hand in hand." 
Lourd then concluded the essay by saying, "I grew up with three parents: a mom, a dad, and Princess Leia. Initially, Princess Leia was kind of like my stepmom. Now she's my guardian angel. And I'm her keeper."
Regardless of whether Lourd takes on the role of Leia in a future Star Wars film, she's got an undoubtedly bright future ahead of her. After gaining fame and acclaim thanks to her various roles on Ryan Murphy's anthology series American Horror Story, Lourd made her mark on the big screen in Olivia Wilde's directorial debut Booksmart, playing the absurd, scene-stealing character Gigi.
If Lourd chooses to retire her mother's signature character after The Rise of Skywalker, it's a comforting relief for many fans to get even a brief glimpse of this beloved character. And in the end, nobody else could have played Leia quite like Lourd.