J.J. Abrams Reveals New Details About Carrie Fisher's Rise Of Skywalker Role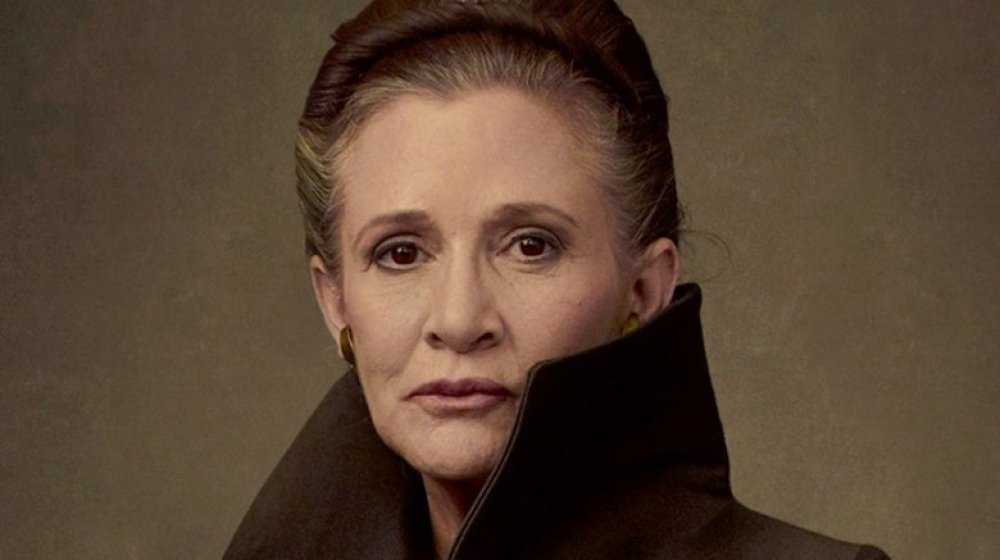 Princess Leia's story still has one last chapter.
In an interview with Total Film (via Games Radar) in advance of the December release of the final Skywalker Saga film, The Rise of Skywalker, director J.J. Abrams revealed a few new details about the role Carrie Fisher will play in the film after her tragic passing. 
Star Wars fans around the world were shocked when Fisher suffered a fatal heart attack on a flight from London to Los Angeles in December of 2016. With just one film remaining in the Skywalker Saga, Princess Leia — now General Leia Organa — faced an uncertain fate. Abrams revealed that there was no way The Rise of Skywalker could ever exclude Fisher's Leia, and he and the film's team put great care into honoring her legacy and including her in the story in a meaningful way.
As he told Total Film, "There are scenes where she's interacting with other characters in a way that is uncanny. Hopefully, if it works, it will be an invisible thing and if you didn't know, you would never know. But we got to tell the story with Leia that we would have told had Carrie lived. And that's kind of incredible."
Abrams was definitively against recasting Fisher — which would have felt truly disrespectful — and using CGI to bring Leia back wasn't an option, as the writer-director has confirmed time and again that there wouldn't be any "CGI-enhanced rendering" of the actress in The Rise of Skywalker. Using computer-generated versions of deceased actors has become quite popular recently, but it's been highly divisive across the board. It's happened in the Star Wars universe already; in 2016, the Felicity Jones-fronted spin-off Rogue One recreated the late Peter Cushing's character from the original trilogy, Grand Moff Tarkin, though the method was met with a fair amount of criticism. The recently announced casting of the long-dead James Dean in the upcoming film Finding Jack stirred up similar outrage. In the past, after plenty of discussion, the Fast and the Furious franchise elected not to use a computer-generated recreation of Paul Walker after the actor died in a car accident — a decision that was likely for the best.  
Fisher's passing was tragic for so many reasons — one of which was the fact that The Rise of Skywalker was supposed to place a major focus on Leia's character, after 2015's The Force Awakens put Han Solo (Harrison Ford) at the forefront and 2017's The Last Jedi focused on Luke Skywalker (Mark Hamill). The actress appeared in both installments, but the third film in the current Star Wars trilogy was reportedly supposed to be "her movie."
Carrie Fisher's final role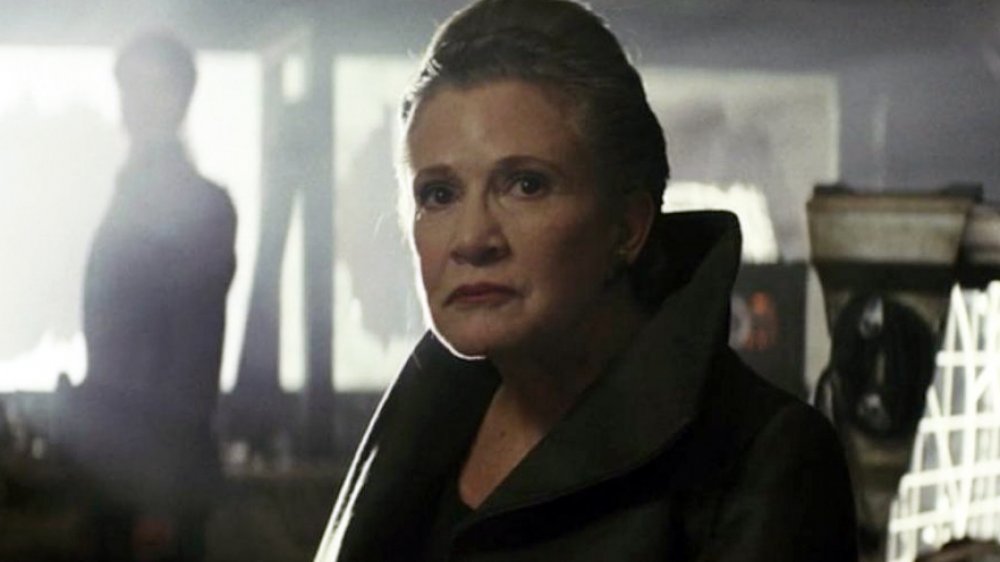 Until now, it seemed as if Fisher's final on-screen role was as Rob Delaney's hilarious and domineering mother on the Amazon Prime original series Catastrophe. (In fact, she had just wrapped filming on the series' final season when she suffered her fateful heart attack.) But thanks to unused footage from previous Star Wars films, Fisher will have one final turn as Leia, the character who defined her entire career.
After being cast as the brave and inimitable Princess Leia at the tender age of 19, Fisher made a splash in the franchise's first film, A New Hope, and cemented herself as a bona-fide member of Hollywood's A-list. (Her raw talent was undeniable, but it certainly didn't hurt that she came from royal celebrity stock; her mother, Debbie Reynolds, was also a legend, and Fisher was embroiled in one of Hollywood's biggest scandals when her father, Eddie Fisher, famously left Reynolds for Elizabeth Taylor.) Fisher's role as Leia is definitely her biggest career legacy, which cast a large shadow over her own daughter, American Horror Story actress Billie Lourd.
Recently, Lourd wrote a touching piece for TIME Magazine about her mother's legacy as Leia – which was frustrating at best during Lourd's childhood, but has since become a source of pride. In the essay, Lourd also shared an important piece of information with Star Wars fans: it's all thanks to her that Fisher's footage will be used in The Rise of Skywalker.
According to Lourd, Abrams sat the young actress, who appeared alongside her mother in The Force Awakens and The Last Jedi, down to tell her that her mother could be in The Rise of Skywalker after all: "This last movie was supposed to be Leia's movie, and we wanted it to remain that, as much as possible. What I hadn't known–and what J.J. told me that day –was that there was footage of my mom that they had collected over the years that hadn't made it into the movies, footage that J.J. told me would be enough to write an entire movie around. It was like she had left us a gift that would allow Leia's story to be completed. I was speechless. (Anyone who knows me knows that doesn't happen very often.)"
Lourd continued, "J.J. asked me if I would want to come back as Lieutenant Connix. I knew it would be one of the most painful, difficult things I would ever do, but I said yes for her–for my mom. For Leia. For everyone Leia means so much to. For everyone Leia gives strength to."
Fisher's final Star Wars appearance will be highly emotional for her family, her fans, and everyone who sees The Rise of Skywalker – and it's clear that between Abrams and Lourd, her swan song is in excellent and respectful hands.
You can see Fisher as Leia Organa one last time when The Rise of Skywalker hits theaters on December 20.