Carrie Fisher's Daughter Billie Lourd Makes Candid Confession About Princess Leia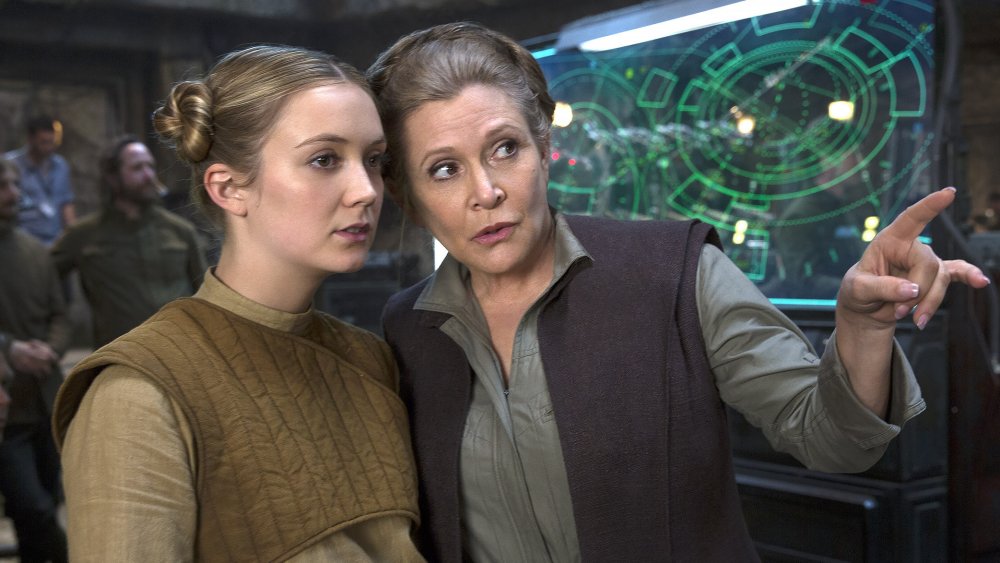 Lucasfilm
The heir apparent to the legacy of Princess Leia didn't always want to carry on her story.
Billie Lourd, the late Carrie Fisher's daughter, recently penned a touching, revealing essay for TIME Magazine about her mother's enduring legacy as Princess Leia, who became one of the most iconic female film characters in history after her debut in 1977's Star Wars: A New Hope. Growing up as the child of someone as famous as Fisher must have come with certain challenges, and Lourd — now an actress herself, known for projects like American Horror Story, Booksmart, and even the current Star Wars trilogy – didn't shy away from detailing the difficulties she experienced when she was younger with regard to her mother's career-defining role.
Lourd revealed that she had absolutely no interest in engaging with Star Wars at first, even calling Princess Leia her "third parent" akin to a faraway stepmother and admitting that she "didn't really like" the character. As she wrote, "I guess Princess Leia was kind of like my stepmom — technically family, but deep down I didn't really like her. She literally and metaphorically lived on a planet I had never been to. When Leia was around, there wasn't as much room for my mom — for Carrie. As a child, I couldn't understand why people loved Leia as much as they did. I didn't want to watch her movie, I didn't want to dress up like her, I didn't even want to talk about her. I just wanted my mom — the one who lived on Earth, not Tatooine."
Eventually, Lourd came around — mostly because her classmates talked non-stop about their fervent Leia idolatry. But when Lourd finally watched the first Star Wars movie, she was mostly confused about how the woman on screen could possibly be the same woman she grew up with: "My mom? The lady who wore glitter makeup like it was lotion and didn't wear a bra to support her much-support-needed DD/F's? They couldn't be talking about her! I had to investigate who this person was they were talking about."
However, it seems that simply watching the film was a turning point for a young Lourd. 
"I went home and watched the movie I had forever considered too loud and finally figured out what all the fuss was about the lady in the TV. I'd wanted to hate it so I could tell her how lame she was. Like any kid, I didn't want my mom to be 'hot' or 'cool' — she was my mom. I was supposed to be the 'cool,' 'hot' one — not her!" wrote Lourd. "But staring at the screen that day, I realized no one is, or ever will be, as hot or as cool as Princess F***ing Leia. (Excuse my language. She's just that cool!)"
As she's gotten older, Lourd has embraced her mother's incredible legacy, describing Leia not merely as a character, but as a feeling: "I realized then that Leia is more than just a character. She's a feeling. She is strength. She is grace. She is wit. She is femininity at its finest. She knows what she wants, and she gets it. She doesn't need anyone to defend her, because she defends herself. And no one could have played her like my mother. Princess Leia is Carrie Fisher. Carrie Fisher is Princess Leia. The two go hand in hand."
Living with (and without) Leia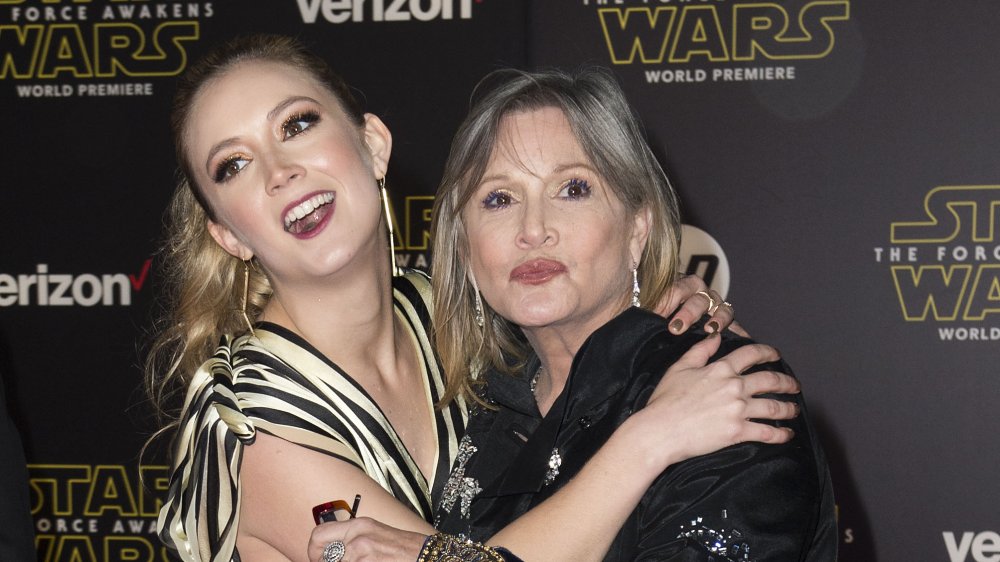 Valerie Macon/Getty Images
By the time she graduated college, Lourd was "embarrassed to admit" that she wanted to to do what her parents, Fisher and talent agent Bryan Lourd, had tried to prevent her from doing: acting. Lourd noted in her essay that she caught the acting bug and eventually 'fessed up to her professional goals — and thanks to her mother's return to the Star Wars universe in 2015's The Force Awakens, Lourd was offered the chance to audition for a small role as part of General Leia Organa's forces. In the end, Lourd landed the role of Lieutenant Kaydel Ko Connix, and found herself in the makeup and hair chair next to her mother — where she, fittingly, received an updated version of Leia's classic double buns as Fisher gave her blessing.
The past couple of years have been quite tough for Lourd. After losing her beloved mother in December 2016, her grandmother, the legendary Debbie Reynolds, died shortly after her daughter Fisher — leaving Lourd without two loved ones and adrift in Hollywood. However, Lourd has proven herself worthy to carry on both Fisher and Reynolds' shared legacy, having earned rave reviews for her appearance in Booksmart and her various roles in Ryan Murphy's American Horror Story anthology series.
Along with Lourd, those who admired Fisher will be able to remember her in the upcoming final chapter of the Skywalker Saga. As Lourd wrote in her essay (and as fans already know), unused footage of Fisher will be used in December's The Rise of Skywalker, thanks to Lourd's permission and blessing. Lourd will also appear in the film — a move she describes as "one of the most painful, difficult things I would ever do," but one she did to honor her mother's memory.
At the close of her emotional essay, Lourd wrote, "I grew up with three parents: a mom, a dad, and Princess Leia. Initially, Princess Leia was kind of like my stepmom. Now she's my guardian angel. And I'm her keeper." 
Fans across the world surely miss Fisher, a talent who was nothing short of extraordinary, but they can also rest easy knowing that her legacy is in the best of hands.