Why The Cast Of Yellowstone Looks So Familiar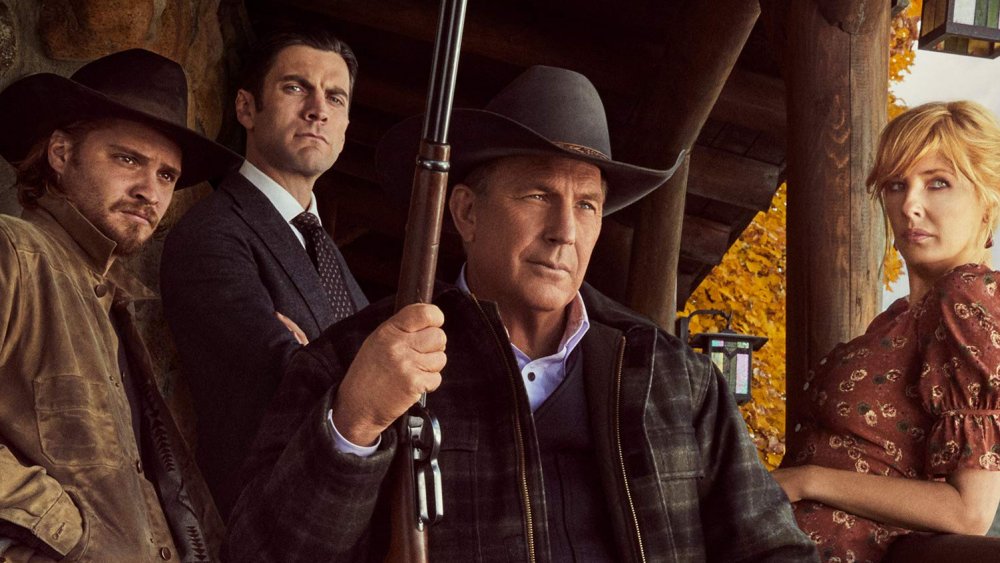 Paramount Network's electrifying neo-Western saga "Yellowstone" has gone from a little extended cable series with a big name star to a ratings powerhouse that ranks among the most watched shows on television. And it's done so by delivering a singular brand of primetime melodrama, with series creator Taylor Sheridan ("Sicario," "Hell or High Water," and "Wind River") telling an epic tale of a ranching family fighting to keep their land and wrapping it up in a veritable spider's web of political intrigue and classic Western mythos.
Simply put, there's nothing else on television at the moment quite like "Yellowstone." But while the story is incredible and the action is bloody, there can be little question that the series' obscenely talented cast is a big part of what keeps its viewership numbers steadily on the rise. However, most of the people in the series aren't exactly A-list stars, but nevertheless, they've worked on some pretty high-profile movies and TV shows. So if there's a particular face that you know you've seen before, well, here's why the cast of "Yellowstone" looks so familiar.
(Be warned, there are spoilers below.)
Kevin Costner is a Hollywood legend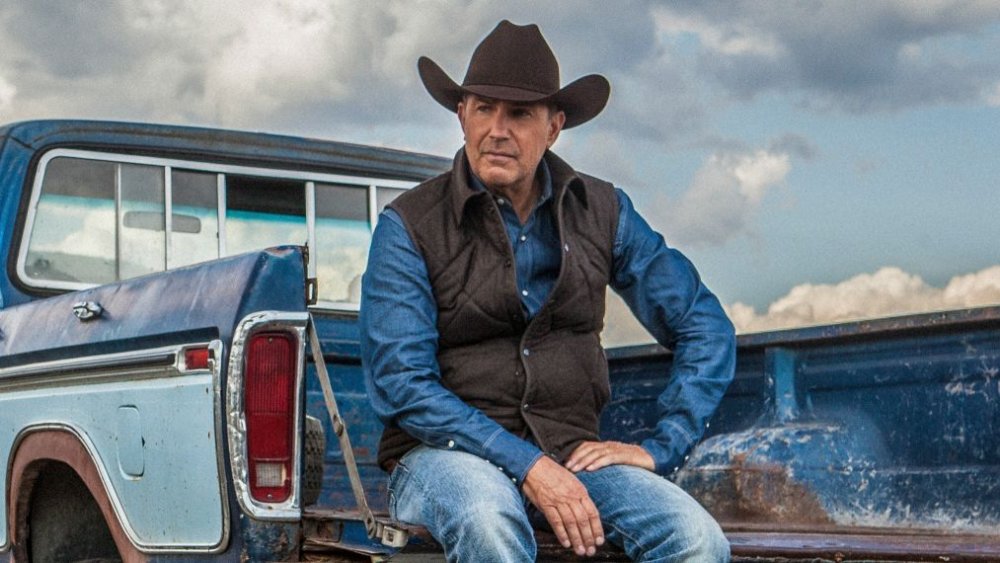 Okay, so if there is one name on this list that you know — and really should know — it's that of Kevin Costner. He is, after all, one of the most respected and revered actors in Hollywood, and has seen boundless success on both sides of the camera over his near four-decade career. While his work as the steely-eyed and hard-hearted paterfamilias John Dutton on "Yellowstone" is translating to a fresh wave of small screen success, Costner remains a bona fide movie star. After all, he's appeared in a handful of legit iconic films, such as "The Untouchables," "Bull Durham," "Field of Dreams," and "JFK" among them.
Just FYI, Costner is hardly a stranger to the Western genre either, having already saddled up for a handful of big screen cowboy classics like "Silverado," "Wyatt Earp," "Open Range," and his Best Picture-winning Western opus "Dances With Wolves." That being said, we're fully aware that Costner is probably best known among viewers with at least a little bit of grey in their hair. So for all of you youngsters out there who've never shared a beer and a tear with your dad while watching "Field of Dreams," it's entirely likely you know Mr. Costner from his work as Jonathan Kent in the DCEU's "Man of Steel."
You've seen Kelly Reilly in some high-profile projects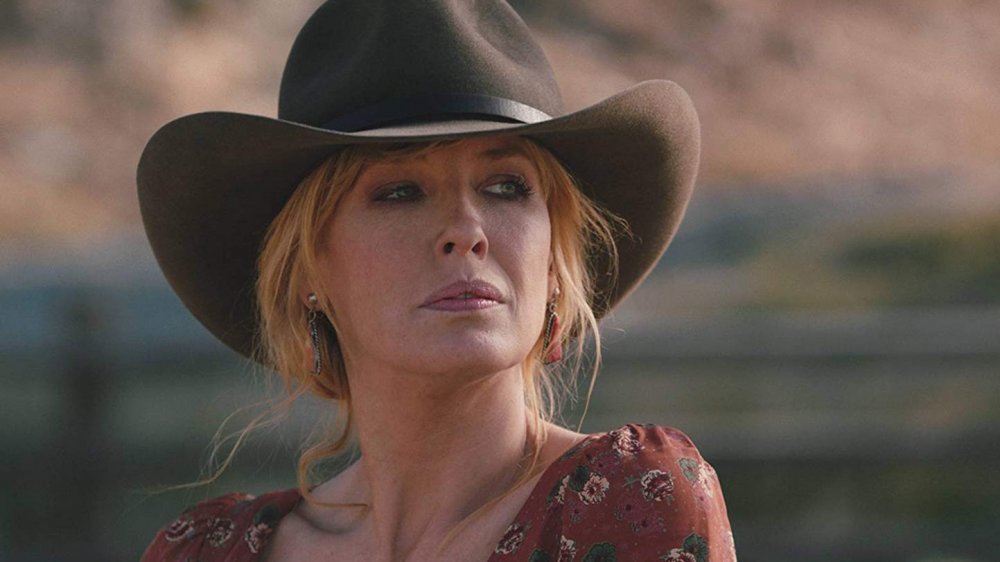 Hopefully, you're at least mildly familiar with Kelly Reilly's face because she's one of those actors who's been perpetually on the fringe of a big-time Hollywood breakout for a while now. That her breakout hasn't come yet is all but criminal at this point. Fortunately, Reilly has managed to build a career as a scene-stealing supporting player in recent years. 
With any luck, Reilly's razor-sharp work as the lone female Dutton sibling will help her get the attention of a few more producers who recognize a commanding screen presence when they see it. And yes, Reilly's work as the fiery Beth Dutton is the very definition of commanding, with the actor bringing serious weight to a fascinatingly duplicitous character who would feel equally at home in a Shakespearean tragedy as she does among the Big Sky melodrama of "Yellowstone."
If you're having trouble figuring out exactly where you've seen Reilly's face before, fans of HBO's detective drama "True Detective" will almost certainly recognize her from her Season 2 turn as the Lady Macbeth-like wife of Vince Vaughn's fading tough-guy crime lord. But if you checked out on of "True Detective" after the first season — and we know many of you did — it's probable you know Reilly from her work as Mary to Jude Law's Watson in the first two installments of the "Sherlock Holmes" franchise or as the venom-spewing Caroline Bingley in Joe Wright's pitch-perfect 2006 adaptation of "Pride & Prejudice."
Luke Grimes starred in a very different type of TV show before Yellowstone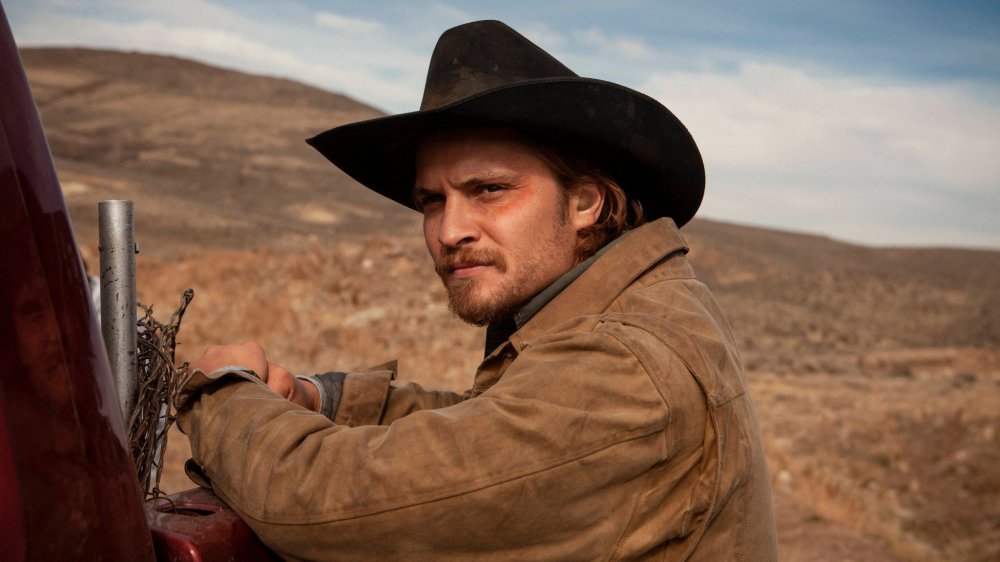 When it comes to actors you should probably be way more familiar with, say hello to Mr. Luke Grimes. On "Yellowstone," you know him as Dutton Ranch foreman, devoted father, and ex-Navy SEAL Kayce, but in reality, he's another one of those perpetually "on the fringe of a breakout performers" who too often find themselves relegated to the role of side character.
Unlike many of those long-time supporting players, Luke Grimes is still at a relatively early stage in his career — though it certainly seems like he's been around longer than he has. So while we're sure that certain "Yellowstone" fans have taken full notice of Grimes' roguish looks and hardened glare, we're guessing many of you still aren't entirely sure where you've seen them both before.
Grimes actually made his screen debut back in 2006, when he appeared in Jonathan Levine's breakout horror flick "All the Boys Love Mandy Lane." A couple of years later, Grimes made his small-screen debut with a season-long run on ABC's family drama "Brothers and Sisters," but most of you will likely remember Grimes for his memorable six-episode arc as the kind-hearted bloodsucker James Kent on HBO's "True Blood."
Wes Bentley made his name in an Oscar-winning film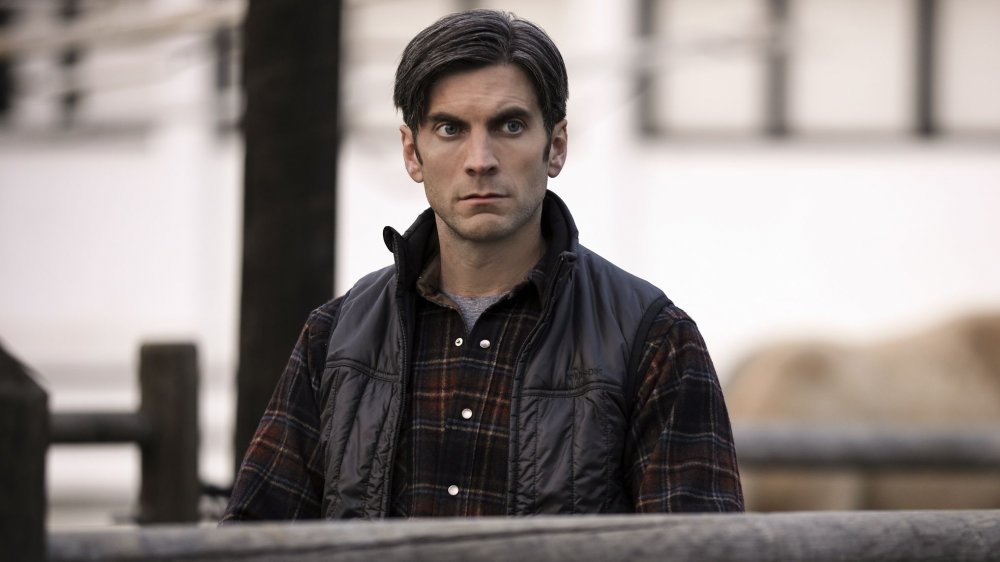 For fans of 1999's acerbic Best Picture winner "American Beauty," Wes Bentley certainly needs no introduction as he's all but instantly recognizable as the drug dealing, plastic bag-adoring, would-be filmmaker Ricky Fitts. Of course, if you missed out on that millennium-ending gem and somehow haven't stumbled upon it in the past 20 years, Bentley may be a bit more of an enigma.
As it turns out, that description suits him quite well, and it suits his murderous "Yellowstone" alter ego equally well. On the show, Bentley plays one of the elder Dutton brothers, Jamie, and he currently serves as the Duttons' personal attorney (and sometimes ranch hand). Like several of the Dutton kids, Jamie has often found himself in tragically choppy waters, even teetering on the edge of suicide in the wake of some seriously troubling actions.
As for Wes Bentley, he had a few troubles of his own throughout the early 2000s, as he secretly battled addiction, and he was largely non-visible after his "American Beauty" breakout. Luckily, the talented actor got his act together in the new decade, delivering memorable performances in "The Hunger Games," "Welcome to Me," Christopher Nolan's "Interstellar," and Terrence Malick's "Knight of Cups." If you missed him in those films, you probably remember Bentley for his various turns on Ryan Murphy's beloved horror anthology series "American Horror Story."
Cole Hauser has always kept pretty busy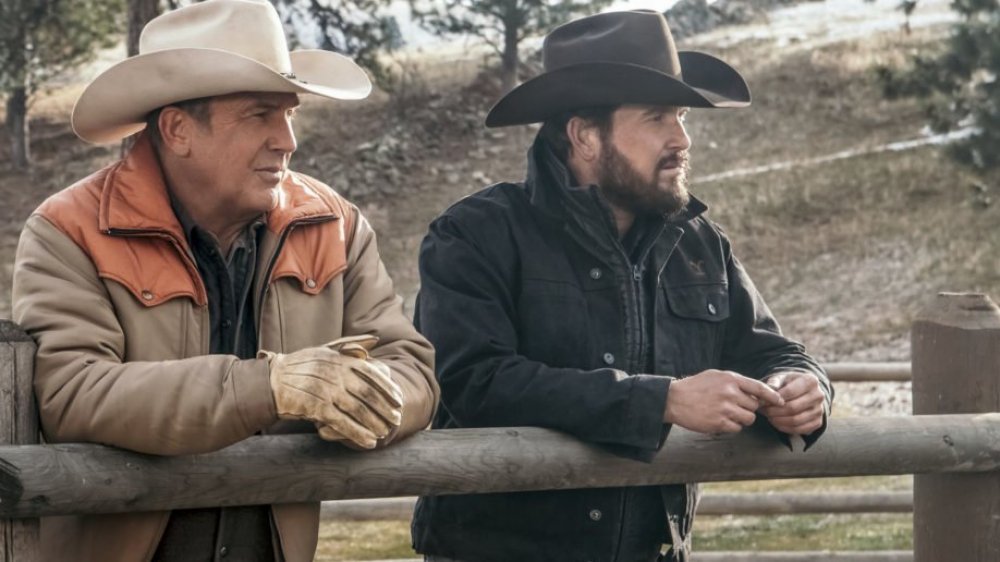 While the sprawling "Yellowstone" narrative has made clear that the Dutton clan is no stranger to tragedy, the Duttons' adoptive family member Rip Wheeler may be the most tragic figure of them all. Played by Cole Hauser with a visceral air of stoic, introverted intensity, Wheeler is a survivor of childhood abuse who killed his own father after the ruthless drunk took the lives of the youngster's mother and brother. Trauma like that obviously left the young Rip with swathe of unchecked emotional issues — issues that the Duttons have made ample use of after adopting Rip and bringing him into the fold.
If you're still trying to figure out where you've seen Hauser, well, there's at least a half dozen or so movies and TV shows you've seen him in before. If you're a fan of '90s classic "Dazed and Confused," you know him as the true-hearted football player Benny. If that's not the case, you probably noticed Hauser as Matt Damon's strong and silent running buddy Billy in "Good Will Hunting" or perhaps as the backstabbing law man in the sci-fi classic "Pitch Black." Or maybe you remember him as the villainous Carter Verone in "2 Fast 2 Furious," bad boy Steve Curtis from "E.R.," or as Pinkerton Charlie Siringo in the short-lived Lifetime drama series "The Lizzie Borden Chronicles."
If you're a CW fan, you've definitely seen Kelsey Asbille before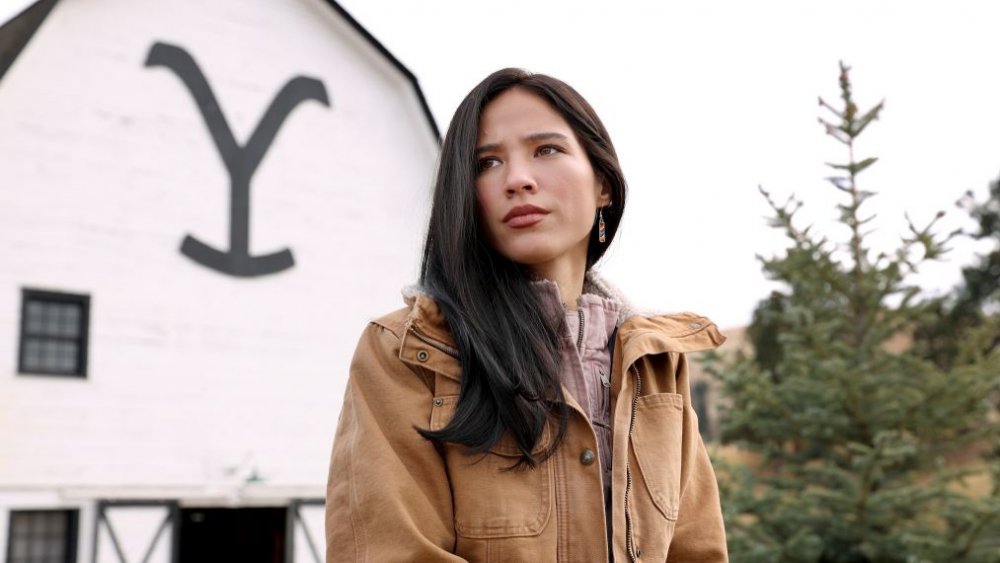 Of all the central players that currently occupy the screen on "Yellowstone," we'd bet that Kelsey Asbille's is one of the least known. On the show, she plays Monica Dutton, wife to Luke Grimes' Kayce Dutton — a status that's more than a little complicated due to her direct relations to ancestors and elders of the Broken Rock Indian Reservation. Fans of "Yellowstone" will need no more backstory than that, as the Broken Rock Res shares a border with the Dutton Yellowstone Ranch, and it's regularly in direct conflict with John Dutton and his clan about who rightfully owns the land that said ranch occupies.
While Asbille continues to play her part of "strong but endlessly stuck in the middle" to a T on "Yellowstone," the actor is delivering what may well go down as her breakout performance. However, we think she should've had that breakout moment long before now. After all, she's given some pretty fantastic performances before "Yellowstone," like her 18-episode stint as Gigi on the CW's "One Tree Hill." And she followed that stretch a few years later with a winning, 13-episode run on MTV's "Teen Wolf." Of course, Asbille was already on the radar of "Yellowstone" creator Taylor Sheridan after her heartbreaking turn as Natalie in Sheridan's marvelous 2017 indie "Wind River."
Danny Huston is one of the all-time great character actors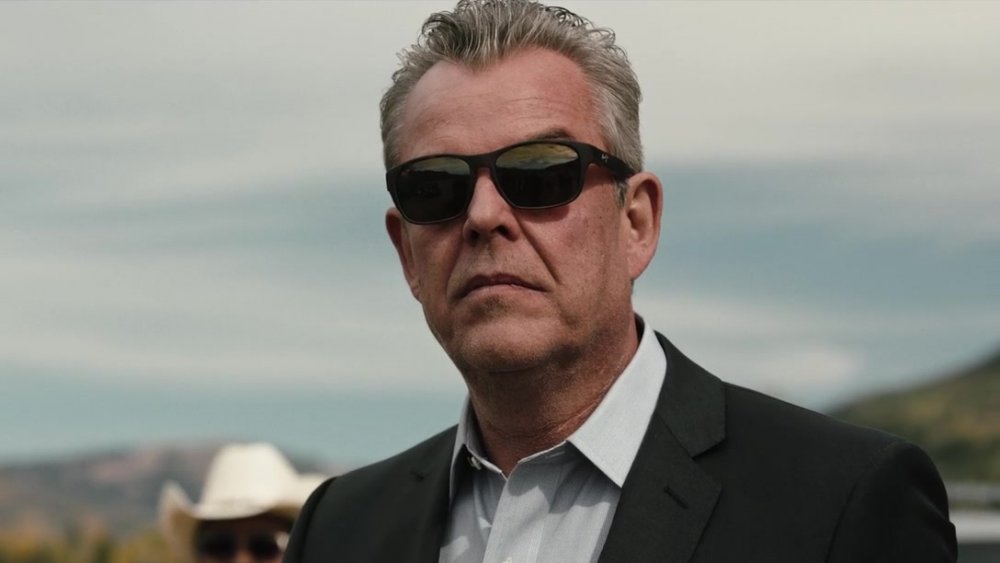 Historically speaking, the term "character actor" has been applied to career supporting players who best serve a story by disappearing into virtually any role and making a fully three-dimensional figure of them. And if you're at all familiar with the decades-spanning career of Danny Huston, then you already know that the term "character actor" was basically invented for him. If you're not, then we'd recommend you sit down and immediately watch "The Proposition," "Children of Men," "The Constant Gardener," "30 Days of Night," "Wonder Woman," Seasons 3 and 4 of "American Horror Story," and the first two seasons of HBO's "Succession."
Or you could just see the sublimely talented actor as Dan Jenkins on "Yellowstone." And yes, Danny Huston's work as the greedy land developer has been nothing short of transfixing, with the actor imbuing his character with surprising humanity, even as Jenkins is regularly driven by insatiable greed and a power-grabbing hubris that's too often led him into the realm of morally compromised, if not down right villainous. In short, Huston's work on "Yellowstone" is exactly the sort we've come to expect from one of cinema's finest character actors.
Gil Birmingham has made a solid career out of supporting roles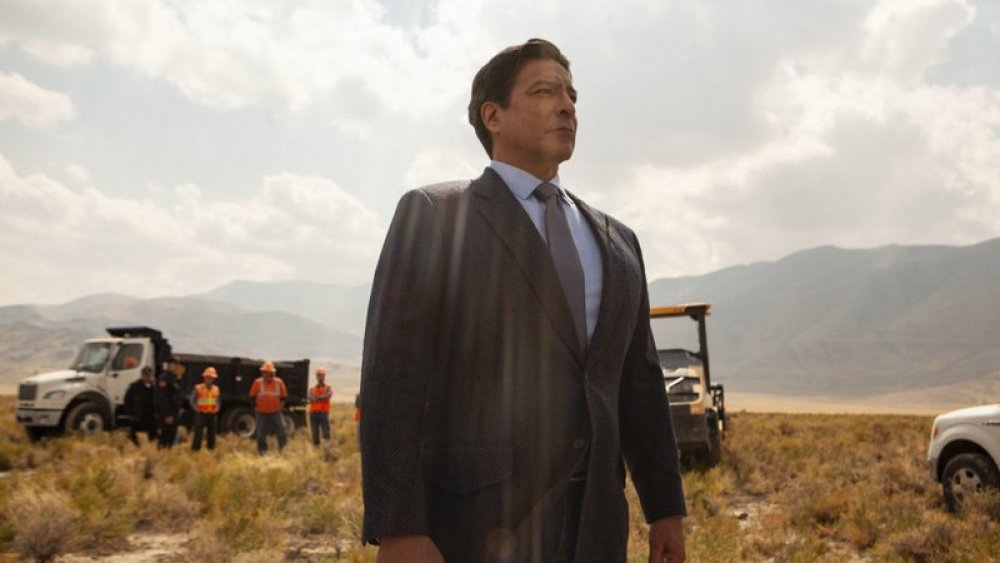 "Yellowstone" certainly has no shortage of devious politico sorts, but few of the series' politicos have been quite as shifty as the current chairman of the Confederated Tribes of Broken Rock and warden of the Broken Rock Reservation, Mr. Thomas Rainwater. In fact, over the course of the show, Rainwater has proven a most formidable foe to the Dutton clan's Yellowstone legacy, not to mention the land that the Duttons' claim as their own. 
If you're wondering where you've seen the actor who portrays Thomas Rainwater, well, the options are almost too numerous to count because Gil Birmingham has been busy, busy, busy over the past couple of decades. Still, odds are you remember Birmingham from his brief arc on the original run of "Veronica Mars" or for his turn as Billy Black in the "Twilight" saga. If that's not the case, it's possible you recall Birmingham from a tense, four-episode arc on Netflix's "House of Cards." And if you missed Birmingham in those projects, it's entirely likely you remember the actor from his quippy work as Jeff Bridges' second-in-command in the Taylor Sheridan-penned "Hell or High Water" or his emotionally devastating turn as the grieving father in Sheridan's "Wind River."
Neal McDonough is a guy who's been in everything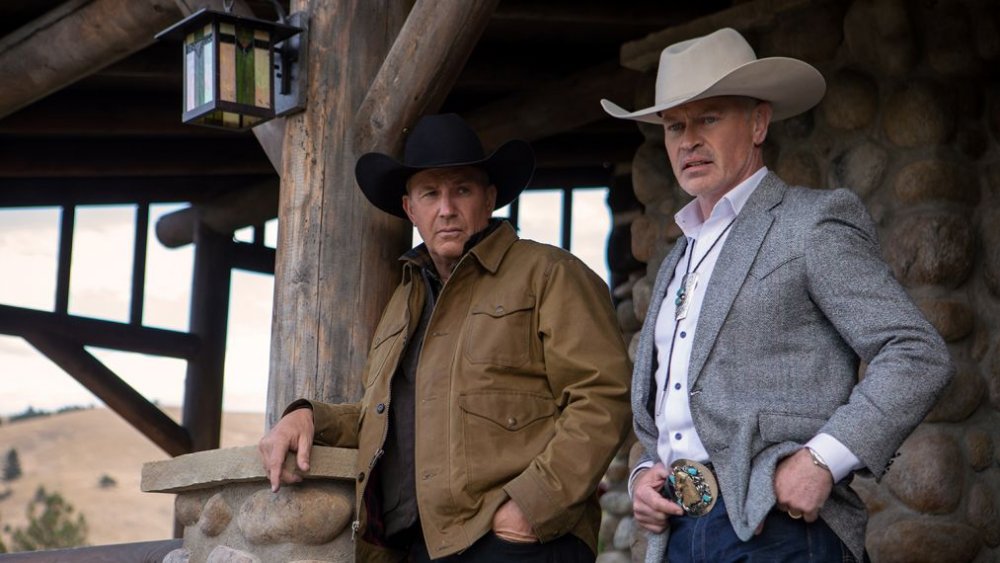 When it comes to the most formidable foes on "Yellowstone," few have proven quite as driven or as ruthless as Neal McDonough's Malcolm Beck. Though Beck featured in just six of the series' 19 episodes, the character (along with his brother, Teal) has cast quite a long shadow over the narrative, involving himself in the matters relating to both the Yellowstone Ranch and the casino planned by Thomas Rainwater and Dan Jenkins. Point of fact, Beck emerged as the series' true big bad in the second season, and after a couple of particularly brutal messages passed between John Dutton and the Beck brothers, the Duttons ultimately put matters to bed in true Wild West fashion in Yellowstone's second season finale.
As for why Neal McDonough's distinctive face looks so familiar, it's because he's been involved in about a billion different film and television projects over the past three decades. McDonough actually made his screen debut with a brief appearance in Sam Raimi's "Darkman," but he didn't find his breakout role until his turn as Buck Compton in HBO's landmark World War II series "Band of Brothers." As mentioned, he's been working steadily ever since, delivering more than memorable work in movies like "Minority Report," "Flags of Our Fathers," and "Captain America: The First Avenger," not to mention TV series like "Justified," "Arrow," and "Suits."
You can watch Ryan Bingham in Yellowstone or hear him on the radio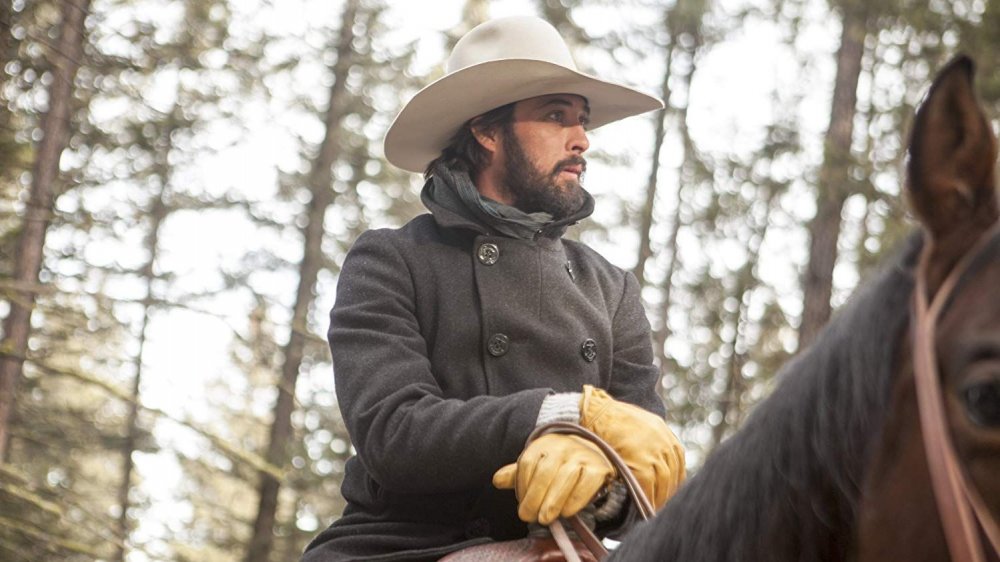 If you're at all familiar with the name Ryan Bingham, it's because he's a prolific songwriter who's halfway to becoming one of those rare performers who's won an EGOT. After all, he took home a Grammy and an Oscar for co-writing the song "The Weary Kind" with T Bone Burnett for the 2009 Jeff Brides film "Crazy Heart." And if you know Bingham's voice, it's likely because you've heard it on the radio or in a coffee house sometime in the past decade-plus, as the singer has released six albums of original, Americana-tinged material.
Still not sure where you've seen Ryan Bingham's face before? It's probable you saw him performing some good, old-fashioned music on television in the past decade. But most likely, you simply know him as Walker the singing bunkhouse boy in "Yellowstone." If that's not the case, you may well recognize Bingham's face from his cameo in "Crazy Heart" or from his surprisingly solid work in the grossly underrated 2017 Western "Hostiles," where he shared the screen with the likes of Christian Bale, Rosamund Pike, Wes Studi, Ben Foster, and Jesse Plemons.
If you've ever watched TV, you've definitely seen Ian Bohen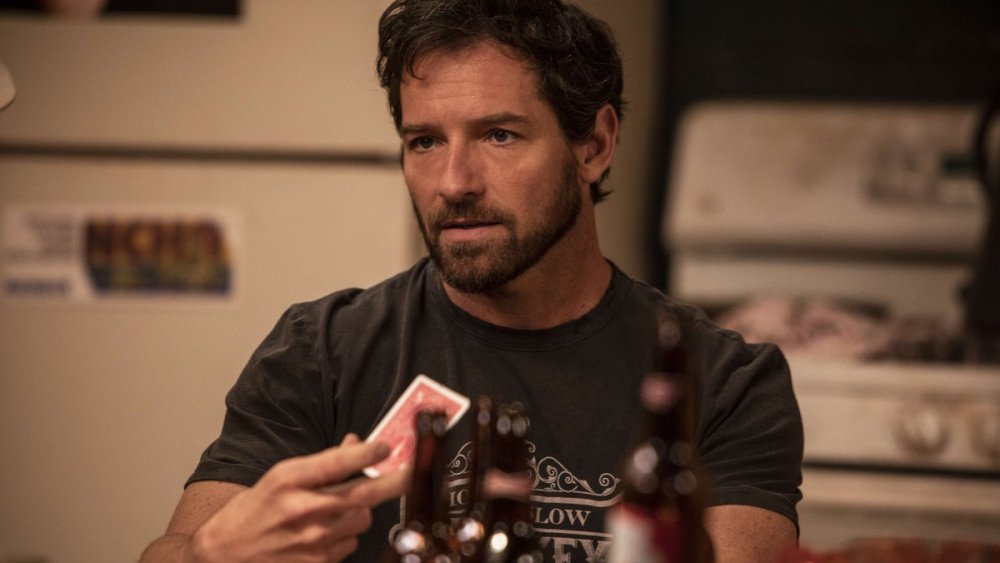 While he can't belt out a tune with the same fervor as his bunkhouse partner, Walter, Ryan is a steadfast cowpoke who's been featured pretty prominently in "Yellowstone." He's even gotten a little red in his ledger thanks to the ever-escalating violence that regularly finds its way to the Dutton Yellowstone Ranch, although he'd probably rather spend his days cutting cards and swapping stories with his ranch hand buddies.
And yes, you've absolutely seen the face of the actor who portrays Ryan on "Yellowstone" before. His name is Ian Bohen, and he's actually been acting since an early age, appearing in films and TV series throughout the '90s and 2000s. In a truly meta turn of events, Bohen even portrayed a younger version of Kevin Costner in the underrated 1994 Western "Wyatt Earp." Bohen has kept quite busy in the years since, though his work has largely been of the supporting nature. Still, the actor has landed regular spots on the likes of "Mad Men," "Chicago P.D.," and MTV's "Teen Wolf." However, most folks will recognize him for his turn as one of the dastardly roughnecks desperate to cover up a vile crime in Taylor Sheridan's "Wind River."
Josh Lucas is an incredibly familiar face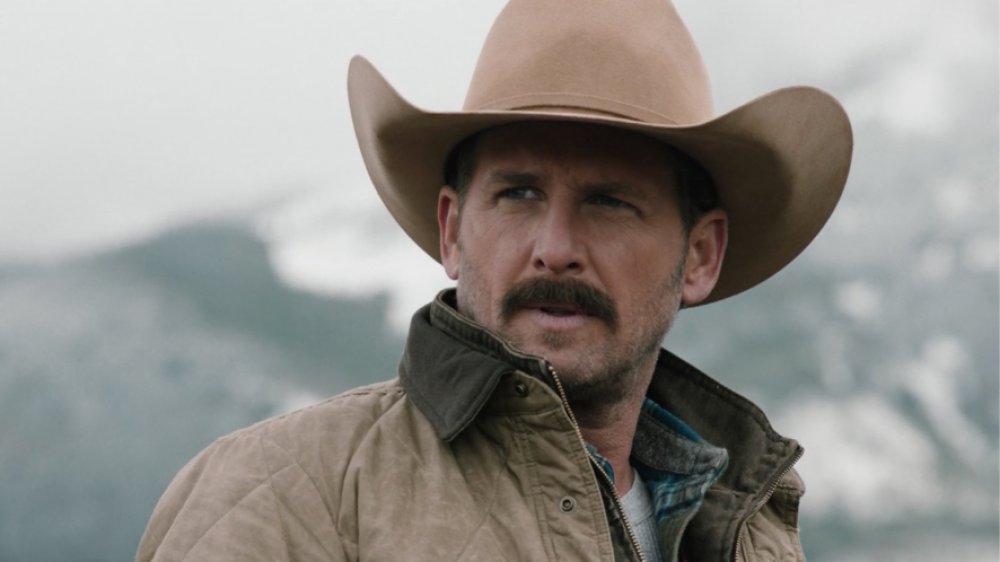 With a mix of classic good looks and an easygoing swagger, Josh Lucas is one of those actors that many insiders pegged for superstardom when he came on the scene in the '90s. Surprisingly, that's continued to elude Josh Lucas, not that he's been hurting for work in the past couple of decades. Point of fact, the actor's dashing looks and singular charm alone have landed him quite a few gigs over the years. They're almost certainly what led Taylor Sheridan to cast him as the young John Dutton for the flashback scenes in "Yellowstone."
If you're struggling to figure where you've seen Lucas' face before, it's basically been a mainstay on the big screen over the years, with the actor particularly standing out as Reese Witherspoon's down-home paramour Jake in "Sweet Home Alabama," Russell Crowe's rival in "A Beautiful Mind," and a dedicated basketball coach in the 2006 racial drama "Glory Road." Lucas can also be seen sharing the screen with Matt Damon and Christian Bale in the race car drama "Ford v. Ferrari." But if you want to see Josh Lucas at his absolute best, we'd advise you to check him out in David Gordon Green's tragically underrated Southern Gothic gem "Undertow."
Gretchen Mol has been giving great performances since the '90s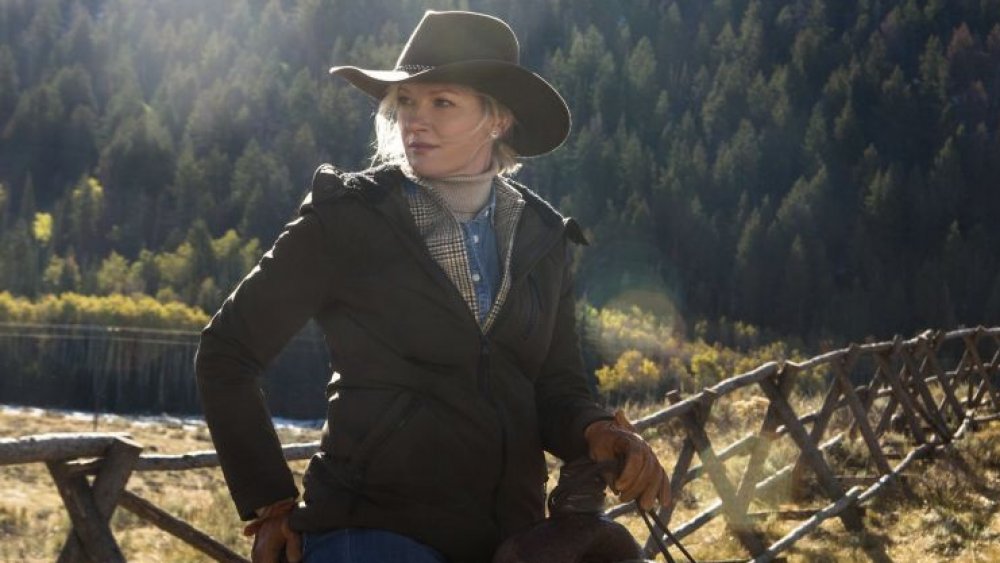 While Gretchen Mol shows up in the flashback scenes of "Yellowstone," she isn't playing a younger version of any particular character. Why's that? Well, it's because her Evelyn Dutton met a tragic demise relatively early in life, one that widowed John and left him to raise the Dutton children more or less on his own. Of course, "Yellowstone" fans are well aware that hasn't always gone well for the Dutton kids (or John, for that matter).
Either way, if you're confident you've seen Mol's face before, it's because you almost certainly have. Gretchen Mol is one of those actors who's seemingly been on the cusp of stardom since the '90s, where she first earned strong notices for supporting turns in "Donnie Brasco," "Rounders," and "Cradle Will Rock" (in which she portrayed screen icon Marion Davies). A few years later, Mol would earn the best reviews of her career for portraying a different sort of icon in "The Notorious Bettie Page," and she delivered standout work in the Oscar-winning film "Manchester by the Sea." If you missed Mol in any of those projects, you probably recognize her from her work on HBO's gangster series "Boardwalk Empire" or as the union lawyer Nina Robertson on Amazon's music dramedy "Mozart in the Jungle."
Before Yellowstone, Michaela Conlin was most famous for a certain crime show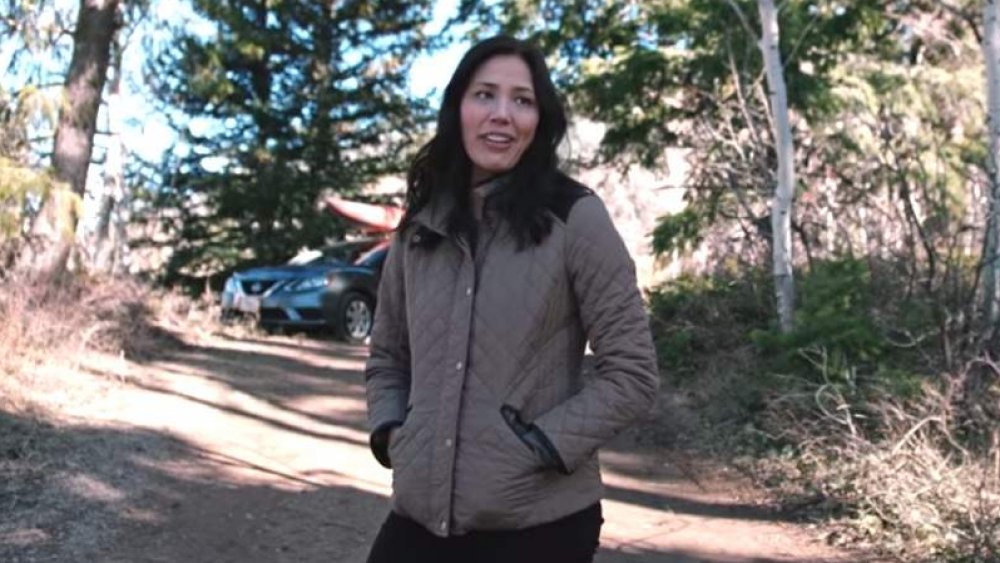 As if the Duttons didn't have enough going on via the constant raging battle to keep hold of their coveted land, their lives got even more complicated when reporter Sarah Nguyen started digging into matters regarding the proprietorship of their property. Sadly, Sarah's digging into the Duttons' affairs led to a tragic end for the erstwhile reporter, which meant a short-lived run for the actor who portrayed her for five episodes on "Yellowstone."
That actor is Michaela Conlin, and if you know her face from anywhere, it's likely from her 12-season run as Angela Montenegro — aka a key member of the forensic team that solved untold numbers of gruesome murders on Fox's long-running crime dramedy "Bones." But just in case you've somehow never seen a single episode of "Bones," Conlin also appeared in Amy Adams' 2007 musical breakout "Enchanted" (she was May), Matthew McConaughey's 2011 legal drama "The Lincoln Lawyer" (she was Detective Sobel), and the 2016 haunted house creeper "The Disappointments Room" (where she played Kate Beckinsale's friend, Jules). Though she doesn't have a ton of credits to her name, Michaela Conlin is one of those actors we sincerely wish would work more. Here's hoping she's got some prime gigs on the horizon.
Josh Holloway broke out on one of the biggest television series of the 2000s
After the bloody second season of "Yellowstone," many fans were left wondering not just how the series would top that brutal finale, but how it would replace the cavalcade of baddies who met their ends in the episode. Luckily, Sheridan didn't wait long to introduce a new big bad for Season 3, with charming-yet-ruthless Market Equities' heavy Roarke Morris making his infamous entrance to the Big Sky Country drama early in the Season 3 premiere. With the backing of his nefarious firm, Roarke proceeded to tangle with the Duttons in ways few have ever managed — until he tangled with the immovable object that is Rip Wheeler (Cole Hauser), that is.
Most viewers no doubt recognized the chiseled features and disarming smile of the actor who portrayed Roarke the moment he turned up on screen, of course, if only because they were featured prominently on one of the best-loved television series of the 2000s. Said series was the mystery box marvel that was "Lost," and the actor in question is none other than Josh Holloway, who portrayed the dashing con man Sawyer for the entirety of the iconic series' run. He also appeared in 2013s "Mission: Impossible – Ghost Protocal," and fronted a pair of short-lived network shows in "Intelligence," and the underrated "Colony."  
Q'orianka Kilcher is best known for her role in a Terrence Malick masterpiece
Over its four-seasons-and-counting run, "Yellowstone" has seen no particular shortage of antagonists. Frankly, just about every character on the show has played that part at one point or another. Few have been quite as diabolical as Angela Blue Thunder, who turned up during the series' third season to help Broken Rock Reservation's big boss Thomas Rainwater (Birmingham) fend off the land-hungry Market Equities crew. Her methods were shrewd to say the least, with Blue Thunder being a firm believer that bloodshed is merely the price of doing business when it comes to saving, and/or reclaiming the lands she believes belongs to her people. 
The actor who played Angela Blue Thunder in Season 3 of "Yellowstone" was Q'orianka Kilcher. And if you recognized her, it's likely because you're a fan of the films of Terrence Malick. More specifically, you're a fan of Malick's 2005 historical drama "The New World," which found Kilcher delivering a breakout turn opposite Colin Farrell and Christian Bale as Native-turned-Anglican icon Pocahontas. In the years since, Kilcher has kept quite busy, booking gigs on lauded programs like "Sons of Anarchy," "Longmire," and "The Alienist," alongside films like "Hostiles," and the Nicolas Cage sci-fi horror hit "Color Out of Space." 
Will Patton has become one of Hollywood's go-to supporting players
Of all the head-spinning revelations that have come and gone on "Yellowstone," it's safe to say some of the most shocking have revolved around the Dutton Family's wayward son Jamie (Wes Bentley). But the biggest yet came when John Dutton (Costner) told Jaime he wasn't a Dutton by blood. That news understandably sent Jamie spiraling, not to mention looking for the man who fathered him. What he found was Garrett Randle, a broken down old cowhand who'd done a significant prison stretch for killing Jaime's birth mother. Nevertheless, Randle soon had Jaimie's ear, helping turn the lad against his family before it was finally revealed he'd hired the militia men to attack John and the gang in that Season 3 finale shocker.
Randle, of course, got what was coming to him in the end, though his presence will be sorely missed moving forward. As for the actor who played him, well, Will Patton is one of Hollywood's most notable "oh, that guy," sorts. He has been for the better part of four decades, and the list of notable film and television series Patton has appeared in really is too long to recount here. Suffice to say, works like "No Way Out," "Armageddon," "Remembering the Titans," and the new "Halloween" movies are obvious highlights. 
Jackie Weaver is one of the fiercest actors of her generation
After the unexpected exit of Roarke Morris in the Season 4 opener of "Yellowstone," there was yet another power vacuum in terms of the bad people doing bad things to the Duttons. Said vacuum was thankfully filled in the season's second episode, right about the time Market Equities CEO Caroline Warner stepped off her private jet in Montana. And oh boy is Warner setting up to play the part of a major "Yellowstone" villain. That's a good thing too, because those familiar with the actor who plays her know Jackie Weaver is a legit force of nature when the camera is on, and that her shrewd character is likely only getting started.
Prior to 2010, however, few U.S. viewers had likely ever heard the name Jackie Weaver as she'd spent the bulk of her career working on the Australian film and television scene. That changed with Weaver's ferocious, Oscar-nominated turn as Janine "Smurf" Cody in the original film "Animal Kingdom," which inspired the TNT hit of the same name. Hollywood clearly took notice of Weaver's work, with the actor going on to appear in some of best films released in the past decade-plus, including "Silver Linings Playbook," "Equals," "Widows," and the Netflix sci-fi/horror hit "Bird Box." 
Piper Perabo has been a regular on screens big and small for a couple of decades
There were a lot of new faces entering the Dutton Yellowstone Ranch orbit in Season 4 of "Yellowstone." If there's one it feels like the series never quite did enough with, it's Summer Higgins, a do-gooding Portland protester who got involved with John Dutton, before running afoul of the law one time too many. Sure, her entry to the show was intriguing, and her first encounter with Beth was absolutely epic. But even as Summer played a part in some of the season's more intriguing narrative maneuvering, her storylines never really earned their keep in the "Yellowstone" landscape.
Nonetheless, Piper Perabo was mostly fantastic in the role, which is hardly surprising because Perabo has been great in a lot of things throughout her career. The actor's breakout came in 2000, with memorable appearances in "Coyote Ugly," and "The Adventures of Rocky & Bullwinkle." And in the years since, Perabo has carved out a solid resume, including gigs in 2020s exploding teen dramedy "Spontaneous," Rian Johnson's time-travel masterpiece "Looper," and Christopher Nolan's dueling-magicians drama "The Prestige," where her ill-fated character just couldn't manage to slip that fateful wet knot.
Tim McGraw and Faith Hill are country music royalty 
"Yellowstone" fandom was no doubt surprised when series co-creator Taylor Sheridan announced he was working on a spin-off series a couple years back, and that said spin-off would be set more than 100 years prior to the events of the original series. They were likely even more surprised when Sheridan announced Tim McGraw and Faith Hill would be fronting "1883" as the Duttons who laid claim to the coveted lands John and company now call home.
That's hardly a knock at either's acting abilities, and both have so far been quite fantastic on "1883." Rather, it was a surprise because neither McGraw, nor Hill (who are a couple in real life) are actors by trade. They are, in fact, both country music superstars who've become legit royalty in that realm. Regarding their work on "Yellowstone," they barely shared any screen time in their brief Season 4 appearances, though both left their mark on the series via their enlightening flashback scenes.
As for where you've seen either outside of the "Yellowstone" or country music stages, most of Hill's IMDb credits have come via soundtrack contributions, though she did appear in 2004s "The Stepford Wives," and was brilliant in the 2017 indie "Dixieland." McGraw, on the other hand, clearly has an affinity for acting, having turned up in films like "The Kingdom," "Friday Night Lights," "The Blind Side," and "Tomorrowland" prior to booking his "Yellowstone" gig.  
Jefferson White has put together an impressive resume in his short career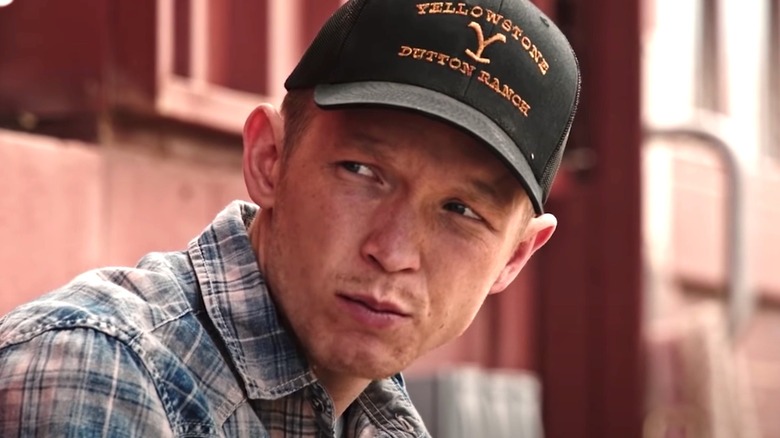 Paramount Network/YouTube
"Yellowstone" isn't really known as a funny show. For the most part, it isn't trying to be. But even high-octane dramas need a laugh every now and then, and "Yellowstone" fans can attest that Jefferson White's kind but sometimes slow-witted Dutton Ranch hand Jimmy Hurdstram has provided his share of laughs. Jimmy has, of course, also become not only a favorite among the bunkhouse boys and girls, but one of the series' most consistently intriguing characters.
That's largely due to the dextrous work of Jefferson White, who's delivered equally outstanding turns in some of the best shows on television over the past decade. Among the highlights of the actor's young career are spots in FX's Emmy-winning spy drama "The Americans" and recurring roles on "How to Get Away with Murder," "House of Cards," and the NBC thriller "Blindspot." Given how much "Yellowstone" has raised White's profile, you can bet he'll be booking a few more high-profile gigs in the near future — including a probable lead in the Western's spinoff series "6666."
Denim Richards is a performer whose star is very much on the rise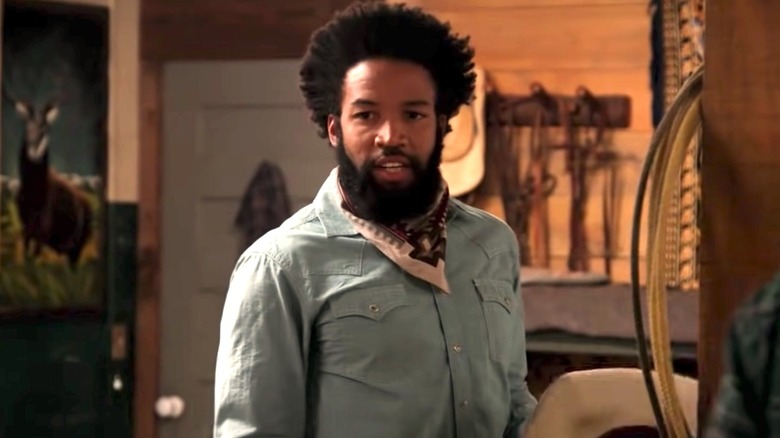 Paramount Network/YouTube
Speaking of fan favorites among the "Yellowstone" rogues' gallery, the cowboy we know only as Colby is very much part of that particular conversation. That's all the more surprising too because, well, of all the rough riders who call the Yellowstone Dutton Ranch bunkhouse home, fans really don't know that much about Colby.
It's a testament to the muted yet soulful work of Denim Richards that fans still invest so much in the character. And it's a testament to Taylor Sheridan for casting Richards in a key role on "Yellowstone" to begin with, because the actor and trained vocalist really hadn't booked much work prior to claiming the role of Colby. He did, however, deliver memorable turns in MTV's "Catfish: The TV Show" and the Freeform teen drama "Good Trouble." Richards added writer and director to his resume via the indie film "The Forgotten Ones," proving he has ambitions on either side of the camera.
Jen Landon has made a name for herself despite being born to a Hollywood legend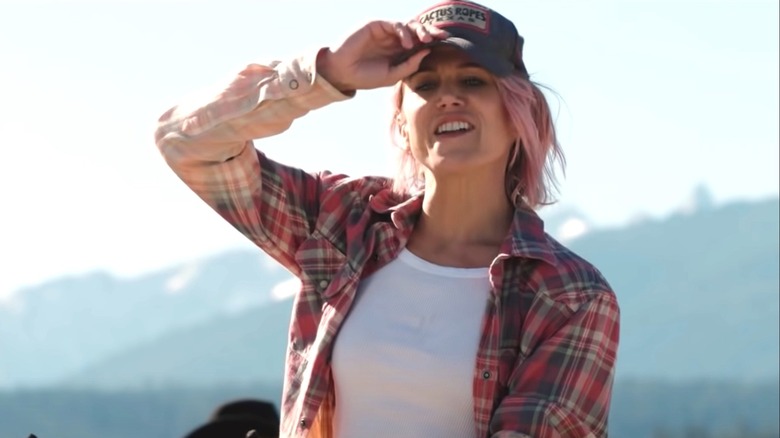 Paramount Network/YouTube
It's easy to argue that, as low-key intriguing as Colby was in the first couple of seasons of "Yellowstone," fans got a lot more involved in his story when the foulmouthed cowboy we call Teeter showed up and took a shine to him. It's just as easy to argue Teeter did as much as any single character to keep things fresh and fun in the Dutton Ranch bunk house.
As you might've guessed from her last name, the actor who plays Teeter on "Yellowstone" is a bit of a Hollywood legacy. Yes, Jen Landon is the daughter of legendary actor Michael Landon. And yes, she followed her late father into showbiz. Landon has more than made a name for herself as an actor: Like many before her, Landon cut her teeth in daytime drama, with long-running roles on "As the World Turns" and "The Young and the Restless." Circa 2016, however, things took a turn for Landon via a role on Showtime's cult hit "Banshee." In the years since, Landon has appeared in the likes of "Animal Kingdom," "The Orville," and "FBI: Most Wanted," among others.
Eden Brolin is doing her famous family proud with her work on Yellowstone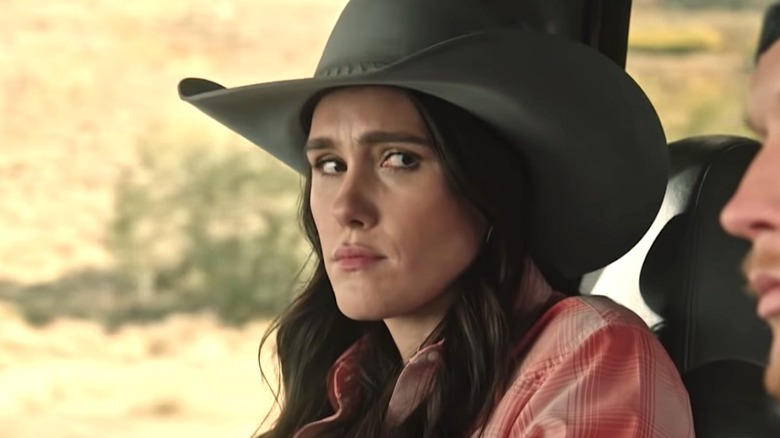 Paramount Network/YouTube
Jen Landon isn't the only Hollywood legacy in the "Yellowstone" cast. You may not know it, but Eden Brolin is, in fact, the daughter of Josh Brolin. That means she's also the step-granddaughter of Barbra Streisand and granddaughter to Streisand's famous actor husband James Brolin. And if her work as Jimmy's impetuous, barrel-riding love interest Mia is any indication, the acting gene didn't skip a generation in the Brolin clan.
Early in her own acting career, Eden has already proven herself a talent to be reckoned with, earning her first legit film credit with a supporting role in the well-received 2012 indie "Ruby Sparks." She's largely kept to her indie roots since, appearing in smaller projects like "I Dream Too Much," the Lifetime drama "Manson's Lost Girls," and the grievously overlooked 2020 crime thriller "Arkansas," which also featured Vince Vaughn, John Malkovich, Liam Hemsworth, and the late Michael C. Williams. But Brolin is perhaps best known for her work as Charlie in the Freeform sci-fi series "Beyond."
Wendy Moniz has become a scene-stealing supporting player in her lengthy career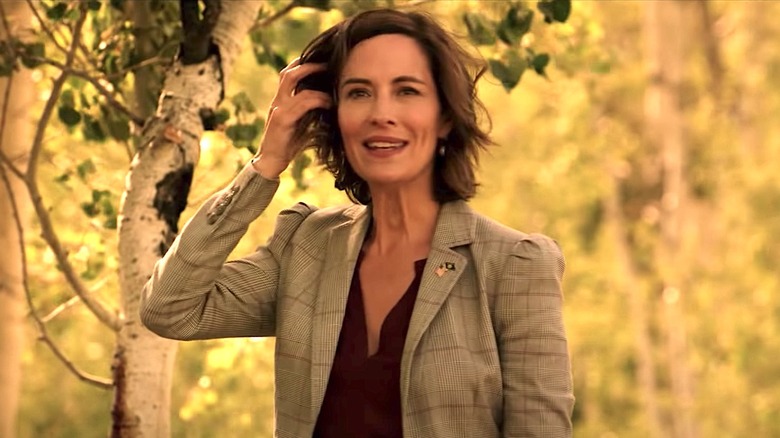 Paramount Network/YouTube
If you're anything like us, the moment Montana Governor Lynelle Perry made her first appearance on "Yellowstone," you were certain you'd seen her somewhere before. You were probably also immediately enamored with the way she so ably commanded not only whatever room she was in, but also whoever was in it. On occasion that even included her on-again, off-again beau John Dutton (Kevin Costner).
Like most "Yellowstone" fans, we were pretty broken up when that coupling (sort of) ended, though the pair will continue to spar as the governor and would-be senator continues her reign over Montana. As for where you've seen the actor who plays Governor Perry before, Wendy Moniz has had skin in the acting game since the mid-'90s, when she was a regular on the daytime drama "Guiding Light." In the years since, Moniz has landed recurring roles on hit shows such as "Nash Bridges," "Damages," and "House of Cards," and stole many-a-scene as ADA Frasier in the first season of "Law & Order: Organized Crime." She also scored a one-off gig in Netflix's "Daredevil," and appeared opposite Frank Grillo in the streamer's underrated action movie "Wheelman."
You'll probably be hearing Hassie Harrison's name a lot in the future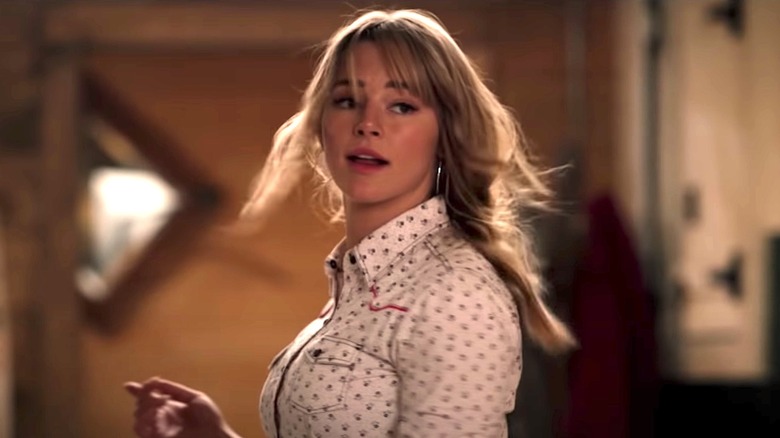 Paramount Network/YouTube
There was plenty of locker room talk about female barrel racers in early seasons of "Yellowstone" — so much so that actual expectations about the rodeo stars became very real prior to any barrel racers actually entering the narrative. Thankfully, those expectations were met and then some when Mia and her hard-riding pal Laramie turned up on the show — though we might admit the fast-living Laramie soon exceeded them after saddling up on a live bull, then snuggling up to not only the much older Lloyd (Forrie J. Smith), but the roguish crooner Walker (Ryan Bingham). 
The latter course of action likely cost Laramie a few "Yellowstone" fans, but the actor who portrays the character is so darn charming it's all but impossible not to like her. That actor's name is Hassie Harrison, and genre lovers should know her from a memorable performance in the horror anthology "Southbound," if not the big-budget 2018 sci-fi movie "A-X-L," or the blissfully silly gaming comedy "Max Reload and the Nether Blasters." If not, you almost certainly recognize her from the "Super Trooper" team's tragically overlooked fireman comedy "Tacoma FD."