Why Niander Wallace Jr. From Blade Runner: Black Lotus Sounds So Familiar
Ridley Scott's "Blade Runner" universe remains one of the most influential science fiction worlds ever committed to screen. And while 2017's "Blade Runner 2049" wasn't a smash hit at the box office, it remains a fan-favorite return to the tech-noir world of replicants. On the heels of the sequel's release, audiences will soon get a chance to step back into the "Blade Runner" universe with the release of Toonami and Crunchyroll's prequel series "Blade Runner: Black Lotus," which premieres on November 13, 2021. Taking place shortly after "Blade Runner Black Out 2022," the series follows a young female replicant (Jessica Henwick) with amnesia who goes on a journey to learn about her past. Along the way, she runs into notable "Blade Runner" characters, including Niander Wallace Sr. and his son Niander Wallace Jr., portrayed in "Blade Runner 2049" by Jared Leto.
The voice behind Niander Wallace Jr. in "Blade Runner: Black Lotus" will almost certainly sound familiar to genre fans. This is because he is voiced by actor Wes Bentley, who is stepping in to replace Jared Leto. No stranger to a wide range of genres on the big and small screen, Wes Bentley has been a consistent presence in pop culture for the better part of the last two decades with a lengthy list of IMDb credits. These are some of his most notable roles to date.
He terrorized a woman in a parking garage in P2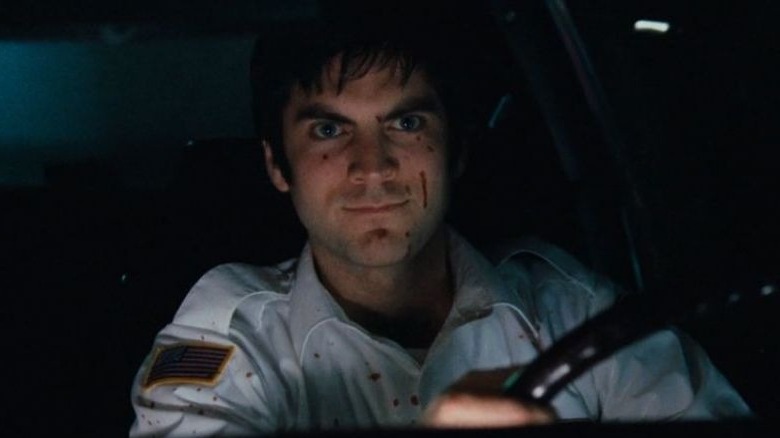 Summit Entertainment
Wes Bentley has been acting since his childhood, but one of the most notable early roles he took on during his adult career was as a security guard named Thomas in the 2007 thriller, "P2." Directed by Franck Khalfoun, the film follows a young woman named Angela (Rachel Nichols) who finds herself hunted through a parking garage by the psychotic Thomas on Christmas Eve. The result is a relatively well-executed cat-and-mouse game, culminating in Angela burning Thomas alive in order to stop him from tormenting her.
The mid-2000s was a unique era for horror, as "torture porn" franchises like "Saw" were starting to show signs of fatigue, and found footage franchises like "Paranormal Activity" were beginning to boom. As such, "P2" stands out as a fun, serviceable single-location thriller, similar to Wes Craven's "Red Eye" or the Spanish zombie movie "Rec." Moreover, the film served as a launching pad that would eventually lead Wes Bentley to the other films on this list.
He created The Hunger Games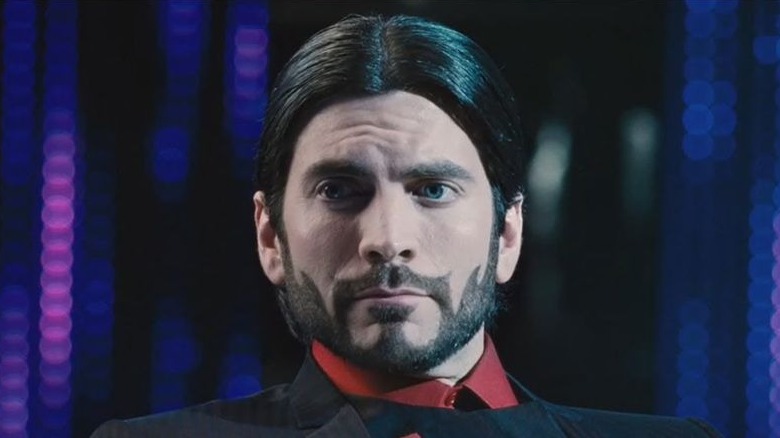 Lionsgate
It's difficult to overstate just how big of a phenomenon "The Hunger Games" was when it premiered in 2012. The film kicked off one of Lionsgate's most successful franchises of all time and helped launch the career of Jennifer Lawrence as the lead of an impressive assortment of character actors. One such actor among the "Hunger Games" ensemble was Wes Bentley as Seneca Crane, the Head Gamemaker behind the 74th Hunger Games tournament. The mastermind of the horrific game, which pits young citizens of Panem against each other in a battle royale, Crane largely orchestrates many of its most heart-wrenching deaths. However, he ultimately decides to crown two victors when Katniss (Lawrence) and Peeta (Josh Hutcherson) threaten to kill themselves and leave no victor.
Unfortunately for Seneca Crane, his deeds do not go unpunished by the conclusion of "The Hunger Games." For his failure to produce a single winner by the end of the games, it is implied that Crane was forced to kill himself by eating poisonous berries. The irony, of course, is that it is suggested that he consumed the very same berries that Katniss and Peeta almost ate at the end of the film before he decided to let two winners be crowned.
Wes Bentley was killed by waves in Interstellar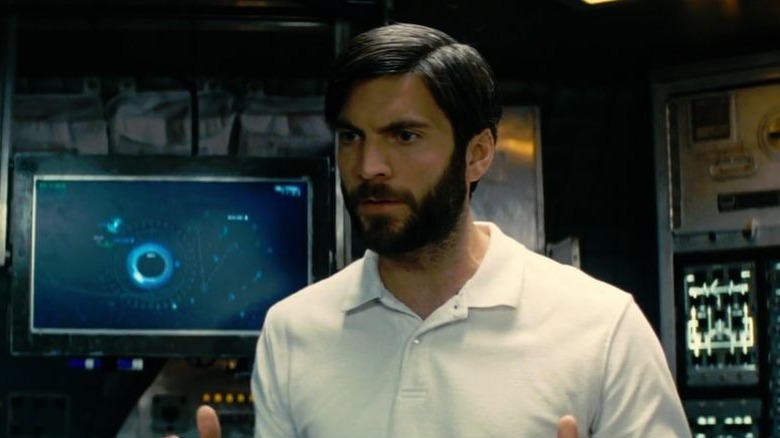 Warner Bros.
Christopher Nolan's "Interstellar" remains one of the most haunting and beautiful sci-fi movies of the last decade. The film depicts a dying Earth in the near future and a crew of astronauts who take to space to find a suitable new planet for humanity to settle. The film is led by Matthew McConaughey as Joseph Cooper and Anne Hathaway as Amelia Brand, along with Wes Bentley as Doyle — a brilliant NASA astronaut brought in to aid with the mission to save the human race.
Ultimately, however, Wes Bentley's Dr. Doyle does not get quite as lucky as his fellow crew members when they stop at the first of three planets in "Interstellar." Landing on a world covered in shallow water, the crew soon realizes that the mountains seen off in the distance are actually waves that reach hundreds of feet into the air. In the scramble to return to their ship, Doyle finds himself swept up in the water, and Cooper is forced to close the hatch and leave him behind.
He played Julia's new husband in Mission: Impossible – Fallout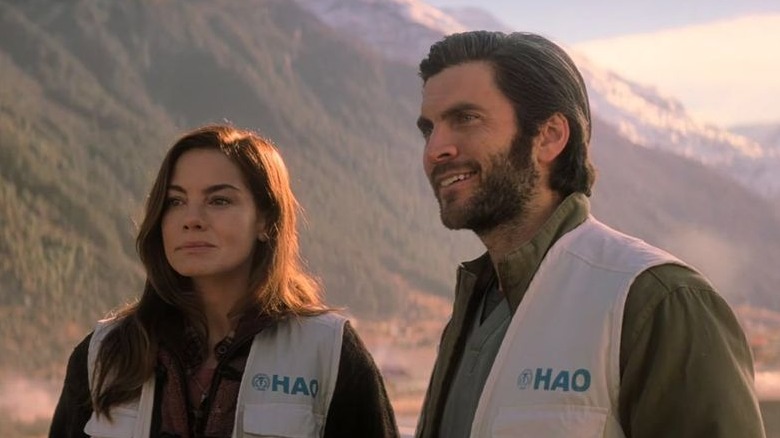 Paramount Pictures Studios
Though the "Mission: Impossible" franchise generally does not concern itself with continuity very much, one of the most consistent narrative threads of the franchise is the relationship between Ethan Hunt (Tom Cruise) and his wife Julia Meade (Michelle Monaghan), who was introduced in "Mission: Impossible III." While that film concluded with an apparently happy ending for the couple, subsequent films in the series continued the story and showed how Ethan's duties as an IMF agent ultimately led them to separate. By "Mission: Impossible – Fallout," we see that Julia has a new life with the Humanitarian Aid Organization and is married to a doctor named Erik (Wes Bentley).
Arguably subverting audience expectations, Erik turns out to be a good guy who treats Julia well and gives her a life that makes her happy. The film ends with Ethan and Julia reconciling and Julia thanking Ethan for the life he has given her. With two more "Mission: Impossible" movies on the way, there is no word as to whether or not Julia or Erik will have a role in Ethan's future adventures. Still, it seems unlikely, as "Fallout" effectively punctuated the Ethan-Julia storyline by letting her live a happy life with Erik.
He is John Dutton's adopted son on Yellowstone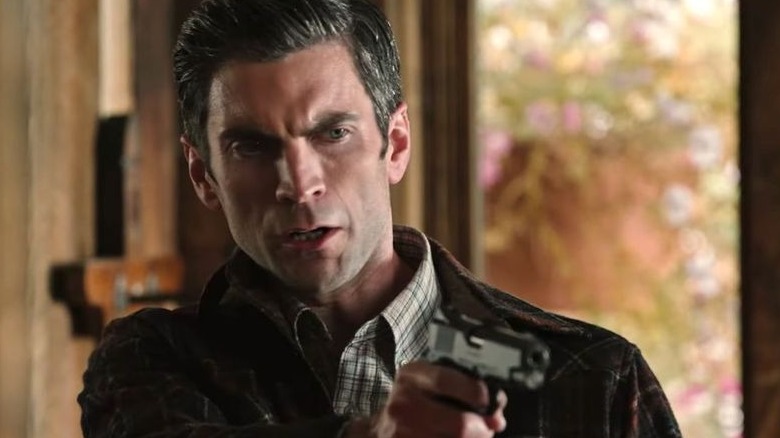 Paramount
Amid the rough and tumble characters who appear on Paramount's "Yellowstone," Wes Bentley's Jamie Dutton is a bit of a black sheep. An aspiring politician and adopted son to Kevin Costner's John Dutton, Jamie is consistently shown to be a self-serving individual who is willing to go against his family in the interest of his own gain. He has gone through numerous dramatic storylines throughout his tenure on the series, including an attempted suicide and the realization that John is not his biological father. In flashback sequences, Dutton is portrayed by Dalton Baker.
Paramount's "Yellowstone" has become one of the most popular series on television since its debut in 2018. This is in no small part due to the series' portrayal of the entire Dutton family, including Wes Bentley's performance as Jamie. The series will soon receive a prequel spinoff titled "Yellowstone 1883," and while the earlier time period won't include any characters from the main "Yellowstone" continuity, fans can continue to catch Bentley's work as Jamie in the main series, which is entering its 4th season.