Finally Explaining Claire Kincaid's Death On Law And Order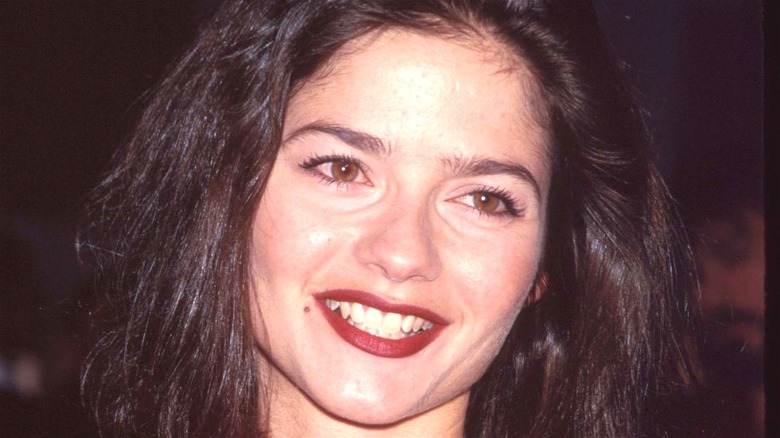 Evan Agostini/Getty
When it aired its final episode in 2010, NBC's beloved procedural drama, "Law & Order," had tied "Gunsmoke" as the longest-running live-action primetime series in the history of television. While it has since been surpassed (via TVLine) by its own spin-off, "Law & Order: SVU," the legacy of the flagship series remains as massive today as it was the day it ended.
Of course, any long-term "Law & Order" fan can tell you the cast of the show in its finale was dramatically different from the one assembled in its pilot episode. That's hardly a surprise, as cast turnover is practically unavoidable on shows that run as long as "Law & Order" did. Fortunately, the premise of "Law & Order" allowed for it to swap out its central cast members without having to routinely suffer any major narrative consequences. 
Despite that, it was still difficult for fans to watch some "Law & Order" actors make their exits. It's safe to say many "Law & Order" fans were beyond disappointed, in particular, by the sudden Season 6 departure of Jill Hennessy, who'd brilliantly portrayed Assistant District Attorney Claire Kincaid on the show for three seasons up to that point.
Fans' disappointed reactions were largely influenced by the way Kincaid left the show — namely, by dying in a stunning twist of fate in the show's Season 6 finale.
Jill Hennessy's fear of being typecast led to her Law & Order exit
Titled "Aftermath," the fateful "Law & Order" episode finds the show's team reeling after witnessing the execution of a criminal they'd helped convict. Briscoe (Jerry Orbach) eventually becomes intoxicated and gets a ride home from Kincaid. Their ride together leads to one of the series' most heartfelt moments, but the tender scene is violently interrupted when their car is struck by a drunk driver — an accident that leaves Kincaid dead and Briscoe in a heap of tears.  
It was a soul-shaking moment, but it happened mainly because Jill Hennessy had become so disenchanted with her role that she'd decided to leave the show. The actor admitted as much in a 2006 interview with The Morning Call, stating, "It is the one part on the show that is the most limited, I guess, and that's why you've seen such a revolving door with that character in particular. There's just not any way to write it with more facets."
Hennessy went on to say that she was wary of getting typecast because of her performance on the show, adding, "One of the reasons you see actors moving on is that it's so easy to become typecast. If they see you in that one light, people presume that's all you can do. I was getting that from day one ... most actors get into the business to play a variety of parts."
Taking Hennessy's words into account, one can hardly blame the actor for deciding to move on to greener pastures, though, that doesn't mean we wouldn't have loved to see another season or two of Kincaid sparring with D.A. Jack McCoy (Sam Waterston).