Fans Are Going Bonkers Over The Idea Of Bane In The Batman
Dave Bautista, you sneaky scoundrel, you.
The Guardians of the Galaxy star has got DC fans losing their minds over a photo he posted to his Twitter account which seems to suggest that he may be in talks to star in a film produced by Warner Bros. — DC's parent company. 
The image was provocatively captioned with, "It won't come to you so get after it!! #DreamChaser," which, once again, is a pretty strong indication that Bautista is actively pursuing a specific role. Fans, of course, took that indication and ran with it — and there's a pretty strong consensus among them as to just what role that might be.
Of course, Bautista is well-known for his role as Drax the Destroyer in the Marvel Cinematic Universe, and it's also fairly common knowledge that he was the first choice for the role of Peacemaker in Guardians of the Galaxy director James Gunn's upcoming DC picture The Suicide Squad (a role that ended up going to fellow wrestler John Cena). Given this history, fans are convinced that the actor is lobbying to secure a role in writer/director Matt Reeves' upcoming The Batman — and with his build, it seems like he'd be a pretty good fit to play Bane, the Bat-breaking baddie who was previously portrayed in The Dark Knight Rises by Tom Hardy.
As you saw when you clicked on this article, the internet's digital artists are already going bananas over the possibility, and virtually every response to Bautista's tweet contained the words "Bane" and "Please." Of course, a few put forth the theory that he was slinking around Warner Bros.' offices for a completely different reason: so that he could smuggle out the legendary Snyder Cut of Justice League. If this is indeed the case, we're going to go ahead and guess that Aquaman actor Jason Momoa put him up to it; you can totally picture those two being buddies.
Will Dave Bautista actually be cast as Bane in The Batman?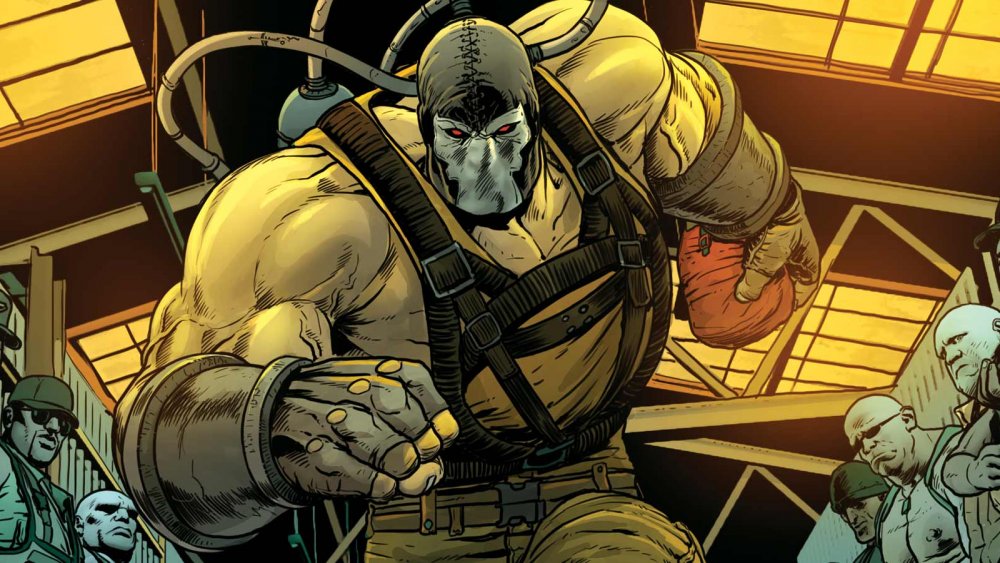 DC Comics
Look, if anybody can picture Bautista filling Bane's shoes, it's us. It's not just his build; his voice, acting style, and proven action chops would have us totally flipping out it if he were to one day land the role. Unfortunately, we're about 99.9998 percent sure that that day isn't going to come today, next week, or next year (not that we blame fans for their pre-emptive flip-out).
First and foremost, there's the fact that The Batman's rogues' gallery is already pretty well filled out. Back in October, Zoë Kravitz nabbed the role of Catwoman; near-simultaneously, it was announced that Paul Dano had been cast as the Riddler. The following month, the news broke that Colin Farrell was in talks to play the Penguin in the movie, and since then, it's also been announced that John Turturro will be playing the infamous crime boss Carmine Falcone.
That's a pretty well-rounded gallery, and even the rumors that have flitted about like so many bats in a cave over the last year or so have failed to mention Bane. It also stands to reason that — assuming Warner Bros. would like The Batman to kick off a franchise, which is a pretty damn reasonable assumption — they're not going to load up the plate with all of Bats' most iconic villains right off the, er, bat. The Joker, for instance, is conspicuously missing from The Batman's villain lineup (although his cinematic fortunes have been doing just fine lately), and when it comes to truly threatening, formidable Batman villains, there are virtually none quite so threatening or formidable as Bane, who famously snapped Bruce Wayne's back during the events of the iconic DC story arc Knightfall.
There's also the fact that Bautista is lined up to be very, very busy for the foreseeable future. He has no fewer than three projects in various stages of pre-production, including Marvel's Guardians of the Galaxy Vol. 3, director D.J. Caruso's crime thriller The Killer's Game, and the animated... um, breakdancing mouse flick Groove Tails.

Of course, it's not outside the realm of possibility that Bautista is reaching out to Warner Bros. in the event that Bane will appear in a sequel to The Batman — but it should be noted that DC is being very cautious with its legacy characters these days, having learned its lesson from the failed universe-building attempt of the early DCEU efforts. Star Robert Pattinson, who should know a thing or two about whether he's signed on for a film or a franchise, has deflected talk of a sequel to The Batman — so it seems pretty likely that Warner Bros. wants to gauge how fans react to the flick before going ahead and greenlighting more installments.
That said, we can all hope. If Bautista does one day take on the role of Bane, we have no doubt that he'll absolutely kill it, most likely breaking the box office along with the Bat. As for that other theory: go ahead, Dave. Grab the Snyder Cut and just walk on out; that's the only way it's seeing the light of day any time soon.