The Untold Truth Of American Ninja Warrior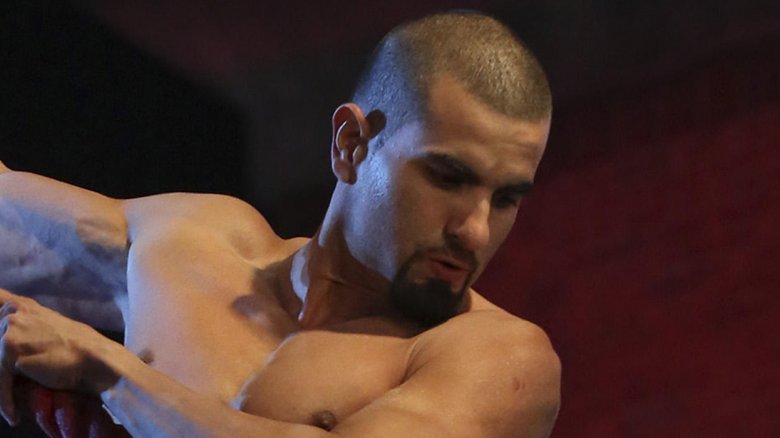 Each summer, audiences across America are treated to the ultimate beach bod motivator: American Ninja Warrior, the obstacle competition show that's taken the world by storm. The show exhibits the best of what athletes can be, showing off a new, exciting sport that takes contestants to their physical limits.
American Ninja Warrior has a long and storied history, though, and even super-fans might not realize just how far the show has come since it first aired — and just how much goes into making it the epic production it is today. This is the untold truth of American Ninja Warrior.
It's adapted from a Japanese game show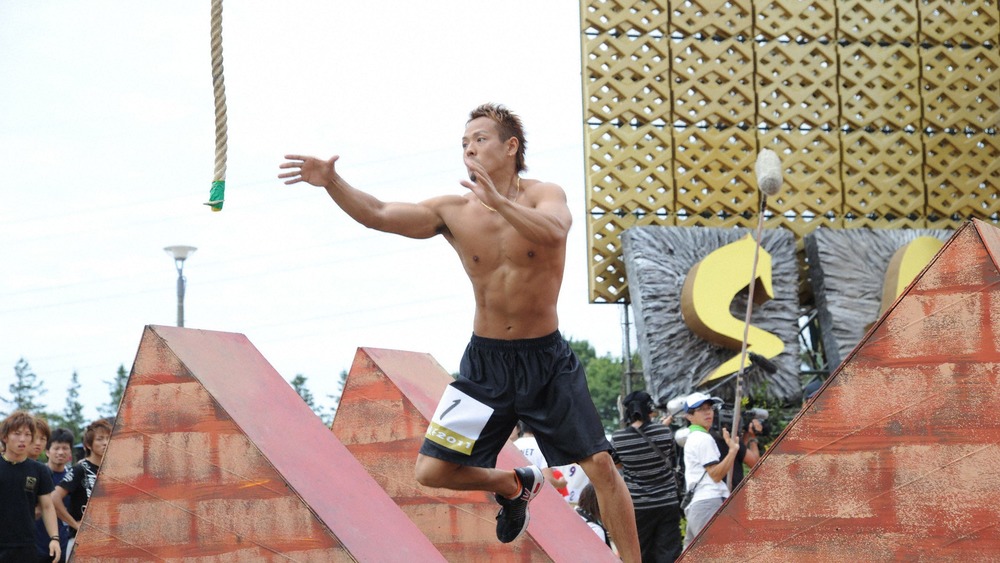 Early seasons of American Ninja Warrior were very, very different. It was initially known as American Ninja Challenge, a video submission series in which contestants submitted videos of themselves on ninja obstacles, with the ultimate goal of competing on the Japanese game show Sasuke.
In those early seasons, contestants competed in one city qualifying course in Venice Beach; the top 30 moved onto the city finals, where they entered a "boot camp" that whittled them down to just ten ninja finalists, who traveled to Japan to compete on Sasuke. Although the format was different, there were still some familiar ninjas competing, including James McGrath, Drew Drecshel, Brent Steffensen, and Flip Rodriguez.
This all changed in season four, when the show started airing on both G4 and NBC, resulting in an increasing number of city qualifiers and a Las Vegas-set Mt. Midoriyama. Without the Japanese version of the game show, ninja competitions likely never would have become popular enough to air on a major American network—and we never would have had American Ninja Warrior.
The show had a long journey to primetime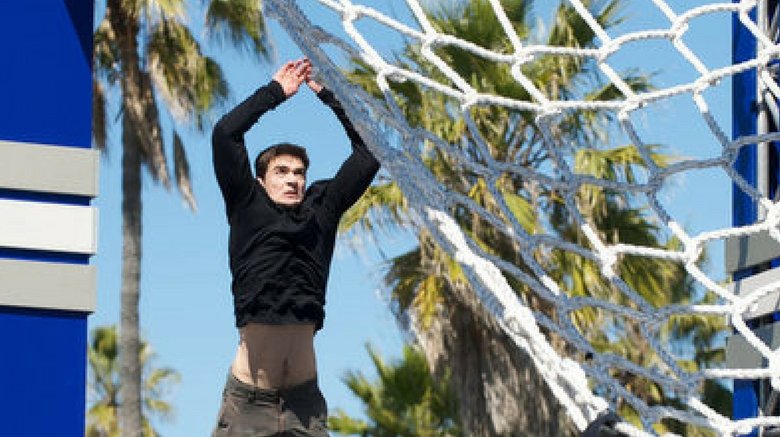 American Ninja Warrior didn't get its start on NBC — the show started out on G4tv, a network within the company's cable group. That channel doesn't exist anymore (it went off the air at the end of 2014), but it provided a home for American Ninja Warrior for its first three increasingly popular seasons.
According to host Matt Iseman, G4 went to NBC during the third season and offered to allow them to air the finale for free. "'Just air it on NBC to tell people G4 exists,'" Iseman recalls execs saying. With little to no promotion, the mostly unheard of show ended up winning the ratings for the night, leading to Ninja's permanent relocation in season four.
Matt Iseman has a very interesting background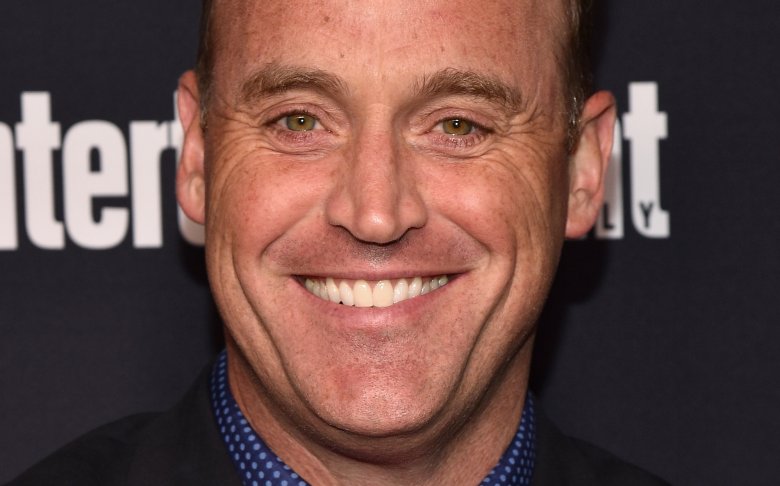 Getty Images
American Ninja Warrior fans know host Matt Iseman as the man responsible for the show's signature, drawn-out name pronunciation. However, many don't realize that he had quite an interesting life before taking his place at the podium.
Before becoming a TV personality, Iseman graduated with honors from Princeton University and earned his medical degree at the Columbia College of Physicians and Surgeons. He did his residency in internal medicine at the University of Colorado and was a practicing doctor before he decided to leave the medical world and take a shot at his true passion: comedy. As a comedian, he performed at the 2002 Salt Lake City Winter Olympics and traveled the world with the USO before hosting Sports Soup and ultimately joining American Ninja Warrior in its second season, replacing Road Rules' Blair Herter as the primary host.
The hosts can't actually see the contestants running the full course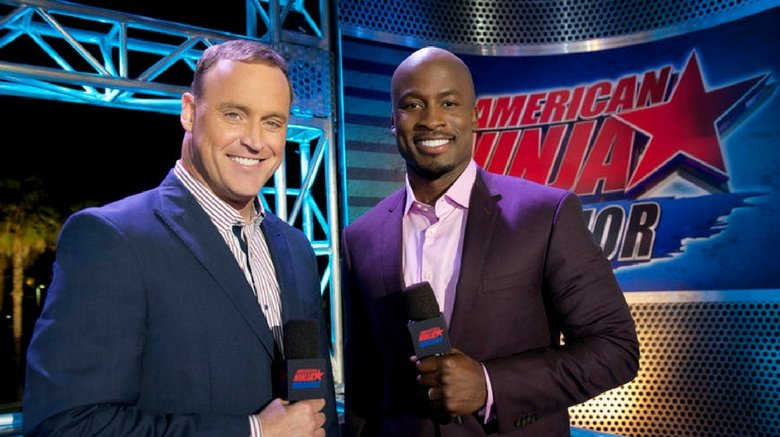 It may sound like American Ninja Warrior's hosts are right there in the moment, but in reality, the way the course is set up makes it so that they can't see the first few obstacles. Instead, Iseman says, the hosts watch on monitors, which also give them close-up views of the obstacles they can see, letting them provide more accurate commentary. Don't worry, though — the hosts get a full view when contestants reach the top of the Warped Wall.
Quite a few celebrities have competed
American Ninja Warrior held its first celebrity competition as part of NBC's Red Nose Day in 2017, allowing the likes of Arrow's Stephen Amell and Dancing with the Stars' Derek Hough to take on the course (albeit with some loosened rules). While Erika Christensen, Natalie Morales, Nikki Glaser, Jeff Dye, Mena Suvari, Nick Swisher, and Ashton Eaton tried their luck during the special, they weren't the first celebs who've seen if they have what it takes to be ninjas.
Other stars who've taken on the American Ninja Warrior course throughout the years include four-time Survivor contestant Ozzy Lusth, who competed in season two; former Baltimore Ravens, Denver Broncos, and Detroit Lions wide receiver Matt Willis, who competed during season three; The Chronicles of Narnia actor William Moseley, who appeared in season four; two-time Olympic gold medalist track star DeeDee Trotter, who competed on season five; Olympic silver medalist gymnast Jonathan Horton, who competed on seasons six and seven; and IndyCar drivers Helio Castroneves, Tony Kanaan, and Josef Newgarden, who competed in Indianapolis alongside NASCAR driver Ricky Stenhouse Jr. in season eight. 
A Supergirl stuntwoman made history
Jessie Graff has doubled for a superhero on TV — and she's basically a real-life superhero too. Graff, who worked as a stunt double on multiple episodes of the CW's Supergirl and even appeared on camera in a small role in one season two episode, made history on the course in the summer of 2016 when she became the first woman to compete Stage 1 in Las Vegas (this after coming in second in her city qualifier and being just one of two competitors to complete the Wedge obstacle). 
A veteran of several of the show's seasons, Graff has popped up as a stuntwoman in a whole bunch of your favorite TV shows and movies, including Live Free or Die Hard, Heroes, Iron Man 2, Bridesmaids, X-Men: First Class, Transformers: Dark of the Moon, and Agents of S.H.I.E.L.D. (She was also a stunt double for Elizabeth Hurley in the failed 2011 Wonder Woman pilot.) You may also remember her from her real-life staging of Family Guy's famous chicken fight, which has over 1.5 million views on YouTube. 
A lot goes into making the obstacles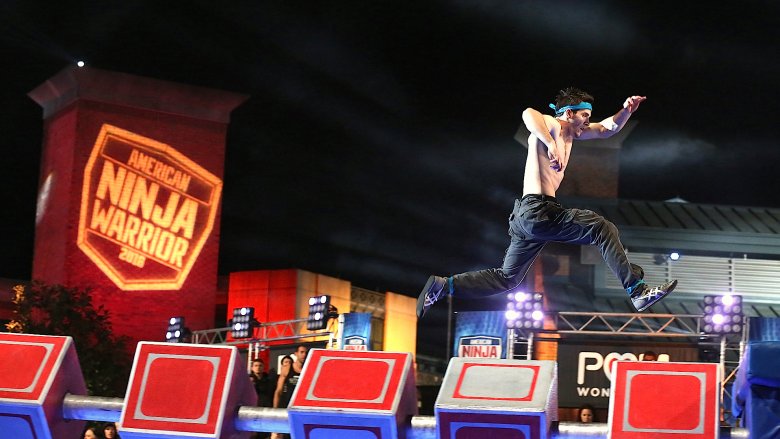 It seems like a no-brainer that quite a lot of planning and work goes into setting up American Ninja Warrior's elaborate obstacles, but it's interesting to see just how deep the process goes.
The whole course is the size of a football field, while Las Vegas' Mount Midoriyama is the size of four football fields — a lot of real estate to fill up with new challenges. Producer Brian Richardson says planning the obstacles takes months of brainstorming, with some ideas starting as something someone sketched on a napkin. From there, they figure out the course on paper before building a prototype and testing it in a warehouse. If it passes, it makes it to the course, but the testing isn't done yet — even more people test the course to make sure the difficulty is at the right level. "Moving a rope six inches closer or farther away can make a world of difference," says Richardson.
Apparently, producers have a set goal of around 20 percent of contestants finishing the city qualifiers, meaning that they test and test and test new obstacles until they find about 24 to include. Contestants don't know which obstacles they'll face going in, and they're not allowed to try out the course before their official run, so it's on them to figure out in the moment how to keep up with whatever producers throw at them.
The obstacles are usually ordered in a certain way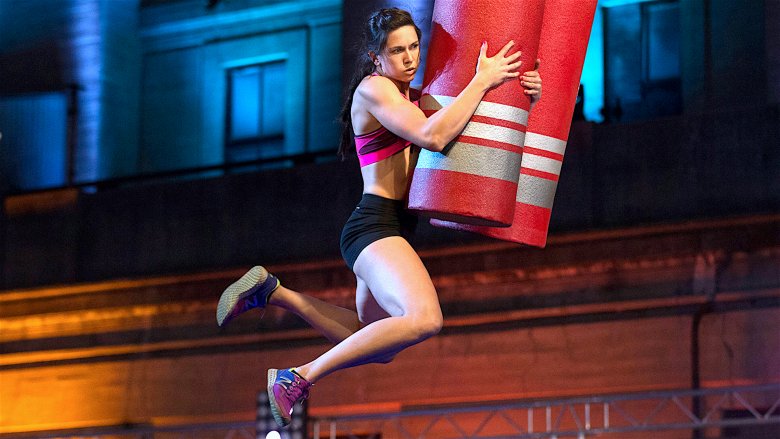 The obstacles are also ordered in a certain way, something frequent observers of the show may notice as they watch. According to the people responsible for designing the challenges, this is done on purpose to provide some structure. The first obstacle is always some variation of the steps, while the second, according to co-executive producer Anthony Storm, is a not-too-hard upper-body challenge used to separate "the athletes from the wannabes." As he puts it, "Almost everyone can physically get past the second obstacle, but if you're nervous, you're probably going to fail it." The third obstacle is usually balance-based, while the fifth once again focuses on upper body strength. The qualifying course always ends with the Warped Wall, while the Salmon Ladder always places eighth when moving onto the city finals.
You can volunteer to be an obstacle tester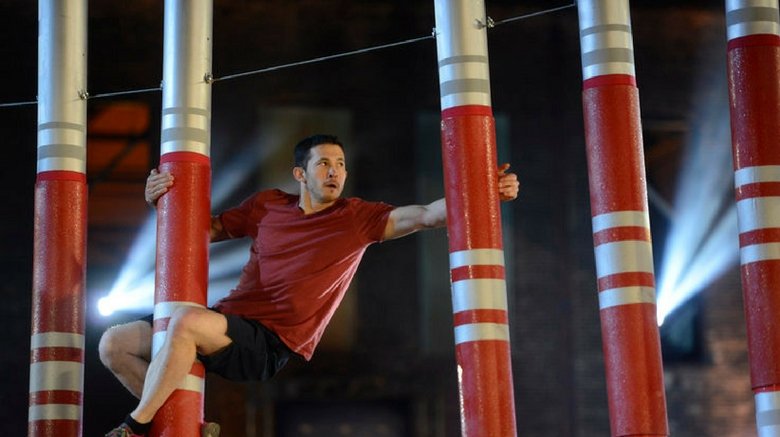 Have you ever wanted to run the American Ninja Warrior course, but don't want to take a splash on TV? You're in luck. The night before each city's run, a group of volunteers is chosen for the chance to let producers know if they need to make any last-minute adjustments. There's obviously no money involved, but they get the chance to run the course and test their ninja skills without all the pressure. 
Volunteers come from a number of different walks of life, including prospective contestants who sent in a tape to audition for the show but didn't make the cut, professional stuntmen, and regular people who work out at local gyms. According to past testers, you can visit the set around the time of filming to see if they need any testers, or you can email the casting team at anwcastingteam@gmail.com if you want to try out. (Another bonus? If you test out the course, they let you come back for the taping.)
Filming happens overnight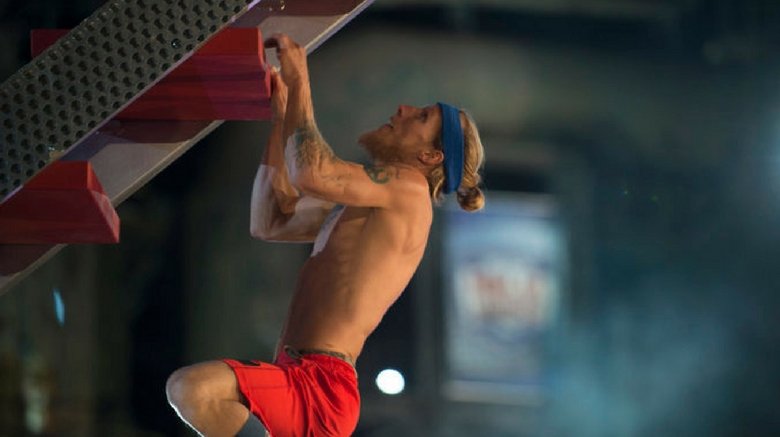 Up until season five, American Ninja Warrior contestants competed during the day, but since then, filming has happened at night. Tapings in each city begin around 8PM and go into the wee hours of the morning, with some contestants doing their runs around 3 or 4AM. Even contestants who run earlier in the night can stick around that late if they're waiting to find out whether they made it into the top 30 or 15, especially those who are on the edge. This is obviously quite taxing on contestants, adding a whole new layer of difficulty to an already grueling show.
Another thing making the show harder for contestants? They film regardless of the weather, which means that, even if it's raining or cold — so long as it's still safe — contestants are still expected to head out on the course.
The cities have to do a lot of planning for the show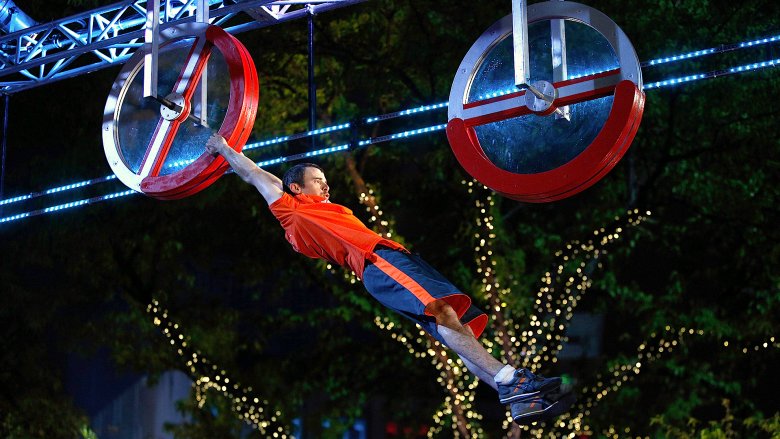 Bringing a football field-sized obstacle course into the middle of a crowded city for multiple nights of filming is no easy task. Road closures, permits, and security are required, meaning it can be quite a headache for the cities that volunteer.
However, there are also a lot of benefits, with the show known to provide an economic boost during its time in the area. Although it's tough to figure out exactly how much business the show brings into the city, it usually comes with hundreds of booked hotel rooms for the show's crew, the Ninjas, their families, and fans, as well as increased foot traffic.
Because of this, many cities pitch American Ninja Warrior, letting the show know why they'd be a good place to visit. Often this comes with a state tax credit that helps lower production costs; some cities also incentivize the show by offering them a free permit to film in a prominent location.
The show doesn't just cast for athletic ability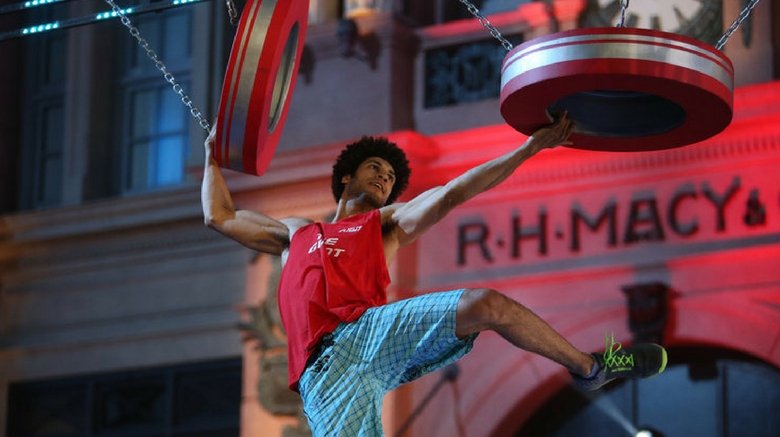 Being a great athlete doesn't guarantee you a spot on American Ninja Warrior. While the show obviously puts quite a lot of effort into finding contestants who are able to compete, there are a lot of other factors that go into casting.
To apply to be on American Ninja Warrior, contestants have to submit a long online questionnaire as well as submit a video of themselves. The video is where contestants have to really let their personality shine, convincing the casting directors that they won't just be able to complete the course, but that they'll also be fun to watch while they do it. As with most reality shows, Ninja's casting directors are looking for contestants with interesting stories who will inspire viewers both on and off the course.
Contrary to contestants on a lot of other reality shows, though, most American Ninja Warrior hopefuls who make it say that they feel they were portrayed fairly and accurately, with one contestant saying the crew spent the entire day with him just to get his two-minute introductory video perfect.
Isaac Caldiero's win was very controversial
Geoff Britten became the first man to reach the top of Stage 4 in Vegas in American Ninja Warrior's seventh season, but he didn't end up with the $1 million prize — instead, that went to Isaac Caldiero, the second man to finish, who topped the rope in just under four seconds less than Britten. The fact that Britten walked away empty-handed caused a lot of upset among American Ninja Warrior fans, especially considering that Britten finished every single course, while Caldiero did not. 
Britten took the results in stride for the most part, but many fans (and some of his fellow Ninjas) did not. Some fans even set up a GoFundMe account to give Britten his $1 million; while it didn't come anywhere near reaching that lofty goal, it did raise $14,000. The show had no winner in season eight, but it'll be interesting to see going forward how they handle multiple winners, should the situation ever arise again.
Being a Ninja is basically a full-time job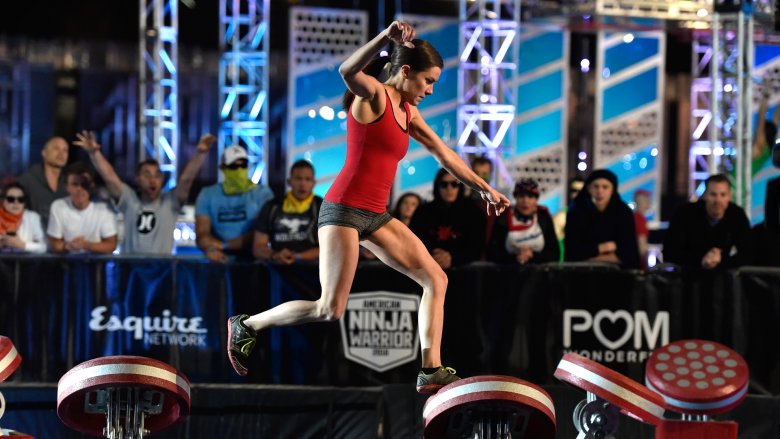 Many ninjas have to quit their job if they want to get serious about competing on the show, especially as the obstacles get more difficult. Because being an elite-level ninja is basically like being a pro athlete, ninjas are finding new ways to make a living based on their athleticism, rather than through traditional jobs. This includes doing commercials and making appearances at gyms and other events.
However, some ninjas are still pushing for more, with many believing that the future of the sport will come in compensation for the athletes who appear on the show. While the show has the $1 million prize (which only one person has won thus far), along with smaller cash prizes for first, second, and third place in city finals courses, there isn't solid compensation for athletes. Some ninjas want the show to provide a base compensation or for them to roll back their strict rules on athletes wearing sponsored clothing on the course. As the show continues to grow, and its competitors become more famous, there will likely have to be some changes to keep the athletes coming back. 
You can train like an American Ninja Warrior too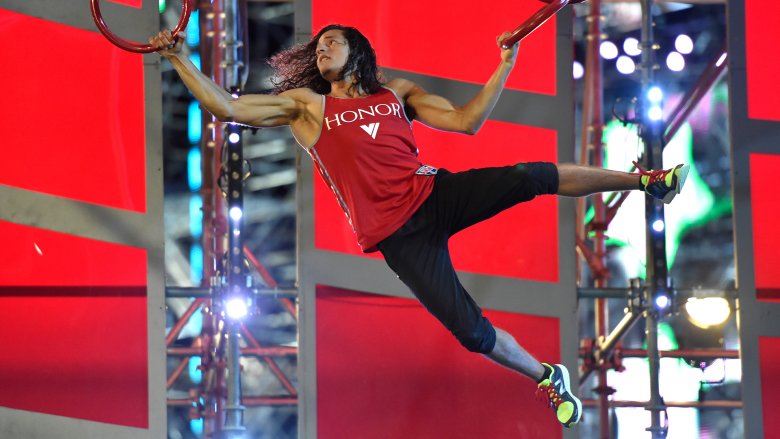 American Ninja Warrior has gotten a lot more popular — and so have ninja gyms. Once a specialty business, these gyms let people train using the same type of obstacles from the show, and they're now starting to pop up all over the country as regular people begin to want to take a shot at the course. This increasing trend has resulted in more applications for the show, which saw 50,000 people apply for season seven, up from just 5,000 for season six. This has also resulted in competitors like Jake Levin and Daniel Gil, who trained for years at ninja gyms waiting until they were old enough to get on the show. If you've ever wanted to take a shot at the course, look around for your nearest ninja gym.
It's spawned a number of spinoffs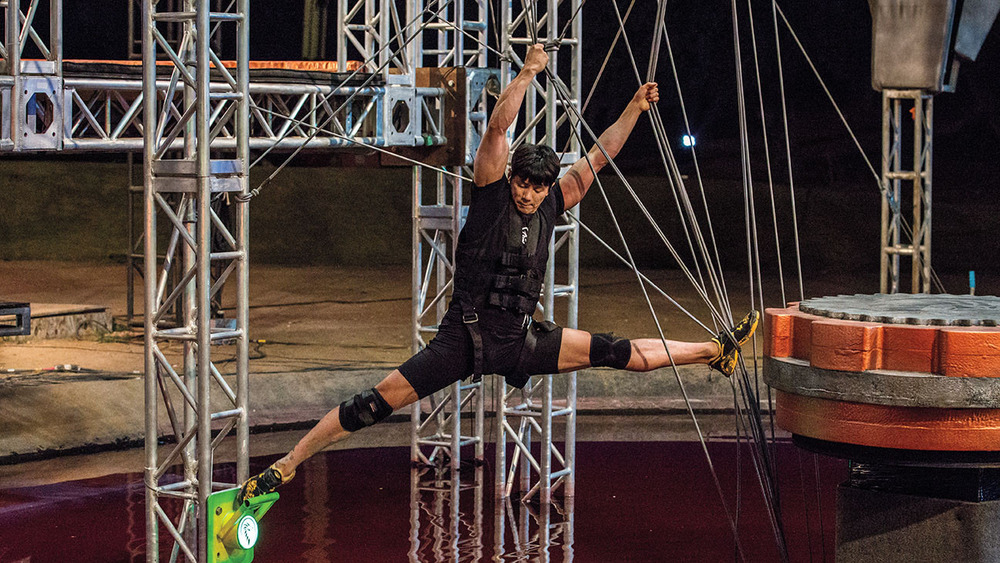 The success of American Ninja Warrior has led to quite a few spinoffs, including specials like Celebrity American Ninja Warrior and USA vs. the World, as well as full-fledged shows like Team Ninja Warrior, which teams up some of the show's alums for three-people competitions.
There are also similar competitions like Spartan: Ultimate Team Challenge — executive produced by ANW's Kent Weed — which brought in teams of athletes for a difficult race, with four people serving under an elite captain. The show was often paired with American Ninja Warrior on NBC's summer schedule, providing a whole night of athletic fun.
American Ninja Warrior has also spawned a few copycats — most notably Netflix's Ultimate Beastmaster, in which contestants run an obstacle course called "The Beast." The show uses a very similar format to Ninja Warrior and features similarly difficult types of obstacles; however, unlike ANW, Beastmaster always crowns a winner in the end.