15 Best First-Time Hosts Of Saturday Night Live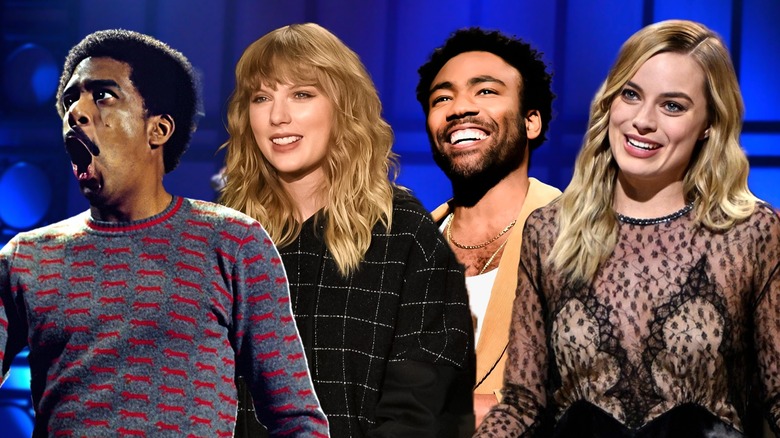 Static Media
"Saturday Night Live" began in 1975 and quickly became a cultural touchstone of political satire, sketch comedy, and pop culture takedown. As is the show's tradition, every episode includes a celebrity host and musical act (sometimes the same person pulling double duty) who are heavily featured in that episode's sketches and segments. Some of the show's most iconic guest performers over the year have included Steve Martin, Tom Hanks, Melissa McCarthy, and Dave Chappelle. 
However, some performers have only had the privilege of hosting "Saturday Night Live" one time, despite having incredibly prolific careers and, in some cases, being the best at what they do. Hosting "SNL" once is an honor for any celebrity, but when other hosts recur enough to be inducted into the Five-Timers Club, we can't help but wonder what's keeping some of these stars from returning to the halls of 30 Rock and showing their comedic side. 
From comedians to athletes to musicians to actors, these 15 faces hosted episodes that included some of the most memorable moments in the history of "Saturday Night Live." For some of them, they proved their talents lay beyond their signature field, while others relished the opportunity to flex the comedic muscles they've been known to have. Whether some of these performers someday return to host or not, they can at least be satisfied with the knowledge that on their very first time hosting NBC's legendary late-night sketch comedy program, they impressed the audience both in studio and at home. 
Richard Pryor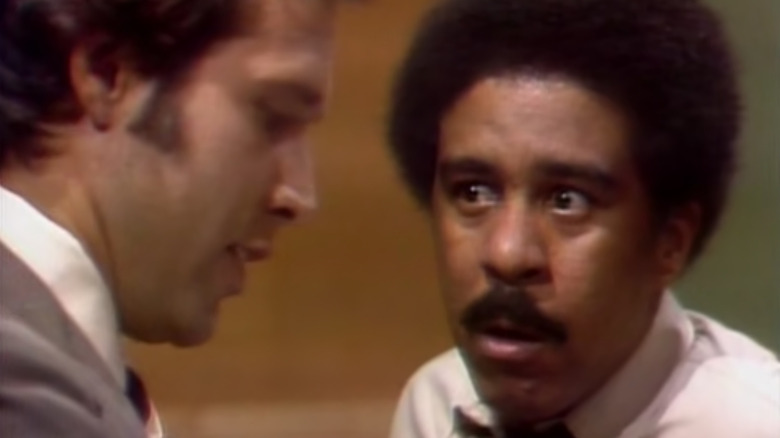 NBC
Richard Pryor is widely considered one of the greatest stand-up comedians of all time. As Rolling Stone put it in their list of the 50 best stand-up comics (in which Pryor ranked number one), "Pryor put everything he was on display," from condemnations of police brutality to his own personal, fiery scandals. Given the comedian's reputation, he was the perfect fit to host "Saturday Night Live" early in its run, contributing his brand of provocative humor to the fledgling political satire of NBC's latest hit show. 
Pryor hosted Episode 7 of Season 1 of "Saturday Night Live," following a hosting lineup that included the likes of George Carlin and Lily Tomlin. Even though the show consisted of top-notch comedic writing talent, including Dan Aykroyd, Anne Beatts, and Al Franken, Pryor's condition for hosting was bringing along his personal writing partner Paul Mooney, who penned the episode's highlight — a sketch titled "Word Association" starring Richard Pryor alongside the show's Season 1 breakout star Chevy Chase.
In the now-iconic sketch, Chase is interviewing Pryor for a job, requesting a game of word association that slowly turns into a tennis match of racial epithets between the two. The only thing better than Pryor's performance in the sketch is the audience's reaction to how risky "SNL" was willing to be in its first season. Even "SNL" producer Lorne Michaels considers the sketch a turning point in the show's history, telling The New York Times, "It put us on the map."
Carrie Fisher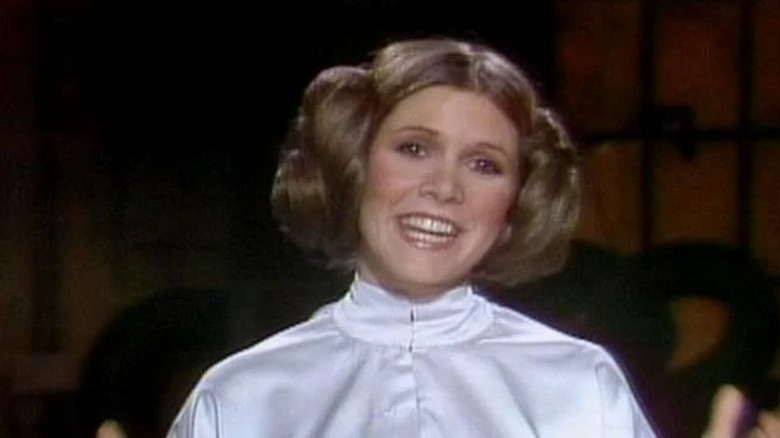 NBC
When Carrie Fisher hosted "Saturday Night Live" in 1978, she was a year into the pop culture phenomenon that was "Star Wars," whose first installment premiered in 1977. Though she was a long way away from shedding her Princess Leia hairdo and becoming a broadly successful screen actor and an unrecognized behind-the-scenes force in 1990s comedy, her appearance on "Saturday Night Live" would be a kind of time capsule to capture what it was like to be in the midst of becoming a cultural icon.
Famously, Fisher's debut on stage at 30 Rockefeller Plaza had her in full Princess Leia garb, telling the audience she figured they'd recognize her better in costume. The show's sketches also included another "Star Wars" parody, reimagining it as a 1950s beach movie that not only shows off Fisher's comedic strengths, but her singing ability as well. When it comes to music, Carrie Fisher's one-and-only time hosting "Saturday Night Live" was compounded with quite a unique situation.
Fisher was joined by cast members Dan Aykroyd and John Belushi's The Blues Brothers as the official musical guest of the episode. Of course, this episode was two years before Fisher would later star alongside the two actors in John Landis' film adaptation, "The Blue Brothers," but it's as much of a premonition about the future of her career as a comedy star in "When Harry Met Sally..." and "The 'Burbs." 
Michael Jordan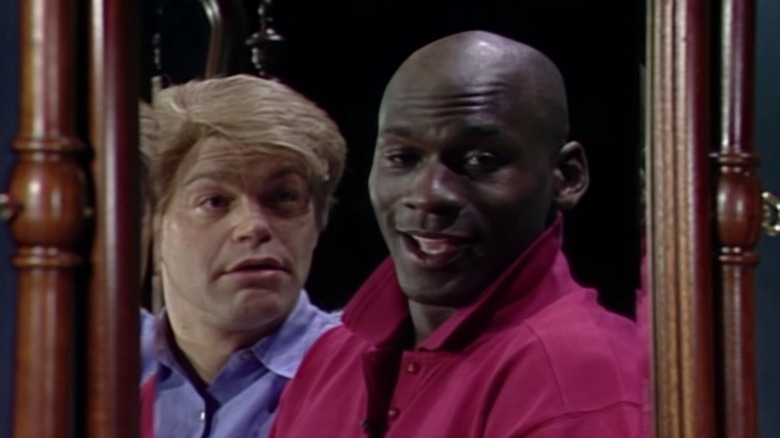 NBC
"Saturday Night Live" has not shied away from inviting athletes to flex their comedy muscles. Peyton and Eli Manning have both made appearances on the program, as well as sports superstars like Tom Brady, Michael Phelps, and even Kansas City Chiefs tight end Travis Kelce following his Super Bowl victory. However, one of the greatest athletes of all time, Michael Jordan, only made one hosting appearance on the show in 1991, the same year he won his first of three consecutive NBA titles.
Fortunately, Michael Jordan's likability among basketball fans was echoed by those who worked at "Saturday Night Live." According to cast member David Spade, Jordan was the type of host who was game to do anything, which is a stance quite beloved by comedy writers. One comedy writer who got a lot of mileage out of Jordan was Al Franken, a writer and featured player on the show who became known for his character Stuart Smalley, host of the self-help program "Daily Affirmations with Stuart Smalley." 
In this edition of "Daily Affirmations with Stuart Smalley," Smalley coaches Jordan on having a positive outlook on his life as a basketball player, even when he might not feel good enough. Jordan, suppressing laughter from Franken's committed performance, looks at himself in a mirror and repeats the mantra: "I'm good enough, I'm smart enough, and doggone it, people like me!" For a man years away from making basketball history, perhaps Smalley's encouragement was all he needed to succeed.
Ian McKellen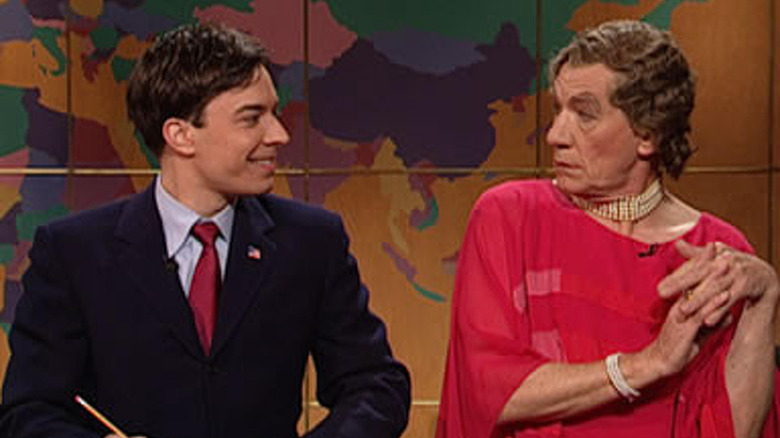 NBC
By the time Sir Ian McKellen hosted "Saturday Night Live" in 2002 during its 27th season, he was already more accomplished than most actors could ever dream of being. He was a notable Shakespearean performer and had appeared in huge blockbusters with performances in Peter Jackson's first two "The Lord of the Rings" films as well as the first "X-Men" film. Nevertheless, his "SNL" performance would surprise many audiences who only knew McKellen from his more dramatic work.
Some of McKellen's highlights from the episode include an installment of the innuendo-filled NPR show "The Delicious Dish," as well as "Hot Air Balloon Mystery Theater" alongside strong performances from Chris Parnell and Chris Kattan. Another sketch that showcases McKellen's absurd side is his one-man show about Charles Dickens which involved many quick costume changes. However, McKellen's most iconic appearance during the episode was on "Weekend Update," then hosted by the duo of Tina Fey and Jimmy Fallon. 
McKellen, to the audience's enjoyment, impersonated Dame Maggie Smith and discussed Oscar predictions with Fallon. During one moment that stunned the studio audience, McKellen kisses Fallon on the lips, to which Fallon quipped, "Maggie Smith should shave," followed by, "Does this mean I'm knighted?" What makes moments and episodes like this so enjoyable for studio audiences is seeing a legendary actor, one who has very little left to prove to Hollywood, go all out and commit to a comedy sketch as well as McKellen did here. 
Taylor Swift
Taylor Swift was only 19 when she was the host and musical guest of "Saturday Night Live," though it couldn't have come at a more ideal time for the burgeoning superstar. She was a few months away from winning album of the year at the Grammys for the first time for her second record, "Fearless," an honor she'd go on to achieve two more times in her career. Nevertheless, her appearance on "SNL" as a teenager cemented her as an icon not only to audiences but to her fellow castmates on "SNL."
Notably, a highlight of Swift's episode was her "Monologue Song," which she wrote herself commenting on various rumors and scandals, including her breakup with Joe Jonas, her relationship with Taylor Lautner, and Kanye West's infamous interruption of her at the VMAs. As Seth Meyers recounted years later, a host writing their own monologue is extremely rare, but they ended up using what she wrote for the live show. Bill Hader also sang her praises in "Live From New York," citing her as a host whose comedic talents surprised him. 
Among Swift's other appearances throughout the episode included a Digital Short parodying the "Twilight" trailer that features Hader as Frankenstein's monster and another that sees her donning headgear to play a teenager describing unsafe parent driving habits. Although Swift has appeared on "SNL" three additional times as a musical guest, plus a brief cameo in the 40th-anniversary special, she has yet to return as host again.
Betty White
During the same season as Taylor Swift's "Saturday Night Live" hosting debut, 500,000 members of Facebook campaigned to get Betty White to host an episode of the late-night sketch series. Ironically, Betty White had been asked to host the show on numerous occasions throughout its run, with producer Lorne Michaels telling Entertainment Weekly, "After three rejections, I stopped asking." However, caving to public pressure, White finally made her "SNL" debut on May 8, 2010, during the show's 35th season.
Betty White's career started decades earlier, during the 1950s and '60s, before she made widespread appearances on TV sitcoms like "The Mary Tyler Moore Show" in the '70s, and in the '80s with "The Golden Girls." By the time to 2010s rolled around, her career was in a resurgence, which lined up perfectly with Michaels' renewed offer to host "Saturday Night Live" for their Mother's Day episode alongside returning female performers including Maya Rudolph, Tina Fey, and Molly Shannon.
Becoming the oldest person to ever host "SNL," Betty White nearly blew the roof off 30 Rockefeller Plaza with her episode, which resulted in a huge ratings bump for NBC. Some of her best appearances included a reprise of recurring sketches "The Delicious Dish" and "Scared Straight," the latter finding her partnering with Kenan Thompson as prison inmates warning teens about causing trouble. Betty White's final appearance on "SNL" before her passing in 2021 was during the 40th Anniversary Special, where she made out with Bradley Cooper in "The Californians." 
Jennifer Lawrence
By the time Jennifer Lawrence hosted "Saturday Night Live" in 2013, she had already been cemented as an iconic young movie star. She made her breakthrough in the 2010 drama "Winter's Bone," garnering her critical acclaim and even her first Oscar nomination. She was later launched into mainstream stardom playing Katniss Everdeen in "The Hunger Games" film adaptations, as well as playing Mystique in 2011's "X-Men: First Class." Finally, Lawrence's "SNL" debut came just before she won an Academy Award for her performance in "Silver Linings Playbook."
Unfortunately, critics weren't in love with Jennifer Lawrence's debut right from the get-go. As an article for Vulture claimed, "The writers seemed reluctant to challenge Lawrence with their material," resulting in an episode that many at the time felt fell flat. However, to the benefit of the soon-to-be-Oscar winner, hindsight would work in her favor on this particular episode, which is filled with quite a few good sketches that showcase her comedic gifts.
One of those sketches is "50s Diner," where Lawrence plays an insult waitress whose jabs at two customers are quite mean-spirited. There's also "Hunger Games Press Conference," reimagining the characters in a sports-like Q&A with colorfully-dressed journalists inquiring about their performance in the dystopian free-for-all. Ultimately, her most whimsical performance of the show comes in "Top Dog Chef," featuring her and the other cast members dressed as dogs competing in a cooking competition who become agitated by a sudden doorbell chime. 
Margot Robbie
Margot Robbie hosted the Season 42 premiere of "Saturday Night Live" in October 2016. As fans may recall, that particular stretch of episodes was some of the most divisive in the long-running sketch series due to the anticipation of the 2016 election, although some remember them as the strongest of the season. The episode got the Trump versus Clinton of it all out of the way with its cold open featuring Alec Baldwin and Kate McKinnon, leaving the rest of the episode for Margot Robbie to shine.
Fortunately, Robbie also had the pleasure of introducing three new featured players to the roster of "SNL": Mikey Day, Alex Moffat, and Melissa Villaseñor. Her first sketch of the night paired her with newbie Mikey Day as an oddly-paired married couple who several reporters can't seem to wrap their heads around. Robbie also shines in "The Librarian," which cleverly subverts her sex symbol status to play a sexy librarian who a group of guys is increasingly disturbed by as the sketch progresses.
Robbie also shines in "The Hunch Bunch," a "Scooby-Doo" parody where she plays a new member of the group who doesn't quite get the rest of the group's dynamics. In a review of the episode, IndieWire praised Robbie's commitment to sketches while criticizing the writing.
Donald Glover
Donald Glover's history with "Saturday Night Live" is quite complicated. The multi-hyphenate started out in comedy with his NYU sketch troupe "Derrick Comedy," uploading their often racey sketches onto YouTube, where they gained viral recognition. Glover was later hired as a writer on "30 Rock" before being cast on the NBC sitcom "Community," but before that, he auditioned twice for "Saturday Night Live" and didn't make the cut. After a successful music career as Childish Gambino, as well as creating and starring in the FX series "Atlanta," Glover finally returned to the show that wouldn't welcome him.
In his musical monologue, Glover is appropriately bitter about his failed auditions before launching into one of the strongest hosting debuts of the 2010s. He co-wrote his first sketch, playing a lawyer representing Jurassic Park with a performance that harkens back to his most absurd "Derrick Comedy" pieces. Other standouts include the groovy yet creepy "'80s Music Video" and "A Kanye Place," the latter parodying "A Quiet Place" with characters reacting to Kanye's then-outlandish actions. 
However, for all of Glover's preparation to excel at the sketch show, his biggest performance of the night was pulling double duty as the musical guest under Childish Gambino. Although his first song of the night was the R&B banger "Saturday," which later appeared in his short film "Guava Island," the night climaxed with his debut of "This is America," which was released during the episode's airing and later reached #1 on the Billboard Hot 100. 
Halsey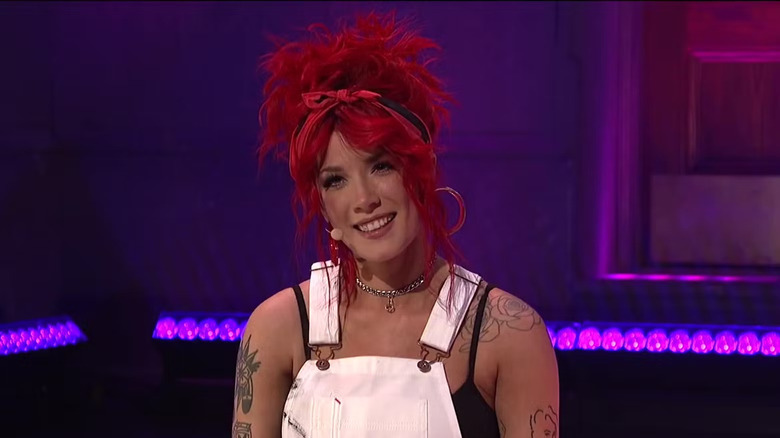 NBC
Halsey first appeared on "Saturday Night Live" as a musical guest in 2018 and returned in February 2019 to pull double duty as host and musical guest. To no one's surprise, her musical performances were stellar. She first played "Without Me," which Rolling Stone described as "a powerful, stripped-down performance," but the real kicker was singing "Eastside" while painting a portrait of her face on the floor in real-time, flexing her multi-talented skills.
On the sketch front, Halsey did not disappoint when it came to performing comedy. Chalk it up to good writing or Halsey's commitment, but she excelled in the show's sketches, including a takedown of recent politicians being caught wearing blackface. Another strong performance from her was alongside Beck Bennett in "Parents Call," where they annoyingly guilt trip their son, played by Mikey Day, for not caring about their numerous and nonsensical injuries. 
It was overall an incredible showcase for Halsey, but one that her most diehard fans probably anticipated given her flair for the cinematic in her music career. She returned as a musical guest only in 2020 and 2021, during which she was game to appear in sketches. In her 2021 appearance promoting "If I Can't Have Love, I Want Power," she played Kendall Jenner alongside host Kim Kardashian and also performed her song "Darling" with Lindsey Buckingham, which she herself described as "lush and organic and dreamy" on Twitter.
David Harbour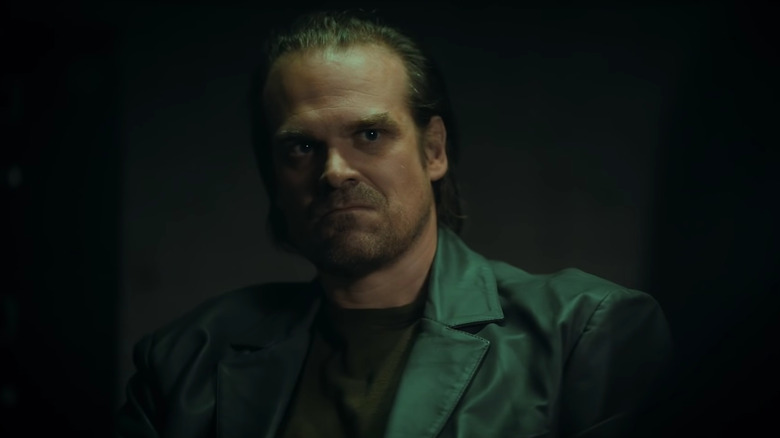 SNL
David Harbour hosted "Saturday Night Live" in late 2019, coming off the release of "Stranger Things" Season 3 on Netflix the previous and playing Hellboy in the 2019 reboot, which ended up being a box office bomb. Still, the actor risked it all to step into the halls of 30 Rock to host "SNL," though this time he left an indelible mark on the long-running NBC show. 
If it wasn't clear enough from Harbour's role as Jim Hopper on "Stranger Things," the actor was willing to leave it all on stage. For instance, there's the "SoulCycle" sketch consisting of a rotating cast of unqualified but deeply passionate SoulCycle instructors, which finds Harbour showing off some energetic screaming to really inspire the SoulCycle participants. There's also "Peter, Paula, and Murray," a musical sketch with Kate McKinnon and Aidy Bryant playing a trio of folk musicians admitting to some pretty heinous actions in their past, as well as "Sauce," where he blew the audience away as an over-enthusiastic Italian grandmother. 
However, the highlight of the night for many was "Grouch," a parody of the film "Joker" featuring Harbour as Oscar the Grouch from "Sesame Street." After the episode aired, The Washington Post asked, "When does this masterpiece hit theaters?" What's even more surprising than the sketch's success is its origin, as Harbour himself pitched the idea to writers Mikey Day and Streeter Seidell, proving his sketch chops weren't a fluke. 
Anya Taylor-Joy
COVID-19 hit "Saturday Night Live" hard, forcing the show to air several "Saturday Night Live at Home" episodes self-produced by the show's castmates during the early months of quarantine. The show came back on the air for a 46th season in October 2020, featuring a limited studio audience for most of the season. However, by the time vaccines were widespread in Spring 2021, the show was able to bring back a full live audience just in time for a pretty great hosting debut by Anya Taylor-Joy. 
Hot off her successful Netflix series "The Queen's Gambit," Taylor-Joy and the "SNL" cast embraced a return to normalcy with sketches like "Pride Month Song," which combined the celebration of a return to Pride Month partying mixed with the downsides of overpriced drinks and relationship drama. There's also "Celtic Woman," promoting a tour of Celtic singers, but the really stellar part of the night was Beck Bennett's swan song as "SNL" cast member, portraying Vin Diesel listing his favorite things about going to the movies next to a confused AMC employee played by Taylor-Joy in "AMC Theatres Commercial."
It was a welcome episode after an admittedly awkward year of "Saturday Night Live" battling the challenge of trying to create comedy during a worldwide crisis. However, if anything, Anya Taylor-Joy's episode showed that there was a light at the end of the tunnel, emphasized by Vulture commending her for being "quite capable of playing well with others."
Zoë Kravitz
Zoë Kravitz had a pretty stellar 2022, kicked off by starring as Catwoman in Matt Reeves' superhero blockbuster "The Batman" alongside Robert Pattinson as the Dark Knight. Despite being a young performer, Kravitz's "Saturday Night Live" hosting debut was far too late following her critically acclaimed roles in the "Fantastic Beasts" film series, HBO's "Big Little Lies," and the short-lived Hulu series "High Fidelity." 
By the time she finally appeared as a host in 2022, it was clear that Zoë Kravitz was hiding an incredible comedic side that "SNL" was desperately in need of. The A.V. Club, in particular, singled out several of her highlights, including a commercial for Amazon Go featuring suspicious African-American patrons and the frustrating game show "Word Crunch," where Kravitz keeps finding a disturbing number of risque words. Audiences definitely also enjoyed Kravitz performing a maid-of-honor speech gone wrong supported by great writing.
All in all, Kravitz excelled when the writers of "Saturday Night Live" let her get weird. She also appeared with the "Please Don't Destroy" crew of Ben Marshall, John Higgins, and Martin Herlihy, helping the trio find a missing cat with the help of her "The Batman" co-star Paul Dano. 
Keke Palmer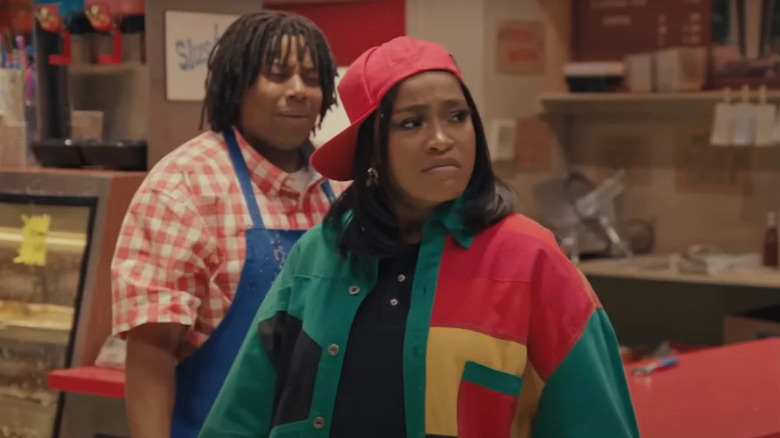 NBC
At the tail-end of 2022, Keke Palmer hosted one of the most memorable "SNL" episodes in recent memory. After starring in Jordan Peele's "Nope," Keke seemed primed to soon shed her Nickelodeon past and transition into the career she always deserved. "Saturday Night Live" was the first stepstone for that, but it was especially thrilling when it was revealed live during Keke's monologue that she was pregnant with her first child. Predictably, her pregnancy was utilized by the writers in several sketches, as Vulture would later comment that "The episode is exquisitely tailored to Palmer's strengths and personality." 
No sketch showcased that more than her collaboration with Kenan Thompson, recruiting her fellow former Nickelodeon star for a reboot of "Kenan & Kel" titled "Kenan & Kelly," featuring Palmer in Kel Mitchell's former role. It's an endearingly lovely tribute to the two's teen sitcom past and a welcome nostalgia trip for fans of Thompson's pre-"SNL" work. The icing on the cake comes with the actual return of Kel Mitchell, beautifully subverting a long-awaited hug with Kenan to raid a fridge full of orange soda. 
Keke also got to flex her musical side with "Big Boys," a hip-hop song that finds her, Punkie Johnson, Cecily Strong, and Ego Nwodim singing about how they want heavy-set men to take care of them for the holiday season. It also features an incredibly catchy hook from musical guest SZA, which surprisingly ended up going viral on TikTok. 
Austin Butler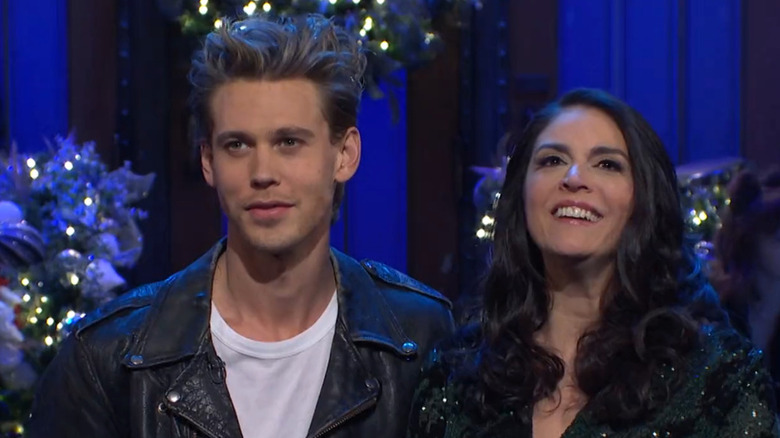 NBC
Season 48 turned out to be a stellar showcase for first-time hosts, including Pedro Pascal, Michael B. Jordan, and Jenna Ortega. However, the season wasn't been without its bittersweet moments, such as Cecily Strong saying goodbye to her status as the longest-tenured cast member in "Saturday Night Live" history. Thankfully, there was no better host to help wish her the best of luck than Austin Butler, who was Oscar-nominated for his uncanny portrayal of Elvis Presley in Baz Luhrmann's 2022 film "Elvis." 
Specifically, Butler shed the costumes and comedy to croon Elvis's song "Blue Christmas" at the end of the show as a tribute to Cecily, joined by her fellow cast-mates, including Colin Jost and Kenan Thompson. Unlike many other hosts, this moment showed how close Butler had gotten with the "SNL" cast in his short week there, which The New York Times recalled as the moment when "the tears came." The rest of Butler's performances that night just went to show how perfect of a fit he was at "Saturday Night Live."
For instance, there's his encounter with the "Please Don't Destroy" trio as they try to pitch him on plastic clothing or his hilarious reaction to getting a gift stolen at a white elephant Christmas party in another sketch. Perhaps his biggest, show-stopping performance of the night was as an elderly woman going wild for Sarah Sherman as "Jewish Elvis." Even though Butler was a first-time host, he felt right at home with the cast.