Cowboy Bebop Live-Action Netflix Series - What We Know So Far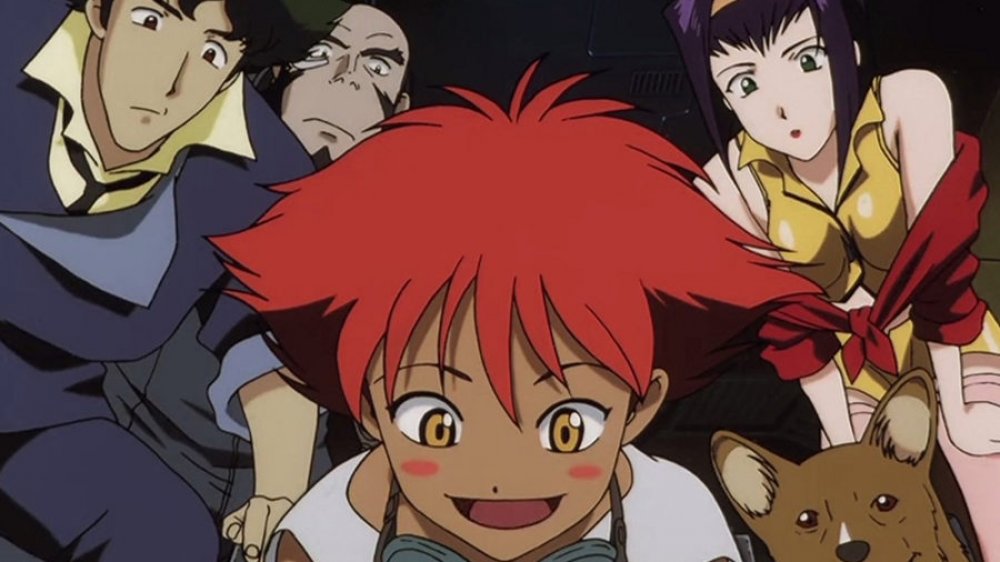 In the early 2000s, Western audiences were first introduced to what would become the defining anime for a generation: Shinichiro Watanabe's Cowboy Bebop. Unlike a lot of other anime coming overseas at the time, Bebop was able to reach out to a larger audience, possibly because it is rich with cultural references that a Western audience could understand. An ingenious mix of noir, kung-fu action, comedy, and science-fiction, the series is frequently at the top of any Millennial anime fan's must-watch list. 
To go along with the stylish setting and cinematic themes, the incomparable composer Yoko Kanno provided a score rich with jazz, funk, country, metal, and even opera. Mix in a bounty-hunting ship's crew full of individuals with rough pasts, and the results are hard to deny: Cowboy Bebop is a classic. And now, after more than a decade of fans debating the merits of a live-action adaptation, that thought experiment has come to life through a deal between Netflix and Tomorrow Studios. Whether or not this live-action Bebop has all the panache and influence of its source material remains to be seen. But until it airs, there are a lot of details to wade through if you want to stay informed.
Cowboy Bebop release date and episodes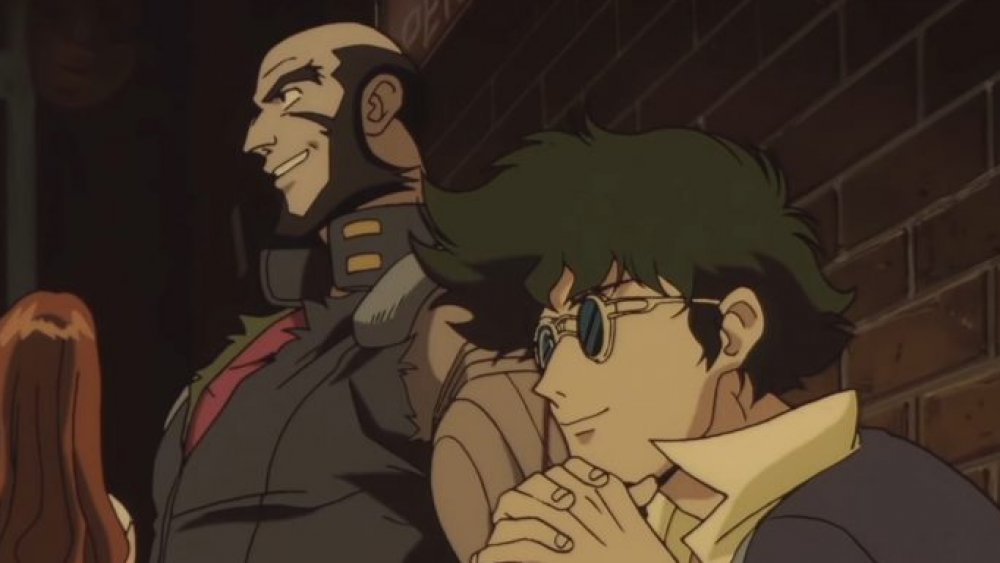 In November of 2018, Netflix announced that they would be handling the physical production of the live-action Cowboy Bebop. The show is described as a ten-episode mini-series, which seems to indicate that there will not be a follow-up season. This shouldn't be too surprising, as the original anime is only 26 episodes and one film — relatively short in an age with eternally-running anime series like One Piece. There is no set release date yet, but filming began in early October of 2019, only to be halted a couple weeks later due to an on-set injury. 
It feels as though fans have been waiting for this series forever, debating whether Bebop's more Western-influenced world might make a better English-language adaptation than something like Ghost in the Shell or the long-delayed Akira. Unfortunately, the production delays may well mean a 2020 release is out of the question, so here's hoping that we will be able to binge it come 2021 — 50 years before the original series' setting of 2071.
John Cho as Spike Spiegel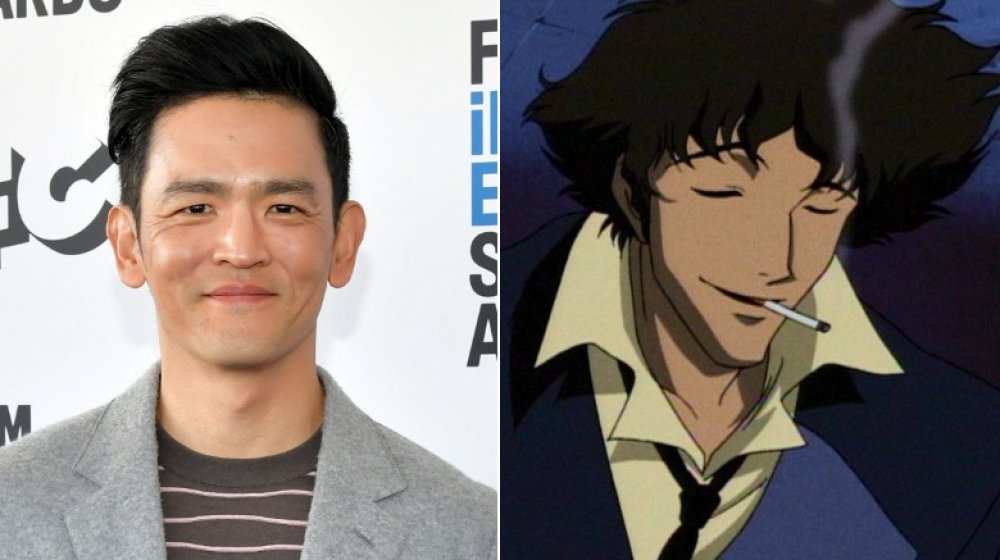 Amy Sussman/Getty Images
The main character of Cowboy Bebop is the ultra-hip, leggy, chain-smoking Spike Spiegel. Spike is cool, but he's also a bit of an idiot, often catching his bounties while destroying property, disrupting the peace, and driving his partner Jet crazy. His oft-goofy behavior is balanced out by his dark past concerning his involvement with a criminal organization called the Red Dragon Syndicate and the woman he left behind. In the English-language dub first introduced to viewers on Cartoon Network's Adult Swim block, Spike's voice was performed by the now-renowned voice actor Steve Blum. For this next iteration of the character, casting directors Dylan Jury and Debra Zane have chosen Korean-American actor John Cho. 
Cho is perhaps best known for his role as Sulu in the newer Star Trek films and as Harold in the Harold & Kumar franchise, but Bebop won't be his first foray into anime-related work. In 2013, he provided the voice for Middle Counselor Isonokami in the Studio Ghibli film The Tale of Princess Kaguya. Casting an Asian-American actor in the main role of a live-action anime adaptation is a good call on the studios' parts, especially after the backlash from casting Scarlett Johansson as the Major in 2017's Ghost in the Shell adaptation. And Cho certainly has the acting ability, a sci-fi action background, and media visibility to bring Spike to life for long-time fans.
Mustafa Shakir as Jet Black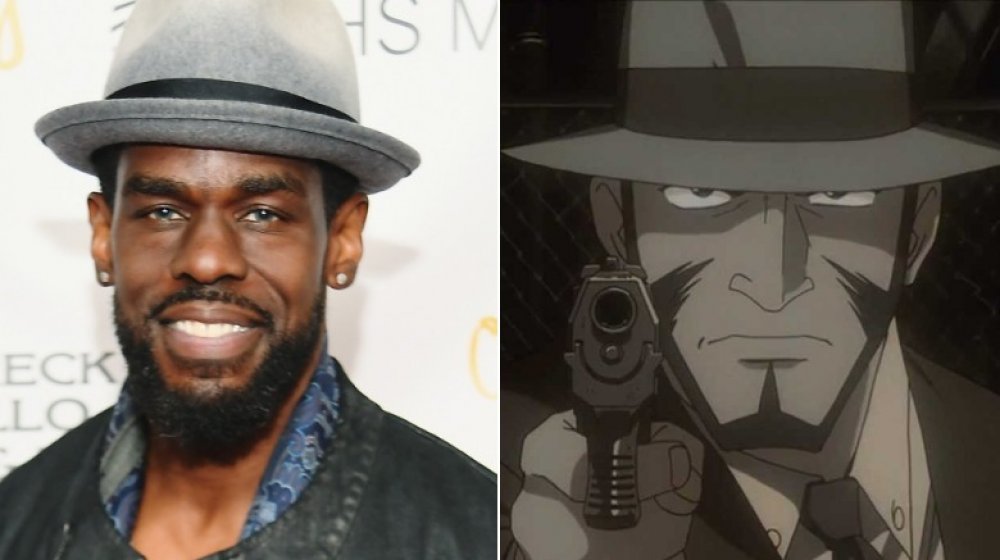 Nicholas Hunt/Getty Images
Jet Black is the owner of the ship for which the series is named (the Bebop), and the hard-working and responsible voice of reason who always has to put up with Spike's antics. Jet is a former cop, and he uses his connections to help track down information on bounties. He's a huge jazz fan (hence the name of the ship), and when he wants to wind down, he practices the art of bonsai. 
Beau Billingslea provides his voice in the English dub, and between that casting choice and his musical proclivities, many fans always pictured Jet as a Black man. Enter Mustafa Shakir, probably best known as John 'Bushmaster' McIver in another Netflix original series, Marvel's Luke Cage. Bushmaster is a gang leader, the kind of quarry that Jet might be hunting in the hopes of making enough cash to have something more than bell peppers and beef — sans beef — for dinner.
Daniella Pineda as Faye Valentine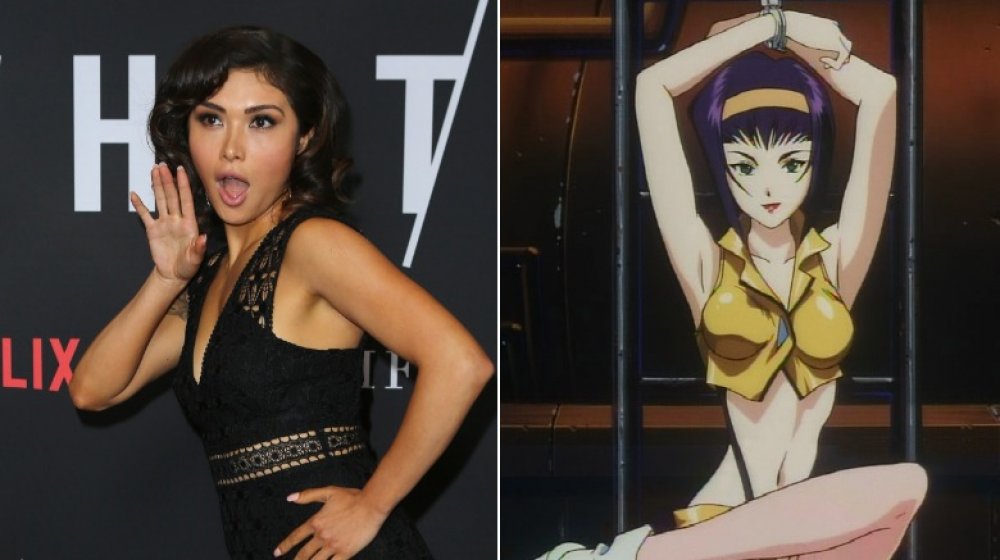 Tasia Wells/Getty Images
Sexy and self-possessed Faye Valentine worms her way onto the Bebop through some combination of dumb luck and womanly wiles. Though it would be easy to dilute Faye's character down to fanservice, she is a complicated person with an unknown past and a great knack for survival. Wendee Lee lent her velvet voice to this funny Valentine in the English dub. For this foray into space, Daniella Pineda has been chosen as the Bebop's resident hard luck woman. 
Pineda is most recognizable from her recent role as Zia Rodriguez in Jurassic World: Fallen Kingdom, which she is set to reprise in Jurassic World 3. Zia is a former Marine and a paleoveterinarian (she's also a lesbian, but that revelation got cut), a far cry from a gun-slinging, gambling cowgirl who leeches off of others. Still, Pineda has the right look, and this isn't her first time working on a Netflix series, either — she played Cassidy Barrett in the thriller What/If.
Alex Hassell as Vicious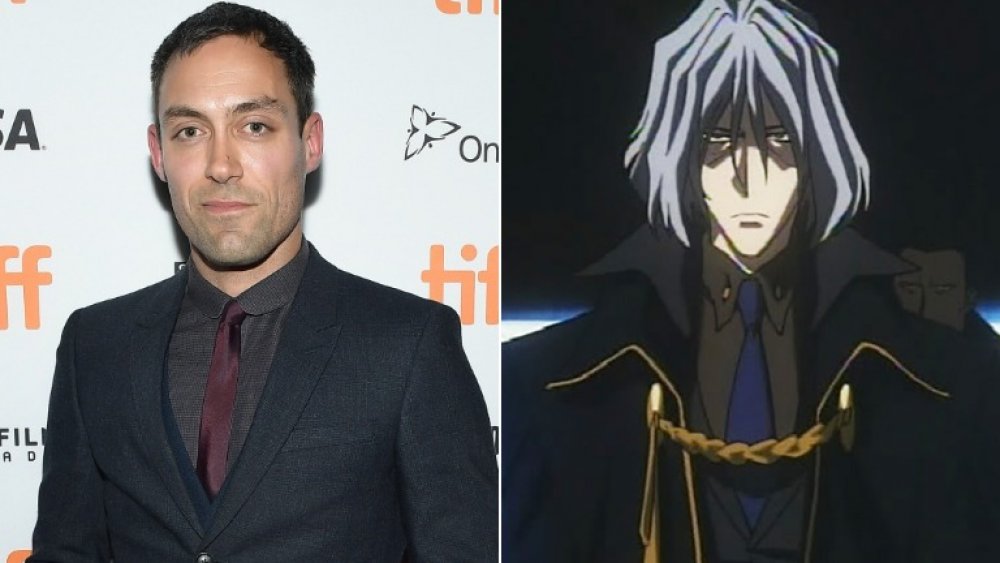 Matt Winkelmeyer/Getty Images
Though Spike has made a life for himself on the Bebop, his past involvement with the Red Dragon Syndicate won't leave him alone. Part of that past is the fearsome Vicious, Spike's intense, katana-wielding former partner in the Syndicate. Vicious and Spike had a falling out over the lovely Julia, thus leading to Spike's desire to run from his past throughout the series — until he can no longer avoid it. 
Vicious, voiced by Skip Stellrecht in the English dub of the anime, will be played by Alex Hassell in the live-action series. Hassell's most recent foray into TV is in his guest appearance as Translucent in Amazon Prime's adaptation of Garth Ennis' The Boys. He's no stranger, then, to acting in adaptations of beloved nerd media, and it'll be fun to watch him bring a chilling edge to yet another fan-favorite.
Elena Satine as Julia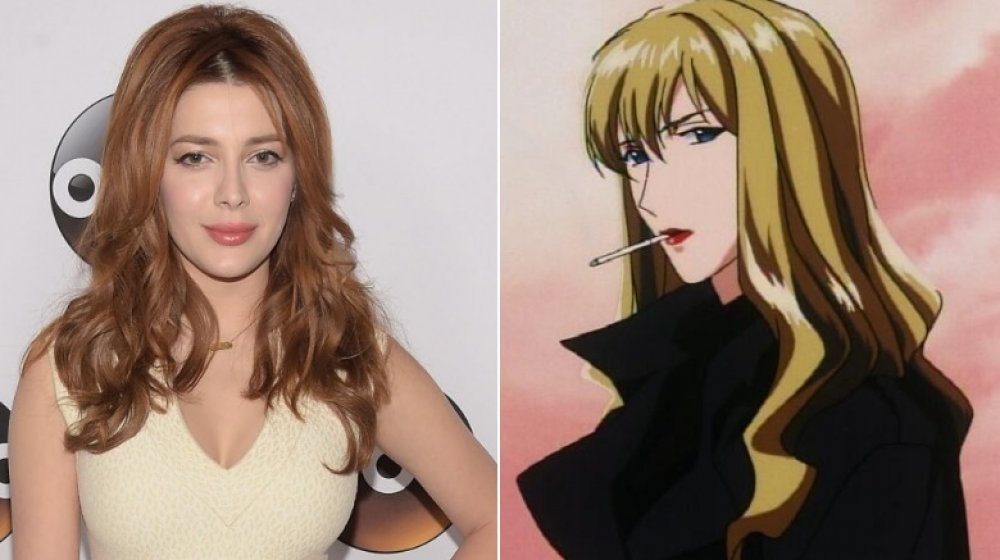 Jason Kempin/Getty Images
Because Cowboy Bebop pulls so much inspiration from film noir, there was always going to be a woman causing trouble in Spike's mysterious past. In this case it's Julia, Vicious' girlfriend with whom Spike once planned to elope. Naturally, Vicious found out and they were forced apart, with Spike running from both death and the woman he loved. 
In the dub, Julia is portrayed by Mary Elizabeth McGlynn, a voice actor with an extensive portfolio. For the live-action role, the Georgian-American actress Elena Satine has been brought on board. Her sophisticated beauty is perfect for Julia, and her acting experience in serious shows like Poirot and the new season of Twin Peaks should signal a satisfying dramatic performance from the woman who changed the course of Spike's life completely. For those who are wondering what more popular series they've seen her on, she played an evil Asgardian named Lorelei on Agents of S.H.I.E.L.D., giving her some background in a more action-oriented role, as well — suitable for a woman who wears a catsuit and wields a gun in the closing act of a space opera/western/noir.
Ein, everyone's favorite corgi
Cowboy Bebop would absolutely not be the same without Ein, the superintelligent Welsh corgi who wiggles his way on board the Bebop despite Spike's distaste for animals. Ein was stolen from a lab and Spike and Jet were hot on the trail of his captor. But alas, Spike failed to catch the criminal and just got the dog instead. 
The pooch set to play Ein was introduced in a promotional video that announced the beginning of the series' filming. The video shows John Cho, Mustafa Shakir, Daniella Pineda, and Alex Hassel all patiently awaiting the arrival of their four-legged co-star. And Ein, of course, is given star treatment immediately, joining the table and having his bowl filled with bottled water — no tap for this thespian genius! 
As far as we've seen, Ein's best human bud Ed has not been cast, so fans will just have to keep hoping that the genius duo will continue their charming pranks and games in live-action.
An on-set accident halted production on Cowboy Bebop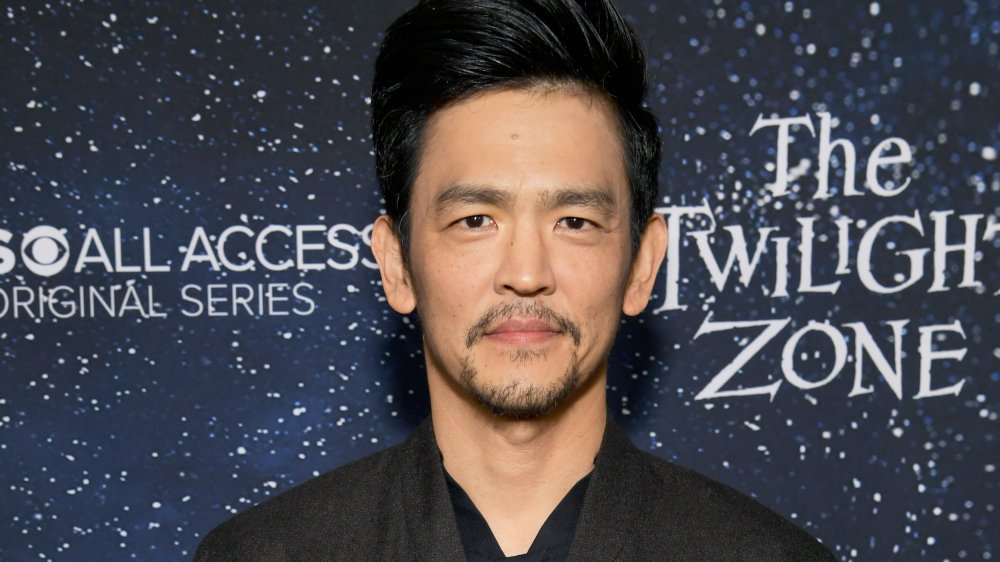 Emma Mcintyre/Getty Images
Shortly after filming began in early October of 2019, production had to be stopped. Star John Cho suffered an on-set knee injury after performing a routine stunt that he had practiced many times. Unfortunately, the incident delayed shooting for seven to nine months to allow Cho to heal — joint injuries are no joke! 
It seems that the producers are keen on continuing with Cho as Spike, even though not much has likely been filmed yet. While this delay means that fans will have to wait a little longer for this highly-anticipated adaptation, at least they can rest easy knowing that Cho's injury is being taken seriously, and he is clearly a necessary and respected member of the team. Soon enough he'll be back on set performing all of Spike's Bruce Lee-inspired martial arts kicks and jabs as though nothing ever happened. Until then, we can speculate about the rest of the casting, and just how much of the 26-episode anime is going to make it into this ten-episode mini-series.
Shinichiro Watanabe is the series consultant for Cowboy Bebop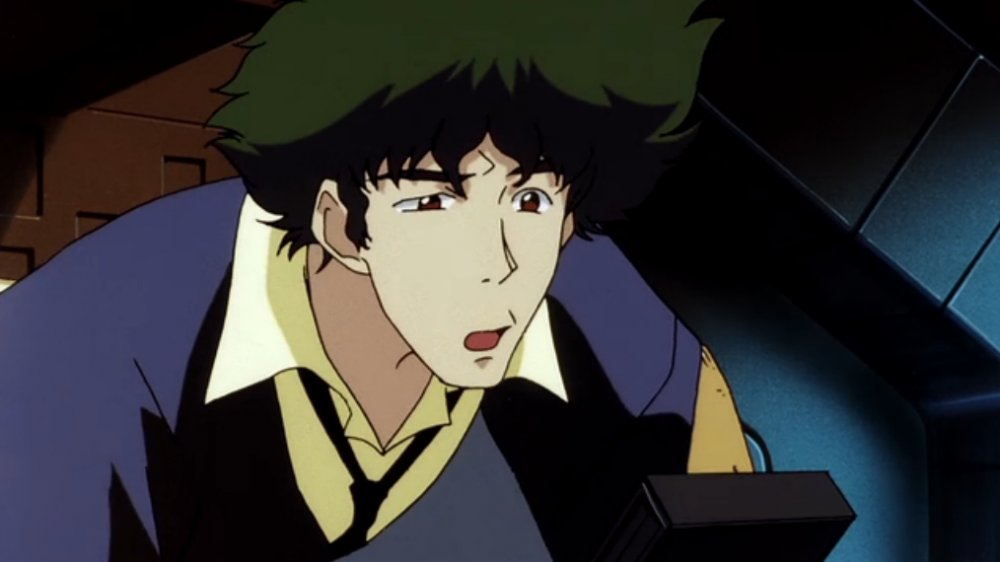 One of the fears whenever an adaptation is under way is how it will live up to its source material. This concern is especially prevalent when adapting anime, since so much of what makes a series appealing to anime fans might not land well with a more general Western audience. Luckily, Cowboy Bebop is very much a love letter to Western cinema and music, which helps allay some of those fears. 
On this front, it helps that Shinichiro Watanabe, the anime's creator and director, will be serving as a consultant on this live-action venture. This implies, of course, that the series has his approval in general, and that it will reflect his vision and that of his original team. Watanabe is an extremely well-regarded director and producer who has had a hand in other fan-favorites like Samurai Champloo, a couple of shorts from the Animatrix anthology, Space Dandy, and most recently Carole & Tuesday, which is available on Netflix as well.
Who's writing Cowboy Bebop?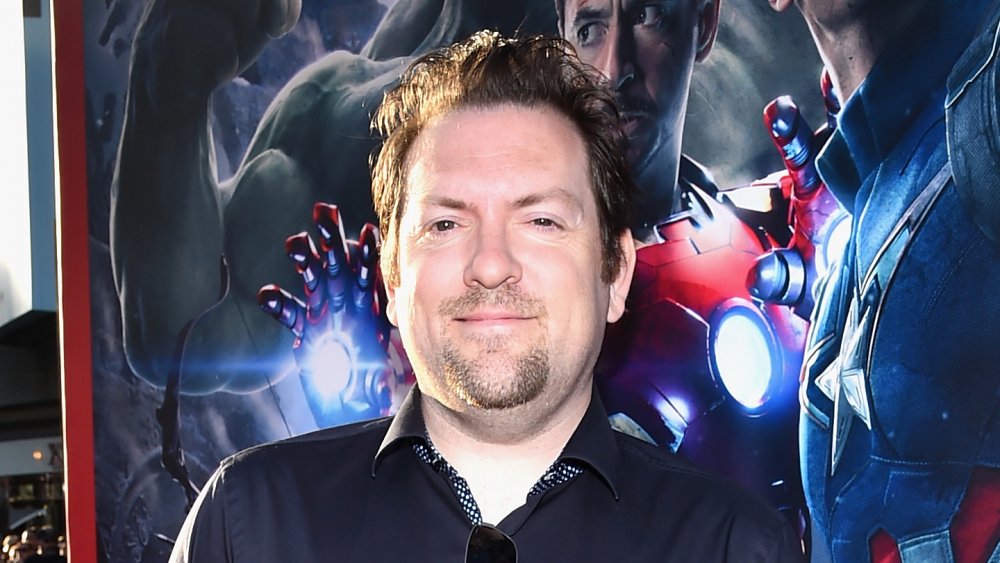 Alberto E. Rodriguez/Getty Images
The original Cowboy Bebop anime series was written by Keiko Nobumoto, who also collaborated with Shinichiro Watanabe on Samurai Champloo, Space Dandy, and Carole & Tuesday. While she doesn't seem to be writing the adapted episodes, she and one of her colleagues from the original, Hajime Yatate, do share a "characters" credit acknowledging their work on the original. 
Alongside Yatate, Hollywood screenwriter Christoper Yost has taken on at least one of the episodes — the very first one. Yost's biggest and most recognizable works include Thor: The Dark World and Thor: Ragnarok, though he has also had a hand in many animated TV series. It's clear that he understands compelling action, wacky humor, and deep emotion, which make him a good choice for a series that relies on all three to reach its diverse audience. The first episode is a big responsibility, since it will determine whether or not viewers decide to watch the rest of the series. 
What will the series take from the original Cowboy Bebop story?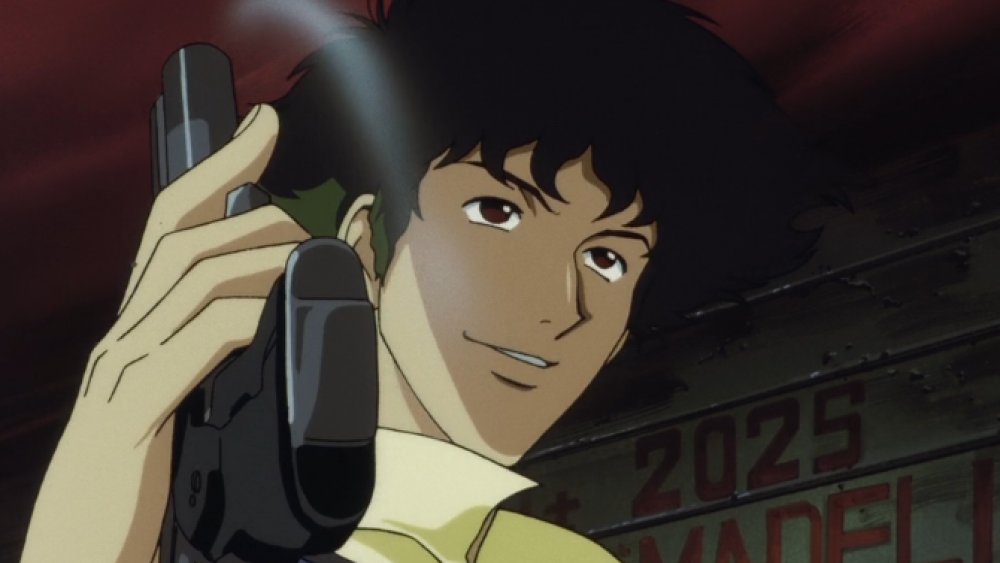 26 episodes is fairly short for an anime series these days, but even so, it is hard to imagine how to cram all that goodness into only ten episodes of a mini-series. Presumably the mini-series episodes will be about an hour long, but what are the most important parts of the original that must make it into this new iteration? 
In the anime, we're introduced to Spike and Jet after they've already struck up a bounty-hunting partnership. The two travel through space on the Bebop hunting down bounties and trying to keep food on the proverbial table. In the pursuit of these humble goals, they acquire the companionship of Faye, Ein, and Radical Edward. These new crew members all have their unique talents that aid in bounty hunts, but their presence also means that resources are slimmer than ever.
The bounty hunting storyline is largely fun and action-packed, with plenty of humor and kung-fu cinema callbacks. Among the hustle and bustle of everyday living, however, each of the crew members must contend with their pasts. Spike is running from a battle to the death for the woman he once loved. Jet is trying desperately to seek some kind of justice after his retirement from the police force. Faye can't remember her past and continually throws herself into debt and mayhem. Ed is parentless, having been left by her father. The main theme is that of a found family working through their troubles, and it remains to be seen how much of that will make it into the adaptation.