What The GoT Creators' Star Wars Trilogy Would Have Been About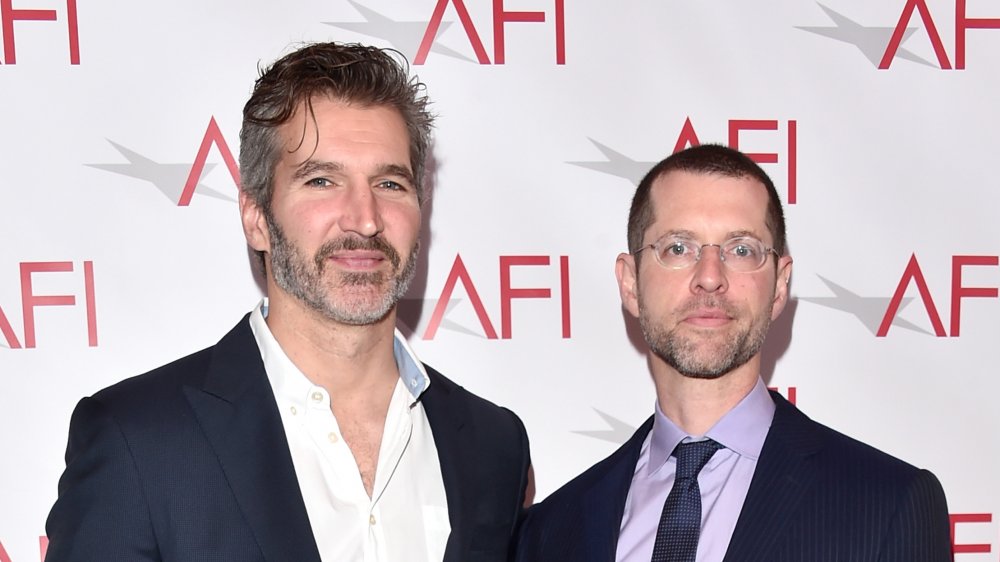 Alberto E. Rodriguez/Getty Images
David Benioff and D.B. Weiss recently handed in their tickets for a trip to the galaxy far, far, away, but that doesn't mean we'll never know what their vision for the Star Wars universe was.
The world has been buzzing since it was announced on Monday, October 28 that former Game of Thrones showrunners Benioff and Weiss had stepped down from their Star Wars responsibilities of writing and directing their very own trilogy, intended to mark the next era of the franchise following The Rise of Skywalker. Thanks to an insider report from Variety, fans can now find out about the Star Wars films that will never become a reality.
According to the outlet, Benioff and Weiss wanted their films to break away from Star Wars' pop-culture-defining Skywalker saga — which will come to a close with December's The Rise of Skywalker — by focusing on the origins of the Jedi and how the super-skilled, Force-sensitive fighters came to be in the first place. However, that project obviously won't happen now that the Emmy-winning pair have officially exited the juggernaut film series.
Benioff and Weiss' decision to leave Star Wars behind apparently came with its fair share of discord. After finishing up their eight-season tenure helming Game of Thrones, the duo signed two separate deals with both Lucasfilm to create a new Star Wars trilogy and with Netflix to create new films and television series. In the end, though, it seems as if Benioff and Weiss were having too much trouble effectively splitting their time. 
In a joint statement obtained by Deadline, Benioff and Weiss noted that speaking with Star Wars creator George Lucas and the people currently working on the franchise (presumably including The Rise of Skywalker writer-director J.J. Abrams) was "the thrill of a lifetime," and that they would "always be indebted to the saga that changed everything."
Meanwhile, Lucasfilm head honcho Kathleen Kennedy commended Benioff and Weiss as "incredible storytellers," and indicated that the two may eventually be welcomed back to the Star Wars universe with open arms when she stated, "We hope to include them in the journey forward when they are able to step away from their busy schedule to focus on Star Wars."
However, sources close to Variety have claimed that Lucasfilm executives had trouble seeing eye to eye with Benioff and Weiss. Apparently, their ideas for the upcoming Star Wars trilogy began to "diverge during meetings last summer." Time apparently only made the situation worse, and when working relations with the Thrones pair started to sour, studio brass reportedly sat down with third-party creatives to hear their pitches for Star Wars projects — apparently as a way to get some fresh ideas for the future of the movie and TV franchise.
Why Benioff and Weiss' Star Wars trilogy isn't happening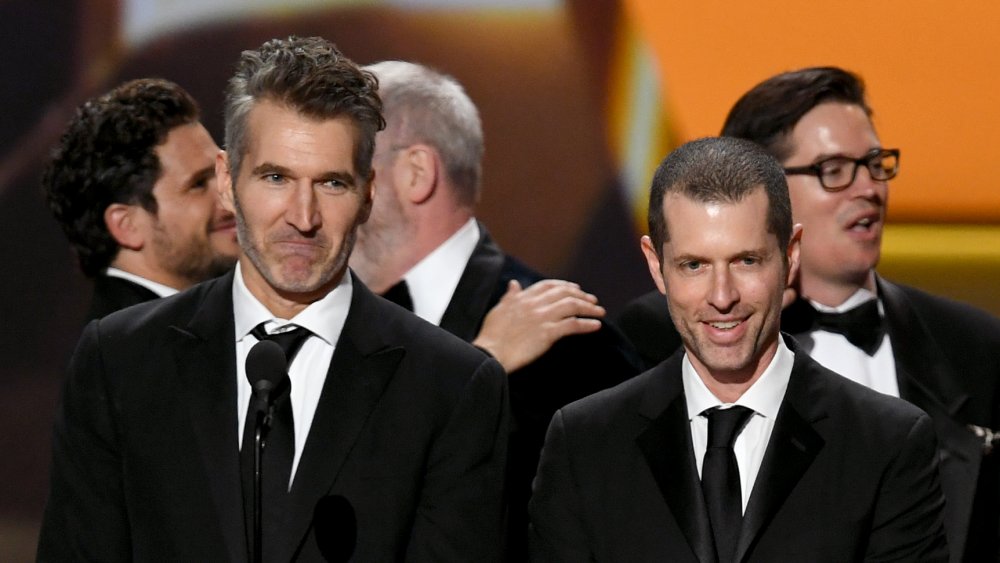 Kevin Winter/Getty Images
With all of that said, many fans are actually relieved that Benioff and Weiss are staying away from the Star Wars universe. When it was announced in February 2018 that the pair would take on their own Star Wars trilogy, there was plenty of uproar. And by the time Game of Thrones reached its rather unsatisfying conclusion in May 2019, fans were petitioning Lucasfilm to fire the duo before the first of their three Star Wars films became fully formed — arguing that they exhibited with Thrones "a lack of effort when it comes to wrapping up a coherent story."
Considering that the pair's vision for Game of Thrones' swan song suffered from sloppy execution, super-rushed storylines, and messy character development, the news that Benioff and Weiss exited the very project that seemingly brought about a quicker end to Thrones might be fairly infuriating for some fans. Benioff and Weiss were offered plenty of time and money to close out Thrones in a leisurely fashion, but since they were apparently impatient to get started on Star Wars, they set a short six-episode final season – a decision that negatively affected Thrones' final stretch. Even so, the show ended up taking home Outstanding Drama at the 2019 Emmys, though the statue seemed more like a lifetime achievement award for the show rather than direct recognition of Benioff and Weiss' work.
Ever since "The Iron Throne" — the Game of Thrones series finale that Benioff and Weiss penned and directed, which received some of the worst ratings in the show's history — aired in May 2019, it seems as if Benioff and Weiss have been owning up to some of their mistakes. Star Wars isn't the first thing the pair has backed out of recently. In July 2019, the duo quietly sat out their final Game of Thrones panel at San Diego Comic-Con with just a few days' notice.
Recently, it became clear that Benioff and Weiss also might not have been fully prepared for the rigors and pressures of their own Star Wars trilogy. During a panel at the Austin Film Festival in October 2019, the pair confirmed many fans' worst fears by saying that when they were given the opportunity to work on Game of Thrones, they had basically zero relevant experience, calling the entire production an "expensive film school" on which they could cut their teeth.
The Hollywood Reporter also spoke to some insiders about the complex matter. According to sources close to Benioff and Weiss, concerns about "toxic fandom" loomed large. The two are certainly familiar with angry fans by this point — and if there's one group that's louder and more passionate than Game of Thrones fans, it's Star Wars fans, who will deride nearly anything in the beloved universe that isn't deemed perfect.
In the end, it's probably best for Benioff, Weiss, and Star Wars fans alike that the duo can take time to focus on original content for Netflix rather than take on yet another enormous franchise. And it's still possible that, before too long, either the duo or a different director will tell the origin story of the Jedis after all.