Robert Downey Jr. Didn't Want An Oscar Nomination For Avengers: Endgame
Marvel Studios
All that glitters isn't gold, and one very particular thing that is gold isn't something Robert Downey Jr. wants in his possession. 
The Iron Man actor revealed during a recent appearance on The Howard Stern Show that he didn't want to be nominated for an Oscar for his work as the Armored Avenger in Avengers: Endgame, the beloved superhero behemoth for which millions of fans were certain Downey Jr. would score an Academy Award nod (or even win).
Howard Stern praised Downey Jr.'s work as Tony Stark, then questioned why he'd never received an Oscar nomination throughout his 10-plus years in the Marvel Cinematic Universe, suggesting that perhaps the Academy hasn't always placed the same cinematic merit on superhero movies as other films. Though Downey Jr. avoided answering the question head-on, he did confirm that he wasn't interested in being a part of Avengers: Endgame's 2020 Academy Awards campaign. The actor shared that he turned down the idea of submitting for a Best Actor Oscar nomination amid chatter of him potentially earning one for Endgame. 
"I'm so glad you brought this up because there was some talk about and I said, 'Let's not,'" Downey Jr. explained, going on to note that he views himself as a normal guy and not someone who should be scooping up Academy Award nominations, despite people thinking he totally deserves them. "I'm much more like you than you might really want to believe. I listen to the show and I agree with most all of your opinions, varied though they may be." 
It seems as though Downey Jr.'s resistance to campaigning for a Best Actor nomination for the 2020 Oscars may have spurred a domino effect, as there isn't a single Avengers: Endgame cast member up for an Academy Award for the flick. Perhaps Downey Jr.'s co-stars also stated that they didn't want to be submitted, or maybe Disney and Marvel simply decided to forgo campaigning for nominations in the Best Actor and Best Actress categories so as to not be accused of playing favorites.
Avengers: Endgame still has a great chance at Oscars success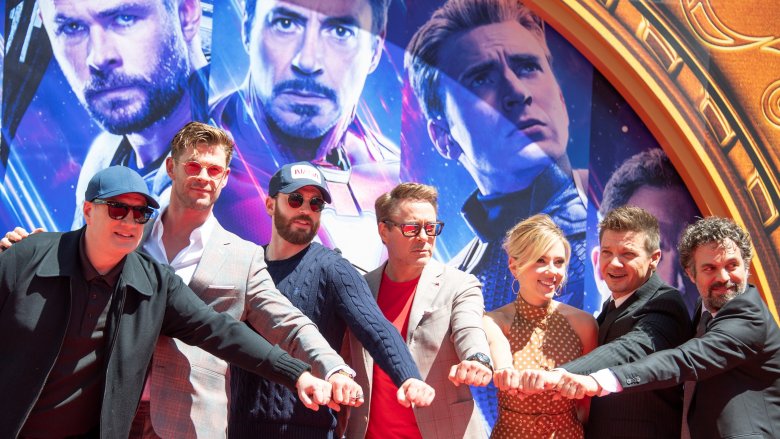 Valerie Macon/Getty Images
Despite Downey Jr. not campaigning for an Oscar nomination for his moving turn as Tony Stark in Avengers: Endgame, the film is gunning for plenty of other golden statues that it very well might take home during the 92nd annual Academy Awards. 
In their "for your consideration" campaign for Endgame, Disney and Marvel are hoping for nominations for Best Director (Joe and Anthony Russo), Best Adapted Screenplay (Christopher Markus and Stephen McFeely), Best Original Score (Alan Silvestri), Best Cinematography (Trent Opaloch), Best Costume Design, Best Production Design, Best Makeup and Hairstyling, Best Sound Editing, Best Sound Mixing, Best Visual Effects, and, of course, Best Picture. 
The Academy of Motion Picture Arts and Sciences hasn't yet announced the nominees for the 2020 Oscars (they're still several months away), so it remains to be seen how many awards Avengers: Endgame will end up nominated for. With any luck, not having Downey Jr. — or any Endgame actor — in the film's 2020 Oscars campaign will be outweighed by all the nods it earns when the time comes. 
The 92nd annual Academy Awards will air on Sunday, February 9, 2020.