The Worst Role Emma Watson Has Taken Since Harry Potter Ended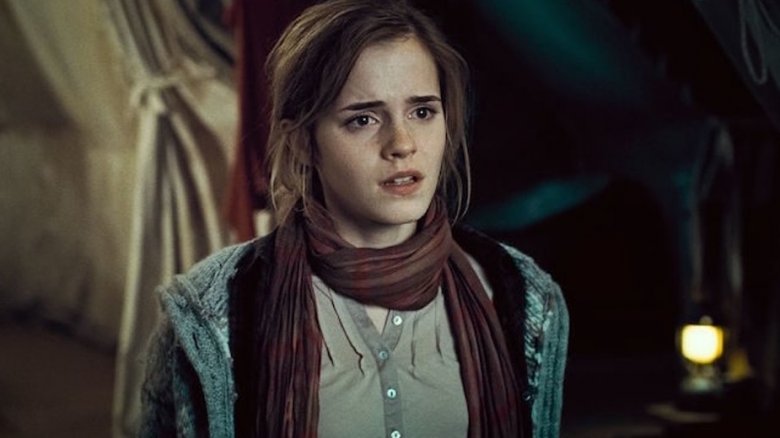 Over the course of eight Harry Potter films, Emma Watson's precocious, Muggle-born sorceress Hermione Granger found ways to turn back time, win the love of a certain Mr. Weasley, and break the nose of a certain Mr. Malfoy. She also played a key role in bringing down He Who Must Not Be Named. With what eventually became a decade's worth of work in the beloved Harry Potter franchise, Watson managed to bring vivid life to J.K. Rowling's most beloved witch, and deliver a spellbinding performance that captured the hearts of Potter fans the world over. 
Along the way, those fans watched as the once-wild-haired Watson from 2001's Harry Potter and the Sorcerer's Stone transformed into the wily, strong-willed young woman of Harry Potter and the Deathly Hallows, and perhaps further marveled as Watson became one of the more exciting young actors in Hollywood. After the series bowed with the harrowing Battle of Hogwarts in 2011's Deathly Hallows: Part 2, expectations for Watson's post-Potter career were sky-high. The actress wasted little time in meeting those lofty expectations, turning in noteworthy performances in 2011's My Week With Marilyn (opposite an Oscar-nominated Michelle Williams), as a troubled teen in the lauded 2012 adaptation of The Perks of Being a Wallflower, and as a spoiled-rotten thief in Sophia Coppola's undervalued 2013 farce The Bling Ring. Watson's followed those films with a brilliant cameo in Seth Rogen and Jay Baruchel's star-studded apocalypse comedy This Is The End that remains the very definition of "scene-stealing."    
Still, while her post-Potter professional life has featured some truly memorable roles, there have been a few misses for Watson of late — i.e., the dual 2015 misfires The Colony and Regression. But if there's one movie in Watson's oeuvre she almost certainly wishes she could Obliviate from the minds of viewers, it's 2017's bafflingly brainless tech thriller The Circle – the worst role Emma Watson has taken since Harry Potter ended.
The Circle was more than a little bit broken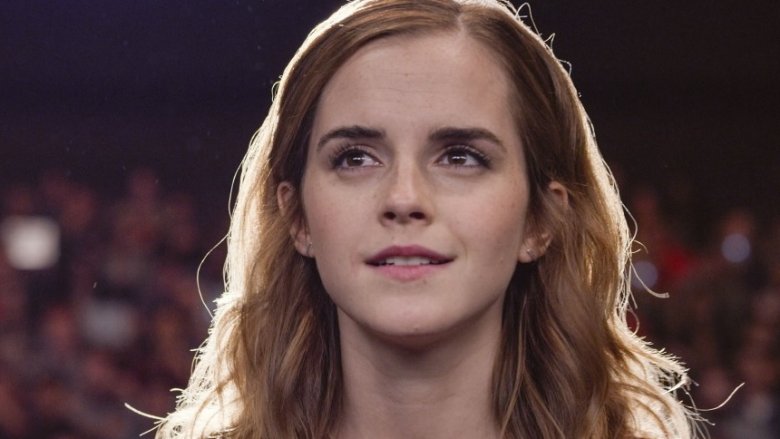 The Circle is every bit the brainless thriller you may have heard or seen it labeled. Currently, the film holds the title of the most rotten of all of Watson's post-Harry Potter films by Rotten Tomatoes review standards. Unfortunately, Watson's face is front and center for virtually every frame of this stinker. But a career low mark was hardly the expectation for Watson or The Circle when the film was announced. In fact, many industry insiders fully expected 2017 to be the best year of the young actor's career. It was, after all, the same year that Watson scored the biggest non-Potter hit of career when the live-action Beauty and the Beast, in which she starred as Belle, waltzed into theaters just a month ahead of The Circle.
While Beauty and the Beast didn't quite prove a runaway hit with critics, even those reviewers had to acknowledge that Watson's charming, heartwarming work as Belle carried the picture. Audiences, on the other hand, absolutely flipped for the film, and helped make it a billion-dollar success story for Disney. With one family-friendly hit on Watson's hands, 2017 was indeed shaping up to be a big winner for the actress. And with what appeared to be a whip-smart, adult thriller on the way — one directed by indie wunderkind James Ponsoldt, written by Dave Eggers, and co-starring the great Tom Hanks — Watson seemed primed for the sort of star-making post-Potter year her fans had been waiting for.
But that didn't happen. 
The Circle hit theaters behind a seemingly endless wave of negative reviews, and was all but ignored by moviegoers the world over. If you're wondering what went wrong with The Circle, you should know that not much actually went right. The script was thin, the film was painfully dull and self-aware, and, worst of all, Watson was uncharacteristically not very good in the lead. Of course, part of the problem was that Watson was also horribly miscast as an infuriatingly naive young woman who is, for reasons that still remain a bit unclear, chosen to be the face of a massive Bay Area tech company with nefarious plans for the world at large. Tasked with carrying the film on her shoulders, Watson failed to make a three-dimensional character of the young woman. Ultimately, The Circle's over-complicated and incessantly dull narrative simply crumbled around Watson — much to the chagrin of her co-stars John Boyega, Karen Gillan, Ellar Coltran, and Patton Oswalt.  
But the magic may soon return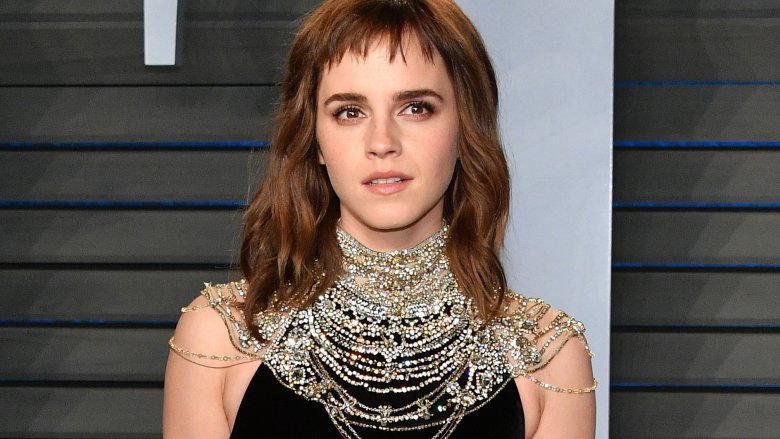 Dia Dipasupil/Getty Images
Luckily, it appears Watson's intensely loyal fanbase have fairly short memories. Though The Circle remains a genuine stain on Watson's otherwise interesting (if not always impressive) post-Potter resume, it appears the film has largely been forgotten since it's timid theatrical run a couple of years back. The fact that Watson herself has kept a relatively low profile in the years since may have helped a bit as well. Point of fact, Watson hasn't appeared in a feature film since The Circle, and has apparently been quite choosy in finding her next big-screen venture. 
Though fans of the Harry Potter franchise have been readying for a possible return to Hogwarts after hearing the rumor that a new Potter film may be in the works with the original cast on board to reprise their iconic roles, a return to the character that made her famous will not be Emma Watson's next move. The actress is currently looking to bring a little magic to Greta Gerwig's hotly-anticipated Lady Bird follow-up, an adaptation of Louisa May Alcott's beloved novel Little Women. For those who might be unfamiliar with Little Women, the story follows the four strong-willed March sisters on their journey to womanhood in late 19th-century America. The book has long been hailed as a feminist masterpiece decades ahead of its time, which means it should more than align with Watson's own, outspoken girl-power politics.
With any luck, Little Women will be just the ticket to finally wash the stale taste left in the mouths of Watson fans who struggled through The Circle. And if not, well, we can always hope that new Harry Potter film we've been hearing about actually does happen, 'cause we'd all love to see what Hermione and the gang are up to these days. Until her return to the halls of Hogwarts is confirmed, we'll get a chance to see Watson in full period garb when Little Women arrives in theaters on December 25, 2019.