Rumor Report: Original Harry Potter Cast Said To Reunite For Brand-New Film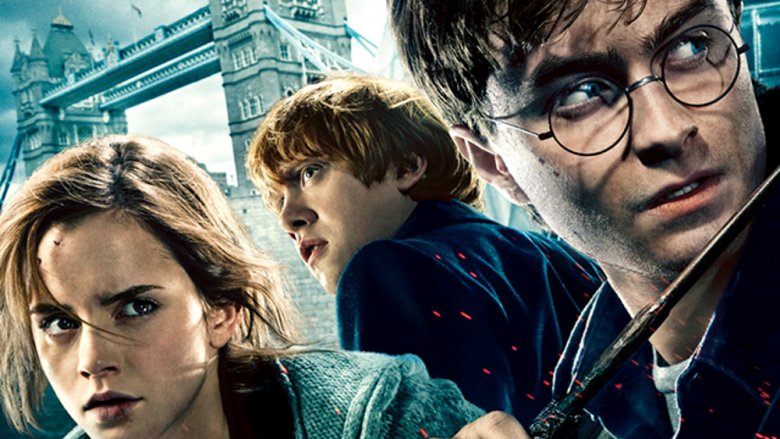 Warner Bros. Pictures
Are we really about to head back to the wizarding world of Harry Potter?
According to a new report by We Got This Covered, it's a sure thing. 
The outlet, citing anonymous sources with a wealth of information about Warner Bros. Pictures' plans for future films, claims that the studio is developing a brand-new Harry Potter movie featuring the three original stars — Daniel Radcliffe, who played the "chosen one" wizard Harry Potter; Emma Watson, who portrayed the wise-beyond-her-years witch Hermione Granger; and Rupert Grint, who played the kind and brave wizard Ron Weasley.
The purported project is an adaptation of the mega-successful two-part stage play Harry Potter and the Cursed Child, written by Jack Thorne from a story he wrote with Harry Potter novel series author J.K. Rowling and two-time Tony Award-winning theatre director John Tiffany. 
Harry Potter and the Cursed Child began previews in London in June 2016, premiering later that month at the Palace Theatre before making its official Broadway debut at the Lyric Theatre in New York in April 2018. Set 19 years after the events of Harry Potter and the Deathly Hallows (which was adapted into two movies), the two-part play features Harry, who now serves as the Head of Magical Law Enforcement at the Ministry of Magic; Albus Potter, Harry's younger son he had with Ron's sister Ginny Weasley; and Scorpius Malfoy, the son of Harry's foe-turned-friend Draco Malfoy, played in the Potter franchise by Tom Felton. Both students at Hogwarts School of Witchcraft and Wizardry who are sorted into Slytherin House, Albus and Scorpius join forces and eventually find themselves in possession of a Time-Turner, which they use to travel back to the Triwizard Tournament (as seen in Harry Potter and the Goblet of Fire) to prevent the death of Hufflepuff student Cedric Diggory. 
Harry Potter and the Cursed Child does indeed feature Hermione and Ron as well. The married couple share daughter Rose Granger-Weasley, who starts her time at Hogwarts in The Cursed Child, and son Hugo Granger-Weasley. While Hermione serves as Minister of Magic, Ron manages Weasley's Wizard Wheezes, a popular joke shop in Diagon Alley that Ron's brothers Fred and George opened as a school business while attending Hogwarts.
Judging by the plot alone, and assuming We Got This Covered's claim is completely true, it's a no-brainer to bring back Radcliffe, Grint, and Watson to play Harry, Ron, and Hermione for a Harry Potter and the Cursed Child movie. And given the stage play's success, it's not out of the realm of reality that Warner Bros. would want to make big bucks with a feature film adaptation.
However, we can puncture quite a few holes in this rumor. 
For starters, this isn't the first time we've heard reports that Warner Bros. wants to turn Harry Potter and the Cursed Child into a film. In August 2016, just two months after The Cursed Child began its London previews, New York Daily News ran an article claiming that Warner Bros. was interested in adapting the play for the silver screen in a project that would debut "as soon as 2020." The studio is said to have hoped at least Radcliffe would board the film to reprise his most famous role. According to the outlet's sources, however, Radcliffe "made it clear that his mind is certainly not focused on returning to the role anytime soon ... He doesn't need to go back for money or to reboot his career, so he will need some persuading."
This report started a hot fire of speculation that began burning up social media. In September 2016, Warner Bros. representatives issued a statement debunking the rumor: "Harry Potter and the Cursed Child is a stage play, with no plans for there to be a film."
That didn't stop fans from believing the exact opposite, though. When the rumor again took on a life of its own, Rowling herself shot it down, stating in a January 2017 tweet that it was all a lie: "I know a lot of people are looking for reasons to be cheerful today, but there is NO TRUTH to the rumour about a #CursedChild movie trilogy!" While this could suggest that if a trilogy won't happen, perhaps one or two movies will, it seems making that assumption would be bending Rowling's words to fit a different meaning.
Additionally, there's the issue of whether Radcliffe, Watson, and Grint would genuinely want to come back to the franchise. 
In a 2018 interview with The Guardian, Grint said that he deeply enjoyed his time playing Ron Weasley, but found it difficult to return to normal life when the film series wrapped in 2011. 
"I don't want to liken it to coming out of prison because it wasn't a prison, but it did feel like stepping out of an institution," the actor shared, adding that he often considered leaving the franchise between films, as the experience became "so all-consuming" at times. That doesn't exactly inspire a lot of confidence in the idea that Grint would be down to come back to the Harry Potter universe for another movie, does it?
For his part, Radcliffe has said that he's not really interested in reprising his role as Harry Potter — though other people were certainly still having that conversation with him at the time. He told E! News in 2018, "To a certain extent with things like the play and [the Harry Potter spin-off franchise] Fantastic Beasts, I think people are still interested in talking to me about it, but nothing's been happening in that area. At the moment, I'm very much enjoying playing lots of different stuff."
Radcliffe also told The Hollywood Reporter in 2016 that he would be a-okay with another actor playing Harry Potter, should Warner Bros. ever want to reboot the franchise. "It'll be interesting if they reboot them and just do the films again or do a series; I'm fascinated to watch ... but I think I'll be happy enough and secure enough to let someone else play it," he said.
In November 2018, Radcliffe admitted that he had no intention of ever watching Harry Potter and the Cursed Child. The actor explained during his appearance on Late Night with Seth Meyers (via Entertainment Weekly) that it wouldn't be "a relaxing evening at the theater," and he would feel like he was being monitored by fans for his reaction. "Maybe that is completely conceited and egotistical and people wouldn't care, but I do feel if I was just surrounded by Harry Potter fans, it would be a little odd," he said. 
Those comments pose an important question: If Radcliffe doesn't ever want to see the play, why would he want to be in a film adaptation of it?
Unsurprisingly, Watson has taken a similar stance as her Potter co-stars on the matter: she's fine not reprising the role that made her a household name. Asked by then-Entertainment Weekly senior staff writer Anthony Breznican during a SiriusXM interview if she would ever return to the wizarding word, Watson answered, "Ask me in another 10 years." She also stated that Breznican was simply "causing carnage" by asking her that question. 
It sure seems like the trio are perfectly content with their lives post-Potter, but there is one thing that could have persuaded them to sign on for the rumored Harry Potter and the Cursed Child movie: money — and lots of it. Since Warner Bros. suffered disappointment with the less-than-fantastic performance of Fantastic Beasts: The Crimes of Grindelwald, the 2018 sequel to Fantastic Beasts and Where to Find Them, it's possible that the studio is looking to get its Potter-verse back on track by finally going through with Harry Potter and the Cursed Child — and was willing to spend whatever money it took to convince Radcliffe, Grint, and Watson to join the film, knowing that their involvement would send audiences to theaters in droves and make it effortless to recoup any and all costs incurred. 
Though the three stars have done well for themselves outside the Potter franchise — with Radcliffe impressing in indie flicks like Swiss Army Man and on the Broadway stage, Grint popping up on the big and small screens in various different projects, and Watson joining the Disney family as Belle in 2017's live-action Beauty and the Beast — none have reached the same level of success they attained during their time as witches and wizards. With what might have been major money on the table and the promise of even more success, perhaps Radcliffe, Grint, and Watson really did accept the offer to star in Harry Potter and the Cursed Child... if an offer even happened, that is.
With nostalgia becoming an increasingly common marketing tactic — and, in many cases, the sole reason to greenlight a project — it's understandable why Warner Bros. might want to make this ambitious project a reality. Still, with nothing confirmed and with Cursed Child representatives in New York reportedly indicating on September 5 that "there are no plans whatsoever for a movie," the whole thing is up in the air. When and if Warner Bros. says "accio Cursed Child" and makes the film happen, rest assured that we'll fill you in with all the details.