We're One Step Closer To Seeing A Quiet Place: Part II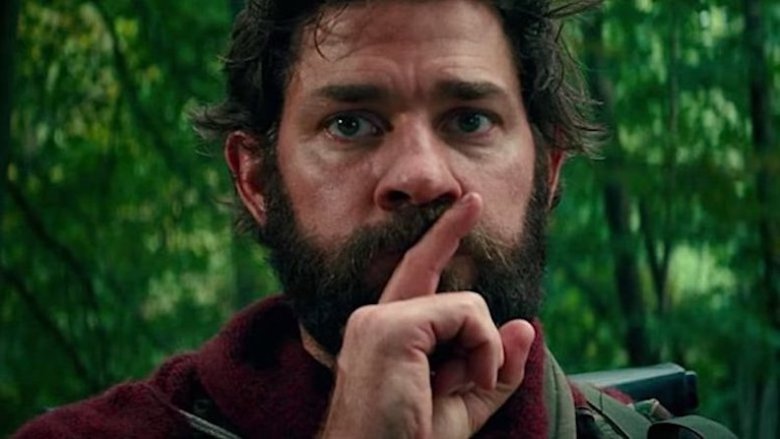 Shhh. Do. Not. Make. A. Sound. All right, all right — that might be difficult to do, as horror fans are probably shouting from the rooftops that the world is officially one step closer to seeing A Quiet Place: Part II.
All apologies if you're currently being ripped apart by the ravenous, alien creatures with lots and lots of teeth from the movie, but the news is real. And yes, we're more than a little bit excited that John Krasinski has taken to Instagram to let the masses know the anxiously awaited follow-up to his breakout horror flick A Quiet Place just wrapped principle photography.
Barring any post-production setbacks, this news means it won't be too much longer before we find out what Krasinski and co. have in store for their return to the all but soundless, endlessly perilous world first glimpsed in A Quiet Place; the sequel flick is set to launch in theaters on March 20, 2020. While we still know next to nothing about A Quiet Place: Part II, fans of the original film have been clamoring for a return to that world since the credits first rolled on Krasinski's utterly enthralling post-apocalyptic frightmare. 
Though no sequel was initially planned, A Quiet Place (based on a wholly original concept and produced on a more-than-modest $17 million budget) proved such a monumental success both critically and financially that producers were immediately clamoring to green-light a followup. Krasinski initially met that eagerness — not to mention the fervid fandom that the original film — with hesitation, though he was eventually swayed to pen the upcoming sequel himself. He managed to get the pic before cameras little more than a year after A Quiet Place made its premiere. With A Quiet Place: Part II having now officially wrapped filming, the waiting game begins to see if Krasinski has managed to bottle lightning a second time.  
A Quiet Place: Part II promises more scares and a bigger world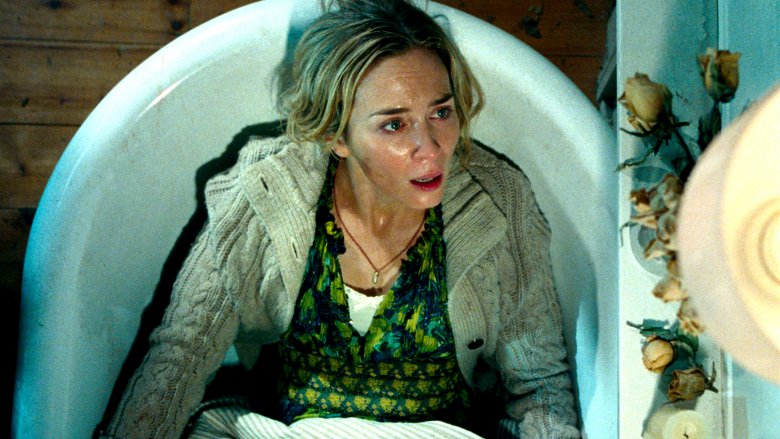 As we mentioned, not much is known of the plot for A Quiet Place: Part II, so there's isn't a whole lot we can tell you of what lay ahead for the remaining members of the Abbott Clan — save that Krasinski recently told Entertainment Weekly that the sequel will build upon the world established in the original. He shared, "This is a world you can play in, this isn't just a character to remake ... it's actually a world, which is a whole different, very unique experience." 
Still, a quick recap of the original film, a glimpse at that Instagram shot, and a look at the cast list for Part II is certainly enough to inspire a little conjecture about what will happen in the next A Quiet Place movie, so let's get conjecturing. (Just FYI — if you're one of the five people who have yet to see 2018's A Quiet Place, count yourself warned, 'cause we're about to do some serious spoiling.)
A Quiet Place is set in an apocalyptic version of our world that's seen mankind all but wiped out by the presence of killer alien creatures who devour anything that makes even the slightest of sounds. When last we saw Abbott family, their quiet farm life had been undone by the invasion a roving band of carnivorous monsters, and sacrifices had been made to ensure the survival of the clan. By sacrifices, we mean that Krasinski's paterfamilias Lee had given his own life in service of saving those of his son Marcus (Noah Jupe) and his deaf daughter Regan (breakout star Millicent Simmonds). On top of that, his wife Evelyn (Emily Blunt) had just given birth to a baby, and through a bit of happenstance, Regan and Evelyn had found a way to weaponize certain high-pitched tones from Regan's hearing aids and use them to kill some of the beasts.
When the movie ends, the remaining Abbotts had successfully defended their turf and presumably found a way to save mankind. Of course, the fact that there's a Part II at all essentially proves the opposite, which means that the Abbotts alone won't be able to defeat the evil in the world. Luckily, Krasinski makes clear that — in spite of their isolated existence —the Abbotts were not, in fact, the last humans alive. And one look at the cast list for A Quiet Place: Part II guarantees this follow-up will indeed be expanding the world presented in the original. 
Though we haven't a clue what's in store for the occupants of the world, there's little doubt those creatures will be on hand to wreak more havoc on the remaining humans — and continue to scare the hell out of viewers. We can confirm, however, that the Abbotts won't be alone in that fight. The likes of Cillian Murphy, Djimon Honsou, and more are joining returning cast members Blunt, Simmonds, and Jupe for the sequel. 
As far as where the film will be set, one look at Blunt and Krasinski on the infamous bridge from A Quiet Place in Krasinski's Instagram post seems to confirm the film will again be set in and around the Abbotts' farm. 
Concerning what else is ahead for the Abbotts and their neighborly allies, we're just gonna have to wait and see. For all we know, those new faces may not be allies at all, and the Abbotts may well be fighting a war on two fronts. If you want to find out for yourself, A Quiet Place: Part II is slated to hit theaters on March 20, 2020. Until then, it seems there's little point in keeping quiet about it, right?