A Quiet Place: The Scenes You Didn't Get To See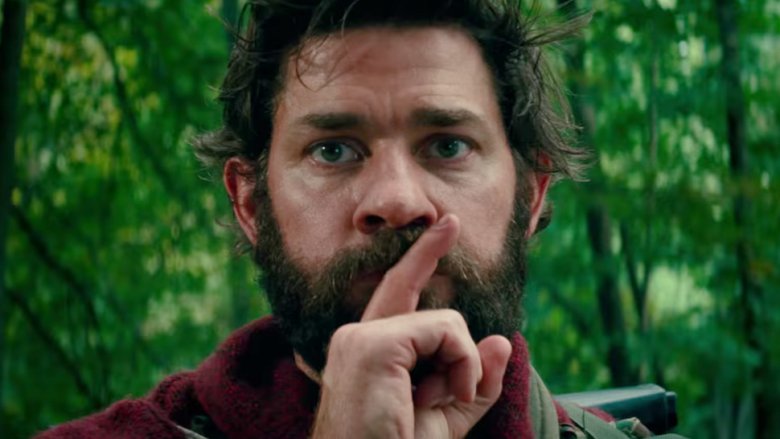 Contains spoilers for A Quiet Place
In director and star John Krasinski's breakout horror film A Quiet Place, there are gut-wrenching twists, creatures spooky enough to haunt your daydreams, and surprising splashes of sentiment galore. But there were a fair few scenes fans didn't get to see in the film's theatrical cut, moments clipped from the story when Krasinski rewrote the original script and reshaped the direction of A Quiet Place. 
Taking over from screenwriters Bryan Woods and Scott Beck, Krasinski retooled certain ideas and wound up cutting a few flashback sequences before filming. A Quiet Place producer Andrew Form detailed to The Hollywood Reporter's Heat Vision that "initially, there were flashbacks where the characters talked" in the film, which centers around a family (headed up by Krasinski's Lee Abbott) attempting to survive in silence in a world where monsters track their victims via sound. 
Additional flashback scenes included the heartbreaking opening, where the family's third child is murdered by the sound-seeking creatures. "The sibling's death was handled in a flashback," Form explained. "John was adamant that we get rid of it, making it present day and kept the urgency of the storytelling." 
Form was quick to clarify that everything that did end up surviving the rewrite is what was shown on screen, and there aren't any deleted scenes, so those hoping for a slew of extras to be bundled in the home release of A Quiet Place might be disappointed.
"This is the first movie we've done without deleted scenes," he stated. "We shortened some scenes, but the script that we shot is what you'll see. The studio was worried about what they'll put on the DVD."
Fellow A Quiet Place producer Brad Fuller also mentioned that, despite initial surprise at Krasinski's eagerness to change what's been described as an "unorthodox" original script by Woods and Beck, he soon realized that Krasinski was perfect for the project. 
"Once he started talking about the material, we saw that his insights were really smart and we were inspired," said Fuller. "Our company was founded by Michael Bay after Jerry Bruckheimer gave him his first opportunity. So in essence, our company was founded on supporting first and second time filmmakers. We give them a level of protection that they might not otherwise have."
Added Form, "You could ask John any question about an object on set: 'Why is that chair there?' He would instantly have a detailed answer as to how it related to the Abbott family and why it was there. You couldn't stump him."
After Krasinski poured elbow grease into the script and did a bang-up job behind the camera as director of A Quiet Place, fans got to see the resultant unique horror flick that debuted to an impressive $50 million opening weekend. 
Also starring Emily Blunt as Evelyn Abbott, Noah Jupe as Marcus Abbott, and Millicent Simmonds as Regan Abbott, A Quiet Place is one movie of 2018 people can't stop talking about.