Frozen II: New Trailer Sends Elsa And Anna On Thrilling Adventure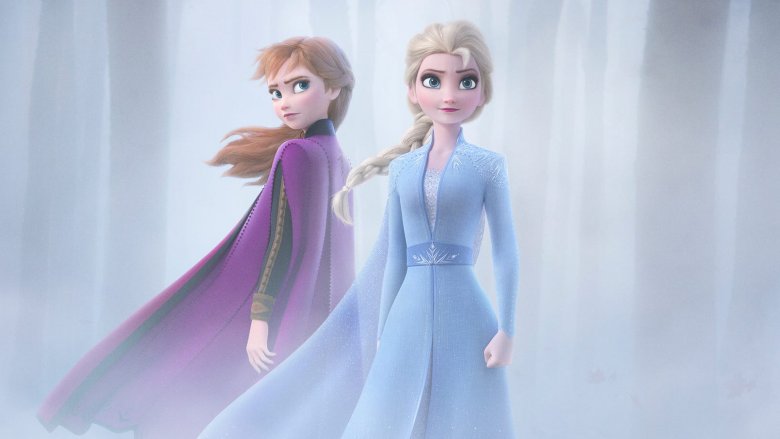 Disney
Frozen II will see Anna and Elsa venturing into dangerous territory.
Disney has released a new trailer for the upcoming sequel, one which promises plenty of riveting adventure, and also an even deeper exploration of the themes of familial love which drove the first movie.
Frozen II has been a long time in the making, but there's a good reason for that — the best reason, really. The first flick's co-writer and co-director Jennifer Lee began developing the sequel shortly after the original 2013 film became a smash hit, but was admirably determined not to simply repeat herself or tell a story that was light on substance. Lee spent years tinkering with concepts for Frozen II until she hit upon a continuation of the story that she felt deserved to be told, one that expands on some of the themes and mysteries introduced in Frozen while deepening the relationship at the center of that film: the one between sisters Anna (Kristen Bell) and reigning Queen of Arendelle Elsa (Idina Menzel).
The new trailer opens with the pair as little girls, as they're regaled with a bedtime story by their father. "Far away, as north as we can go, once stood an enchanted forest," he says in voiceover, as his words are illustrated with a lush depiction of this setting. "It was a magical place... but something went wrong." We see a clash between opposing fighting forces, as a kind of ethereal purple flame tears through the forest, followed by what looks like a bit of a cold front. "Since then, no one can get in... or out."
"Wow, papa," young Anna says, adorably, "that was epic!" The spot then segues to the sisters as adults, enjoying their newfound relationship — but there's a bit of a problem. Elsa is seen awakening inexplicably in the middle of the night, and staring uneasily out over her kingdom; Anna seems to think that Elsa has been acting oddly, and in a voiceover, we hear the Queen describing a mysterious voice that only she is able to hear.
We then see that Arendelle has been hit with a bit of a cold front, a development which appears to have something to do with Elsa's powers. The head of Kristoff's adopted family of trolls declares that "the kingdom is not safe" — and instructs Elsa to go on a journey to find the source of that voice. "Find who is calling to you," he counsels, "they may have answers."
Anna insists on accompanying her, and when Elsa protests, her sister puts her directly into her place, saying, "Excuse me. I climbed the North Mountain, survived a frozen heart, and saved you from my ex-boyfriend, so, you know... I'm coming." Kristoff, his reindeer Sven, and the cheerful snowman Olaf are also along for the ride, and as the pair reach the enchanted forest — which is shrouded in a protective mist — we see that they won't have much trouble gaining entry, as Elsa is able to dispel the enchantment with a touch of her hand. ("That's normal," Olaf says reassuringly.)
However, the gang are soon met by the seemingly warlike folk who reside within the forest, and they aren't too pleased to have visitors. But their displeasure quickly turns to curiosity when it's revealed that the mist parted for Elsa, and one of them asks her a question that looks to be at the center of the movie's story: "Where did you learn magic?"
We then see trouble brewing: the woods are ablaze with that same mysterious purple flame that we saw engulfing the forest in the clip's opening, and there's an amazing exchange of dialogue between the two sisters as Elsa scolds Anna: "You can't just follow me into fire!" Anna's perfect response: "Then don't run into fire." 
The spot winds down with a quick montage in which the denizens of the enchanted forest are shown to be marshaling their forces against some grave threat to Arendelle, Elsa is seen taming and mounting a steed of ice (as seen in the first full-length trailer), and enormous rock monsters lay siege to the kingdom. 
After the title card, the trailer ends with a brief comedic scene featuring Olaf, who asks, "Quick question: is the whole 'putting us in mortal danger' going to be a regular thing?" The very forest itself, enchanted as it is, helpfully answers.
Frozen II certainly looks fantastic, and this trailer sheds a little more light on the plot, the details of which have largely been kept under wraps. But the spot teases a story that will not only deliver in the action and spectacle departments, but will also have plenty of emotional heft — a notion bolstered by comments made by the flick's animation lead Becky Bresee and visual effects chief Marlon West at the Annecy Animation Festival in June.
"It's an evolution and an expansion of the story of Frozen, and many of the questions raised in the first movie become the mysteries that our gang are trying to solve in this film," said Bresee, who indicated that the movie's narrative was built around one question: "Why was Elsa born with her powers?" West elaborated that the film is "about two sisters trying to stay together while the world tries to tear them apart." (via The Hollywood Reporter)
Frozen II looks to put an exclamation point on what has been a banner year for Disney. The House of Mouse recently became the first motion picture studio to field five billion-dollar-plus grossing movies in the same year: Toy Story 4, Aladdin, Captain Marvel, The Lion King, and Avengers: Endgame.Frozen grossed over $1.2 billion dollars during its theatrical run; with Frozen II and Star Wars Episode IX: The Rise of Skywalker both still to come this year — not to mention the debut of streamer Disney+ in November — it's looking like 2019 will come to be remembered as the year Disney completed the first stage of its bid to literally take over the world.
Well, perhaps the inevitability of Planet Disney could be averted if the studio stopped making incredibly awesome stuff that everyone wants to see, but that doesn't look like it'll happen anytime soon, and you know what? We're just fine with that. We'll be first in line when Frozen II hits the big screen on November 22.