Here's How Much Dylan Minnette From 13 Reasons Why Is Worth Now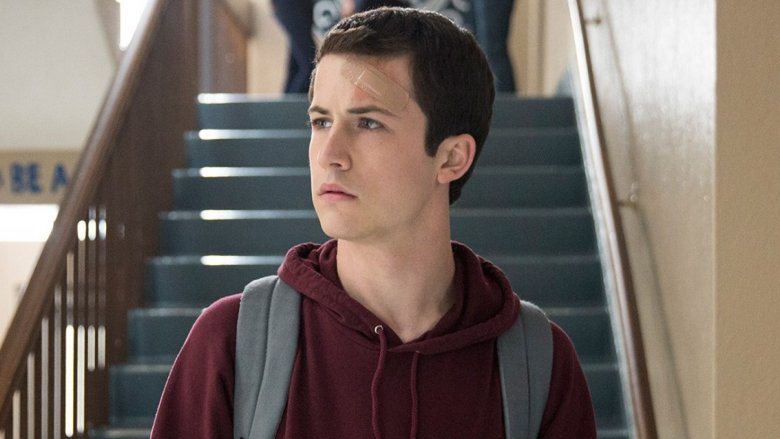 Netflix
He's survived losing his first love by suicide, having his peers ostracize him, and being repeatedly run off the road. Though times remain tough for the fictional Clay Jensen on Netflix's divisive teen drama 13 Reasons Why, all that heartache has paid off for the actor who plays him. His name is Dylan Minnette, and it seems three full seasons of emotional and physical turmoil have left the young star running all the way to the bank.
That fact should come as little surprise to those who've spent the last couple of years binging every brutal moment of 13 Reasons Why. While the series — based on Jay Asher's harrowing 2007 novel of the same name — has garnered its share of detractors since making its Netflix debut back in the spring of 2017, it has also proven a hit for the streaming giant. Such a big hit, in fact, that Netflix quickly greenlit a second season of the show in spite of the fact that the first season had covered the entirety of the narrative within its source material.
The struggles of that second season have been well covered amongst fans (not to mention in critical circles), but viewership was still strong enough to earn a third season order from Netflix. Season 3 isn't faring much better with the critics, but the fact that it exists (and that season 4 is apparently in the works) at all is a stunning feat, as Netflix has made quite the sport of killing its darling originals of late. As the show has continued to net viewers for Netflix, it's also continued to pad the bank accounts of its young cast — none more than Dylan Minnette. 
Here's how much the 13 Reasons Why star is worth now.
Dylan Minnette's star status and per-episode salary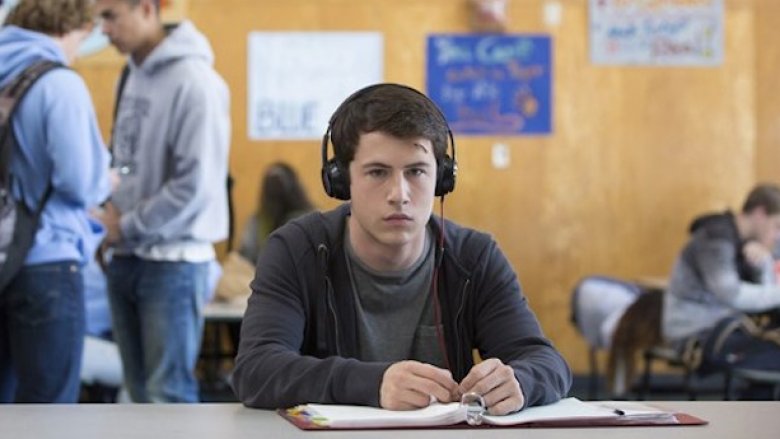 Dylan Minnette has certainly earned a sizable payday for his work on 13 Reasons Why. The talented young performer has more than carried the emotional load throughout all three seasons of the show, with his character Clay becoming the heart and soul of the series on the second and third seasons (particularly following the season two departure of series breakout Katherine Langford, who played Hannah Baker). After spending three seasons on 13 Reasons Why thus far, and at the ripe age of 22, Minnette is worth millions of dollars. 
That's not too surprising when you remember that Minnette is very much an industry vet, so the money he's pocketed throughout his career hasn't solely come from 13 Reasons Why. The actor scored what many believe to be his breakout in 2005, when he landed the choice role of young Charlie Harper on CBS' Two and a Half Men. Roles on other hit series soon followed, with Minnette appearing on the likes of Prison Break, Lost, Grey's Anatomy, Supernatural, and Scandal all before his 20th birthday. He'd also scored a couple of noteworthy big-screen gigs with appearances in Matt Reeves' Let Me In (the U.S. remake of the iconic vampire flick Let The Right One In); alongside Vince Vaughn in Fred Clause; opposite Steve Carell in Alexander and the Terrible, Horrible, No Good, Very Bad Day; and in 2015's mostly fantastic adaptation of Goosebumps. 
While his impressive resume is proof Minnette has been earning his way through Hollywood over the years, there's little question that 13 Reasons Why helped make him a star — and a multi-millionaire. Per Deadline, Minnette has remained the highest-paid actor on 13 Reasons Why over its three seasons, having earned a reported $80,000 per episode for seasons 1 and 2. With 13 episodes per season, that's no small salary — amounting to $1.04 million for each of the first two seasons, $2.08 million total. Minnette's payout reportedly jumped to a staggering $200,000 per episode for the series' third season, meaning that he apparently earned $2.6 million for the most recent 13 Reasons Why installment. In all, it appears Minnette has taken home upwards of $4.5 million for his work on 13 Reasons Why. 
One more reason why Dylan Minnette is worth so much
All that said, Minnette isn't making all his money on the screen these days — he's currently making waves in the music biz as well. 
The multi-talented performer has long held a love affair with rock and roll, and has apparently been performing in one group or another since he was 11 years old. His current bandmates Braeden Lemasters and Cole Preston have been with him every step of the way. At the moment, the trio are calling themselves Wallows, and are on the road the road in support of their debut album Nothing Happens. If you're wondering what sort of joyous noise the trio produce, it's very much of the indie power pop persuasion. Minnette contributes guitars and vocals to a savvy collection of tunes that would feel right at home amongst the post-punk, new-wavey, pop gems that spot the impeccable soundtrack to 13 Reasons Why. 
While Minnette has made no announcement about leaving his acting career behind in favor of the music biz, Wallows are taking up much of his 2019 schedule. The season 3 launch of 13 Reasons Why served as his only project in release this year, and Minnette has no acting jobs booked for the foreseeable future — though we're assuming he's on board for season 4 of 13 Reasons Why.  
As we wait to see what lies ahead for Dylan Minnette the actor, it's clear Wallows will be his primary source of income for the time being. If you're a Minnette fan, you can currently stream Wallows' Nothing Happens on Spotify, or even catch the band on tour. And if you want to take another melodramatic trip with Minnette and his Liberty High crew, season 3 of 13 Reasons Why is streaming on Netflix.