The Eternals: Kit Harington And Salma Hayek Tease Upcoming Marvel Movie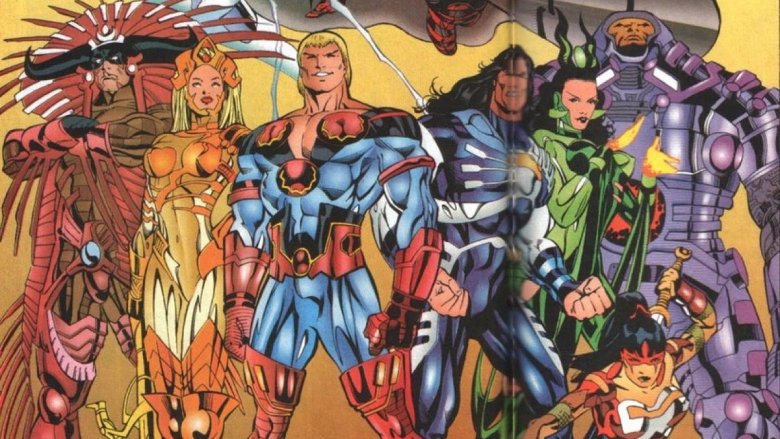 Marvel Comics
Kit Harington posing with Salma Hayek is definitely an Eternal mood.
The pair — who both star in Marvel's The Eternals, centered on a group of superheroes created using genetic engineering — recently posed for an Instagram shot apparently to tease production on the upcoming film. 
Hayek uploaded the photo of herself alongside Harington to her Instagram page with the caption, "I can't believe that I'm working with #jonsnow! Kit you're the best!!!" She followed that up with the same caption en Español (her native language).
In the picture, Harington is seen missing the long hair and scruffy beard he donned for years as Jon Snow on HBO's hit series Game of Thrones. That's because he's taking on a whole new persona for The Eternals: Harington will be playing Dane Whitman, known in the Marvel comics as the Black Knight. For her part, Hayek will play Ajak, the leader of the Eternals; though the character is canonically male, the film has flipped the gender for the actress.
Who is in The Eternals, and what's it about?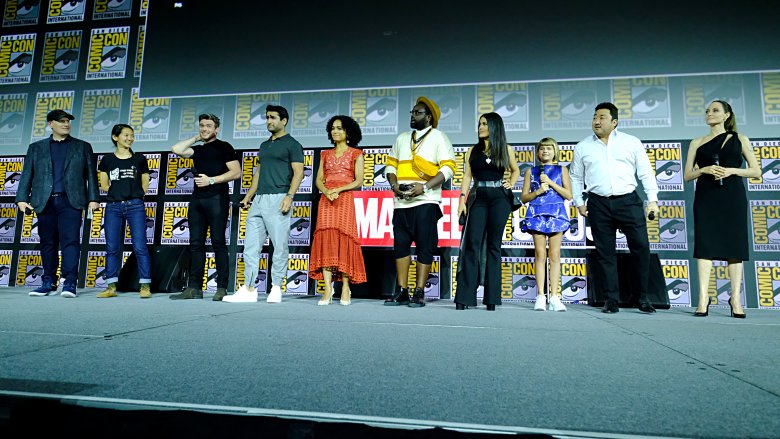 Alberto E. Rodriguez/Getty Images
As Marvel's fourth phase kicks off, the shared cinematic universe is turning away from established heroes like Iron Man (Robert Downey Jr.) and Captain America (Chris Evans) — both of whom officially left the MCU in Avengers: Endgame — and focusing more on lesser-known Marvel stories. The Eternals, created by Jack Kirby in the mid-1970s, didn't have a very long comic run, but what exists in print was more than enough to spark a new arm of the Marvel movie universe. The film will reportedly cover plenty of ground — possibly even spanning thousands of years – as it tells the story of the titular beings blessed with immortality and superhuman abilities... as well as their evil counterparts, the Deviants. 
Beyond Harington and Hayek, the Eternals cast includes some serious heavy-hitters. Most notably, Angelina Jolie will make her first appearance in the MCU, playing Thena. She'll be joined by Kumail Nanjiani (The Big Sick, Silicon Valley) as Kingo; Brian Tyree Henry (Widows, Atlanta) as Phastos; Gemma Chan (Crazy Rich Asians, Mary Queen of Scots), who is not reprising her role from Captain Marvel and is instead playing Sersi; and Richard Madden (Bodyguard, Game of Thrones), who will reunite with his former Stark brother to portray the cosmic-energy-fueled Eternal Ikaris. Rounding out the cast are Lauren Ridloff as Makkari, Lia McHugh as Sprite, Don Lee as Gilgamesh, and Barry Keoghan as Druig. 
The Eternals is also said to feature a prominent LGBTQ+ character, marking a serious evolution for Marvel as it finds new ways to represent more members of the real world's population.
Is Kit Harington back on the rise?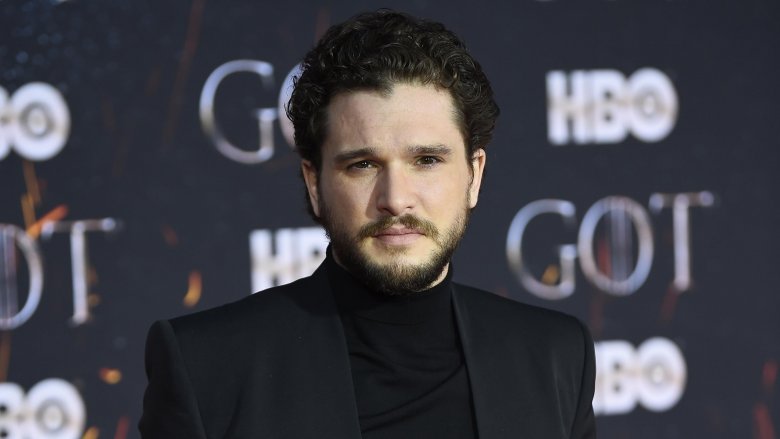 Dimitrios Kambouris/Getty Images
The Eternals could mark a huge career uptick for Harington, who has been flying relatively under the radar since he wrapped production on Game of Thrones. Throughout the hit series, he took a number of film roles — many of which (especially Pompeii and Silent Hill 3D: Revelation) flopped either critically, commercially, or both, leaving his post-Thrones fate in some question.
This shadow of doubt grew even larger when Harington entered a private facility to treat alcohol use and exhaustion, which was reported just as Thrones' final season aired. The stress of working on such a high-profile show clearly changed Harington, and throughout the series' run, he admitted to seeking therapy, enduring anxiety amidst harrowing situations, and struggling with his emotional state. During the documentary about the final Thrones season, The Last Watch, Harington openly experienced a number of tearful moments.
After all of that, it's great to see Harington back in good health and joining another huge franchise. Fans of Game of Thrones will surely be excited to see him and Madden on screen together again — especially alongside icons like Hayek and Jolie.
The Eternals will hit theaters on November 6, 2020.