Kit Harington's MCU Role Has Been Revealed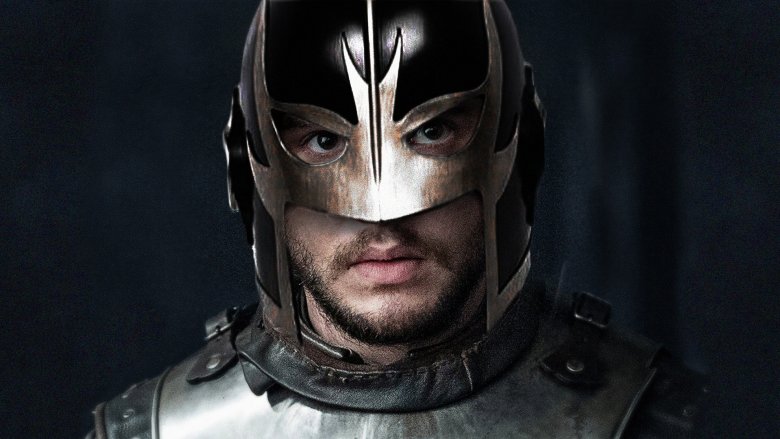 Branden Stall for Looper
He may be done fighting the White Walkers, but Kit Harington isn't putting his sword down anytime soon.
While on stage at the 2019 D23 Expo on Saturday, August 24, Marvel Studios head Kevin Feige revealed that Game of Thrones alum Kit Harington will be playing Dane Whitman — perhaps better known as Marvel's Black Knight — in the upcoming Marvel Cinematic Universe film The Eternals. 
A day before the announcement, news broke that Harington would be joining the MCU, though, at the time, it was unknown what role he'd be taking on.
Longtime fans of both Marvel and the Avengers will be excited to see the Black Knight's inclusion into Disney's massive, money-making universe after years of rumors that the sword-wielding superhero would make the leap from the comic books to the big screen.
Whitman is actually the third character to take the mantle of the Black Knight, and first appeared in The Avengers #47 – way back when your dad (or maybe your dad's dad) was reading comic books in December 1967. Harington's character is a descendant of the original Black Knight, and is the nephew of the villainous second Black Knight who perished after a fight with everyone's favorite billionaire, Iron Man. After his evil uncle died, Whitman inherited the Ebony Blade — a cursed, magic sword that has been passed down from generation to generation — and took the Black Knight identity to help rehabilitate his family's once-good name. The Black Knight has been a member various versions of the Avengers throughout the history of Marvel Comics, and has also joined up with other popular teams like the Defenders and Heroes for Hire.
While the Black Knight has generally been featured in team-up books, he has had a few chances to take the limelight for himself and shine in solo adventures. In 1990, the character took center stage in a four-issue mini-series, with a couple of one-shot stories following several years later. Black Knight had a real chance to take the comic world by storm in 2015, when Marvel decided to take on a full, line-wide soft reboot known as All-New, All-Different Marvel. Black Knight starred in an ongoing Black Knight series by writer Frank Tieri — the first such series to put Dane Whitman front and center as the lead character. Unfortunately, poor sales and diminishing readership (which dropped 40 percent between the first and second issues) caused series' to be cancelled after only five issues. Whitman's Black Knight is sure to become more of a household name in light of his MCU inclusion, and that could mean big things for the character in the comics as well.
The announcement is huge news for Harington himself, as many have wondered what the actor's career would look like in the face of Game of Thrones finally coming to an end after years of pop culture dominance. The 32-year-old actor has yet to find much success outside of Westeros, with the most notable non-GoT moments in his filmography being the 2014 historical disaster film Pompeii, motion-capture work in the 2016 installment of the Call of Duty video game franchise, and voice work in 2019's How to Train Your Dragon: The Hidden World. 
It's also exciting for Game of Thrones fans, since Harington's casting in The Eternals means that he'll finally reunite with his Thrones co-star Richard Madden. On the series, Madden played Robb Stark, the thought-to-be half-brother of Harington's Jon Snow — you know, before everyone learned that Jon is actually Aegon Targaryen, the true heir to the Iron Throne. Madden ended his stint on Game of Thrones during the third season, when his character was brutally murdered at the Red Wedding. In The Eternals, Madden portrays Ikaris, an Eternal fueled by cosmic energy. Audiences can decide for themselves who they think is cooler: Harington's Black Knight or Madden's Ikaris.
If Harington is going to parlay his Game of Thrones exposure into a full-fledged, lengthy Hollywood career, he'll have to hope Marvel can continue its amazing streak of turning actors into household names. The likes of Chris Evans, Tom Holland, and Chris Hemsworth have the MCU to thank for their current A-list status, and with a Drogon-sized hole in his schedule, Harington has to be chomping at the bit to be playing another character with franchise potential.
It's unclear how Dane Whitman will fit into The Eternals as of yet. In the comics, Whitman becomes romantically entangled with Sersi, who will be played in the upcoming film by Gemma Chan. Still, Feige and company are no strangers to changing up the lore and events of the source material to fit their needs on the big screen, and getting an actor as popular as Harington for such a surprising role has to mean the character has a big role to play in that subset of the MCU going forward. 
The Eternals will release in theaters on November 6, 2020.