Game Of Thrones Prequel Series About House Targaryen In The Works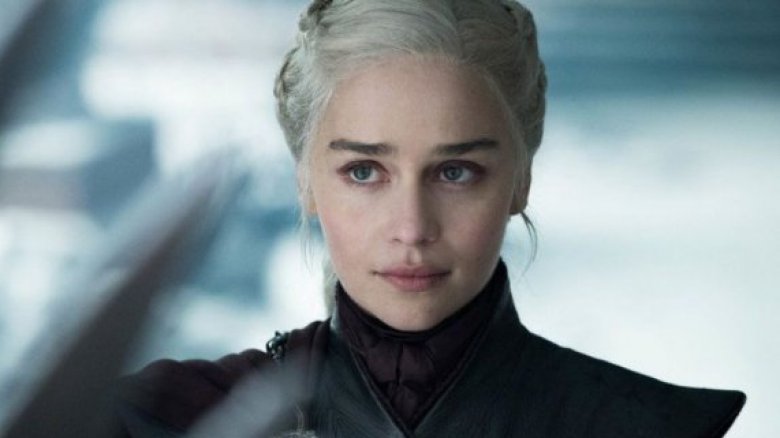 The Targaryen family has more tales to tell on HBO.
In the aftermath of the final season of its juggernaut series Game of Thrones, the premium network is eyeing a prequel series based on the legendary Targaryens (via Entertainment Weekly). 
Ryan Condal and A Song of Ice and Fire novel series author George R.R. Martin are writing the pilot's script. If HBO goes forward with the pilot and orders a full series, the Targaryen-centric project will be the second Thrones prequel set to air over the next couple of years. 
When Game of Thrones began in 2011, viewers only met two confirmed members of the ancient and royal Targaryen family: Daenerys (Emilia Clarke) and Viserys (Harry Lloyd), both of whom were first seen aiming to return to the mainland of Westeros to reclaim the Iron Throne and rule the Seven Kingdoms. Viserys didn't make it past the first season of Game of Thrones (dying a pretty gruesome death at the hands of Jason Momoa's Khal Drogo), but Daenerys eventually makes it all the way to the Throne... only to be assassinated by her lover and nephew, Jon Snow (Kit Harington), who, as it turns out, was a secret Targaryen prince all along.
Beyond Daenerys' journey, there's plenty to pull from as far as the Targaryen family goes — from her brother Rhaegar's secret romance with a Northern lord's sister (which would produce Jon Snow) to her father Aerys' descent into madness (a path Daenerys herself would later follow). EW also reports that the show will "lead up to" the civil war that went down amongst the Targaryens, which is known as the "Dance of Dragons" that took place 200 years before the events of Game of Thrones. 
Though this Thrones prequel series isn't fully set in stone yet, fans don't have to worry – at least one prequel is confirmed already. The unnamed pilot (which Martin has suggested could be called The Long Night, though Bloodmoon has also been floated as a possibility) will focus on events that happened thousands of years before the original Thrones series. Its cast, led by Naomi Watts, is already pretty stacked.
It's a bold move for HBO to put even more weight behind the Game of Thrones name with another prequel project. Despite the fact that it was one of the network's most successful series of all time, the eighth and final season was met with terrible reviews and reactions – thanks to slapdash decisions, rushed writing, and disappointing plot and character arcs. However, it's possible that the decision to tell entirely new Thrones stories could redeem HBO's track record, especially considering that David Benioff and D.B. Weiss, the showrunners responsible for the eighth season of Thrones, don't appear to be involved in either prequel series at this time. (They've got a Star Wars film to work on and a new Netflix deal, after all.)
We'll keep you updated on whether this new Game of Thrones prequel story gets the green light from the top brass over at HBO. One thing is for sure no mater what, though: the network clearly isn't finished spending time in Martin's world just yet.