George R.R. Martin Shares New Details About Game Of Thrones Prequel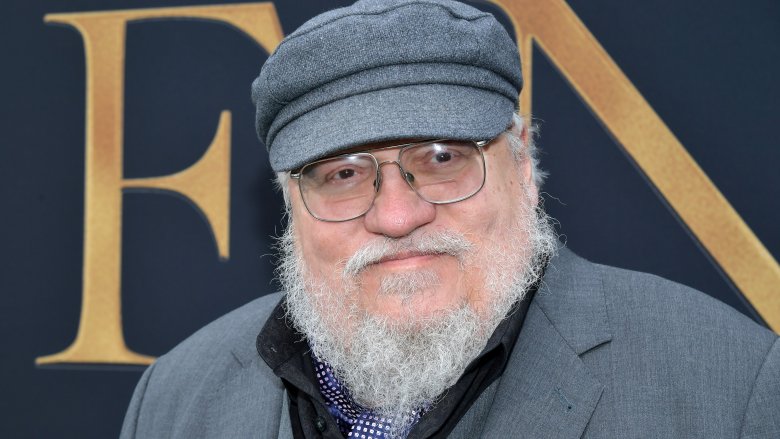 Amy Sussman/Getty Images
Game of Thrones fans take note — winter might have come and gone, but the long night may be far from over.
At least that's the news straight from the dragon's mouth about HBO's upcoming Game of Thrones prequel series. 
Just to be clear, the dragon in this scenario is Game of Thrones mastermind George R.R. Martin, who, in an interview with Entertainment Weekly, dropped a bevy of meaty bits about the hyper-secretive prequel, most notably that the series title may well end up being the rumored The Long Night, or some variation of that. Martin also confirmed that, in spite of previous beliefs, the currently in-production series will not focus entirely on three main leads (the already-cast Naomi Watts, Denise Gough, and Naomi Ackie), and will instead take a more ensemble approach with its characters to start. 
While HBO remains relatively mum on news of the upcoming series (perhaps preferring instead to focus their energy on supporting this year's sometimes brilliant but wildly divisive final season), we have already gleaned some important information about the whens, wheres, and whos regarding the prequel — i.e., the narrative will unfold toward the end of "The Age of Heroes," there will be no returning characters from the original series, and there will be, sadly, no dragons involved.
Those tidbits on their own are enough to spin wild speculation about just what stories will be told in the next iteration of Westeros. Luckily, a surprisingly loose-tongued Martin used his EW spotlight to dangle a few more compelling details about the series. 
First and foremost, we now know that we'll be seeing a dramatically different landscape in this Westeros, one split not into just seven kingdoms, but a staggering 100 — which is certain to make Westeros a far more untenable land (at least politically) than we've known. 
Of the leaders within this veritable wild west version of Westeros, Martin went on to confirm that there will, in fact, be Starks amongst them. Of course, given the time frame of the prequel series, it was already believed that the Starks — who are, after all, descended from the First Men — would figure prominently in the landscape. This little nugget also seems to confirm the rumor that actor Josh Whitehouse will likely be playing the founder of House Stark-slash-architect of the Wall-slash-namesake to the future King, Bran The Builder. And while we're still certain there will be not dragons in the prequel (sigh), Martin did confirm that White Walkers, Dire Wolves, and mammoths should all be making appearances throughout. Hey, maybe we'll even get to see a few of those giant ice spiders all the kids are still talking about? Here's hoping.
Though these juicy details are certain to fuel even more speculation from the series' intensely devoted fan base, Martin did quell one of the early rumors circulated by that fan base in the interview. The quashed rumor, you ask? That a certain platinum blonde-haired actor (a.k.a. Naomi Watts) would be playing a Lannister. Point of fact, the series actually predates the arrival of the Lannisters to Westeros — which Martin confirmed by bluntly quipping, "The Lannisters aren't there yet," before confirming that the Lannisters' lavish future home Casterly Rock, "is certainly there." 
If you'll allow us to speculate a little further on that deceptively cryptic tidbit, it does confirm there are no Lannisters around at the start of the series, but it certainly seems to leave the door open for their arrival somewhere down the road. While we're as geared up as anyone to see how the noble House of Stark rose to prominence, we'd be just as excited to see how the nefarious Lannisters came to power as well. Of course, we'll have to wait and see if both of those narratives figure in the prequel. 
It looks to be a long wait at that, with the still in production epic not hitting HBO until sometime in 2020 at the earliest, and possibly even getting pushed to 2021. Until then, we'll keep force-feeding our bloodlust by streaming the highlights from the groundbreaking original, and waiting to see how (or if) Martin himself finishes those darn books.