Joaquin Phoenix Says Playing Joker Was One Of The 'Greatest Experiences' Of His Career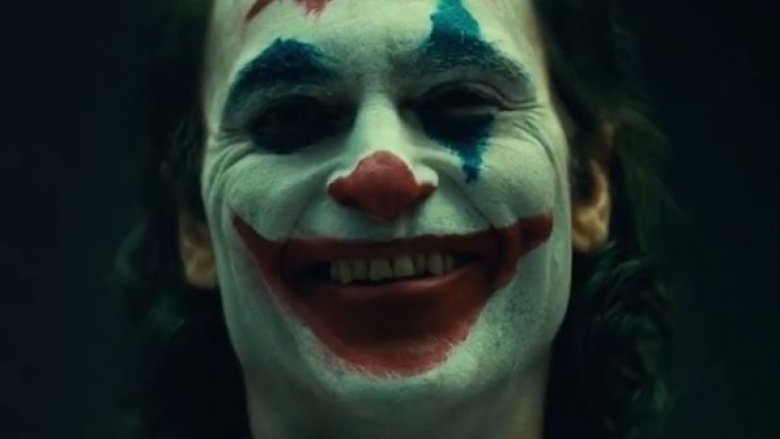 Joaquin Phoenix definitely doesn't think playing the Joker is a laughing matter.
During a post-screening Q&A at the Toronto International Film Festival — where director Todd Phillips' Phoenix-led Joker made its second outing after a hugely successful run at the Venice Film Festival (even winning this year's Golden Lion) — Phoenix opened up about his experience playing the Clown Prince of Crime. The actor described his leading role in the dark origin story as a career highlight. 
"I mean honestly, it wasn't an easy decision at first," Phoenix told fans (via Variety). "I didn't f***ing know. I didn't. But then there was something that was drawing me toward it. It just evolved as we worked together. It started becoming something more than I anticipated. It was one of the greatest experiences of my career."
This new supervillain-centric film is likely to be a big hit for Warner Bros., which is surely a relief for the studio after disappointing returns from DC Comics-based films like 2016's critical misfire (but commercial blockbuster) Suicide Squad and 2017's all-around flop Justice League. Joker is definitely a departure from the norm — taking inspiration from like Raging Bull and Taxi Driver (in fact, Robert De Niro himself appears in the film in a nifty bit of stunt casting) and approaching the titular character from a whole new perspective. 
Joker is the first movie to give a full backstory to the Joker, whom Phillips has christened as Arthur Fleck, a downtrodden stand-up comedian who turns to a life of crime and violence after being completely rejected by society. The film is already stirring up Oscar buzz of its own, and star Phoenix has many convinced that he'll take home the Oscar for Best Actor — which must be exciting for the venerated method actor who was previously nominated for Academy Awards for projects like Walk the Line, Gladiator, and The Master. 
In advance of the film's wide release, Phoenix is already getting plenty of attention for his Joker performance — and it certainly seems well-deserved considering the great lengths that the actor went to in order to perfect Fleck, from losing an enormous amount of weight to creating an extra-creepy laugh. It's entirely possible that he'll follow in his predecessor Heath Ledger's footsteps and take home an Academy Award for the role, despite the fact that Phoenix has done everything in his power to distance his performance from the late Ledger's scene-stealing turn in The Dark Knight.
In any case, Joker will have to make strides all on its own. Even though it's part of a rebranding effort from DC Films, Phillips said (during the same talkback at TIFF) that he can't really see it fitting in with the upcoming Batman installment starring Robert Pattinson, preferring to let Joker's story and style speak for itself.
Joker will laugh its way into theaters on October 4 — so if you've already got your tickets, prepare yourself for a career-defining role from Phoenix.