Joker: Joaquin Phoenix Didn't Reference Heath Ledger When Creating His Version Of The Character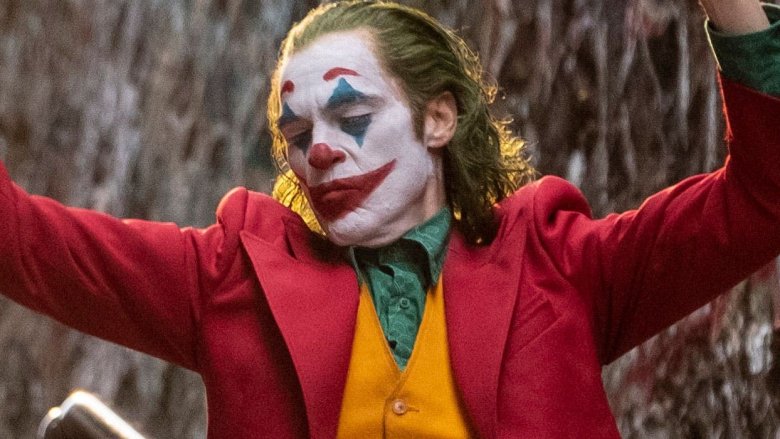 Warner Brothers/DC
Two brilliant performances, two legendary actors, two very different takes on the Clown Prince of Crime.
At a recent presser during the Venice Film Festival, Joker star Joaquin Phoenix revealed that, contrary to what might have been expected, he did not refer to Heath Ledger's iconic performance as the DC villain in 2008's The Dark Knight when crafting his approach to the character. (via Entertainment Weekly)
Phoenix's remarks square with director Todd Phillips' public remarks about the film, which aims to take a grounded, gritty look at the birth of a supervillain as filtered through the sensibilities of '70s auteur cinema and, in particular, the works of Martin Scorsese. Several of the master director's films — including Taxi Driver, Mean Streets, and The King of Comedy — served as inspiration for Phillips and co-writer Scott Silver, and Phoenix's description of his preparation for the role sounds quite like something we would expect out of Scorsese's muse Robert De Niro (who, not-so-coincidentally, co-stars in Joker). 
"The attraction to make this film and this character was that we were going to approach it in our own way, so, for me, I didn't refer to any past [screen portrayals of the Joker]," the actor said. "It just felt like something that was our creation in some ways."
This could be seen as a bold choice, considering that the late Ledger's unbelievably committed portrayal of the villain is one of the best performances — in any genre — ever put to film. It secured Ledger a posthumous Academy Award for Best Supporting Actor, and helped to recalibrate audiences' expectations of what a comic book film could be — but Phoenix's commitment to his craft is arguably equal to Ledger's, as evidenced by the fact that he began his preparation for the role by losing a whopping 52 pounds from his none-too-portly frame. Phoenix said that the drastic weight loss was one of many factors that ended up informing his portrayal.
"The first thing was the weight loss, that's really what I started with. As it turns out, that impacts your psychology, and you really start to go mad when you lose that much weight in that amount of time," Phoenix explained. "There's also a book about political assassins that I thought was interesting, and breaks down the different types of personalities that do those sorts of things [the Joker does in the movie]."
Phoenix's deep dive into the Joker's psychology ended up affecting not just his performance, but certain narrative elements of the film. For example, he explained that when developing the script, Phillips and Silver had initially been more detailed in filling out the character's backstory, including the mental health issues which are alluded to, but never fully explained, in the final cut.
"I wanted the freedom to create something that wasn't identifiable," he said. "This is a fictional character, and I didn't want a psychiatrist to be able to identify the kind of person he was. We were getting into medication and what issues he might have, but [I thought], 'let's step away from that.' We want to have the room to create what we want."
As a result of this approach, the Joker as presented in the movie ended up being more the product of collaboration between actor and filmmakers than it might have been, had a different actor been cast. "Throughout the course of shooting, every day felt like we were discovering new aspects of the character and shades of his personality, up until the very last day," Phoenix said.
The actor's determination to create his own distinct version of the Joker appears to have paid off in spades. The trailers for Joker have generated massive amounts of buzz, much of it centered on the possibility that Phoenix could become the second actor in a little over a decade to win an Oscar for portraying Batman's anarchic arch-nemesis. The clamor around Phoenix's possible nomination moved from the realm of "seems likely" to "probably inevitable" after the flick was screened in competition at Venice, where it received an eight-minute standing ovation and sent the vast majority of critics dragging their jaws on the ground behind them as they walked back to their hotels.
The buzz will almost certainly grow louder over the next month leading up to the movie's release. After it finally drops, we can look forward to an online debate over whose Joker was the best until the heat death of the universe. We submit, however, that there is plenty of room for two Oscar-winning Jokers in the pantheon of popular cinema (and yes, we're predicting right now that Phoenix will take home the statue). Nothing will ever diminish the greatness of Ledger's interpretation, or The Dark Knight's accomplishment in giving us a new vision of what was possible for a comic book movie — but by all appearances, Joker looks to pull off that very same feat again, on the strength of Phillips' and Silver's unique vision, and what looks for all the world like a performance for the ages by its star.
Joker hits the big screen on October 4.