Joker Wins The Golden Lion Award At Venice Film Festival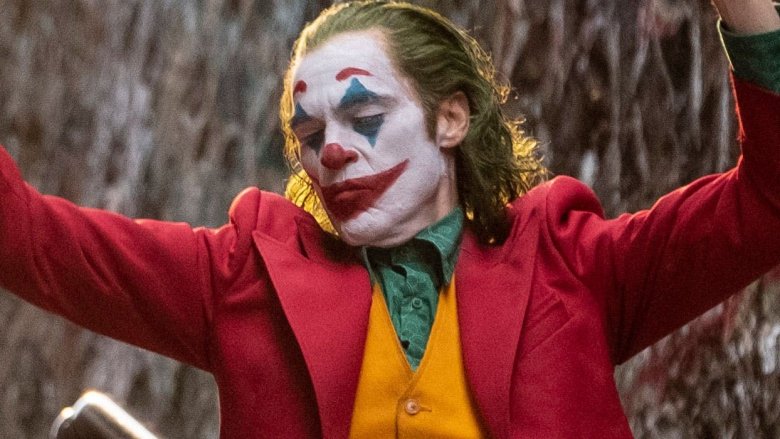 Warner Brothers/DC
The Clown Prince of Crime is taking the world by storm... the cinema world, that is.
Joker, the standalone origin story directed by Todd Phillips and starring Joaquin Phoenix, has won the Golden Lion — the Venice Film Festival's top prize, and one of the most prestigious awards in all of film. (via The Hollywood Reporter)
On the one hand, Joker's victory was not terribly surprising; it absolutely floored the majority of the critics who took it in at the festival, where it received an eight-minute standing ovation and dumped fuel on the already-simmering conversation around the film's Oscar chances. On the other, it was nothing short of a coup for studio Warner Brothers, who films based on DC comics properties — once informally known as the DC Extended Universe, now officially branded Worlds of DC — have not always received the warmest critical reception.
Although Joker is pretty far from your standard comic book flick — it's not based on any comic storyline, and was more heavily influenced by the '70s works of Martin Scorsese than anything else — it is nevertheless the first film to be based on a comics property to take home the prize, and that's somehow not even the most impressive aspect of its victory. Over the past quarter-century, only four purely American productions have taken home Venice's top prize: Ang Lee's 2005 drama Brokeback Mountain, Darren Aronofsky's 2008 character study The Wrestler, Sofia Coppola's 2010 drama Somewhere, and Guillermo Del Toro's 2017 dark fantasy The Shape of Water. 
We'd like to point out that of those four films, two were nominated for the Academy Award for Best Picture, and one — The Shape of Water — won. The Wrestler also received multiple nominations, one for Best Actor for its star Mickey Rourke. 
Phillips took the stage to accept the award, joined by Phoenix. He began by thanking Warner Brothers and DC for swinging for the fences with Joker, and for trusting him with his vision for the film, before addressing his star directly.
"There is no movie without Joaquin Phoenix. Joaquin is the fiercest and bravest and most open-minded lion I know," Phillips said. "Thank you for trusting me with your insane talent."
It's still several weeks before Joker even receives its theatrical release, but it's quickly becoming one of the most talked-about films of the year. In addition to the bonkers prospect of Phoenix potentially becoming the second actor in a little over a decade to win an Oscar for playing the Joker (the first being Heath Ledger in 2008's The Dark Knight), much of the talk has centered around how the movie — with its protagonist being a mentally unstable loner who turns to violence when he is rejected by society — plays in 2019, as the rage of alienated white males much like Phoenix's Arthur Fleck seems to lead to a new and more heinous mass shooting in the United States every week.
Phillips addressed the possible misinterpretation of his film by such disaffected individuals at a presser while in Venice. Asked if Joker had been influenced by the current political climate and debate over gun violence, the director indicated that his intent had been to make an artistic statement, not a political one.
"I think movies are, oftentimes, mirrors of society — but they're never molders, right? So even though the movie takes place in [the] late '70s, early '80s, we wrote it in 2017. So inevitably, certain themes find their way into the movie... not everybody sees that, some people just see it as a new take on a Joker origin story. So, you hate to define it for people... and it's certainly not a political film... I mean, for some people. It just really depends on the lens [that] you view it through."
Regardless of the director's intent, Joker seems destined to stir up a wealth of controversy from a variety of angles. It's a gritty prestige picture based on a comic book villain, a Joker movie with no Batman, and a showcase for an actor whose considerable talents have taken him to some pretty strange places over the years (see: Phoenix's faux-documentary I'm Still Here). 
It's also proven to be quite divisive. While the vast majority of critics who caught the film's Venice screening were utterly blown away by the picture, those who disagreed typically had an equally strong reaction: they hated it, heaping scorn on the very aspects of the movie (Phillips's story and direction, Phoenix's performance) that drew rapturous praise from their peers.
Yes, Joker is a film that has already proven that it will be many different things to many different people, but there's one thing it won't be: ignored. Early tracking suggests that the film could post an opening weekend box office total in excess of $100 million dollars, which would hand it one of the best debut frames ever for an R-rated picture. This leads us to one of our patented, searingly insightful observations: if it seems like everyone and their brother is talking about this flick now, just wait, because you ain't seen nothing yet.
Joker hits the big screen on October 4.