What The Critics Are Saying About Joker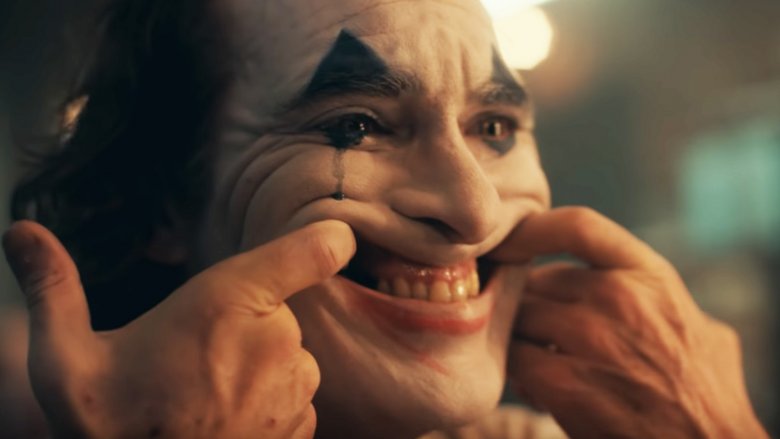 This is no laughing matter. 
Director Todd Phillips' Joker — the dark, gritty, R-rated take on DC Comics' infamous Clown Prince of Crime — is still over a month away from launching in theaters on October 4, but the flick had its debut on Saturday, August 31 at the Venice Film Festival in Italy. What happened when the audience saw Joaquin Phoenix on screen as Arthur Fleck, the mentally unstable struggling comedian whose hardships push him over the edge and into a life of crime? Magic, apparently. 
Joker is said to have received an eight-minute standing ovation and "shouts of 'bravo!'" at the Venice Film Festival, with critics racing to their laptops to publish their thoughts on the comic book adaptation that will change comic book adaptations forever. The first reviews for Joker came rolling out soon after — so what do the critics think of the flick? 
Well, the vast majority have praised it on high. Joker's critical consensus on Rotten Tomatoes proclaims that it "gives its infamous central character a chillingly plausible origin story," allows for lead actor Phoenix to showcase his Oscar-worthy talents, and serves as a "dark evolution for comics-inspired cinema." Not everyone enjoyed Joker, of course, but negative reviews have been few and far between. 
Writing for Vital Thrills, Jenna Busch applauded Phoenix's transformative performance as Arthur Fleck, the man who eventually becomes the Joker: "Joaquin Phoenix is astounding as Arthur Fleck/Joker ... The physical moment of the character alone could convey what is going on with him, even if there had been no dialogue... He's awkward and twisted (particularly his arms and the position of his head) when he's trying to be 'normal.' The little dances he does as he tries to act sexy or confident are the sort that make you embarrassed for someone at a party. As he becomes who he really is, the movements are powerful."
Busch gave Joker a perfect score, adding, "I'm struggling to find something to critique here. As I've spoken about the film to myself and my colleagues, I've come up with nothing. I'm sure I won't be the only one. This standalone film was a brave choice by Warner Bros., and it's very likely going to pay off. Again, this is a difficult film to watch, and it's going to take time to process, but ultimately, I think this is going to be a definitive part of Joker canon."
Another flawless score — this time five out of five stars — came from Empire Online's Terri White, who described Joker as "a sad, chaotic, slow-burn study of someone who isn't visible; who doesn't even exist to the world around them." 
White continued, "What writer/director Todd Phillips and co-writer Scott Silver (8 Mile, The Fighter) have written into life is the Joker as a character. What they and the film [are] interested in is the mental, moral, emotional, physical make-up of the man who became the Joker ... Bold, devastating and utterly beautiful, Todd Phillips and Joaquin Phoenix have not just reimagined one of the most iconic villains in cinema history, but reimagined the comic book movie itself."
Phil De Semlyen from Time Out also handed Joker five shining stars — writing that the film is "arguably the best social horror film since Get Out," and arguing that Phoenix "runs Heath Ledger cigarette-paper close as the finest screen Joker."
Even more perfect scores came from Brandon Davis at ComicBook.com and Pete Hammond at Deadline. 
Davis wrote that Joker is unlike any DC film or comic book movie that's come before it, and also predicted that Joker will earn several Academy Award nominations, including a Best Actor nod for Phoenix. "For this, the actor demands an Oscar nomination. It might not be the only nod this DC Comics movie earns. The cinematography, score, and direction create something unlike anything before it — and it's terrifying, thrilling, and moving," said Davis. "There has never been a movie like this in the genre ... you'll need to see to believe it and, even then, you still might not believe it."
For his part, Hammond heralded Phoenix for giving "a performance so dazzling, risky, and original, you might as well start engraving his name on the Oscar right now," and praised Joker as "unlike any other [movie] from the DC universe" that will be "impossible to shake off." Hammond also wrote in his review, "Heath Ledger took it in a different direction in The Dark Knight and won a posthumous Supporting Actor Oscar, and now Joaquin Phoenix gets his turn as the character in the stand-alone origin movie Joker in a bravura piece of filmmaking that speaks to the world we are actually living in today in ways that few movies do. If you thought you knew Joker before this Joker, think again."
A common note amongst these first-out-of-the-gate reviews for Joker is that the film serves as a commentary on our modern society. However, not everyone agreed on its effectiveness. Deadline's Pete Hammond argued that Joker will make audiences think about the role violence plays in our current culture — particularly when people who feel scorned by society turn to extreme brutality as a perceived solution. Others, like RogerEbert.com critic Glenn Kenny, felt that Joker doesn't actually offer a meaningful message about alienation or vengeance in society. Kenny wrote in his review, "As social commentary, Joker is pernicious garbage."
Kenny gave Joker a negative review overall, writing, "The final minutes, which will move any sentient viewer to mutter 'would you just pick a godd*** ending and stick to it?' are likely an indication of what kind of mess we would have had on our hands had Phillips been left entirely to his own cynical incoherent devices for the entire runtime."
Stephanie Zacharek of TIME Magazine felt similarly: "The aggressive and possibly irresponsible idiocy of Joker overall is [Todd Phillips'] alone to answer for. Phillips may want us to think he's giving us a movie all about the emptiness of our culture, but really, he's just offering a prime example of it ... Joker is dark only in a stupidly adolescent way, but it wants us to think it's imparting subtle political or cultural wisdom." 
She added that Phoenix's turn as Arthur Fleck was extremely off-putting — she described him as "acting so hard you can feel the desperation throbbing in his veins" — and that the "sick joke" of Joker is "on us."
Though most reviews focused on Phoenix's performance when it came to discussing the actors of Joker, many others had kind things to say about the film's supporting cast — which includes Zazie Beetz as Sophie Dumond, Arthur's love interest; Robert De Niro as Murray Franklin, a talk show host who plays a part in Arthur's downfall; Frances Conroy as Penny Fleck, Arthur's ailing mother; and Brett Cullen as Thomas Wayne, the billionaire philanthropist campaigning to become mayor of Gotham. 
As always, these are only a handful of reviews — and extremely early ones at that — so we urge fans to hold out until Joker hits theaters on October 4 to formulate their own opinions on the flick.