J.K. Rowling Says There Won't Be A Cursed Child Movie Trilogy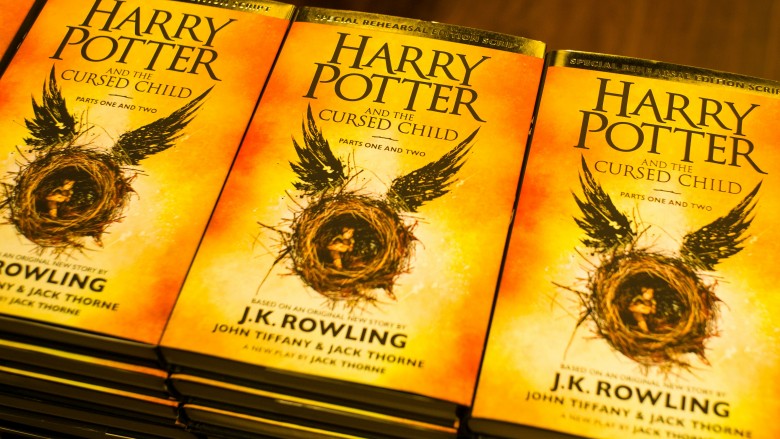 Getty Images
Sad news, Harry Potter fans: J.K. Rowling says there's "no truth" to rumors we could soon be seeing a movie trilogy based on Harry Potter and the Cursed Child.
Cursed Child, written by Jack Thorne based on a story by Thorne, Rowling and John Tiffany, premiered on the West End in July of 2016, and has been playing since to sold-out theaters and critical acclaim. The story follows an adult Harry Potter and his family 19 years after the events of Harry Potter and the Deathly Hallows.
With the financial and critical success of the original Harry Potter films and the following Fantastic Beasts and Where To Find Them, it makes sense that rumors would immediately start to swirl about Cursed Child being made into its own film. Although Warner Bros. quickly put those to rest, rumors of a possible trilogy surrounding the play persisted, most recently being fueled by comments made by journalist Jim Hill on the Unofficial Universal Orlando Podcast.
"I have heard that Warner Bros has actually had conversations with [Emma Watson], with Rupert [Grint], and, of course, Daniel [Radcliffe] about Cursed Child, because they want this to be, for lack of a better term, Harry Potter: The Force Awakens," he said.
However, Rowling put the kibosh on those rumors with a Tweet on Friday morning, writing, "I know a lot of people are looking for reasons to be cheerful today, but there is NO TRUTH to the rumour about a #CursedChild movie trilogy!"
With dreams of a Cursed Child movie officially crushed, we can now go back to obsessing over the book and reading about these characters who were more important than we realized.