What The Rotten Tomatoes Reviews Are Saying About It: Chapter Two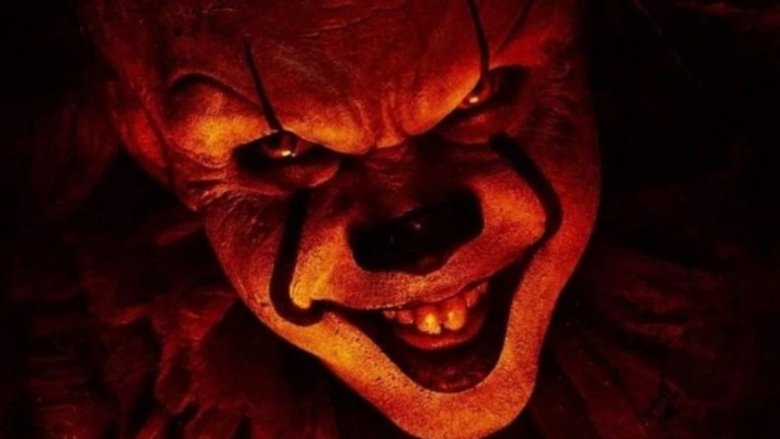 Warner Brothers / New Line
Pennywise is returning — and the Losers' Club might not like it, but film critics are pretty psyched.
It: Chapter Two has been screened for professional reviewers, and most are in agreement that the flick is a worthy follow-up to 2017's smash hit It: Chapter One — and that together, the two movies represent one of the better Stephen King adaptations ever put to film.
King's 1986 masterpiece It tells the story of a group of outcast youths who must confront the evil plaguing their small town of Derry, Maine — one which appears most often in the guise of Pennywise, the Dancing Clown, and which awakens from hibernation every 27 years to bring violence and mayhem to the town while feasting on its children. During a battle in the sewers below the streets of Derry, the "Losers' Club" manages to severely wound It and drive It back into hibernation — but they fail to finish the job. When It returns over a quarter century later, It's all too eager for a rematch with the now-adult Losers.
While King's novel jumped back and forth between the two time periods, It: Chapter One and Chapter Two director Andy Muschietti and screenwriter Gary Dauberman wisely chose to have the first film focus on the Losers as youths, with the second covering their reluctant return to Derry to take on Pennywise as adults. 
It: Chapter One starred Jaeden Lieberher as "Stuttering" Bill Denbrough, Finn Wolfhard (Stranger Things) as motormouthed Richie Tozier, Jack Dylan Grazer (Shazam!) as sickly Eddie Kaspbrak, Jeremy Ray Taylor as pudgy Ben Hanscom, Wyatt Oleff as uptight Stan Uris, Chosen Jacobs as troubled Mike Hanlon, and Sophia Lillis as freewheeling Beverly Marsh; Chapter Two stars James McAvoy as Bill, Bill Hader as Richie, James Ransone as Eddie, Jay Ryan as Ben, Andy Bean as Stan, Isaiah Mustafa as Mike, and Jessica Chastain as Beverly. Chapter One's young cast also appear in flashbacks, and Bill Skarsgård also returns after delivering a blistering, feral rendition of Pennywise in the first film.
Skarsgård was praised far and wide for his performance in Chapter One, and that trend continued with the second installment, with many critics noting that Muschietti's decision to give Pennywise less screen time actually served to make him even scarier. Wrote USA Today's Brian Truitt, "Andy Muschietti deploys Pennywise sparingly; it's a smart decision, because it makes the villain's appearances special, and Skarsgård finds new ways to totally freak you out, even in a surprisingly human fashion."
Katie Smith-Wong of Flick Feast agreed, praising the performances of the entire cast while singling out Skarsgård for his "terrifying" turn: "Overall, It: Chapter Two reminds audiences that horror film sequels can be good, with Skarsgård reinforcing Pennywise's position as the scariest clown ever," she opined.
The entire cast was on the receiving end of plenty of critical kudos, but none quite so much as Hader, the Saturday Night Live alum who has proven adept at folding a little darkness into his hilarious persona with his HBO series Barry. Wrote Arizona Republic's Bill Goodykoontz, "Everyone in the cast is good — Ransone as the hypochondriac Eddie, who never ceases complaining, is welcome comic relief. But Hader rises above the rest. If you've seen Barry... [then] you know he has no problem blending comedy and drama. In this case, he adds horror to the mix, and he's just as good at that, too."
Goodykoontz was far from the only critic to acknowledge Hader's contribution to the flick; he was hailed as its "MVP," and its "heart and soul," with a "wonderful ability to meld humor and horror," among other superlatives. But with a novel as thematically dense and challenging as the source material, a crackerjack cast will get you nowhere with an expertly crafted script and assured direction — and fortunately, Dauberman and Muschietti came through.
"Muschietti has managed to craft a series of chilling set pieces designed to give everyone a touch of coulrophobia," wrote Digital Spy's Ian Sandwell. "While there's nothing in the sequel that a die-hard horror fan won't have seen before, the set pieces are so effectively done that they'll have an impact regardless... there are creepy delights to savor throughout, including some classic book moments that have been brilliantly realized."
Alex Godrey of Empire also gushed over the dedication to craft apparent throughout the sequel. "Muschietti's shackles are off," he wrote. "[He] walks a constant tightrope. He never falls off. [He] has stepped up, skillfully guiding us through a rollicking funhouse. It is obscenely entertaining."
Of course, not every film can please every critic, and even some of It: Chapter Two's positive notices opined that it may have been a bit of a letdown from the first film. Some, however, were not nearly so kind. Wrote Peter Bradshaw of The Guardian, "Unlike the first movie, it is just so pointlessly long: approaching three hours, with our heroes finally beginning to assume a glassy-eyed solemnity like Hogwarts graduates or the Fellowship of the Ring... it feels as if the movie is jumping the shark and jumping back again, increasingly spending more and more time on the wrong side of the shark and finally staying there."
The film's beefy run time was objected to by many others, including Entertainment Weekly's Leah Greenblatt, who wrote, "The main problem with Chapter Two is that it goes on, and on, for so very long. If brevity is not necessarily the soul of a good scare, it would certainly serve a story that sends in the clowns, and then lets them just stay there — leering and lurking and chewing through scene after scene — until the there's nothing left to do but laugh, or leave."
Still others, like A.V. Club's Katie Rife, faulted the flick for its perceived failure to deliver the one thing that would have made up for having butt glued to theater seat for the better part of three hours: actual scares. "The film isn't an abject failure by any means; it has some funny jokes, a couple of really good performances, impressive creature and set design, and pleasing cinematography," she wrote. "But when it comes down to it, It: Chapter Two just isn't all that scary."
The flick's naysayers, though, were firmly in the minority camp, and many of those critics who offered their praise did so in hyperbolic fashion. The movie was pegged as "psychologically merciless," a "bacchanal of blood, brutal beauty, and bold vision," a "triumphant" picture that "gets under your skin."
Well, the Master of Horror has seen his share of subpar adaptations of his work over the last, oh, four decades or so — but by most accounts, Muschietti and his cast and crew have stepped up to deliver a thrilling one-two punch, a pitch-perfect take on what many fans consider to be King's greatest work. It: Chapter One was one of our favorite films of 2017, and we're just glad we didn't have to wait 27 years for Pennywise to resurface; we'll be there with bells on when It: Chapter Two hits the big screen on September 6.