Tom Holland Finally Speaks His Mind After Disney And Sony Split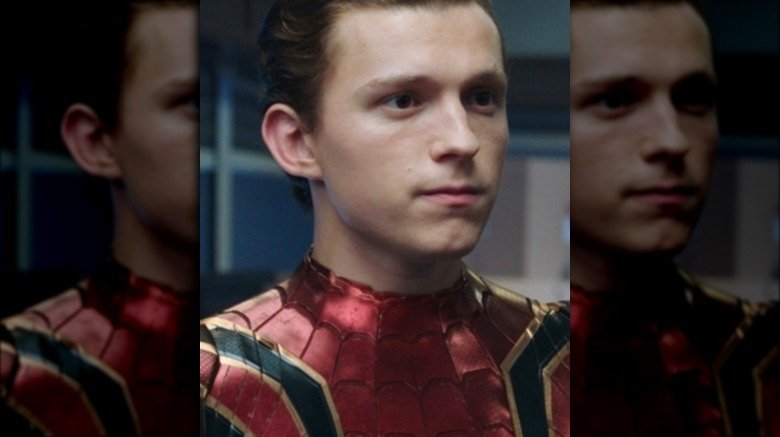 Spidey is speaking out. 
Things have not been easy for Tom Holland as of late. He's had one of the worst weeks an actor could ever have after the unthinkable happened: news broke that Disney and Sony failed to renegotiate their 2015 deal that allows Holland's Spider-Man the freedom to appear in Marvel Cinematic Universe movies and his own solo franchise at Sony Pictures — thus meaning that Spider-Man is leaving the MCU and sticking with Sony from now on. 
Holland's world got flipped upside down, his future with both Marvel Studios and Sony Pictures was called into question, and his millions of adoring fans wondered why he wasn't speaking out about the situation. One would imagine that Holland, a longtime Spider-Man fan and someone who clearly loves portraying the web-flinging hero, would be devastated over the Disney-Sony divorce — and they'd be mostly right.
Holland finally broke his silence about the studio split during D23 Expo on Saturday, August 24. Taking the stage to promote his upcoming movie Onward, a Pixar animated flick also featuring Marvel favorite Chris Pratt, Holland admitted that he's been having a rough time since the news dropped, and he's trying to focus on what matters most. Though Holland didn't say much, the message he did deliver to his fans was incredibly emotional: "It's been a crazy week, but I want you to know I am grateful from the bottom of my heart, and I love you 3,000" (via Deadline). 
The 23-year-old actor's candid admission that his life over the past few days has been anything but fun is both refreshing and heartbreaking, and his mention that he's genuinely thankful for his fans and for the opportunity to play Spider-Man over the years is enough to make anyone shed a tear or two. 
But it was Holland's reference to the most heartbreaking line in Avengers: Endgame that truly sent D23 attendees over the edge and into Cry Town. Robert Downey Jr.'s Tony Stark, the man who mentored Peter Parker and was training him to become a member of the Avengers, said "I love you 3,000" to his young daughter Morgan throughout Endgame, repeating the phrase in a hologram video following his death at the tail end of the movie. Marvel fans have since incorporated the line into their lexicon, using it to express how much they adore the actors who have built the superhero franchise and given them so many films to enjoy. That Holland said it back to his supporters in such a chaotic time is quite special. 
After the presentation at D23, Holland spoke with Entertainment Weekly about leaving the MCU, promising that he'll keep stepping into the Spidey suit for as long as he can and continue making the franchise as great as it can be. 
"Basically, we've made five great movies. It's been five amazing years. I've had the time of my life. Who knows what the future holds? But all I know is that I'm going to continue playing Spider-Man and having the time of my life. It's going to be so fun, however we choose to do it," he said. "The future for Spider-Man will be different, but it will be equally as awesome and amazing, and we'll find new ways to make it even cooler."
Marvel Studios president Kevin Feige, who produced Spider-Man: Homecoming and Spider-Man: Far From Home, also addressed the situation, echoing Holland in saying, "[What] I'm feeling about Spider-Man [is] gratitude and joy. We got to make five films within the MCU with Spider-Man: two standalone films and three with the Avengers. It was a dream that I never thought would happen. It was never meant to last forever. We knew there was a finite amount of time that we'd be able to do this, and we told the story we wanted to tell, and I'll always be thankful for that."
In a perfect world, Holland would have never needed to address the Disney-Sony breakup because it never would have happened. If all had gone the way everyone — and that includes Disney brass, Sony executives, and every adoring fan around the world — truly wanted it to go, the two companies would have been able to reach an agreement to keep Spider-Man in the MCU. Instead, Disney reportedly asked for its five percent share in first-dollar revenue to be increased to a 50 percent co-financing stake in the property. Sony is said to have declined without counter-offering, stepping away from the dealing table and sealing Spidey off from Marvel. 
It was news no one expected to hear, especially since Spider-Man: Far From Home had just crossed the $1 billion benchmark at the box office and soon after beat out the 2012 James Bond movie Skyfall to become Sony's highest-grossing film of all time. It was also shocking considering Far From Home ended Marvel's Phase 3, and that many were pondering Spider-Man's place in the upcoming Phase 4 and beyond. A third Spider-Man movie to follow Spider-Man: Homecoming and Spider-Man: Far From Home felt inevitable given the second pic's commercial and critical success as well as how important Peter Parker had become in the MCU throughout his five appearances. To outsiders, it felt like Holland's Spider-Man was going to avoid the same fate as Andrew Garfield's iteration of the character: he would get to complete his trilogy — and might even continue swinging around other Marvel movies thereafter. It also seemed like Sony and Disney would do nothing to jeopardize the deal they struck in 2015. But, as it happens, those assumptions were wrong. 
There's no telling what will happen for Holland's Spider-Man next, but one thing's for sure: fans will be telling him they love him 3,000 for years to come.