Why Fans Are Upset With Tom Holland After Disney Loses Spider-Man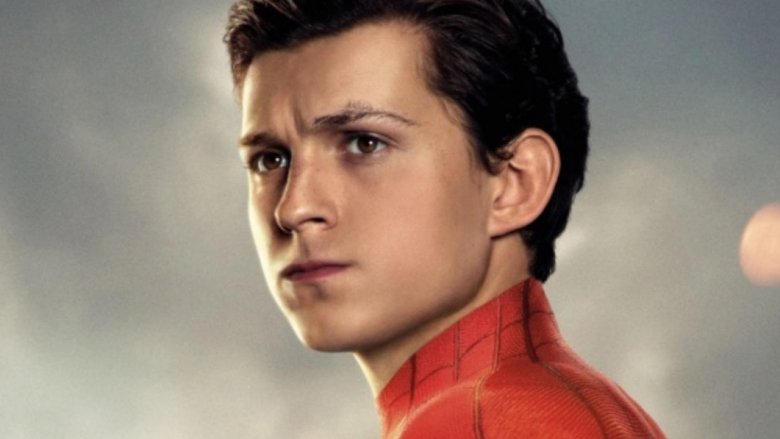 Forget webs — fans are flinging some serious side-eyes at Tom Holland. 
In the wake of Sony and Disney's failure to rework the deal that let Holland's Spider-Man appear in Marvel Cinematic Universe movies and his own solo franchise, those who should be rallying behind Holland have begun calling him out. Surprising as it is to hear, there's some heartache over Holland's attitude in the immediate aftermath of the Sony-Disney divorce. 
Fans on Twitter have wondered why Holland hasn't addressed the situation directly, and why his behavior on social media hasn't changed at all. Holland went from posting a selfie in an elevator prior to Sony and Disney parting ways to sharing a photo of himself in a sleek new car and sharing snaps with Iron Man actor Robert Downey Jr. after the two corporations divorced. This has confused many fans, who are under the impression that Holland is completely unfazed by the news.
One Twitter user lamented that while Spider-Man fans have been "crying and all night tracking incoming information, expressing sympathy for the entire cast of the spider-man in previous films, cursing sony, disney and marvel," they feel Holland has put his blinders up and is acting like he thinks people are being overly dramatic. The snap of Holland in his car, which he apparently bought from Instagram's resident luxury car dealer RD Whittington (a.k.a. wiresonly), was evidently the ultimate breaking point for that heartbroken fan. 
Others have been begging Holland to release a statement about Spider-Man leaving the MCU and clear up the many questions surrounding the situation — instead of, you know, driving around California in a super-expensive car. One Spider-Man enthusiast wrote on Twitter, "How can Spider-Man leave MCU? Can there even be an Spider-Man 3 Story without reference to MCU now? The whole story in #FarFromHome is about aftermath of The Blip. @TomHolland1996 make some statement about this Tom." 
Another fan appeared to be upset over Holland's online behavior because, in their eyes, it comes across like he's avoiding answering questions.
On the flip side, there are also fans who are sympathizing with Holland. Though they may be holding their breaths waiting for Holland to issue an official statement about his new status at Sony Pictures, and while they'd probably appreciate it more if Holland wasn't sharing photographs of himself hanging with Downey Jr. and playing with Spider-Man and Iron Man action figures, other people are confident that Holland's avoidance of the news isn't because he's not upset or doesn't want to give his fans clarity. 
One fan tweeted, "He probably cant talk about it or is even kept out of the loop regarding the negotiations." Another speculated, "Guys tom holland isn't talking about the spiderman news because he's probably depressed in his bed watching love island in his pajamas."
Some fans, like Twitter user @willlane1997, were actually comforted by the fact that Holland wasn't quick to discuss the news and felt that his Instagram-posting antics are exactly what everyone needs right now: "Tom Holland posting a pic of him driving around in a cool car on Instagram while all the Spider-Man / Sony / Marvel drama is happening is the wholesome anxious chaotic energy I need from him during this difficult time."
While Holland has yet to step up to the proverbial podium and let the world know what the future holds for his iteration of Spider-Man, the actor hasn't kept entirely quiet about the news. As we mentioned, Holland did recently hang out with Downey Jr. — and we mean really recently. The two were together on Thursday, August 22, which was just two days after reports of the Sony-Disney fallout first surfaced. Holland and Downey Jr. seemingly went on a hike, then headed back to a house to unwind and goof off. Putting the pieces together, it's most likely that the two spent the day in each other's company because they're working on completing Universal Pictures' upcoming movie Dolittle and not because of anything related to the Spider-Man situation. However, Holland's caption of that Instagram post has raised more than a few eyebrows. He wrote beneath the photos of himself and Downey Jr., the man behind Peter Parker's mentor Iron Man, "We did it Mr Stark!" 
Whether that means the two grabbed their pitchforks and caused a fuss at Sony's offices, we don't know, though it's certainly more plausible that Holland's caption was in celebration of completing a tough hike in the Hollywood heat. However, Holland isn't exactly one to follow the rules — his excessive spilling of Marvel spoilers is evidence of that — so who knows? Maybe he and Downey Jr. did link up and ask Sony and Disney to head back to the negotiating table for the sake of Spider-Man fans everywhere. 
All we know for certain is that a formal statement from Holland is still to come. Let's just hope that he doesn't spark any more anguish on social media between now and then.