Will There Be A Mindhunter Season 3?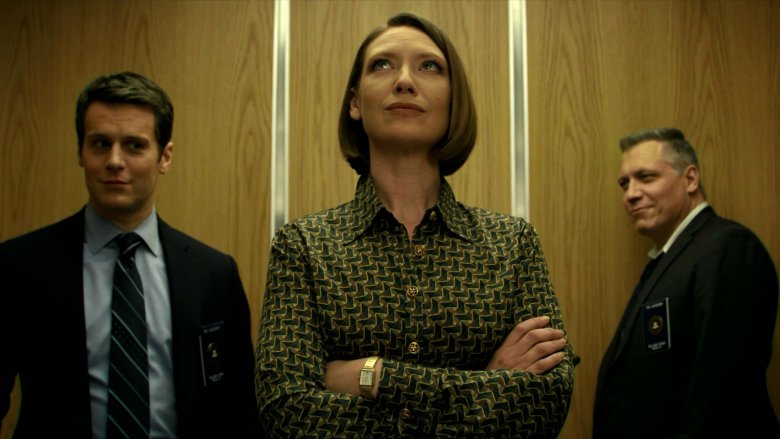 One of Netflix's most darkly captivating, well-written, and gripping original series to date returned with its hotly anticipated second season in mid-August 2019. Following what was nearly a two-year break after its critically acclaimed first season, Mindhunter made a monumental comeback with its sophomore turn that dazzled in similar fashion. The question on everyone's minds after having binge-watched all nine episodes of Mindhunter season 2 is simple: Will there be a Mindhunter season 3?
Netflix hasn't renewed Mindhunter for a third season as of the weekend after its second season premiere — but before anyone starts breaking out in a sweat and panicking that more Mindhunter will never come their way, we should remind you that this limbo period is standard procedure. Normally, the streamer holds off until at least a few weeks after a series has aired to make a decision regarding renewal. It's sensible — why would Netflix give the green light to another season of a show if critics and audiences hated the most recent offering? And let's not forget that the streamer waited a month after Mindhunter season 1 dropped to announce that season 2 was in the pipeline. 
Thankfully, Netflix has nothing to worry about as far as reviews are concerned. Everyone is loving the 100-percent-fresh-rated Mindhunter season 2, which expertly avoided the sophomore slump by continuing to build the lives of its core three characters — Special Agent Holden Ford (Jonathan Groff), Special Agent Bill Tench (Holt McCallany), and Dr. Wendy Carr (Anna Torv) — while bringing big changes to the Behavioral Science Unit of the FBI, introducing an even more notorious slate of serial killers to interview, and focusing on the infamous murders that shook Atlanta between 1979 and 1981. The notion that the second season of Mindhunter has solidified the series, executive produced and directed by David Fincher, as being amongst the best shows Netflix has created isn't uncommon. Critics agree that the show is only getting better the deeper into its story it explores — a promising fact when considering that audience response is likely a major deciding factor in Netflix's decision to order a third season of Mindhunter. 
Wonderful response aside, it seems plausible that Mindhunter season 3 will happen based on the events of season 2. We'll avoid treading into spoiler territory for your sake, dear friends, but we will mention that the way Mindhunter season 2 ended certainly leaves the door open for more episodes to follow.
Additionally, there's also the question of where Mindhunter is going with the vignettes that have opened each episode of the series thus far. Season 1's vignettes followed the character then only known as the ADT Serviceman, played by Sonny Valicenti, as he planned his heinous crimes. The clips that kicked off season 2's episodes continued following him — though audiences then learned that he's Dennis Lynn Rader, otherwise known as the BTK Killer. Mindhunter season 2 spent a great deal of time discussing the BTK Killer, with the members of the ever-expanding BSU using the information they gleaned from their interviews with incarcerated serial killers to try to create a profile that will help the FBI catch him. As some may know, Rader wasn't apprehended until 2005 — nearly three decades after the beginning of Mindhunter, the first season of which was set in 1977. Mindhunter has given fans every reason to believe that the story of the BTK Killer isn't over yet, leaving plenty of hope for a third season. 
Another element working in favor of a third season of Mindhunter? The fact that Fincher has always planned on making five seasons of the series. According to actor McCallany, Fincher "wants to do five years of this show." He shared with Screen Rant in an October 2017 sit-down, "I believe in his talent ... five seasons of these characters and so I'm hopeful, you know I don't take anything for granted."
McCallany told Esquire thereafter that he read a "five-season bible" that "laid out the broad strokes" of the series, with a "detailed rundown of season 1, and then an overview of what potential subsequent seasons would look like." He added, "Hopefully we'll have five seasons, if all goes well, and if you're gonna work with somebody for five years, you'd better make sure it's somebody you have a good experience with ... I was really lucky to be with a director that I like and admire, and a co-star, Jonathan Groff, who is one of the nicest guys in show business. He's just such a sweetheart, everybody loves him, and he's very professional and very prepared and very respectful to David and to the crew. He's just a pleasure to be around. I kind of lucked out on this one."
John E. Douglas, the real-life FBI agent upon whom Groff's character Holden Ford is based, has also noted that Mindhunter will score five seasons — if not more — and that the actors are serious about sticking with their characters for years to come. He told Vulture in May 2019, "There's so many killers. I mean, Mindhunter is going to have a five-year arc. At least five years is what they are planning. That's what David Fincher asked both the actors: 'Can you give me five years here?' In fact, Jonathan Groff is actually reading the audiobook of The Killer Across the Table. We asked him to do it and I'm surprised he did it. Nice guy. Both of them. Holt McCallany, who plays Bill Tench, met up with me after a panel and we got dinner. He spent time at my house just learning and trying to figure this character out. He's supposed to be more like my partner, Robert Ressler, but some of his personality traits are more like mine. I was pretty assertive, more so than the Holden Ford character, but I think he may be going there."
More recently, McCallany told PopCulture.com that hopes are still high for Mindhunter season 3 (and season 4 and season 5). 
"We are hopeful that we will get to do the whole five seasons because the audience seems to have really responded to the show, people really like the show," he said. "And we're very proud of the show, and very excited to keep making the show."
For now, Mindhunter season 3 feels like an inevitability, but without Netflix stepping up and making the announcement, all we can do is sit on our hands, bide our time, and pray to the TV-streaming gods that more Mindhunter is in our future.