Shang-Chi Actor Simu Liu Addresses Critics Arguing He's 'Too Ugly' To Play Marvel Hero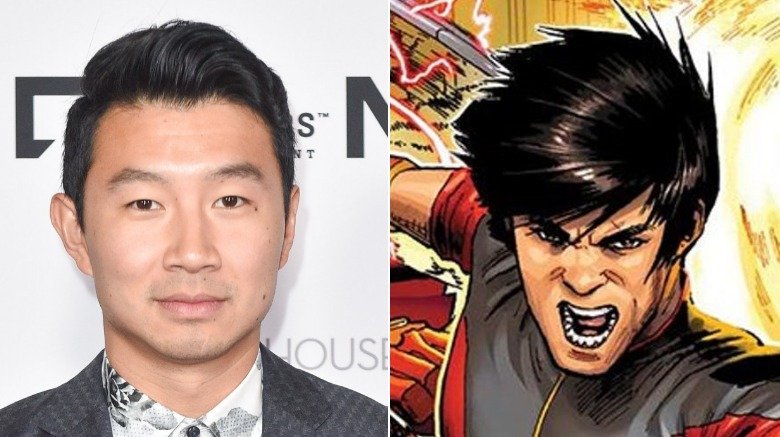 Getty Images / Marvel
Simu Liu can teach us all a thing or two about handling criticism on the internet.
The actor, who will hold down the title role in Marvel Studios' upcoming Shang-Chi and the Legend of the Ten Rings, took to Facebook to post a lengthy response to a YouTube video suggesting that he may not be good-looking enough to play the hero.
The YouTube channel Asian Boss posted the video on August 8, a "man on the street" style clip in which a reporter named Tony hit the bricks in an unspecified Chinese city to ask the locals what they thought of the casting. The reporter prefaced his sojourn with a few remarks, saying, "Despite the fact that Shang-Chi and the Legend of the Ten Rings will be the first ever Asian-led superhero movie, there has been a lot of controversy surrounding its casting choices — specifically of Simu Liu and Awkwafina, who are considered very ugly according to local Chinese social media."
The reporter then proceeded to flash photos of the actor to a series of random passersby (mostly women), most of whom proclaimed the actor to be average-looking, and one of whom opined that the 30-year old looked too "mature" and "old-fashioned" for her tastes.
Well, let's just get this out of the way: we think Liu is a perfectly good-looking guy, and even if he were not, it's not like anybody ever said you have to be a supermodel to play a superhero. When Liu caught wind of the video (and the alleged "controversy," of which we were not aware), he popped up in the Facebook group Subtle Asian Traits to give his take — which, we must say, is a fine example of grace and humility in the face of internet shaming. (via IndieWire)
"A lot of teachers thought I'd never amount to anything, a lot of producers, directors, writers and costars have questioned my acting ability, and I've been rejected from countless conservatories, grants, programs, etc," Liu wrote. "I've been second-guessed at every single possible step of my career. The reason why I'm still standing is because I'm singularly focused, I have the utmost belief in my abilities and I refuse to let the opinions of others define me."
Spoken like... well, a superhero. Liu continued to set an example for those facing down negative, unsolicited opinions from strangers online. "For me, it's never been about trying to shut the voices out — it's a fruitless effort (especially if people happen to be making Youtube videos about it)," he wrote. "Rather, it's about learning to let the voices exist and be okay with it. I'm still doing my thing, and I'm still over the moon happy I get this amazing opportunity."
Of course, the actor couldn't resist lobbing a gentle jab at the folks at Asian Boss, whom he challenged to focus on topics with a bit more real-world relevance to the Asian community. "I sincerely hope this YouTube channel will attack topics with a bit more journalistic and creative integrity in the future," Liu wrote. "There are a lot of real and valid reasons why audiences find Shang Chi's source material to be controversial and I love the discussion that's taking place. This... not so much."
We submit that it's getting easier and easier to see why Marvel Studios cast Liu as Shang-Chi; like all of Marvel's best actors, he's already beginning to use his platform to inspire and help others. Of course, the guy had us on his side almost immediately after being cast — because, also like Marvel's best actors, he's freaking hilarious. On July 23, just a few days after his casting was announced, the actor — who was obviously still walking on air — took to Twitter to share a little slice of his daily life with his fans.
"Hard to believe that a week ago I was just sitting at my desk in my underwear eating shrimp crackers and now... okay well I'm still doing that," he wrote, "but I'm also a superhero."
Yep, this man will make a fine addition to the Marvel Cinematic Universe. Shang-Chi and the Legend of the Ten Rings is being directed by Destin Daniel Cretton (Short Term 12) from a screenplay by red-hot scribe Dave Callaham, who penned the upcoming Zombieland: Double Tap and Wonder Woman 1984, and is attached to the as-yet untitled sequel to the Oscar-winning animated flick Spider-Man: Into the Spider-Verse. In addition to Liu and Awkwafina, the movie will star the legendary Chinese actor Tony Leung as the Mandarin (the real one this time).
The film is slated to hit screens on February 12, 2021.