Is Charlie Hunnam Anything Like Jax Teller In Real Life?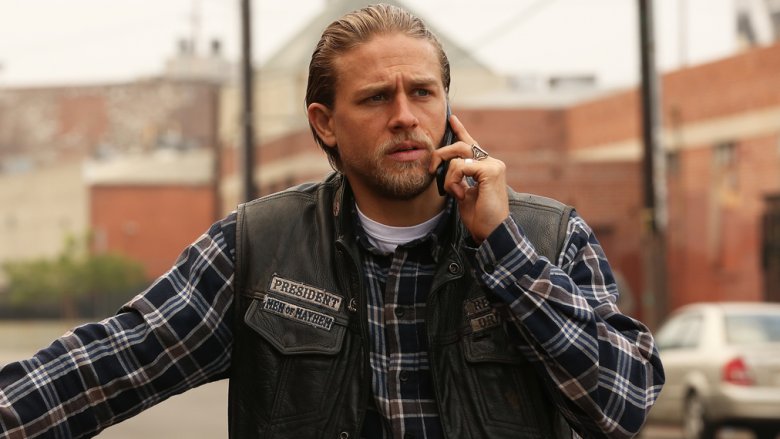 Way back in the fall of 2008, cable network FX had just said goodbye to one of its best-loved shows — Kurt Sutter's gritty, bad cops crime saga The Shield. Luckily, FX had already inked a deal with Sutter to bring his next down-and-dirty drama to the small screen. That series was the beloved, brutal biker gang drama Sons of Anarchy, which would go on to earn a fervid fanbase and eventually become one of FX's most respected dramatic series. Sons of Anarchy also made an overnight star of the-then-up-and-coming actor Charlie Hunnam, who portrayed the central "protagonist" Jackson "Jax" Teller. 
Over the course of the show's seven taut-yet-heart-wrenching seasons, the raw mix of rough-and-tumble sensuality, macho posturing, and savvy intellect Hunnam brought to Jax helped make him one of the more well-rounded characters on Sons of Anarchy. That contribution would prove vital to the series' success, as Sons of Anarchy spent much of its sprawling narrative on Jax's struggle to balance his often law-skewing biker ways with his desire to be a decent, law-abiding father — not to mention his desperate search to uncover the traitor who murdered his father.
Hunnam was so good in his Sons of Anarchy role that viewers have had a lot of trouble seeing the talented actor as any other character since the show aired its final episode in 2014. His performance has also left many believing Hunnam was as captivating as it was because he may have had more in common with the character than we thought. In turn, many fans have asked, "Is Charlie Hunnam anything like Jax Teller in real life?" 
The short answer is a resounding "yes" — at least for the seven years Hunnam portrayed the bad boy biker on the small screen. In fact, Hunnam himself has always been very up front about how much he walked the proverbial walk during his time on Sons of Anarchy. He freely admitted he lived in flannel shirts while playing Jax and refused to even ride in a car for the run of the show, opting instead for his own motorcycle — which, as it happens, is the exact make and model of the bike Jax rode in the series. More concerting than those facts is Hunnam's insistence that he also spent much of his time on the show palling around with actual bikers and "occasionally acting like a maniac."
Though Hunnam can still frequently be seen cruising the streets atop his beloved Harley, he's thankfully toned down his roguish behavior a bit and settled into a nice groove on the professional front. Still, it sounds like he's had as much trouble letting go of Jax as his Sons of Anarchy fans have. While promoting 2017's fantasy epic King Arthur: Legend of the Sword, Hunnam even confessed to Glamour just how tough it was for him to say goodbye to the character: "It was actually quite emotional for me, living and loving that guy for eight years, to have to finally put him to bed. I found myself going back to set a lot. I knew the security guards and for a couple of days said, 'Oh, I forgot something,' so they'd let me onto the set, and I'd just walk around at night because I wanted to be in that environment and go through a personal process of saying goodbye." 
Hard as it may have been for Hunnam to give up the biker life when Sons of Anarchy finally rode off to that great roadside bar in the sky, the show more than raised his profile in Hollywood. In the years since his tragic Sons swan song, Hunnam has become a regular on the big screen — appearing the Guillermo del Toro movies Pacific Rim and Crimson Peak, playing with swords and stones in Guy Ritchie's King Arthur flick, and traversing the perilous jungles of the Amazon in James Gray's egregiously overlooked drama The Lost City of Z (opposite Robert Pattinson and Tom Holland).
While Charlie Hunnam has mostly excised Jax Teller from his personal life, he's also willing to admit his coziness with the character has likely continued to influence his professional work. Those of us who've seen Hunnam's work in the kick-ass Netflix auctioneer Triple Frontier would certainly not argue that point. As for what lay ahead for Hunnam, the actor will again break bad for Justin Kurzel's Aussie-set western True History of the Kelly Gang – a film that will see him trading his Harley for a horse opposite Russell Crowe, Nicholas Hoult, and Thomas McKenzie. Not for nothing, but we're thinking we might see Hunnam bring a hint of old Jax to that role as well.