What Charlie Hunnam Was Doing Before His Iconic Sons Of Anarchy Role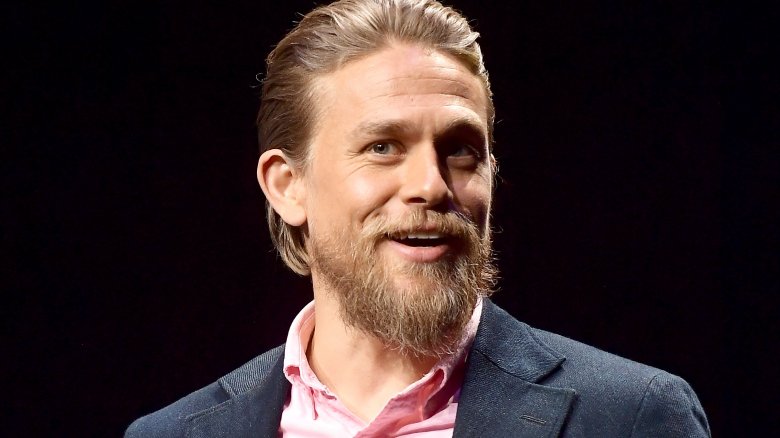 Matt Winkelmeyer/Getty Images
You probably know Charlie Hunnam from his role as Jackson "Jax" Teller on the hit FX series Sons of Anarchy, but he lived a pretty interesting life before his time in a biker gang. Here's what Hunnam was doing before his iconic Sons of Anarchy role, and how he he got his start in the acting world.
Born in Newcastle, England in April 1980, Hunnam was raised by a single mother (described as an "an extremely loving and bohemian woman"), getting into trouble, picking fights with classmates, and ultimately getting expelled from school at a young age. Luckily, opportunity came knocking when a production manager for a local children's television show called Byker Grove noticed Hunnam at a sports store at the age of 17. Hunnam went on to appear in three episodes of the program.
After a brief modeling stint, Hunnam landed an important role on the hit series Queer as Folk as schoolboy Nathan Maloney, handpicked by series creator Russell T. Davies himself. Officially on the map, his career started to pick up some serious traction and eventually saw him relocating to the United States and snagging a role on the WB series Young Americans as well as Fox's Undeclared, the latter of which only ran for a single season.
Hunnam went on to appear in some seriously prestigious projects, including the Academy Award-nominated film Cold Mountain alongside Renee Zellweger and Children of Men with Clive Owen, as well as an adaptation of Nicholas Nickleby. By 2005, he had returned to the United Kingdom to appear in Green Street Hooligans, a film about the "violent underworld of football hooliganism." Alongside Lord of the Rings' Elijah Wood, Hunnam portrayed a football coach who helps Wood's character learn the ropes. Unfortunately for Hunnam, his performance in Green Street Hooligans wasn't exactly met with glowing reviews, with some critics going so far as to call his Cockney accent one of the worst pieces of accent work in film history. (Hunnam thankfully isn't the only actor to have suffered such backlash, as many other stars have delivered dreadful on-screen accents.)
Despite his Green Street gaffe, the film essentially handed Hunnam his career-defining role. Accent aside, Sons of Anarchy creator Kurt Sutter spotted Hunnam in the football film and took a chance on the actor, realizing he would be perfect for the role of Jax, and the rest is history. For the series' entire seven-season run, Hunnam played Jax, the leader of the titular motorcycle gang and a man who often finds himself on the wrong side of the law, yet still tries to juggle his family alongside his responsibilities. As the son of John Teller, who co-founded the gang, Jax constantly does his best to live up to his father's legacy, building a life and reputation for himself while honoring those that came before him. By the time the show ends, however, Jax finds himself on the run from the law — and rather than surrender to the police, he drives his bike into oncoming traffic, taking his life on his own terms on the same highway where his father died.
In the aftermath of Anarchy, for which Hunnam scored a Critic's Choice nomination, he has proven to be quite particular about his film roles — between famously quitting Fifty Shades of Grey and heavily lobbying director Guy Ritchie for a part in King Arthur: Legend of the Sword. From horror roles like Crimson Peak to working on original screenplays to his upcoming role in A Million Little Pieces, Charlie Hunnam is still a star on the rise, but it's important to remember that he accomplished a lot even before his role on Anarchy.