What Tom Holland Was Doing Before He Became Spider-Man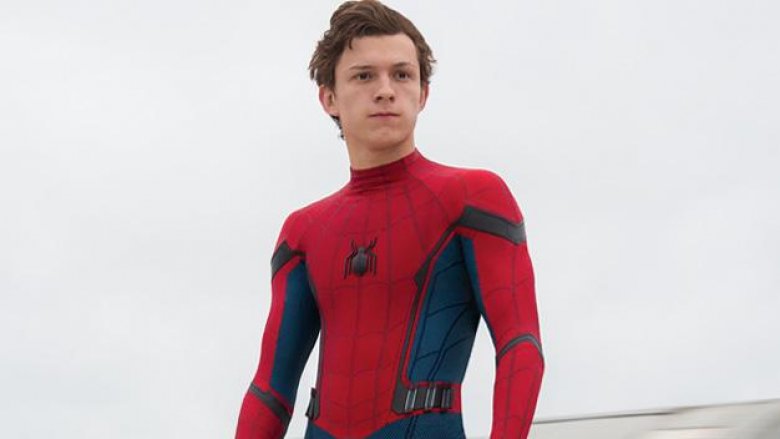 Hard as it is to believe given the Marvel Cinematic Universe's seemingly ceaseless release schedule of late, but it's only been a little over three full years since the Avengers were forced to choose sides and throw down hard in Captain America: Civil War. Surprising as said fact may be, it also means that — despite appearing as everyones favorite web-slinging teen in a total of five Marvel movies to date — not much time has actually passed since Tom Holland stepped into the role of Spider-Man. 
While the young actor instantly became an MCU favorite after Civil War and the soon-to-follow Spider-Man: Homecoming, it's worth noting Holland was all but unknown before he donned the spandex and started cleaning up the mean streets of Queens. Though Peter Parker (a.k.a. Spider-Man) will forever stand as Holland's breakthrough role, it was hardly the young Brit's first acting gig. Here's what Tom Holland was up to before he became Spider-Man.
Try to contain your shock, but the unflinchingly charismatic actor apparently came out of the womb with the acting bug fully in tact. Holland has just recently turned 23 (as of June 2019), but he's a legit old soul as an actor, having already spent the bulk of his life working on stage and on screen. He got his first big break at the ripe old age of 12, when he was spotted by a dance choreographer who was putting together a cast of youngsters for the West End production of Billy Elliot. That play was adapted from the brilliant Jamie Bell-starrer of the same name, and tells the tale of a working-class British kid who wants to become a ballet dancer. Though Holland was initially cast as Billy's best mate Michael, he stepped into the title role just a few months later.
While Holland's dancing skills have become legend in the years since, he ended his lauded stint on Billy Elliott after just a two-year run. Having conquered the stage, the burgeoning teen star immediately set out to make an impact on the screen as well. He earned his first credited gig by lending his voice to the U.K. version of Studio Ghibli's underrated gem The Secret World of Arrietty. Cinema lovers got their first look at Holland's cherubic face a couple of years later when he co-starred in the based-on-true-events drama The Impossible, appearing opposite Ewan McGregor and Naomi Watts as one of the miraculous survivors of the 2004 tsunami that decimated Thailand.
Needless to say, the young star more than made an impression in The Impossible. After catching the collective eye of producers the world over, Holland started booking steady work. He lent his voice to Tom Hardy's grossly overlooked one-man show Locke, then quickly got his face back out there when he turned up opposite fellow up-and-comers Saoirse Ronan and George MacKay in 2013's post-apocalyptic romance How I Live Now. 
Following that big screen turn, Holland quickly followed in the footsteps of so many U.K. thespians before him by booking a gig on a small-screen BBC drama series when he landed a supporting role in the historical drama Wolf Hall. That series followed the rise of Thomas Cromwell (played by Oscar-winner Mark Rylance) from lowly secretary to a disgraced Cardinal to trusted advisor of King Henry VIII (portrayed by Homeland standout Damian Lewis). Though Holland spent much of the series opposite his on-screen dad (Rylance), he also shared the screen with the formidable talents of Claire Foy (The Crown), Jonathan Pryce (Monty Python, Game of Thrones), Thomas Brodie-Sangster (Game of Thrones), and Mathieu Amalric (Quantum of Solace). 
While Tom Holland had certainly begun making a name for himself with a string of solid, on-screen work, he probably didn't fully catch the attention of Hollywood producers (particularly those working in the MCU) until he landed a prime gig in Ron Howard's 2015 Moby Dick-inspired drama In the Heart of the Sea. Though that film was ultimately deemed a failure by critics and audiences, Holland did share screen time with the film's star Chris Hemsworth — better known to us all as the MCU's God of Thunder himself, Thor. Obviously, we're not here to claim (or deny) whether Hemsworth had anything to do with Holland's casting as Spider-Man, but it's worth noting he was suiting up for Civil War less than a year after wrapping In the Heart of the Sea.
That being said, the energetic Holland likely didn't need that much help landing the role of the do-gooder Peter Parker, though he did go through several auditions before booking the gig. Either way, when Holland stepped into the MCU, he instantly became the Spider-Man fans had been waiting for. The rest, as they say, is history. And by history, we mean the making of a bonafide movie star who's certain to keep us glued to screens for decades to come. Fingers crossed he spends a fair amount of that time as our friendly, neighborhood Spider-Man.