Wesley Snipes Has Something To Say About The Latest Blade News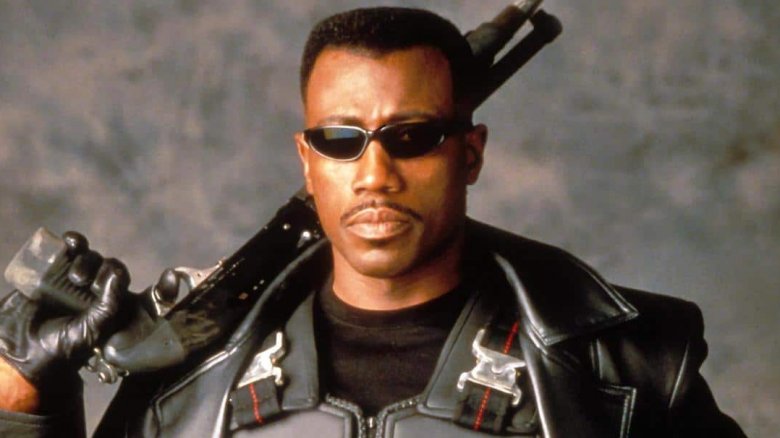 Marvel recently dropped a bombshell when it announced that the Blade franchise is getting a reboot, and that Oscar-winning actor Mahershala Ali was taking the reins as the new Eric Brooks. In the few days following that big break, it seemed everyone had something to say about the Blade reboot — whether it came in the form of a tweet expressing excitement over Ali's casting, or via a promise on social media to "riot" if original Blade actor Wesley Snipes wasn't involved with the new movie. 
After what has felt like an eon of silence from the man of the minute, Snipes has finally broken his silence on the Blade reboot and Ali stepping into his shoes. 
It turns out, Snipes is totally cool with the whole thing, and thinks you should be too. 
Our friends at ComicBook.com obtained a statement from Snipes in which he affirms that there are no hard feelings toward Ali and no disappointment over Marvel choosing to reboot Blade without him — just complete understanding. He asked his diehard fans who have been blowing up social media with hot takes on the news to take a chill pill, praised Ali as a "beautiful" performer, and said that he hopes he and Ali will collaborate for a project in the future. In his statement, Snipes even used two Arabic phrases — "salaam," meaning "peace," and "inshallah," meaning "if God wills" — commonly said by Muslims. This is extra special, as Ali is Muslim (and the first Muslim actor to win an Oscar) and Snipes practiced Islam from 1978 to 1988.
"To all the DAYWALKERS losing their minds right now, chillaaxx. Although the news comes as a surprise, it's ALL GOOD. Such is the 'business' of 'entertainment!' Much peace to the MCU crew – always a fan," Snipes said. "Honor and respect to the grandmaster Stan [Lee]. Congratulations and Salaam to Mahershala Ali, a beautiful and talented artist whose expressions I look forward to experiencing for many years to come. Inshallah, we will someday work together. Most importantly to my loyal fans, the incredible outpouring of love is overwhelming. I am grateful for the never-ending support. So, 'nah fret nah worry, it's not de end of de story.' Welcome to the Daywalker Klique."
If you haven't already exhaled a huge sigh of relief, now's the time. It's always tricky business when a studio decides to reimagine a property with a brand-new face at the forefront — and when it comes to Blade, a movie that changed the superhero genre forever and has continued to influence comic book adaptations to this very day, there was an even bigger risk for vitriolic attacks from those opposed to the entire idea. While the Blade reboot has already garnered some backlash, with Snipes fans gunning hard for Marvel to at least give the actor a cameo role in the new flick, it hasn't been as bad as it could have been considering the circumstances — which include the fact that Snipes has long wanted to play the vampire-hunting Daywalker again.
This is a supremely classy response from Snipes, who, despite his talents as an actor, hasn't always been the most upstanding guy around. (Remember that time he served three years in prison for tax evasion? Yeah, that was a thing that happened.) There's certainly a chance that he feels a tiny bit upset about Ali taking over the franchise and Marvel not yet extending an offer to appear in the reboot in some capacity, but Snipes seems genuine in his response, which hits many nails squarely on the head.
He's right in saying that reboots are just part of the business of entertainment, especially so these days now that studios are constantly looking to refresh properties for new generations and draw in old fans with the oh-so irresistible pull of nostalgia. It was really only a matter of time before Marvel looked to what's largely considered the grandfather of superhero movies for a refresh as the studio maps out its post-Infinity Saga plans. Additionally, there's hardly a better actor to take over the role from Snipes than Ali, who looks a whole lot like Blade as depicted him in the Marvel Comics and who has two Academy Awards to boot. 
The Blade franchise rests in capable hands with Ali, and Snipes can understand that. His mention that he hopes to one day work with Ali could spark talk of a potential Blade reboot sequel in which Snipes does actually have a role, but considering the first flick is currently without a release date or a writer or a director, those conversations wouldn't amount to anything substaintial for quite some time.
With Snipes having now broken his silence about the Blade reboot, fans can rest easy knowing the only blood that will be spilt is the buckets of it that'll go flying in the film itself.