Wesley Snipes Fans React To The New Blade Casting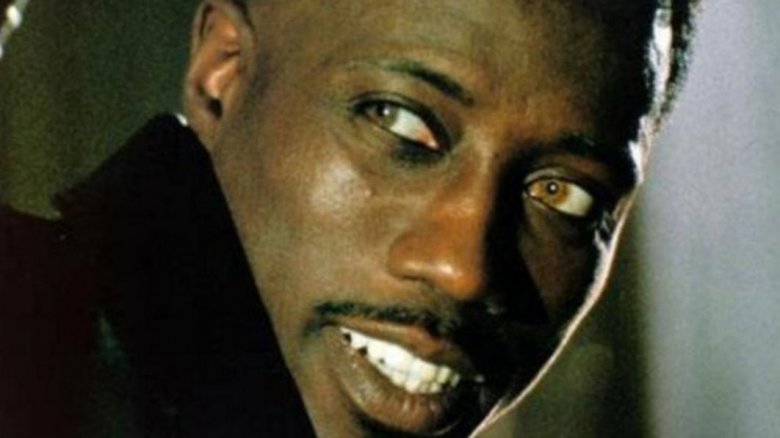 A new actor is taking the blade, but some people are still thinking of the guy who started it all. 
When Marvel Studios announced that Mahershala Ali will lead a reboot of Blade, starring as the vampire-hunter and skilled swordsman Eric Brooks on a quest to avenge his mother's death, people went wild. An Academy Award-winning actor joining the Marvel Cinematic Universe to breathe new life into the Blade property? Sounds killer! But wait, what about the man Ali is taking over for in the Blade reboot? 
Now that Ali is firmly aboard the in-development movie, it appears that original Blade actor Wesley Snipes is sunsetting his iconic role for good. However, Snipes' fans are holding out hope that Marvel can make room for him in the Blade reboot — or else there might be hell to pay.
Taking to Twitter, one fan suggested that Marvel should tap Snipes for the role of Abraham Whistler – Blade's mentor and weaponsmith whom Kris Kristofferson portrayed in the 1998 Blade movie — as a way to honor the actor.
"Let's start the movement right here, right now, for @MarvelStudios to cast @wesleysnipes as Whistler in the reboot of #BladeMCU," they tweeted. "The entire current run of comic-book movies owes everything to the 1st Blade movie, so a little honouring of the legacy he left isn't too much to ask."
Another said that no matter how great Ali is in the role, Snipes will forever be the actor associated with Blade: "Wesley Snipes still is the baddest Blade we'll ever see in this lifetime. Even though the role has been given to Ali Marhelshala in a reboot, special respect to this man!!!" 
Elsewhere, fans said that the Blade reboot "won't go over well" without Snipes involved, that Snipes "deserves" a cameo or a supporting role in the movie, and that Marvel can go ahead and cancel the film ahead of time because they don't want it if Snipes isn't starring.
User @DavidWDougan argued, "I think a #Blade reboot is long overdue, but Mahershala Ali has his work cut out if he wants to be cooler as the character than Wesley Snipes was," while @DakotaMiller said, "I'm the biggest Blade fan ever & super stoked about Marvel announcing the reboot, but if Wesley Snipes isn't at least in a cameo I'm gonna riot."
On the flip side, Twitter user @Guavah_Go wrote that Blade fans should be more open-minded about Ali's casting, stop focusing so much on the past, and have faith in how Ali will approach the new iteration of the character. Their tweet reads, "We can appreciate Wesley Snipes as Blade and also be excited for the reboot. You CAN have both. Wesley Snipes was excellent as #Blade. Ali wont be playing that same version, obviously, hopefully he brings his own style & dynamic to the role."
These reactions to Ali's casting as Blade in the upcoming reboot movie may seem dramatic, but they're quite well-warranted. Snipes has long made it clear that he's ready to return to the role he originated with 1998's Blade, a film that changed superhero movies forever. 
In December of 2018, the 56-year-old actor took to Twitter to affirm that his teeth are "still sharp" for a Blade reboot, and that it's simply up to Marvel if they'd like to bring him back on board. 
A few months later, Snipes sat down with Vice and opened up about the possibility of a fourth Blade movie to follow after Blade II and Blade: Trinity. 
"There are a lot of conversations going around right now and we're very blessed to have the enthusiasm and interest in something coming from that world again," the actor said. "All the main execs [at Marvel] and my team, we've been discussing for the past two years. Everyone's enthusiastic about it, everybody gets it. But they got a business to run and they gotta square the things that they gotta figure out before they can get to it, I guess."
Snipes then offered a scintillating tease about the ideas his team and the bigwigs at Marvel were apparently cooking up: "The next time you see something in [the Blade universe], mark my words: what we did before is child's play compared to what we can do now."
Fast forward to summer 2019, and it was reported that Marvel Studios president Kevin Feige was "fighting" for a new Blade movie — with Snipes attached in the titular role. 
So, what happened? Well, Mahershala Ali happened. The Green Book and Moonlight actor rang up Marvel Studios and essentially pitched himself as the new Blade, and there was no denying the powerhouse talent his wish. As Feige put it, "When Mahershala calls, you answer."
There's no telling whether the studio will be receptive if Snipes says point-blank that he wants a part in the Blade reboot, but considering that the star essentially paved the way for all superhero actors who came after him and that his fans are gunning hard for him to join the new movie, Marvel would be smart to not screen his call.