The Real Reason Supergirl Ditched The Skirt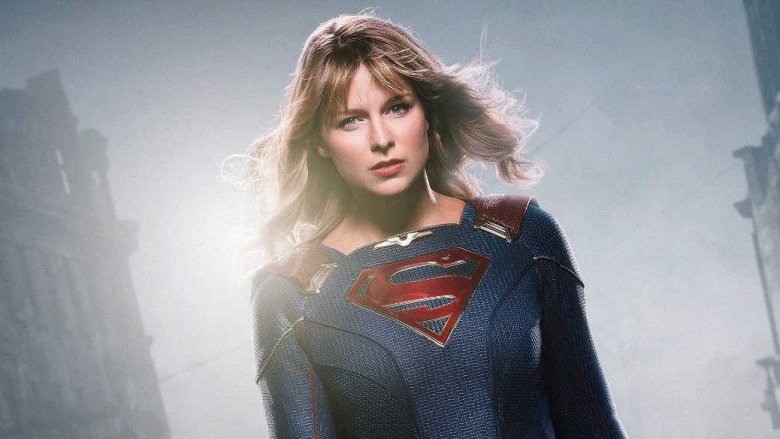 Supergirl is getting a new look for season 5 — and it's as much a matter of practicality than it is of fashion.
The new look was unveiled to fans as San Diego Comic-Con this past weekend, and the series' star Melissa Benoist had a hilarious explanation for fans as to one of the factors behind it: she's tired of freezing her legs off. (via CinemaBlend)
Supergirl, AKA Kara Danvers, has undergone a few slight tweaks to her wardrobe during Supergirl's run, most notably during season 4's climactic battle with Jon Cryer's Lex Luthor and the Red Daughter, a Supergirl clone created by the evil genius which not only served him, but carried the added bonus of sapping the real deal's powers. That costume switch may have been born of necessity, but Kara's new look seems to be more of a direct fashion statement, an evolution of her classic costume that aligns a little more closely with the aesthetic of her famous cousin, Superman (portrayed in the Arrowverse by Tyler Hoechlin).
According to Benoist, this is indeed the case, as she and the series' producers simply figured that it was time for a little update (as also evidenced by her brand new, rockin' bangs). But, as Benoist told the assembled crowd at Comic-Con, there was another reason for the switch, as well — one having to do with the fact that Supergirl shoots primarily in Vancouver, Canada, and often in the dead of winter.
"You know what? There were some logistics that needed to be addressed," Benoist said. "I won't mention the chafing, but it's cold in Vancouver! You know, I was a little tired of having my bare legs exposed to the snow and the wind. But more than that, I also just think it's the perfect evolution for her. It just felt like time... We've been kind of wanting it for awhile. I love it, you guys, I love it."
Very spiffy indeed, if you ask us. Also, we feel like we should point out that although Benoist has acquitted herself spectacularly in the role of Supergirl, it's now apparent that her performance has actually been even better than she's been given credit for. If you've ever tried to play it off as if you're not extremely uncomfortable while freezing your rear end off, you know that it's darn near impossible. For that matter, kudos to the cast of the rest of the Arrowverse series, which also shoot in Vancouver during those months when the weather will literally kill you if you're exposed to it for too long; they, however, have at least gotten to wear pants for the duration of their shows' runs.
In addition to Kara's new look, Supergirl season 5 will also feature a decidedly distinct aesthetic from season 4, which saw the Girl of Steel thwarting Luthor's plans to sow discord between the human and alien populations of Earth. The season carried some distinct political overtones, and while the themes explored in season 5 will be much different, they will be no less topical.
As revealed by the trailer for the season which Comic-Con fans were treated to, the new batch of episodes will deal with society's deepening reliance on technology, with executive producer Robert Rovner going so far as to call it the show's "Black Mirror season." Kara will also have to deal with the wrath of her friend (and Lex Luthor's sister) Lena, who was none too happy to discover that Kara had been hiding her secret identity from her for their entire relationship. The trailer also suggested that — as implied in the season 4 finale — Lex Luthor, who had been shot and left for dead by Lena, was rescued from his fate by the Monitor. The villain is shown readying his Lexosuit for battle in a scene from the fourth season, a scene which probably wouldn't have been included if he were indeed deceased.
Season 5 has also added a few interesting supporting characters, including Veronica Mars' Julie Gonzalo as Andrea Rojas, a businesswoman with superheroic aspirations; Game of Thrones' Staz Nair as William Dey, a hard-boiled reporter hiding his connections to the criminal underworld; and finally, Being Human's Meghan Rath will portray a female Brainiac 5, joining her real-life brother, Jesse Rath, who has played the male Brainiac 5 in previous seasons. We'll see how all of the intrigue and interdimensional weirdness plays out — and, on a related note, how Supergirl season 5 might connect to the big Crisis on Infinite Earths crossover this winter — when the new episodes begin airing on the CW on October 6.