The Reason Avengers 5 Wasn't Announced At San Diego Comic-Con 2019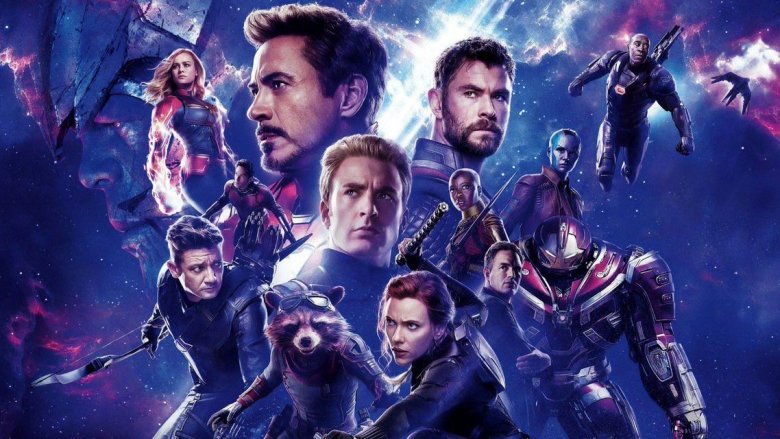 Kevin Feige and his merry band of Marvel movie-makers brought down the house at San Diego Comic-Con 2019. To a sea of buzzing fans, Marvel Studios announced a shining slate of Phase 4 movies and television series set to launch over the next two years — everything from the female Thor-featuring Thor: Love and Thunder to Doctor Strange in the Multiverse of Madness to a Shang-Chi movie and a bunch of Disney+ superhero shows. 
What was missing from the jam-packed panel, though, was the announcement of another Avengers movie — which some fans were holding out hope for thanks to past rumors that suggested Marvel was cooking up a fifth ensemble film featuring Earth's Mightiest Heroes. 
In the aftermath of Marvel's presentation, studio president Feige revealed to IGN the reason why Avengers 5 wasn't announced at San Diego Comic-Con. 
Simply put, it's because there will be no Avengers 5, as far as Feige is concerned. The era of Avengers films as we know them concluded with Avengers: Endgame, Feige explained, and it's now time for the Marvel Cinematic Universe to move on to new superheroes, the teams they can form, and the stories about them that can be told. It isn't necessarily out with the old, but it's certainly in with the new when it comes to Phase 4 of the MCU.
"We had a movie this year called Avengers: Endgame, and it is very much an ending, as you saw, to so many of those characters," said Feige. "So Phase 4 is about beginnings, and Phase 4 is about learning new things about characters you already think you know like Black Widow, meeting incredible new characters like The Eternals and Shang-Chi, going on new adventures with Doctor Strange and Thor, and these Disney+ shows, which I promise will be spectacular and not what anybody's expecting."
Feige isn't taking a Kylo Ren attitude here and saying that the past needs to die and that Marvel should never acknowledge the Avengers again, but it's clear he wants Marvel fans to understand that the new chapter of the MCU is meant to be just that: new. Though it's not easy to let go and say goodbye to heroes you've watched evolve for years, and while it will take some time for everyone to fully recover from the events of Avengers: Endgame that featured the deaths of two original Avengers and the retirement of another, clinging to something (in this case the Avengers films in the MCU) too tightly for too long can rob one of their ability to enjoy new things.
Now, Earth's Mightiest Heroes very well might assemble again — but it won't happen in Phase 4. And the potential ensemble flick will feature a different roster, likely a blend of older Marvel mainstays and fresh faces introduced in Phase 4 and the to-be-announced Phase 5. Longtime Marvel star Samuel L. Jackson is confident of this possibility, and believes that his character, Nick Fury, will round up the villain-fighting forces in the future.
Asked by CinemaBlend if he thinks that Avengers-centric movies should be "shelved" in favor of team-up films like Spider-Man: Far From Home, which brought Fury and new MCU character Mysterio (Jake Gyllenhaal) into Spidey's solo series, Jackson said he doesn't agree. He elaborated, saying that Fury knows a threat is headed to Earth, and that he'll eventually need to create a new crew of Avengers to defeat the imminent danger. 
"I always think that there's room for every kind of story to be told. And at some point, they're going to have to put together another Avengers group of some sorts to deal with whatever's coming next. Nick [Fury] knows something is coming, the same way he found out in Captain Marvel that there are other things that need to be dealt with that [he] didn't know about. This is moving us to another place."
So, could we get a Young Avengers movie? Maybe! Perhaps a Dark Avengers film? Yeah, why not? But a fifth Avengers flick with the OG Thor and Cap, Iron Man and Black Widow, Hawkeye and Hulk? Don't hold your breath.
Let go of the past and look forward to the future with the upcoming releases of Black Widow (May 1, 2020), The Falcon and the Winter Soldier (Fall 2020), Eternals (November 6, 2020), Shang-Chi and the Legend of the Ten Rings (February 12, 2021), WandaVision (Spring 2021), Loki (Spring 2021), Doctor Strange in the Multiverse of Madness (May 7, 2021), What If...? (Summer 2021), Hawkeye (Fall 2021), and Thor: Love and Thunder (November 5, 2021).