The Name Of Picard's Dog In New Star Trek Series Is Absolutely Brilliant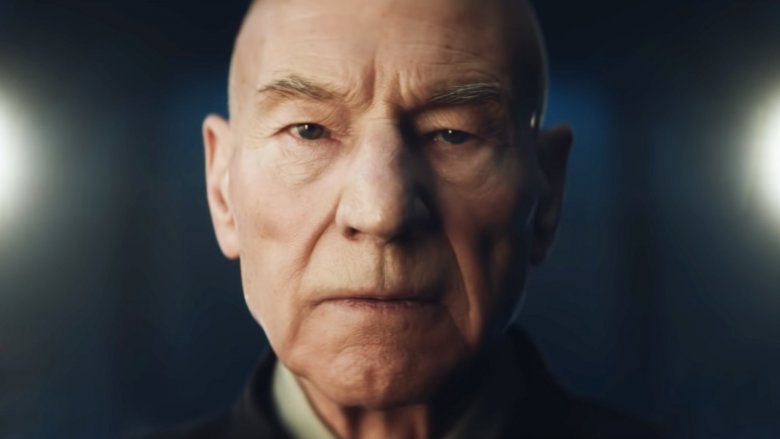 Star Trek: The Next Generation fans rejoice, 'cause Number One is officially set to appear opposite Jean-Luc Picard on the upcoming Star Trek series Star Trek: Picard.
Well, sort of. 
Details surrounding the wildly anticipated Star Trek: Picard slowly made the rounds ahead of the Star Trek panel at San Diego Comic-Con 2019, and more than a few fascinating details have surfaced about what fans can expect of Patrick Stewart's return to the world of Starfleet. Of note is a particularly juicy nugget regarding one of the fan theories spawned by the official release of the first official poster for Star Trek: Picard. You know, the one involving the name of the erstwhile pooch overlooking the Picard family vineyard with Jean-Luc seen in the one-sheet?
Well, it has now been revealed that the dog's name is indeed Number One. CBS All Access confirmed the fact to Entertainment Weekly.
That confirmation ends a week's worth of speculation from Star Trek fans who — after painstakingly dissection every single detail in the Picard poster after its release — were quick to seize on the fact that the dog's tag (which is also in the shape of a Starfleet insignia) appeared to sport "No. 1." on it (which it did). And we now know exactly what the number means — though it remains to be seen whether or not the obviously Starfleet-friendly pooch will be accompanying Picard on his return to the final frontier.
Of course, this news also spawns a question or two of its own. Most importantly, what does that dog's name mean for the real Number One — Jonathan Frakes' beloved Star Trek: The Next Generation character, Commander Will Riker? We already know Frakes is returning to the Star Trek fray to direct his old shipmate in two episodes of Picard, but it's hard to imagine Frakes would opt out of also appearing (at least for a cameo) alongside his old pal Patrick Stewart on the series. And if he does, how do we think Commander Riker might respond to ordering his beloved pup to "make it so"? 
The fun that might be had in that little scenario will keep us smiling for a few days, to be certain. With the Star Trek team all but guaranteed to drop a few more details surrounding the Picard series during their Hall H panel for SDCC 2019, we can only hope that the return of Frakes' Riker (and possibly other TNG faves) to the noble orbit of Jean-Luc Picard will be amongst them. With any luck, we'll also get a firm release date for the show, because we're all dying to know exactly when in 2019 we can expect to see Star Trek: Picard hitting CBS' All Access streaming service. 
Stay tuned to Looper for all the latest Picard news trickling out of Comic-Con. Until then, here's a look at the man himself, and the adorable pooch in question, courtesy of EW.