Star Trek: Picard Details Revealed Ahead Of San Diego Comic-Con 2019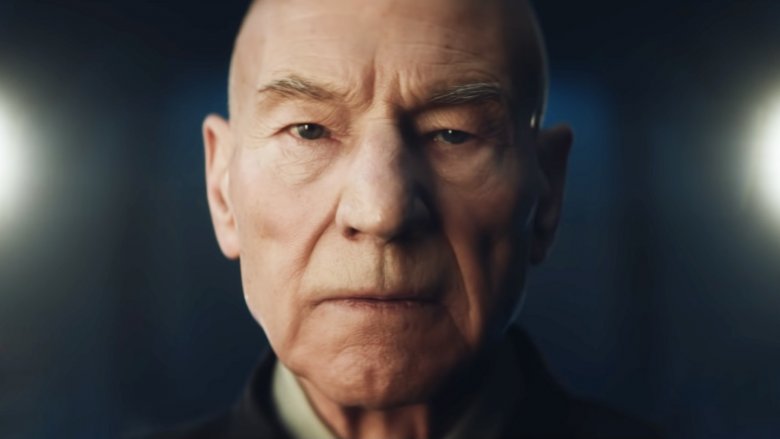 Jean-Luc Picard is officially headed back to space, though he may not be doing so in a Starfleet uniform.
News about CBS All Access' upcoming Star Trek: Picard series had slowly been leaking into public consciousness ahead of Saturday's Hall H Star Trek panel at San Diego Comic-Con 2019, but much was still unknown about the series. That changed when executive producer Alex Kurtzman and showrunner Michael Chabon sat down with Entertainment Weekly to reveal key details about Star Trek: Picard. 
The headline-grabbing nugget about Picard no longer working with Starfleet will no doubt leave many Trek fans scratching their heads — and it's just one the many compelling details the Kurtzman and Chabon dropped about Star Trek: Picard in their surprisingly candid interview. 
Regarding that "Picard in space" news, Kurtzman explained that "events began to unfold that conspire to take Picard back to the stars." However, this isn't exactly a surprise. After all, can there really be a Star Trek without stars, or a trek amongst them? Still, since the series will open with the former Captain of the USS Enterprise living in retirement amongst the storied grapevines of his family's vineyard in France, we can all breathe a sigh of relief with Kurtzman's affirmation that "he will [go to space]." 
But it won't be "in a way that anyone expects." That cryptic statement certainly leads one to believe that the long-retired Picard will not simply step back into the Starfleet fray for his new adventure — which then begets the questions of not just what the storied Captain might be up to in Picard, but also who he'll be working with. Kurtzman remained cryptic in covering those details as well.
On the topic of Picard's new mission, Kurtzman said, "Because he's no longer in Starfleet, he no longer carries the weight of that behind him. In some ways, it's easier to be [a great man] when you're a captain. But it's an entirely different thing when you don't have an army behind you. When you want to get something done and fight an injustice, how do you do that when you're really only one man?" We know that Jean-Luc is out to right some specific sort of injustice, but we've no idea what that may be. 
Chabon went on to clarify another key detail regarding Picard's upcoming battle, noting that, unlike the episodic Star Trek: The Next Generation, Picard will unfold in serialized fashion. This is isn't new for Star Trek, but is for Picard, as Chabon noted. 
Regarding Picard's Next Generation ship-mates, Jonathan Frakes (who played Commander William Riker — a.k.a. Number One — on TNG) is definitely boarding Picard, though he'll be doing so as a director on the series. While we're holding our breath that Frakes will reprise his role as the beloved Riker, Kurtzman is still playing news of potential Next Generation cameos close to his chest, noting, "What we don't want to do is just throw in cameos. There would have to be an incredibly specific story reason [for them to be there]." 
Seriously though, if Kurtzman and co. don't at least find way to bring Brent Spiner back as Data, we're gonna be more than a little bit disappointed. 
Potential cameos aside, one of the most intriguing aspects about Star Trek: Picard is the concept of the series taking a sort of "old man Picard" approach to the narrative. Though they have been steadfast in the notion that Picard still needs to be Picard on the upcoming series, Kurtzman and Chabon stated that time and past experiences have unquestionably taken a toll on the Starfleet icon. 
Kurtzman offered, "There are many things that haunt Picard." Chabon went on to add, "You will not see a version that betrays the man we loved from Next Generation. We're not doing that. But we wanted to put a character with that level of morality and leadership and who always does the right thing no matter how hard the circumstances ... we wanted to put that to the test."
One thing the pair continue to agree on is the work of Sir Patrick Stewart in the title role. Though Stewart has voiced Picard in Star Trek video games over the years, he hasn't appeared on screen as Picard since 2002's Star Trek: Nemesis. Of Stewart's skill as a performer, Chabon gave nothing but praise: "The quality of Patrick's acting, if anything, has gotten even better over time and he was already a master."
We couldn't agree more — and we cannot wait to see if any new Picard news breaks out of Star Trek's Hall H panel this weekend. Perhaps we'll even get that long-awaited announcement of the series' premiere date on CBS All Access. Be sure to stay engaged to find out the latest Star Trek: Picard updates.