Brandon Routh Reacts To His Return As Superman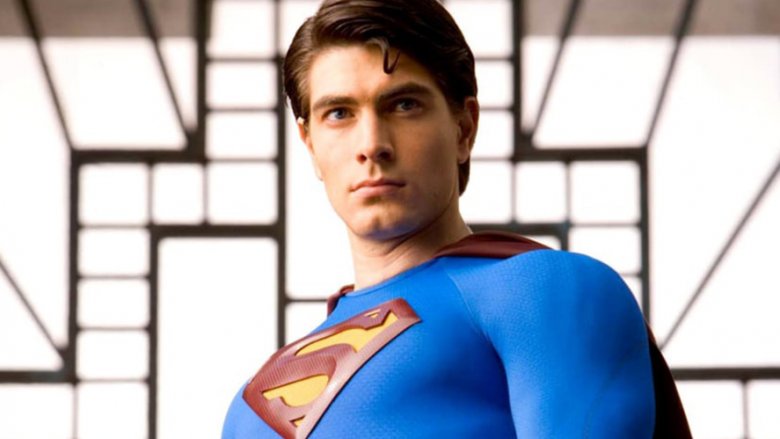 A familiar face is donning the red cape once again, and he has some feelings about the impending comeback.
Amid the festivities and fanfare of San Diego Comic-Con 2019, it was announced that the CW is cooking up a crossover of epic proportions: former Superman actor Brandon Routh, who played Clark Kent in the 2006 film Superman Returns, and current Man of Steel Tyler Hoechlin, who portrays Supes in a recurring capacity on Supergirl, will both be a part of the Arrowverse's upcoming Crisis on Infinite Earths event. 
Their involvement with Crisis on Infinite Earths wouldn't be a surprise on its own, given they're both Arrowverse actors. The real bombshell here is that Routh and Hoechlin both will be playing Superman. 
The announcement, dropped by Deadline on July 19, got fans in the best kind of huff: a fast-talking frenzy that left one passionate individual declaring Crisis on Infinite Earths as "the greatest crossover event ever" thanks to Routh and Hoechlin's involvement. Like the fans out there, not long after the news hit the 'net, Routh took to social media to react to his return as Superman. 
"Honored, humbled, grateful, and still pinching myself," Routh tweeted in response to Deadline's post confirming he would portray Superman for Crisis on Infinite Earths.
Hoechlin, who first slipped into the Superman suit in 2016 for Supergirl, expressed his anticipation for the forthcoming clash of the cape and cowls by tweeting at Routh, "Let's go brother!" Routh bantered back with a punch and a wink emoji, plus a tweet that reads, "So excited to share the screen with you as Supes @tylerhoechlin! So fun! I'm so ready!" 
Routh then joked that he was immediately heading off to the gym to get into tip-top shape for the crossover, though we doubt he actually needs to rack up any more hours of cardio or beat his personal weightlifting records given that he's been playing superheroes for years. In fact, Arrowverse loyals will know Routh from his role as Ray Palmer (better known as the Atom), which he's taken to Arrow, The Flash, and DC's Legends of Tomorrow, on which he's currently a main player. 
He also opened up to Entertainment Weekly about his return, admitting that he initially experienced a "mix of feelings" about reprising the superhero role before letting himself feel incredibly excited. 
"It's an opportunity for me to kind of say hello and goodbye to the character in a way I didn't get to the first time," said Routh. "Being a young individual of 24, 25, I thought, 'Oh, I'm going to do this for years and make multiple movies.' And that of course didn't happen. I'm just very honored to be able to do this one last time."
The two actors' eagerness about playing Superman on Crisis on Infinite Earths is only beaten in sheer potency by the reactions of their fans, one of whom tweeted, "The fact that both of you will be sharing the screen as Supes is blowing my mind! Can't wait to see you both back in the red cape!"
Another said that the news of Routh and Hoechlin portraying two versions of Superman for the same small-screen event was the best thing they heard from this year's San Diego Comic-Con — even more incredible, by their estimation, than the surprise Top Gun: Maverick trailer Tom Cruise dropped on Thursday. In fact, they argued it was the greatest announcement to ever come out of the DCEU.
"I was buzzing like a happy bee over the Top Gun trailer...then this Brandon Routh news drops into my hive like a dollop of sweet unpasteurized honey. Yes! Yes! Yes! Best DC news in ever," they tweeted. 
Clearly, we can color Routh giddy as a kid in a candy store about returning to the role of Superman, and can do the same to the masses at home. And this is something many thought would never be possible. The idea of seeing Routh back as Clark Kent was pretty unthinkable after Superman Returns failed to generate the kind of box office bucks needed for studio Warner Bros. Pictures to greenlight a sequel, taking in just over $391 million worldwide where other DC Comics-based fare from WB has scooped up anywhere from around $750 million globally on the lower end to over $1 billion at the top. 
While Routh did pick up praise for his performance that could have been reason enough to keep him in the Superman suit for a few more flicks, Warner Bros. eventually ended the burgeoning film series with Superman Returns and wound up rebooting the character seven years later in 2013's Man of Steel, the film that started the DC Extended Universe to match Marvel's already-growing movie franchise.
It's unknown which installments of the five-episode Crisis on Infinite Earths event — which brings together the CW's superhero series Arrow, Batwoman, The Flash, Legends of Tomorrow, and Supergirl — Routh and Hoechlin will appear on. However, it's clear that the event will be the biggest one in the Arrowverse thus far. Spanning two months and likely following the DC Comics storyline of the same name, in which the heroes fight against the nefarious Anti-Monitor with the help of alternate versions of themselves from different universes, Crisis on Infinite Earths was already shaping up to be unlike anything Arrowverse fans had seen prior to this announcement. Two Supermans in one place is simply the icing on the cake, and we're glad Routh thinks the news is just as sweet.