Stranger Things Star Being Eyed For Mega GotG 3 Role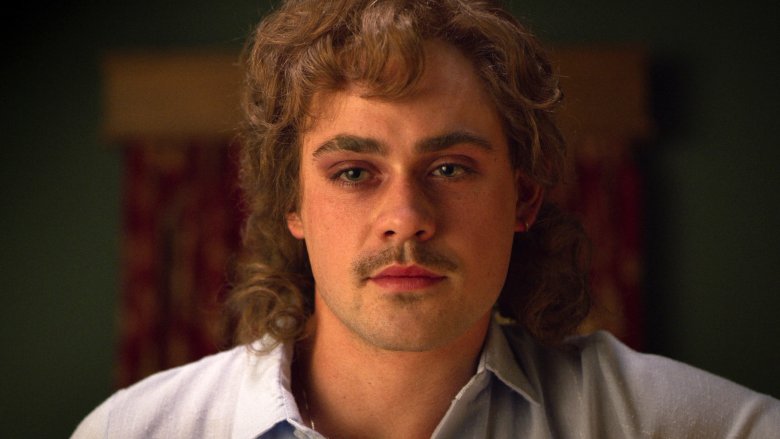 Netflix
Has the Marvel Cinematic Universe finally found its Adam Warlock?
According to a new scoop by the folks over at We Got This Covered, Marvel Studios executives are eyeing Stranger Things breakout Dacre Montgomery to portray Adam Warlock in Guardians of the Galaxy Vol. 3. 
That's right: the Aussie actor who channeled Jack Nicholson à la The Shining to embody Billy Hargrove on the Duffer Brothers' much-loved sci-fi series is reportedly in consideration for a massive role in the third Guardians movie.
Undisclosed sources with knowledge of Marvel's current going-ons have indicated to We Got This Covered that Montgomery is actually one of many actors that the studio has placed on its Warlock wishlist, so hardcore fans of his shouldn't go screaming on social media that he's a shoo-in for the part. The insiders also stated that casting for Guardians of the Galaxy Vol. 3 hasn't officially begun as of mid-July 2019, though they did share that Montgomery is likely to be "in the running" once Marvel and writer-director James Gunn finally get the gears on the long-awaited threequel turning. Third-party reports claim that casting for the third Guardians movie will begin in November, so it seems plausible that Marvel would start collating a list of contenders a few months in advance. 
It should be noted that Marvel hasn't actually confirmed the presence of Adam Warlock in Guardians of the Galaxy Vol. 3, so we're not entirely sure if the character will even be a part of the story. Talk amongst the Marvel community claims that Adam, the artificially created being meant to serve as the perfect human and the pinnacle of evolution, will somehow cross paths with the crew of galaxy-saving a-holes as they search for their lost member Gamora (Zoe Saldana) after the past version of herself vanished during the battle with Thanos (Josh Brolin) in Avengers: Endgame. 
The reason for this theory is down to two things: 1) a post-credits scene from Guardians of the Galaxy Vol. 2, in which Ayesha (Elizabeth Debicki) says that she created a powerful being named "Adam" — presumably Adam Warlock; and 2) Gunn's past mention that Adam was meant to appear in Guardians Vol. 2 but would instead pop up in a later franchise installment. In 2017, Gunn discouraged fans from believing that Adam would definitely be in Guardians Vol. 3, though that clearly hasn't stopped them from speculating about the exact opposite.
Adam Warlock's MCU debut feels inevitable, and it's certainly a long time coming given that he was intended to join the fray in the second Guardians of the Galaxy movie and was even in talks to appear in the supersized superhero ensemble Avengers: Endgame. Such an appearance would have been appropriate since Adam has had a complicated history with Endgame's main antagonist Thanos, first partnering with the Mad Titan to destroy his eventual evil alter ego Magus, then serving as his biggest rival. Endgame screenwriters Christopher Markus and Stephen McFeely ultimately felt like it would be too much of a "backbend" to introduce Adam in the film, so that seedling of a thought never sprouted. 
Montgomery would be a nice fit for Adam Warlock, as the 24-year-old actor has had experience in the superhero arena before, previously playing the Red Ranger in 2017's Power Rangers reboot. He may face fierce competition in the fight to portray Adam Warlock — if he's truly in consideration for it, of course. Zac Efron, who recently stunned in Netflix's Extremely Wicked, Shockingly Evil and Vile, has also been rumored to be up for the role in Guardians Vol. 3. 
Even if Montgomery does lose out on the gig, with Marvel potentially selecting someone else to be the MCU's Adam, the Stranger Things star could very well be a part of the superhero franchise in a totally different capacity. Many fans are hoping that once Marvel Studios head honcho Kevin Feige reboots the X-Men franchise in the aftermath of Disney's acquisition of 20th Century Fox, Montgomery will become the new Wolverine — a younger version of the character famously played by Hugh Jackman. 
Whether Adam will rock up to the MCU in Guardians of the Galaxy Vol. 3, and whether Montgomery will be the one to play him, remains a mystery. But, to quote Mo'nique, we would certainly like to see it.