Endgame Writers, Halloween's David Gordon Green To Team For Cambridge Analytica Film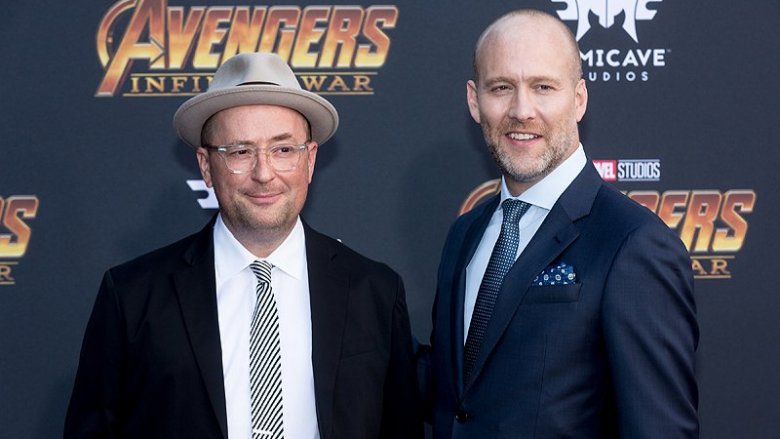 Getty Images
The Endgame has come and gone, and like many of the stars involved in that epic MCU finale, the film's screenwriting team is busy preparing for life after Marvel.
Per a recent report by Collider, Christopher Markus and Stephen McFeely — a.k.a. the powerhouse writing duo behind the pitch-perfect, dramatically potent one-two punch that was Avengers: Infinity War and Avengers: Endgame — are prepping their next film, and they're hoping recent Halloween helmer David Gordon Green will claim the director's chair on the project. Markus and McFeely are looking to get political with their Endgame follow-up, a yet-untitled dive into the recent Cambridge Analytica data breach.
For those who've already moved on from that beyond scandalous bit of news (with the current berserker state of the news cycle, we'd hardly blame you for losing track), Cambridge Analytica was a powerful data-analysis firm that worked on Donald Trump's 2016 presidential campaign. Over the course of the campaign, Cambridge Analytica allegedly utilized a third-party app to hijack and secretly store the personal data of tens of millions of Facebook users. The firm then used that information to craft political ads for social media outlets that were personally targeted at users. 
In the middle of Markus and McFeely's politically-charged script are such figures as Breitbart Chief (and architect of Trump's campaign) Steve Bannon, and a young tech guru by the name of Christopher Wylie. No word yet if the character resembling the current POTUS will feature in the action or not. 
In any case, you can see that this is quite a complicated tale with a lot of potential landmines. It also happens to be a story that really needs to be told, and told well. At least on paper, Markus and McFeely — who somehow found a way to tie the billion or so narrative threads of the MCU together for those last two Avengers flicks — seem well-equipped to untangle the oh-so-sticky web of the Cambridge Analytica scandal. As it happens, the scribes will have their Avengers: Endgame directors Joe and Anthony Russo around to help shape the story, as the Russos' production shingle AGBO is backing the project. 
The Russo Brothers' involvement should come as little surprise given that they've worked closely with Markus and McFeely — who also scripted the Russos' Captain America: The Winter Soldier and Civil War prior to scripting those Avengers flicks — for the better part of the past decade. As for Markus and McFeely, this Cambridge Analytica film will be their first non-MCU project since 2013's Mark Wahlberg-Dwayne Johnson actioner Pain and Gain. While there's every hope Markus and McFeely will keep at least one foot firmly planted in the MCU's front door, we can't help but imagine a hard-hitting, based-on-true-events political drama might be a welcome palette cleanser for the talented pair.
As for David Gordon Green, the director has not officially signed on to the project yet. And given his current slate of "in-production" projects — he's working on a Walter Cronkite biopic, he's already announced he'll direct a new Friday Night Lights film, and he may or may not claim the director's chair on those upcoming Halloween sequels — there may be a bit of worry as to whether or not he's actually got time to do it. Still, Green, who's displayed a rather impressive knack for working on both big-budget fair and micro-budget indies over the years, is a compelling name to bring such a prickly narrative to screens. If nothing else, he's clearly got the chops to imbue the project with the dramatic weight it deserves.  
For now, the waiting game is on to see just how and when Markus and McFeely get their Cambridge Analytica drama before cameras. Here's hoping they make it happen before next year's unfathomably important election cycle.